Overview
A healthy diet is vital for healthy hair growth and preventing hair loss. What you consume can make a difference in how the hair grows. Many nutrients are required including iron, zinc, protein, silica, essential fatty acids, sulfur, and germanium, as well as vitamins A, B5, B6, B12, C and E for healthy hair growth. You can spend much money on hair care products; however, paying attention to what you eat is the best way to improve the appearance of your hair and prevent hair loss. There are certain foods that can help you to solve the hair loss problem. In today's article, Beauty Talk will show you the list of 28 best foods that prevent hair loss you must know. These are rich in nutrients and calcium which are useful for your hair and for your overall health too.
28 Best Foods That Prevent Hair Loss – A Must-Know List!
1. Foods That Prevent Hair Loss – Nuts
Being enriched with protein, minerals, vitamins, phytochemicals and healthy fats, nuts can help to solve the problem of dull hair and hair loss. Eating nuts frequently will also keep your hair strong and healthy for years. It's suggested to include various types of nuts such as almonds, peanuts, cashews and walnuts in your diet. You just need to consume a handful of nuts or add some in your pasta, salad or dessert.
2. Oatmeal
Because they are full of copper, protein, zinc and B vitamins, oats help to prevent hair loss. Along with that, oats are also rich in important minerals such as potassium, phosphorus, iron, and magnesium, which are good for hair growth. You can simply eat a bowl of oats daily or have snacks made of oats. Also, soak oats for several hours to include them in your salad.
See more: Best natural DIY hair masks for hair growth
3. Foods That Prevent Hair Loss – Carrots
As we know, carrots are one of the best foods for beauty. Carrots own an important nutrient called beta-carotene, which aids in promoting healthy hair. Along with that, carrots also help to produce healthy sebum for your scalp due to their vitamin A. You can drink a glass of carrot juice regularly to prevent hair loss. Also, include carrots in salads or soups, or eat them as a snack.
BeautyTalk Partner Solutions

Ask Any Questions and Get Answers within Minutes, 24/7!
The Medical Experts are available whenever you need them. You can even approve payment only when you're completely satisfied.
4. Spinach
Typically, spinach is a magic food that is good for your health and beauty as well. This green leafy vegetable has a good amount of antioxidants and nutrients. It is also loaded with vitamins B, C & E, calcium, potassium, iron, omega-3 fatty acids and magnesium that are required for promoting hair growth. You can enjoy spinach in many forms such as making spinach salad, drinking 1 glass of spinach juice, trying spinach soup, etc. Along with spinach, you should enjoy other green vegetables including broccoli, Swiss chard, and cabbage, in order to prevent hair loss.
See more: How to regrow hair fast & naturally
5. Foods That Prevent Hair Loss – Sweet Potatoes
Regular consumption of sweet potatoes is an effective way to prevent the hair loss problem. They are high in beta-carotene that the body converts to vitamin A. This vitamin helps to enhance the growth of healthy tissues and cells, including the scalp and hair. Furthermore, sweet potatoes are also filled with vitamin C, copper, protein and iron. Thus, you should not skip this amazing food when looking for the best foods that prevent hair loss. For preventing hair loss, you can eat baked or boiled sweet potatoes.
6. Rosemary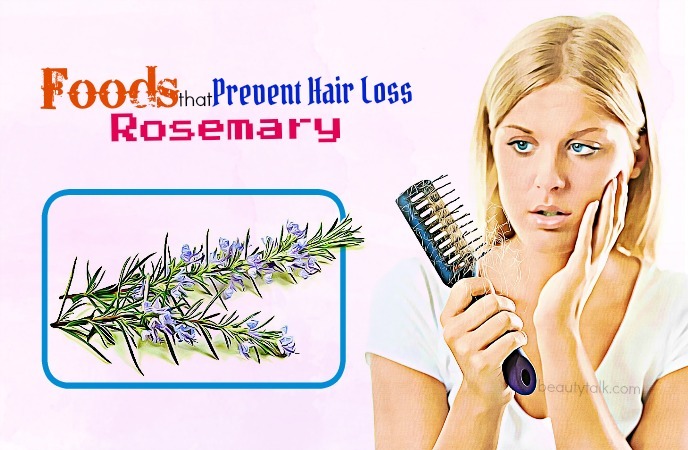 Rosemary has the ability to improve circulation to the scalp. When blood flows to your scalp, it enhances the hair follicles and facilitates hair growth. In addition, it consists of a plant polyphenol, which can give tissues protection from free radical damage. You can simply use rosemary as a flavoring on your preferred dishes.
7. Foods That Prevent Hair Loss – Prunes
Prunes are rich in both zinc and copper. Zinc plays a vital role in producing new cells and maintaining oil secreting glands making hair shiny while copper help to reduce the hair loss problem and improve the thickness of the hair.
8. Quinoa
Quinoa is a whole grain, which is loaded with protein. The proteins found in quinoa are used in hair care products. Apart from that, this whole grain also comes with vitamins B6 and B12, biotin, and niacin, all of which are beneficial for healthy hair growth and the reduction of hair loss.
9. Foods That Prevent Hair Loss – Cottage Cheese
Cottage cheese is one of the effective foods that prevent hair loss. It consists of two proteins – casein and whey, which assist in encouraging hair growth and preventing hair loss. Furthermore, it is also enriched with vitamins B5 and D that are essential for your hair.
10. Almonds
A simple way to curb hair loss is eating magnesium rich foods. Thankfully, almonds are packed with magnesium. A lack of this mineral can cause hair loss in women and men. Thus, enjoying 4-5 almonds every day will help to prevent hair loss effectively due to its manganese and vitamin. You can also apply some almond oil on the hair nightly and in the morning, wash off by using a regular shampoo.
11. Foods That Prevent Hair Loss – Wheat Germ
The zinc found in wheat germ is essential for a healthy hair and scalp. A lack of zinc can cause problems in the gastrointestinal tract leading to hair loss. Thus, eating wheat germ can help to prevent the hair loss problem. You can sprinkle wheat germ over cereals or have it during breakfast. To achieve additional nutritional benefits, you can mix wheat germ with yogurt.
12. Sea Food
Generally, sea food has the capacity to promote hair growth and prevent hair loss. Sea food is a rich source of zinc, sulfur, and fatty acids, which aid in preventing hair fall effectively. In additionally, sea food is great for your overall health and for the skin too. Mussels, oysters, and shrimp are extremely high in zinc.
See more: How to get rid of dry scalp naturally and fast
13. Foods That Prevent Hair Loss – Walnuts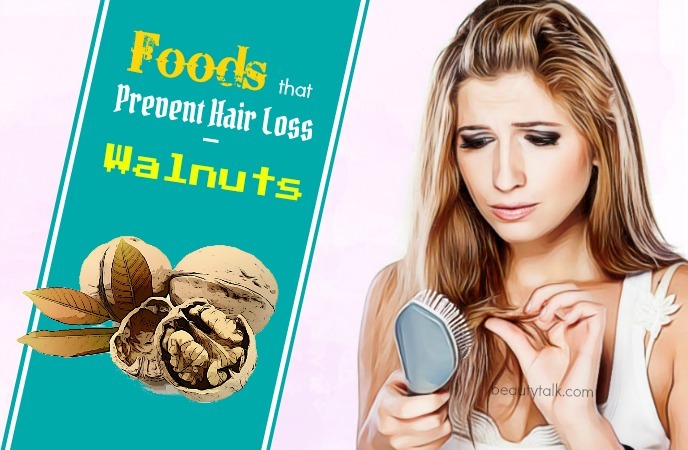 Walnuts are high in omega-3 fatty acid that is very good in inhibiting hair loss and improving hair texture. Furthermore, walnuts are also enriched with iron, zinc, vitamins B1 and B6, which stimulate hair growth and lower hair fall effectively. Along with that, walnuts also compose of selenium that helps to prevent the problem of hair loss because people a lack of selenium can lead to severe hair fall.
14. Bean Sprouts
Basically, bean sprouts are loaded with silica which absorbs all the minerals and vitamins your body consumes. In addition, silica is also great for your hair health because it helps to facilitate hair growth and reduce hair fall. You can also consume red and green peppers and cucumbers because these foods are rich in silica.
15. Foods That Prevent Hair Loss – Eggs
As we know, eggs are packed with protein, which keeps your hair healthy. Besides, eggs are also high in biotin as well as other B vitamins, which assist in controlling hair loss. The protein in eggs is excellent for hair strength and hair growth as well. It's best to eat both the egg yolk and white for optimum benefits. Try eating an egg every day for every other day. Depending on your preference, you can eat, boiled, fried or scrambled.
See more: Volumizing tricks for every thin-haired woman
16. Beans
Beans are considered among the top foods that prevent hair loss because they are full of protein, fiber, vitamin C, B vitamins, zinc, and minerals. Apart from that, beans are also rich in iron, which can help to decrease hair loss. You should eat various types of dried or fresh beans including kidney beans, navy beans, black beans, pinto beans, soybeans, and chickpeas. You can also add beans to casseroles, salads, and side dishes. Alternatively, they can also be pureed into spreads and dips.
17. Foods That Prevent Hair Loss – Sunflower Seeds
The seeds of sunflower contain many hair loss preventing nutrients such as protein, zinc, biotin, potassium, selenium, copper, iron, vitamin E, B vitamins, magnesium, and calcium. Furthermore, they are also packed with omega-6 fatty acids [1]. You easily promote healthy hair growth by eating about one handful of raw sunflower seeds. Alternatively, you can sprinkle a few sunflower seeds on steamed vegetables and salads. Alternatively, you can mix the seeds into baked dishes. Stay away from eating these seeds in excess because they are high in calorie and fat content.
18. Beef
Beef owns a rich amount of protein, B vitamins, iron, and zinc. For optimal hair growth, you can eat lean beef twice to thrice weekly. You can eat beef as a main dish, or in soups or salads. You can also choose other lean meats such as bison, lamb, and pork to promote hair growth.
19. Foods That Prevent Hair Loss – Salmon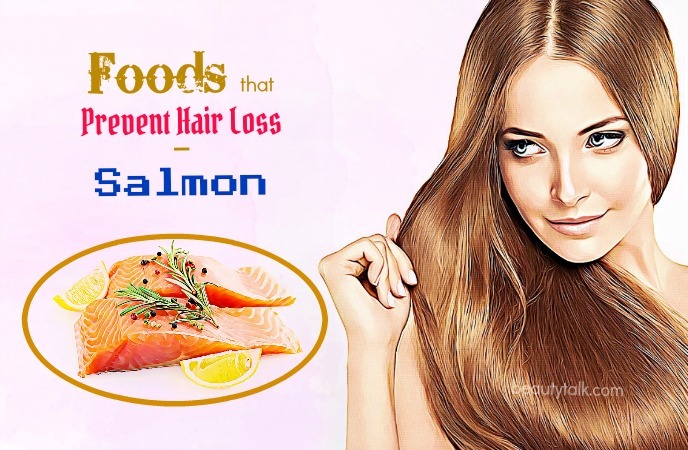 Salmon is an excellent food that is useful for your skin, hair, brain and blood vessels. Particularly, salmon is packed with omega-3 fatty acids, which promote hair growth effectively. Moreover, salmon also contains plenty of proteins and B vitamins, including B12, as well as other minerals and vitamins, all of which are essential for encouraging hair growth and solving problems such as excessive hair loss, dry hair, and so on. It's suggested to eat salmon at least two times weekly to reap the advantage. You can eat baked, smoked or grilled salmon. You can also eat other fatty fish such as herring, sardines, mackerel, and trout to prevent hair loss.
See more: DIY natural hair conditioners for dry hair at home
20. Strawberries
Being high in vitamin C, strawberries help to reduce hair loss and aid with the absorption of iron in the body. As mentioned above, iron can help to induce hair growth. Besides, this fruit is also rich in silica, which helps to prevent baldness and encourage hair growth.
See more:  Beauty benefits of strawberries
21. Foods That Prevent Hair Loss – Apples
Apples can give strength to hair owing to their fibers. Besides, apples are also rich in antioxidants, which combat free radicals damaging hair cells. As a result, they can prevent hair fall. In addition, this fruit also contains plenty of minerals and vitamins, which improve your overall health. You can eat an apple daily or add it in a smoothie, fruit salad or sauce.
22. Green Peas
Being loaded with zinc and iron, green peas have the ability to nourish the hair follicles for healthy hair growth. Besides, because of their vitamin B6 and folate, peas help to form red blood cell, thereby supplying nutrients to your hair for strength and growth. The problem of brittle hair can happen due to a lack of vitamin C. This fruit is also loaded with vitamin C. This vitamin is vital for forming collagen that offers strength to the hair and reduces hair fall.
23. Foods That Prevent Hair Loss – Broccoli
Being loaded with many vital nutrients such as vitamin A, vitamin E, vitamin C, niacin, silica and zinc, broccoli helps to promote the healthy hair growth and maintenance of hair follicles. Silica helps to prevent hair fall while zinc promotes new growth of hair. Additionally, this vegetable helps to combat free radicals that can damage the hair due to its antioxidants. Last but not least, it contains the fatty acid composition, which imparts shine and luster to the hair.
24. Blueberries
Vitamin B found in blueberries is beneficial for the hair growth. In addition, blueberries help to form keratin, thus promoting the growth of hair since they compose of a chemical compound named proanthocyanidin. Along with that, blueberries can prevent premature grey hair thanks to their vitamin B12. Furthermore, blueberries are also rich in fibers, folate, potassium, and vitamin C so that they improve hair growth and are good for the health too.
25. Foods That Prevent Hair Loss – Pineapples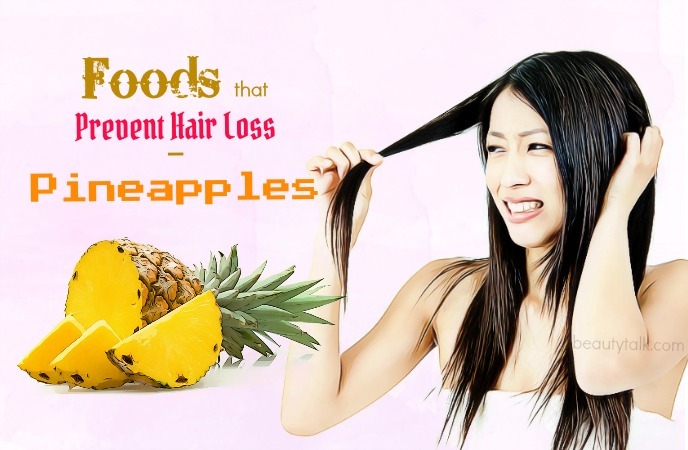 Generally, pineapples help the growth of hair and end hair fall since they contain plentiful magnesium and vitamin C. Apart from that, this fruit also helps to hydrate the skin, which in turn improves healthy hair growth. Including pineapples in your diet can also help you gain glowing skin as well as healthy hair. For best result, you can eat this fruit alone or add it to yogurt, fruit salad, and ice cream.
26. Bell Peppers
Basically, bell peppers consist of plenty amounts of phytochemicals, vitamin C, carotenoids, and beta-carotene, which can assist in fighting hair fall. Plus, bell peppers also help to nourish hair follicles by increasing blood circulation to your scalp. Also, they help to prevent hair follicles against dihydrotestosterone. Moreover, bell peppers are also high in vitamin C and silica that strengthen the hair.
27. Foods That Prevent Hair Loss – Oranges
Oranges are full of numerous different minerals and vitamins such as vitamin B1, vitamin C, vitamin A, copper, folate, calcium, and potassium. Particularly, vitamin C in this citrus fruit helps collagen synthesis, thereby promoting the strength and growth of hair. Along with that, oranges help combat free radicals and lower hair loss, as they contain antioxidants like flavonoids.
28. Tomatoes
Tomatoes have the power to prevent hair fall and nourish the hair owing to their proteins, lycopene, and vitamin C. The lycopene in tomatoes aids in retaining moisture, thus fighting dry scalp and dandruff while their beta-carotene & vitamin C help to supply nutrients to your scalp for hair growth. Additionally, the antioxidants present in tomatoes help to fight free radical cells damaging the hair follicles and causing hair fall. You can add tomatoes to pastes, sauce and salads, etc.
See more: How to remove dandruff naturally & permanently
In fact, all the above foods are bursting with nutrients, which aid in strengthening hair follicles and preventing hair loss. So, when you suffer from hair loss, you need to follow a diet high in these super foods in order to manage the problem of hair loss. If you know other foods that prevent hair loss, share with us right now.