Overview
The low temperature, indoor heating or chilly and dry wind can leave you skin flaky and dry. Thus, you should follow a daily skin care routine, de-stress, eat healthily and exercise regularly to maintain a healthy glow. Particularly, your diet plays an important role in fighting against dryness and UV sun damage, lessening wrinkles as well as other aging signs and encouraging smooth and glowing skin. Besides, you can use certain foods topically to keep the skin glowing, beautiful and healthy. Here is a list of the best food for glowing skin that is collected by Beauty Talk. Let's get started!
19 Best Options Of Food For Glowing Skin
1. Food For Glowing Skin – Broccoli
Broccoli is a healthy vegetable that can be useful for your skin. This is because it is enriched with skin-boosting ingredients such as vitamins A and C and natural estrogens. Vitamin A found in broccoli aids in protecting the skin cell membranes while its vitamin C helps to encourage the production of collagen, which in turn keeps the skin healthy. Apart from that, this vegetable contains the B vitamins so that it can remove dry, flaky patches. For best result, you can eat broccoli frequently to get a beautiful natural glow. You can choose steamed, blanched or roasted broccoli.
Learn more: How to prevent dry skin in the cold winter naturally
2. Food For Glowing Skin – Spinach
Typically, spinach comes with many beneficial nutrients to combat the natural aging process of the skin. This dark green vegetable is rich in vitamin C content, which repairs skin cells and maintains your skin looking beautiful. Plus, vitamin content in spinach helps to keep your skin healthy and enhance skin tone. Furthermore, the lutein present in this vegetable gives the skin protection from damage of the sun. For this purpose, you should mix spinach with some lemon juice and consume half a glass of this juice every day to prevent dry & irritated skin. Alternatively, you can add spinach to salads, soups, and other dishes.
3. Food For Glowing Skin – Almonds
Generally, almonds consist of powerful antioxidants, which are highly beneficial for your skin. Especially, vitamin E in almonds assists in nourishing your skin and protecting it from the damaging UV rays of the sun. Apart from that, these nuts are also effective at reducing, fine lines, wrinkles and other aging signs owing to their anti-aging properties. To get glowing skin, you can prepare a homemade scrub by soaking 1 handful of almonds in some water overnight. Remove their peels and later grind them in the morning. After that, add some yogurt or milk to make a paste and use this paste once or twice weekly as a facial scrub. Also, use almond milk or almond oil to massage your body before taking a bath.
BeautyTalk Partner Solutions

Ask Any Questions and Get Answers within Minutes, 24/7!
The Medical Experts are available whenever you need them. You can even approve payment only when you're completely satisfied.
4. Food For Glowing Skin – Green Tea
Due to its antioxidants, green tea can combat free radical damage to the skin. As a result, this can prevent flaky and dry skin and improve your complexion too. Additionally, green tea has the ability to prevent and lower premature aging signs such as age spots, wrinkles, and saggy skin since it has the polyphenols. Simply, drink  2-3cups of green tea every day to attain the effective results. Also, you can take some cool green tea and splash it on your face and afterward, rinse your face using cool water. Alternatively, take 1 used green tea bag and mix its contents with some honey to form a paste. Start applying this paste on your clean face and rinse it off after 10 minutes with water. Follow this method once or twice weekly.
Learn more: Benefits of green tea for skin, hair and health
5. Food For Glowing Skin – Salmon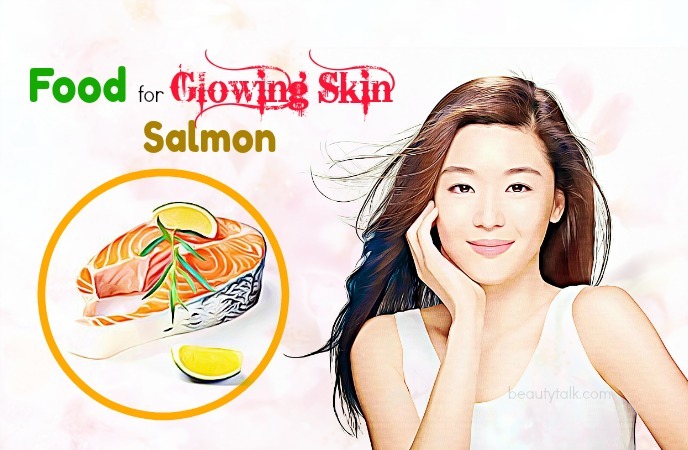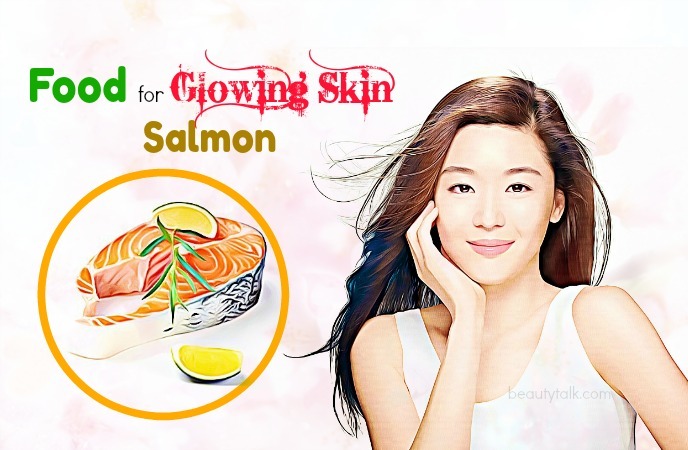 Including salmon in your diet is an easy way to get glowing skin. Salmon can help to nourish skin from within since it consists of omega-3 fatty acids. Additionally, it has a mineral called selenium, which helps to fight against harmful UV rays. Plus, the zinc in salmon aids in facilitating the new skin cells production. For getting glowing skin, eat about two servings of salmon every week. You can opt for fried, baked or grilled salmon to enjoy clear, smooth and glowing skin.
6. Food For Glowing Skin – Dark Chocolate
Dark chocolate is rich in 70 percent cocoa content, which is good for your skin. Besides, dark chocolate is also high in flavonols that can protect the skin from UV damage, increase blood flow, fight free radicals and keep skin supple and soft. To gain the benefits of beautiful and glowing skin, simply eat just 1-2 oz of dark chocolate every week. Alternatively, in a double boiler, melt 1 bar of dark chocolate. Mix in 1 tsp each of milk cream and gram flour with some lemon juice. Then, apply this mask all over your face and after 20 minutes, use warm water to rinse it off. This face mask should be used once weekly.
7. Food For Glowing Skin – Oranges
The orange peel is rich in vitamin C, which is useful for your skin. The peel also contains antibacterial and antimicrobial properties, which give you brighter and clear skin in no time. It also acts as a skin lightening agent. Plus, it can remove marks on the pigmentation and face. Simply, mix orange peel powder (1 tablespoon) and yogurt (2 tablespoons). Then, begin to apply this mixture on your face and after 20 minutes, wash off to get clear and fresh looking skin.
Learn more: How to get fair skin naturally & quickly
8. Food For Glowing Skin – Pumpkin
Pumpkin is great for your skin thanks to its antioxidants [1], minerals and vitamins A and C. Additionally, zinc found in pumpkins helps to create new skin cells, regulate oil production, decrease the appearance of open pores and improve skin tone. To get glowing skin and brighten your complexion, you should consume a handful of pumpkin seeds daily. Alternatively, combine together 3 tsp of pumpkin, ½ tsp of milk and ½ tsp of honey. Apply this mask on your face and rinse off after 15 to 20 minutes.
9. Food For Glowing Skin– Strawberries
Strawberries have the capacity to remove dead skin cells since they are loaded with alpha-hydroxyl acid. They are also high in vitamin C that can minimize wrinkles and fine line and facilitate collagen production. Along with that, omega-3 fatty acids found in strawberries are helpful for lightening the skin tone. Thus, this is a great food for glowing skin. For this purpose, you mash strawberries and add 1 tbsp each of honey and cocoa powder to it. Thereafter, apply this mixture on your face for around fifteen minutes to attain glowing skin.
Learn more: Beauty benefits of strawberries
10. Food For Glowing Skin – Beetroot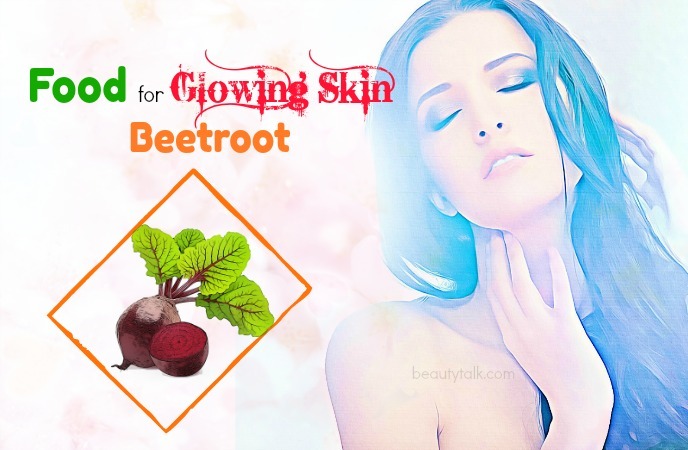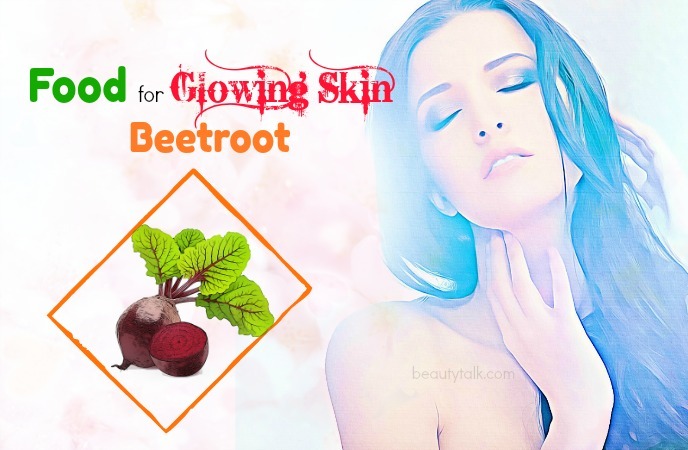 Beetroot can make you glow instantly since it is full of minerals and vitamins. Along with that, this pink colored fruit owns an anti-inflammatory property that prevents the outburst of pimples and acne. Furthermore, it is also helpful for eliminating the blemishes and dark spots because it is packed with iron, vitamin C, copper, niacin, and potassium. Simply, consume a glass of beetroot juice daily to achieve glowing skin.
11. Food For Glowing Skin – Kale
Kale is another excellent food for glowing skin. Kale has the capacity to prevent free radical damage, repair skin tissues and offer you a fresh and radiant look. For this aim, you can add kale to pasta or salads or consume a kale smoothie. Alternatively, you can eat kale as a healthy snack.
12. Food For Glowing Skin – Potato
Basically, potato acts as a natural bleaching agent, thus helping lighten skin effectively. Additionally, it also helps to remove dead skin cells, blemishes, dark spots, dark circles and sunburns. For this purpose, you can apply a face mask made from grated potatoes to your face about thirty minutes. Alternatively, you can take a potato and squeeze its juice in a bowl. Then, apply it on your face. You can also apply some thin potato slices directly.
Learn more: Best home remedies for blemishes
13. Food For Glowing Skin – Olive Oil
Olive oil has the power to hydrate the skin to remain its softness and elasticity because it is loaded with vitamins A and E and several other minerals as well as natural fatty acids. Along with that, this oil is also beneficial for giving the skin protection from free radical damage and preventing fine lines and wrinkles. You can take some warm olive oil and rub it over your face, knees, and elbows prior to taking a bath. Gently massage for several minutes and afterward, take a warm bath. Pat the skin dry and remove the excess oil. Alternatively, you can also use extra-virgin olive oil in cooking and salad dressings.
14. Food For Glowing Skin – Lemons
Lemons have the ability to make your skin glow since they are full of vitamin B, vitamin C and phosphorous. In addition, lemons contain the natural acids, which aid in eliminating dead skin cells and lightening age spots. Furthermore, lemon is also rich in citric acid, which helps to clean the pores without removing the natural oil balance of the skin. You can take a fresh lemon and squeeze out its juice. Then, apply the juice on your affected area to attain flawless skin. Another option is to mix 1 spoon of lemon juice with grape juice extract and egg white to make the skin glowing and smooth.
Learn more: Amazing lemon beauty benefits for your skin and hair
15. Food For Glowing Skin – Grapefruit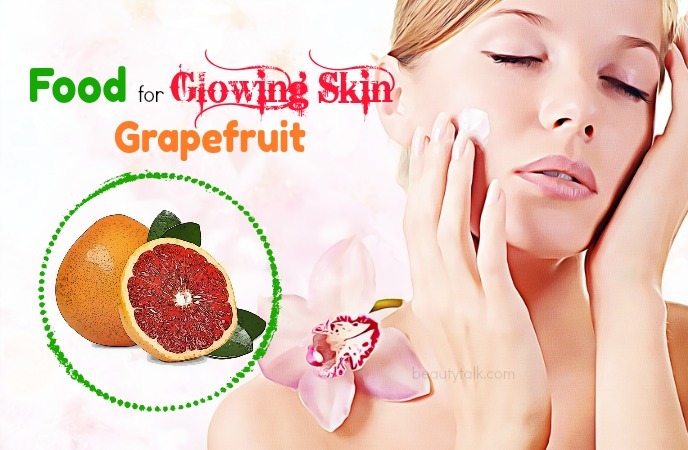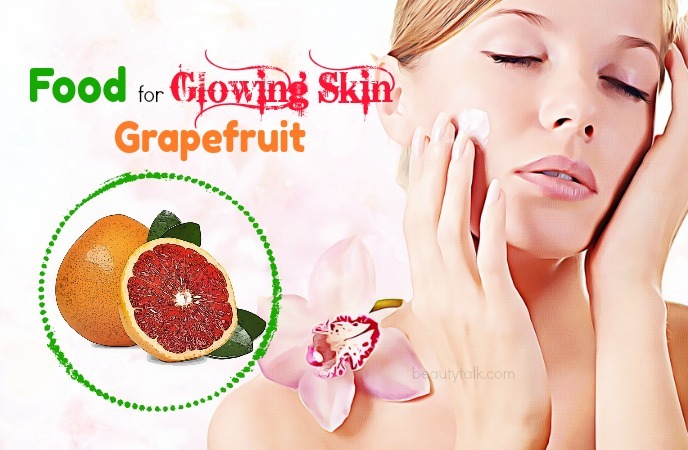 Grapefruit can fight against free radical damage since it contains an antioxidant known as vitamin C. In addition, this fruit is high in potassium, which can prevent age spots and wrinkles. Moreover, grapefruit also makes the skin softer and firmer thanks to its amino acids. Last but not least, the naringin found in this fruit can aid in lowering toxins in the liver, resulting in healthier skin. For the effective results, you should consume fresh grapefruit juice on a daily basis. Another choice is mixing the juice of half a grapefruit, half a cup of oatmeal powder and 1 tbsp of honey to create a face mask. Apply this mask to your face and let it dry. Finally, wash off using lukewarm water. This mask can be applied once weekly.
16. Food For Glowing Skin – Carrots
Basically, carrots help to keep the skin vibrant, glowing and healthy, as they are enriched with vitamin A & other antioxidants. Plus, they can also inhibit some aging signs such as wrinkles and pigmentation. Furthermore, they also aid in protecting the skin against UV damage due to their carotenoids beta-carotene & lycopene. Also, they can solve the dry skin problem efficiently due to their potassium. To keep the skin hydrated from within, it's best to enjoy 1 glass of carrot juice every day. Alternatively, you can combine pureed carrots (2 tsp), milk cream (1 tsp), honey (1 tsp) and olive oil (a few drops). Start applying this face mask on your clean face and remove it after 10-15 minutes with cold water. It's suggested to use the mask several times weekly to achieve glowing, soft and moisturized skin.
17. Food For Glowing Skin – Avocado
Avocados contain a great amount of vitamins A, C & E, as well as monounsaturated fats so that they help the skin lock in moisture. Besides, the folic acid, potassium, and magnesium found in this fruit are essential for healthy skin. In addition, avocados also help to lower the appearance of wrinkles and fine line, thus giving your skin a youthful look. You can use avocado oil to massage the body gently prior to taking a bath. Also, making a hydrating face mask is an excellent way to get glowing skin. Take a ripe avocado and scoop its flesh out. Mash it properly and mix in 1 tsp each of olive oil and honey. Start applying on your face with this mask on your face. Leave this mask to dry and remove it by using warm water. It's suggested to apply this amazing mask a couple of times weekly.
Learn more: Beauty benefits of avocado for hair & skin
18. Food For Glowing Skin – Papaya
Papaya is a powerful source of antioxidants and papain [2] that can fade skin impurities and eliminate dead skin cells. To make your skin glow, simply take the inside of a papaya and gently rub your face with it for around one minute to cleanse, exfoliate and soften the skin. You can also blend a papaya and 2 tbsp of either yogurt or honey and later use it as a mask. After around 20 minutes, rinse your face with lukewarm water and finally, apply a moisturizer.
Learn more: Natural beauty benefits of papaya for skin and hair
Hope you found this post useful. Tap all the potential of foods and achieve glowing skin naturally. For such articles, please visit our main Foods For Beauty page. Do you know any other options of food for glowing skin? Share with us in the comments box below.