Pumpkin seeds are not only useful for skin or hair care but also helpful for treating some health problems. This is because they are a powerhouse of magnesium, manganese, zinc, phosphorus, and copper, as well as vitamin A, B, E and K, all of which are essential for improving your health and beauty as well. They are also loaded with sodium, essential fatty acids, antioxidants, and potassium. Particularly, the oleic, palmitic, stearic, and linoleic acid housed in pumpkin seeds are crucial for the body's cell metabolism, the nerves & blood vessels too. Moreover, they assist in maintaining the skin young and healthy. Now let Beauty Talk reveal you top benefits of pumpkin seeds for hair, skin, and health in detail. Let's get started!
Top 19 Benefits Of Pumpkin Seeds For Hair, Skin, & Health
I. Benefits Of Pumpkin Seeds For Hair
Basically, pumpkin seeds have the capacity to improve the quality and growth of hair owing to its iron, omega-3 fatty acids & L-lysine. Below are some of the benefits of pumpkin seeds for hair:
1. Keep Hair Healthy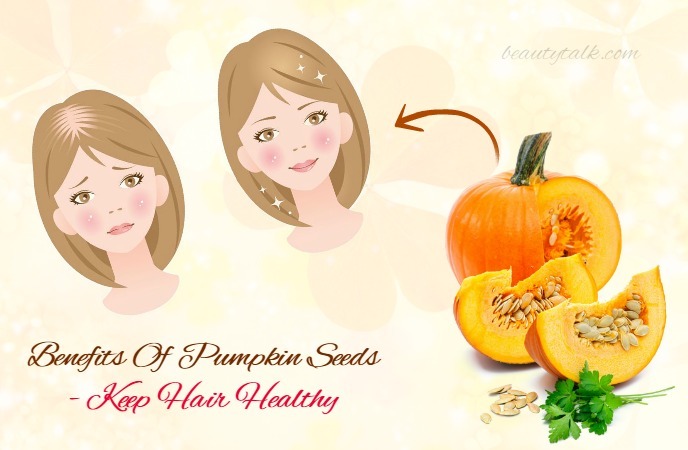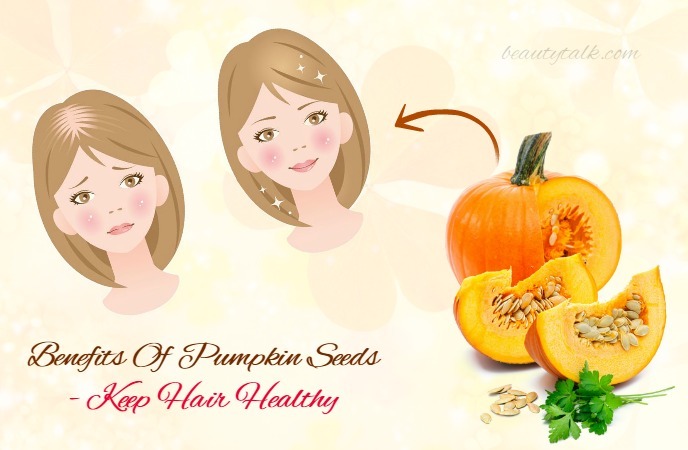 "Your diet is a bank account. Good food choices are good investments" – Bethenny Frankel.
By including the seeds of pumpkin in your diet, you will improve your hair quality quickly. Generally, these seeds are crucial for the health of your hair & scalp because they are enriched with iron, zinc, protein and omega-6 fatty acids as well. For this remedy, you should take one handful of raw, roasted or sprouted pumpkin seeds and enjoy them daily to enhance your hair health.   Alternatively, you can take a little of pumpkin seed oil and slightly massage the scalp & hair with this oil. Leave your application on all night and wash the oil off the next day. This will help to keep your hair & scalp healthy.
BeautyTalk Partner Solutions

Ask Any Questions and Get Answers within Minutes, 24/7!
The Medical Experts are available whenever you need them. You can even approve payment only when you're completely satisfied.
2. Benefits Of Pumpkin Seeds – Encourage Hair Growth
One of the great benefits of pumpkin seeds is encouraging hair growth. Because they consist of two important nutrients, L-lysine and iron respectively, pumpkin seeds are able to manage excessive hair shedding. Your hair growth will be improved by increasing the intake of these nutrients. For this purpose, you take a handful of roasted, raw or sprouted seeds of pumpkin and eat them each day to enhance hair growth. Another option is massaging some pumpkin seed oil on the hair and scalp. Then, leave the oil on all night and the following day, wash this oil off. Follow the tip regularly to get the desired results. If you suffer from allergic reactions after consuming these seeds orally, stop their consumption and consult a doctor afterward.
3. Benefits Of Pumpkin Seeds – Prevent Dandruff
According to a study of the Dermatology Research & Practice, zinc can prevent and fight against irritation, flaking, and itching related to seborrheic dermatitis. Thankfully, pumpkin seeds comprise an active ingredient known as zinc, which is present in lots of anti-dandruff shampoos. Moreover, pumpkin seeds are loaded with protein, iron, essential amino acids, magnesium, and copper, all of which promote hair growth and prevent dandruff. For combating dandruff, you should consume around a handful of pumpkin seeds (sprouted, raw, or roasted) daily. You can also use a little of pumpkin seeds oil to massage the hair & scalp gently. Leave this oil on overnight and wash off in the morning.
4. Reduce Hair Loss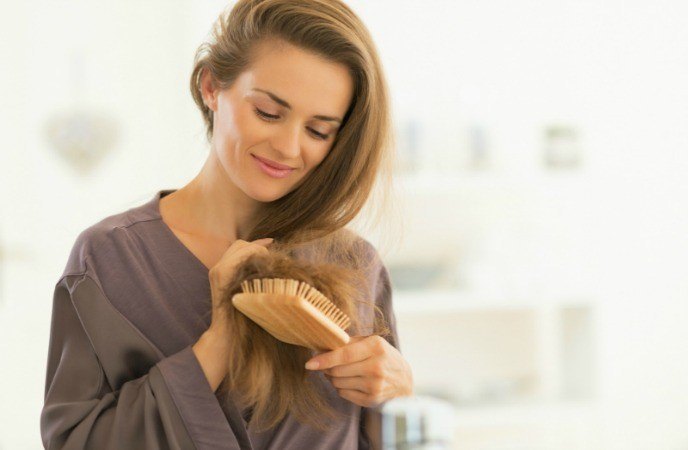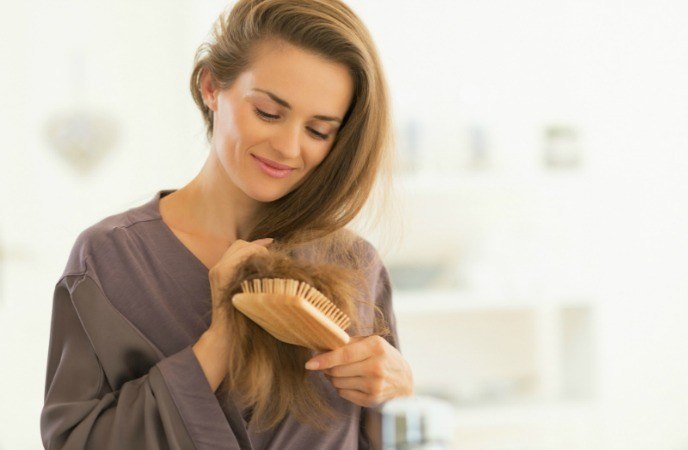 Chronic inflammation can cause hair loss. Pumpkin seeds are filled with vitamin A, K, omega-3 fatty acids and zinc, which are essential for the scalp and hair health. Omega-3 fatty acid housed in these seeds is beneficial in hair loss treatment and hair growth because it reduces inflammation. Pumpkin seeds also make the hair shinier, stronger, and thicker. Instead of taking zinc supplements for treating hair loss, you should consume these seeds that are crammed with zinc to nourish the hair. To prevent and reduce hair loss, include these pumpkin seeds in your regular diet.
II. Benefits Of Pumpkin Seeds For Skin
Pumpkin seeds contain high amounts of vitamin A, E, zinc, antioxidants and fatty acids, which are also essential for your skin health. Listed below are the benefits of pumpkin seeds for the skin:
1. Anti-Aging
Any lack of nutrition in the body can also cause the skin and face look dull and older. Being packed with vital vitamins and minerals, pumpkin seeds are very beneficial for the healthy skin and early aging signs removal. These seeds can decrease the nutritional deficiencies and protect the skin from side effects & harsh chemicals of beauty products. Oxidative damage can be caused by overexposure to the sun's harmful UV rays and other lifestyle factors. This can lead to skin aging, thus increasing the appearance of pigmentation and wrinkles. As talked earlier, pumpkin seeds are crammed with vitamin A, E, and antioxidants, so they assist in combating free radical formation, thereby reducing the premature skin aging. Vitamin E & fatty acids in these seeds help to manage the oil production and retain the moisture level in skin cells while their vitamin A promotes the growth of new skin cells and repairs the damage cells altogether. For this aim, you can eat some pumpkin seeds in the form of raw, sprouted, or roasted daily. You can also add these seeds to soups, cookies, cereals or pastries; sprinkle them over your salads or on the top of baked items such as pizza and pasta.
2. Benefits Of Pumpkin Seeds For Skin – Moisturize Skin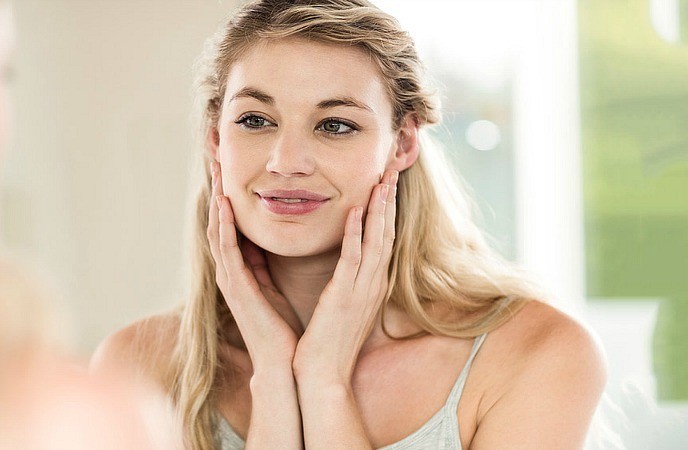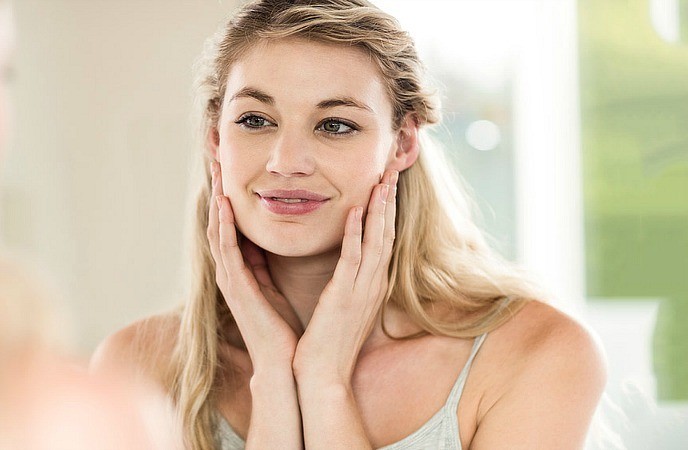 The best benefits of pumpkin seeds must include this advantage. The omega-3 fatty acids housed in pumpkin seeds contain natural emolliating qualities, which helps to keep your skin moisturized. Now, instead of using the toxic creams and lotions, you should use this natural moisturizer that is safe for your skin. For this purpose, you have to take a cup of pumpkin seeds, 1 beaten egg and 1 tbsp of butter. Then, melt the butter and mix it with the finely ground pumpkin seeds. Thereafter, beat an egg well and blend it with the butter & pumpkin seeds to attain a paste. Presently, apply on your skin with this resulting paste and leave your application on for fifteen minutes until it totally dries out. Lastly, use some cool water to rinse it off. It's advised to do a patch test prior to using this remedy to avoid the chance of allergies.
3. Prevent Skin Cancer
Preventing skin cancer is also regarded among the outstanding skin benefits of pumpkin seeds. Overexposure to the sun also results in skin cancer and pumpkin seeds can decrease the risk of this problem effectively. According to studies, supplementation of omega-3 can combat immunosuppression that is a common phenomenon of reduced immune system against skin cancer caused due to sunlight exposure. Luckily, pumpkin seeds are rich in omega-3, so they have the ability to prevent skin cancer. Simply, you only need to eat 1 handful of roasted, sprouted or raw pumpkin seeds daily to fight against the problem.
4. Fight Acne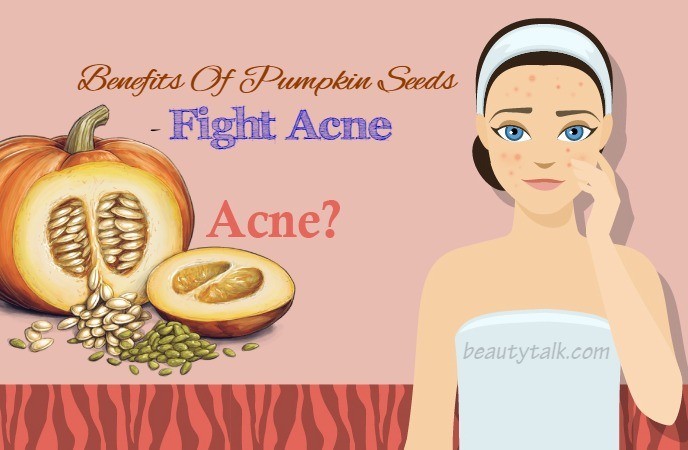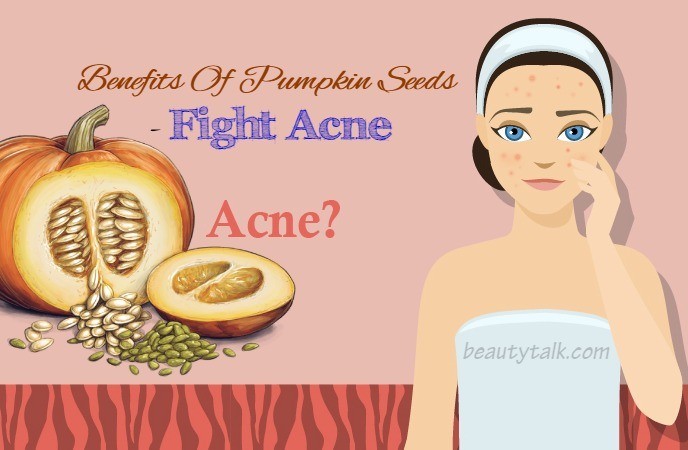 The Journal of Drugs in Dermatology reports that zinc has anti-inflammatory & antibacterial effects, which aid in calming overactive sebaceous glands. Thus, it can lower the incidence of acne. Pumpkin seeds can treat acne because they are crammed with zinc that owns anti-inflammatory effects, which can ease the scarring and redness resulting from acne. For this great remedy, eating a handful of pumpkin seeds daily will help you treat acne quickly and effectively. Another option is combining the finely ground pumpkin seeds together with milk and then consuming it every day until acne is combated totally.
5. Benefits Of Pumpkin Seeds – Quicken Wound Healing Process
A study of the Journal of the American Academy of Dermatology reports pumpkin seeds can quicken wound healing process thanks to their vitamin A. Pumpkin seeds assist in expediting the wound healing process because they are high in nutrient contents, especially zinc & vitamin A. For this aim, you just need to take a handful of pumpkin seeds and eat them regularly to promote the wound healing process.
III. Benefits Of Pumpkin Seeds For Health
Aside from improving your outer appearance, the seeds of pumpkin also help to enhance the overall health. Here are some of the benefits of pumpkin seeds on health:
1. Boost Immunity
A lack of zinc often causes colds and flu, weakness, chronic fatigue, acne issues & many other health conditions. Pumpkin seeds are able to promote your immunity since they are rich in zinc. Moreover, these seeds possess the antioxidants, which are vital for a disease-free, healthy body. Apart from that, these seeds aid in inhibiting free radical damage and accelerating quick recovery thanks to the presence of selenium in them. To boost immunity, enhance the energy level and improve the metabolism, you need to top a healthy smoothie with ground pumpkin seeds and enjoy it to start a new day.
2. Benefits Of Pumpkin Seeds – Regulate Your Sleep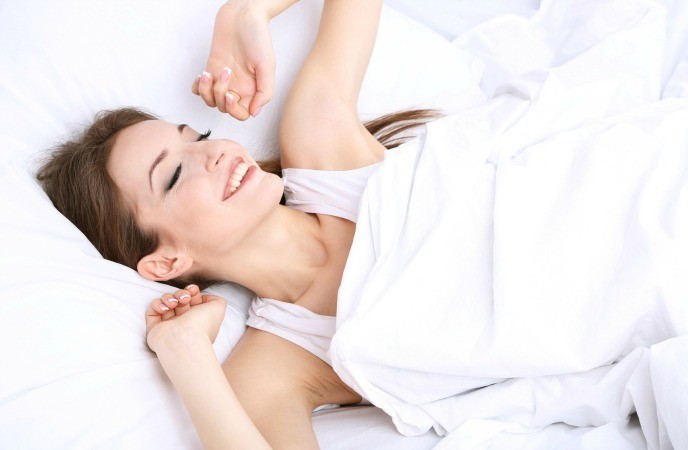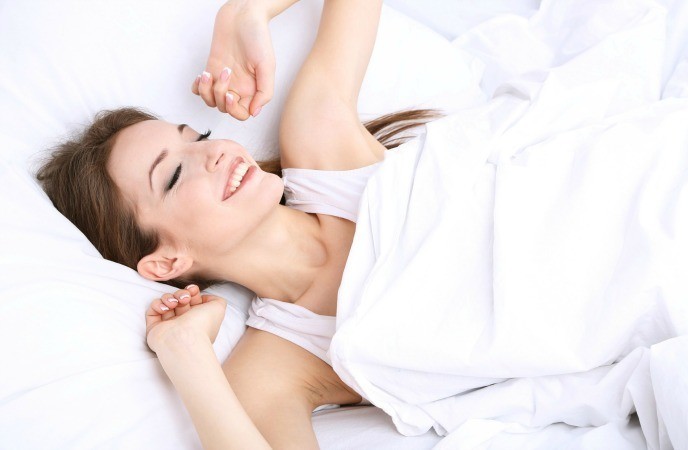 The list of the health benefits of pumpkin seeds is incomplete without consisting of this benefit. Pumpkin seeds have an amino acid called tryptophan that our body converts into serotonin first & then into melatonin. Generally speaking, melatonin and serotonin both help to improve a restful night's sleep. Furthermore, the pumpkin seeds' zinc content helps the brain to convert tryptophan into serotonin. Simply, you prepare 1 tbsp of pumpkin seed powder along with a glass of warm milk. Later mix the powder with the warm milk and afterward, consume the solution at least 60 minutes before your bedtime to promote sleep.
3. Improve Heart Health
Pumpkin seeds contain the healthy fats, fiber, and antioxidants, which are great for heart health. Additionally, their magnesium aids in lots of important functions of the heart such as of the blood vessels' relaxation and pumping action of the heart. The high blood pressure is controlled by this mineral. Moreover, this mineral plays a crucial role in preventing heart attacks, strokes, and sudden cardiac arrest as well. Besides, pumpkin seeds are high in copper that increases the red blood cell count of the body, which in turn enhances heart functioning. To minimize the chance of heart diseases, it's suggested to include these seeds in your daily diet.
4. Benefits Of Pumpkin Seeds – Combat Bad Cholesterol Level
Are you looking for the best benefits of pumpkin seeds? Bad cholesterol level removal is one of the best and outstanding benefits of pumpkin seeds you should know. Consuming pumpkin seeds frequently can help to reduce the level of bad cholesterol or low-density lipoproteins in the body. Particularly, these seeds possess the phytosterols that can decrease the level of low-density lipoproteins, thereby preventing the health problems including preventing blood clots and atherosclerosis. Apart from that, the oleic acids housed in these seeds help increase HDL and decrease lower LDL in the blood. You just need to eat around 3-4 tbsp of dry roasted pumpkin seeds each day to reduce the level of bad cholesterol. Don't add any extra salt in the seeds.
5. Fight Against Anxiety
An amino acid named tryptophan housed in pumpkin seeds can relieve anxiety according to a study published in 2007 in the Canadian Journal of Physiology & Pharmacology. Our brain uses tryptophan to create a neurotransmitter making you feel happy. When the body contains less tryptophan, it causes depression, anxiety, as well as other mood irregularities. Moreover, pumpkin seeds come with omega-3 fatty acids and the B vitamins, which can help your nervous system work more effectively, calm it and decrease anxiety. It is advisable o consume several roasted pumpkin seeds in order to calm you down when you feel stressed or tired after a hard working day.
6. Manage Blood Sugar
Pumpkins seeds have a good effect on diabetes, according to a study published in 2010 in the Journal of Diabetes & its Complications. This study also showed that the seeds of pumpkin help to improve regulation of insulin and combat diabetic complications by lowering oxidative stress. Besides, the pumpkin seed oil possesses phytochemical compounds, which assist in preventing diabetic nephropathy. It is advised to consume the seeds of pumpkin as a healthy snack to control blood sugar. You can eat up to two tbsp of roasted pumpkin seeds per day.
7. Benefits Of Pumpkin Seeds – Protect Bones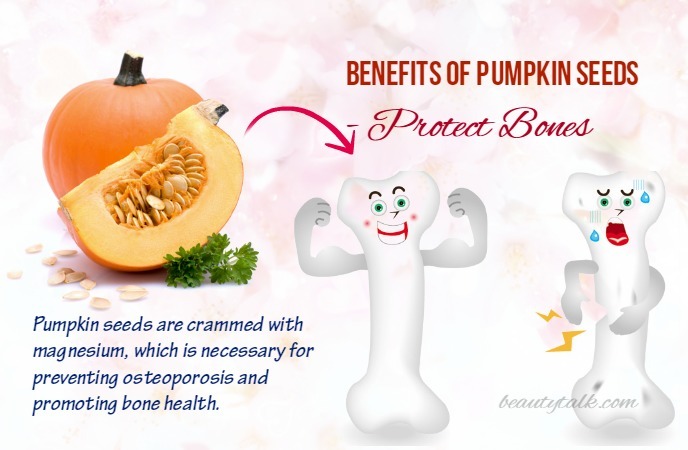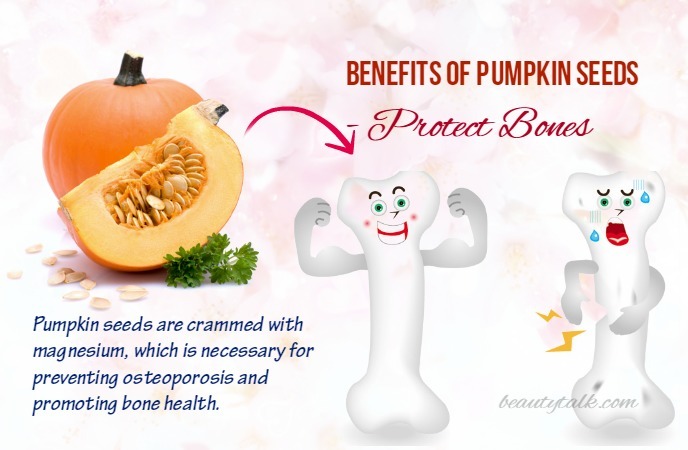 As you know, calcium is an essential nutrient for building healthy bones. However, there are many other minerals & vitamins that are crucial for promoting bone mineral density. A study published in 2005 in the Journal of the American Geriatrics Society showed that there was a strong connection between higher bone mineral density and high intake of magnesium. Thankfully, pumpkin seeds are crammed with magnesium, which is necessary for preventing osteoporosis and promoting bone health. Additionally, their zinc and phosphorous are good natural protectors against osteoporosis and decrease the chance of bone fractures as well. To lower osteoporosis symptoms as well as bone weakness, you should eat one-quarter cup of pumpkin seeds every day.
8. Enhance Bladder & Prostate Health
This is also one of the excellent benefits of pumpkin seeds for health you need to know. They can support bladder function & fight against symptoms related to an overactive bladder altogether. Plus, these seeds are able to cure an enlarged prostate named BPH (benign prostatic hyperplasia). Moreover, they come with phytosterols that aid in shrinking an enlarged prostate. Last but not least, thanks to their high zinc content, pumpkin seeds can support prostate health, lower nighttime urinary frequency and improve urinary flow as well. For this purpose, you should eat one handful of roasted seeds of pumpkin each day.
9. Improve Sperm Quality
Generally, low levels of zinc are related to an increased chance of infertility and reduced sperm quality in males. Pumpkin seeds can help to improve the quality of sperm since they are filled with zinc. A study showed that pumpkin seeds may give human sperm protection from damage resulting from chemotherapy and autoimmune diseases. The antioxidants & other nutrients found in the seeds aid in improving overall health. All these factors also may benefit the levels of fertility and reproductive function as well. For this aim, you should eat about a handful of roasted seeds of pumpkin regularly to improve sperm quality.
10. Eliminate Arthritis Inflammation
Eliminating arthritis inflammation is also regarded among the excellent benefits of pumpkin seeds. Pumpkin seeds & their oil both pack anti-inflammatory abilities, so they are helpful in dealing with arthritis, especially rheumatoid arthritis and osteoarthritis. In addition, pumpkin seeds can eliminate inflammation and pain in the joints because of their pain-suppressing and anti-inflammatory properties. You should include these seeds in your diet or use pumpkin seed oil to massage the affected region 2 times every day for ten minutes to lower inflammation related to arthritis.
Note:
It's advised to eat pumpkin seeds raw to remain their healthy nutrients. You need to eat pumpkin seeds in moderation to inhibit weight gain because they are rich in calories. Just one handful of these seeds every day is enough.
Recommended articles:
Lemon Beauty Benefits For Your Skin And Hair
Benefits Of Green Tea For Skin, Hair, And Health
Beauty Benefits Of Strawberries
Benefits Of Baking Soda For Hair, Skin And Body
Beauty Benefits of Papaya For Skin and Hair
Beauty Benefits of Apple Cider Vinegar for Skin & Hair
In conclusion, pumpkin seeds provide a variety of benefits for both beauty and health. You should include them in your diet daily to gain optimum benefits.  You can also read more such articles by directly visiting our main Foods For Beauty page. Do you know other benefits of pumpkin seeds? Feel free to share with us by leaving your comments in the box provided below.