Overview
As we get older over time, our skin will become less efficient as it used to be due to the unstoppable aging process. The dead skin cells, the ugly wrinkles, and the poor elasticity are some of many signs that make people feel worried about their skin health. For that reason, exfoliating is highly recommended as the daily skincare routine for everyone. This process can lift off the dead skin cells and unveil the new, fresh looking ones. As it takes an essential place in the skincare process, exfoliating products are available in a surprising number. A lot of spas also take exfoliating as the main mean of their income. However, instead of pouring a lot of money on chemical products, you can easily exfoliate your skin at home with the help of familiar natural ingredients. In this article, Beauty Talk will introduce different ways on how to exfoliate skin on face & body naturally at home so that you can find the best way to protect your skin against the impact of aging.
How To Exfoliate Skin On Face  & Body Naturally At Home – 14 Common Ways
I. Exactly What Is Exfoliating?
Exfoliating is always highly recommended as one of the essential skincare routines. However, it may be the strange concept for those who just take up skin care. It is important for you to know what it is and what it can do. Exfoliating is the process of getting rid of the dead skin cells and fresher the left skin cells on your body. After exfoliating the skin, the result will be quite significant as your skin looks younger and feels smoother than before. This process also removes all the oils and dirt stuck in your skin much easier than just using a normal cleanser and shower gel. This routine is also necessary during the winter when the sunlight does not appear frequently and your skin starts to look dull. Exfoliating at that time can make your skin sun-ready and fresh like normal.
It is a wrong perception for most of the people that only face skin needs exfoliating. The number of facial exfoliating products available in the market is the most convincing evidence for this. In fact, the rest of the body also requires attention if you don't want to show the dull looking legs or shoulders when wearing the bikini or some gorgeous evening gowns.
Even for the dry skin, exfoliating is also an essential routine to remain the skin softer and smoother. However, you will need to moisturize the skin after the exfoliating process to get the best result.
See more: Anti-aging tips for women in their 40s
BeautyTalk Partner Solutions

Ask Any Questions and Get Answers within Minutes, 24/7!
The Medical Experts are available whenever you need them. You can even approve payment only when you're completely satisfied.
II. How To Exfoliate Skin On Face & Body – 14 Common Ways
1. Dry Brushing
A bristle brush will be enough for you to do the gently, slightly exfoliation. Without any scrubs or exfoliating creams; a good quality, natural bristle brush will be all you need for a dry brushing process. Just use that brush to gently brush your skin for about 5 minutes, starting from your feet, and moving upwards, toward the chest or the heart. After exfoliating, don't forget to cleanse your skin and moisturize with skin care products.
2. How To Exfoliate Skin with Baking Soda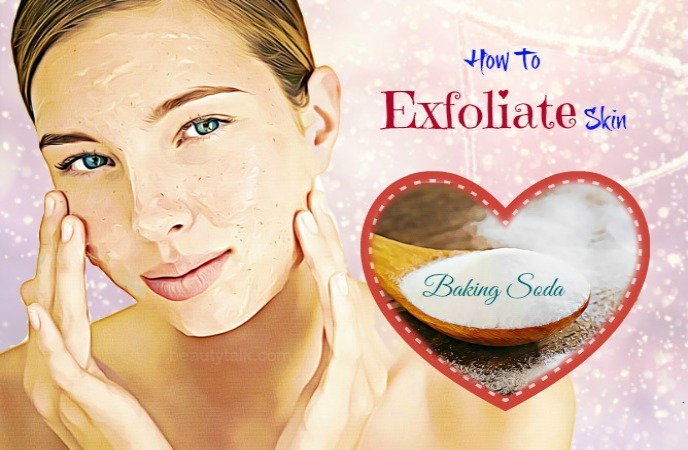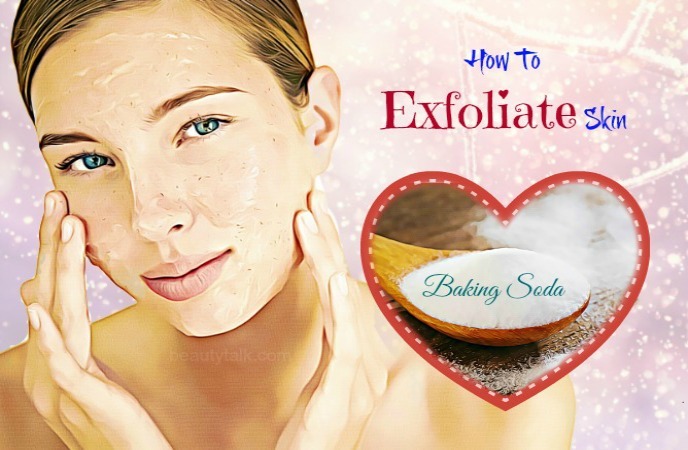 It is hard to count how many benefits baking soda can offer for us. From the most versatile products found in every kitchen, baking soda is also used for skin-care purposes in different ways, regardless of some controversial opinions on its side effects on the skin. As it is alkaline in nature, this powder can balance the pH levels of the skin and make it gorgeous with radiance. It also helps exfoliate the dead skin cells, and supports the skin regeneration [1]. Besides removing acne scars, skin tan or blackheads, soothing skin rashes, baking soda is proven to be a natural cleanser which can soften the sebum and absorbs excess oil on the skin. For this tip, you only need to mix baking soda with some natural honey and water. The, use this mixture as an exfoliating cream for the skin. Skin whitening can be recognized as another effect of baking soda on skin.
Read more: Amazing benefits of baking soda for beauty
3. How To Exfoliate Skin with A Dry Towel
Besides a bristle brush, you can still exfoliate your skin without any creams, scrubs, or lotions using only a dry towel. After taking a shower, let dry your body with a towel as normal but keep another towel dry. When your skin gets dry with the first towel, use the second one to rub yourself again to get rid of the dead skin cells from your body.
Read more: Natural home remedies for skin rejuvenation
4. How To Exfoliate Skin with Oatmeal
Containing a generous source of antioxidants, oatmeal has been used for ages to treat itching-associated conditions, as well as dry skin, such as rashes and eczema. This natural brush is also believed to reduce redness and protect the skin against the damage of sun rays [2]. If your skin is sensitive to other natural ingredients listed in this article, you can try using oatmeal as a slight exfoliator for your skin.
Read more: Unusual ways to get rid of stretch marks you didn't know
5.  How To Exfoliate Skin with Milk
Raw milk can benefit human skin in many ways. As being rich in vitamin A, vitamin D, calcium, alpha hydroxyl acids, and other potent antioxidants, raw milk can nourish our skin cells deeply and moisturize it all the day. More specifically, the lactic acid in raw milk is a powerful chemical for exfoliating. It can get rid of the dead skin cells easily without any rubbing or scribing. You can use only milk itself or mix with some egg whites in case your skin is the particularly dry type. For this method, you can:
Dab the milk over your skin by pouring a few cups of milk to your bath

Use a washcloth or a clean cotton ball to rub the milk over the skin gently in circulatory motion

Do it every day for the glow, supple skin
Read more: Amazing benefits of buttermilk for beauty
6. How To Exfoliate Skin with Sugar
Sugar is another popular ingredient appearing in your kitchen that can benefit for your skin. This sweetener can soften the skin, exfoliate it and freshen it. With the source of glycolic acid, sugar can penetrate the skin cells and keep your skin fresh and rejuvenated. Sugar scrubs with other ingredients such as coconut oil, olive oil, or jojoba oil can hydrate, moisturize and exfoliate your skin naturally [3]. So, how to use sugar to benefit your skin at home:
Prepare half a cup of each ingredient, including sugar, olive oil or coconut oil

Mix all these ingredients together and keep it in a tight jar

When you take a shower, use 1 tablespoon of the mixture to scrub your skin and rinse off with water
7. How To Exfoliate Skin with Salt
Salt is rich in deeply cleansing and minerals, which make it the suitable choice for scrubbing your skin [4]. It helps to remove the outer layer of skin and stimulates the repair and regeneration. It is also easier for the skin to absorb and profit from moisturizing products. Sea salt may not the best choice for face scrub as it may be too harsh, but it is amazingly effective for other skin parts. You can choose between adding salt to your favorite oils and simply add to the moisturizing lotions.
8. How To Exfoliate Skin with Coffee
Besides the ability to perk you up, coffee can also act a powerful exfoliator for our skin. It is very good at removing dead skin cells and fade off the starch marks. Moreover, the antioxidants contained in coffee can fight oxidative stress and slow down the aging process on your skin.  For this tip, you can follow these step by step instructions:
Prepare 2 cups of ground coffee, one cup of sea salt, and three tablespoons of massage oils

Mix them well and rub it onto your skin while taking a shower. It will moisturize your skin and open the pores

Massage your skin in circular motions before rinsing off with water

Pat the skin dry and use your favorite lotion
9. How To Exfoliate Skin with Lemon And Sugar Body Scrub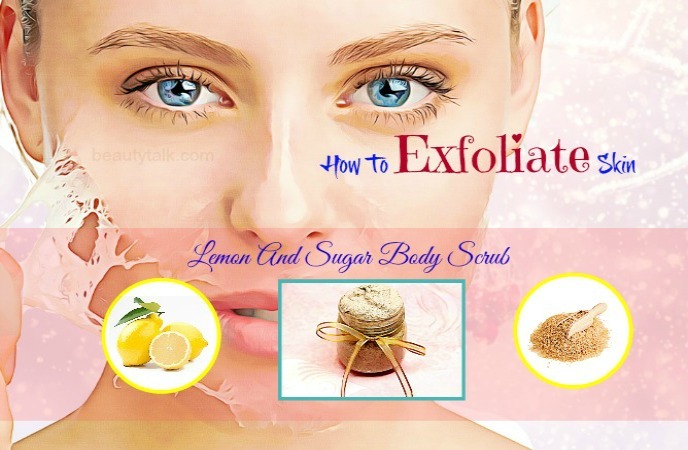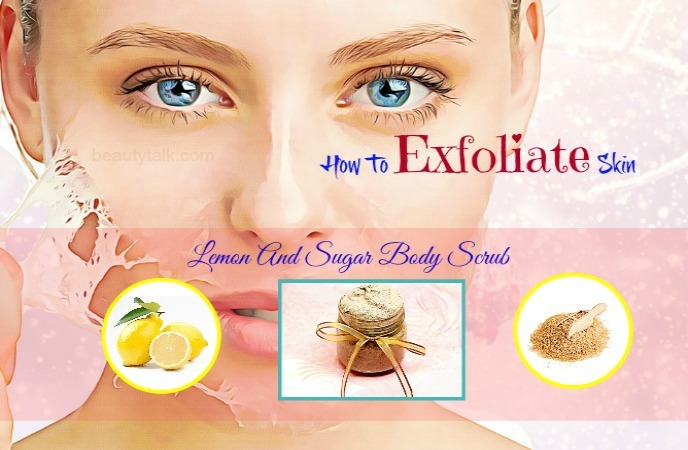 Citrus fruits, including lemon, are well known as the popular skin cleansers thanks to its skin-brightening ability. When used as homemade scrubs, they can gradually remove the stubborn freckles, spots over time. With the generous source of citric acid and vitamin C; lemons, oranges, limes or grapefruits can support the collagen production and acts as an effective antioxidant against the harmful chemicals stuck on your face on a daily basis [5].
Lemon juice, the most outstanding representative of citrus juices, is also able to penetrate and get rid of the protein glue that results in dead skin cells. It also helps you restore the slightly acidic pH level while keeping your skin soft, supple and smooth.
Method 1:
Prepare one-quarter-cup of juice, grape juice, apple juice, and cane sugar (make sure that sugar dissolves completely)

Apply the combination to your skin using a cotton ball

After 10 minutes, rinse off with water
Method 2:
Prepare the lemon juice (add other ingredients if you want)

Cleanse your skin before applying this mixture to it

Gently massage for 5 – 10 minutes to exfoliate the body (1-2 minutes for each part)

Wash off the mixture with a hydrating body scrub as well as lukewarm water

Repeat this tip twice a week for the best result
Read more: Lemon beauty benefits that will amaze you
10. How To Exfoliate Skin with Organic Turmeric
Turmeric is one of the most popular India natural ingredients used for skin. It is proven to reduce facial redness and inflammation and promote skin healing process. Thanks to the strong antiseptic, antibacterial, and antioxidant properties, turmeric can be used for skin rejuvenation. This herb works well in softening wrinkles and lines, making your skin younger and fresher. By applying turmeric scrub frequently, you can brighten your skin tone and keep it moisturized and supple. Let see how to exfoliate skin with organic turmeric:
Prepare 1 cup of sugar, 2 tsp of turmeric powder and 1 ½ cup of coconut oil

Mix these ingredients together to get a coarse paste

Cleanse your skin carefully before applying this paste

Gently massage the mixture with your fingers, in circular motions

After 5-10 minutes, wash off the mixture using a hydrating body scrub together with lukewarm water

Repeat the method 2-3 times a week
See more: Simple ways to use turmeric for acne that will amaze you
11. How To Exfoliate Skin with Yogurt
Yogurt never loses its place in the list of ingredients for skin care. The lactic acid contained in yogurt is the same kind found in prescription skin care treatments, however, in the suitable amount for effective exfoliation. These properties can even out the skin tone effectively. Moreover, yogurt (and milk, too) can hydrate and exfoliate the skin, making it smoother and suppler thanks to its nutrient properties such as zinc, calcium, vitamins B. Yogurt is also effective in moisturizing, removing eye dark circles and soothing sunburns. All you have to do is just apply the plain yogurt to your body skin for about 20 minutes and then rinse off with water.
12. How To Exfoliate Skin with Honey
Not only is honey good for your drinks, this sweetener can contribute to our daily skin care. The raw, unprocessed honey can offer anti-viral, anti-bacterial, and anti-fungal benefits, which make it a great topical antiseptic. Honey can also reduce the appearance of skin infections, as well as fighting acne. The antioxidants found in honey are very effective in protecting the skin and skin cell regeneration. If you want to accelerate the natural exfoliation process and moisturize your skin faster, let use the raw honey to make the homemade skin scrub for yourself.
See more: Amazing benefits of honey with lemon
13. How To Exfoliate Skin with Ground Fruit Seeds and Nuts
Ground fruit seeds (for example, blackberry seeds or raspberry) and ground nuts (like ground almonds) are both famous ingredients for exfoliating skin care products thanks to their ability in loosening and removing the dead skin cells when you use them to massage onto your skin gently in a circular motion.
However, it is one thing you should remember when applying a friction-based exfoliant scrub. The sharp-edged ingredients, including ground stone-fruit pits such as apricot and peach, can be too harsh for your vulnerable skin. Therefore, if you want to use ground fruit seeds or nut for exfoliating, they should be well prepared.
14. How To Exfoliate Skin with Papaya
Containing enzyme papain which can dissolve old dead skin cell and break down inactive proteins s, papaya can make your skin younger and smoother without harming them. More specifically, the enzyme can speed up the skin healing process and eliminate the line and age spots. Papaya is also loaded with vitamins A, an antioxidant that takes responsibility to minimize fine lines. Other properties like vitamins C, some B vitamins and minerals found in papaya are necessary for the skin health.
There is no way we can stop the timing and the aging process from making an impact on our body, obviously. When the time goes by, our skin will experience a decline in the health and in the outlook, which can be visualized by the wrinkles, the dark spots or dead skin cells. Exfoliating is one of the best ways to slow down the aging process and keep your skin as healthy as when we are young. There are several natural ways on how to exfoliate skin that are safe, effective and easy to be carried out at home. You can find the ingredients somewhere in your kitchen to save your skin. 14 tips suggested in this article are also reliable and proven to perform well for exfoliating. Therefore, you can try them at home to see their effectiveness. If you have any more ideas on how to exfoliate skin on face and body naturally at home, please share with us. For more information, please visit the main page Skin Care.