Winter is coming and it brings along many skin problems. Dry skin on hands in the winter or summer is especially annoying to us. Do you ever feel sorry for holding your boyfriend's hands with your extremely dry ones? Just kidding, girls, but you really know how uncomfortable dry skin on hands gets on us so that trying to get rid of this issue in the winter is what Beauty Talk is going to introduce in today article. Let's see how dry skin on hands differs in the winter and summer by looking at our main contents.
11 Must-Know Ways To Treat Dry Skin On Hands In Summer & Winter
I. Why Do We Get Dry Skin On Hands In Winter And Summer?
You may acknowledge what causes your hand skin dry in the cold and hot season by yourself already. In general, there are plenty of reasons but following are the most common ones. Don't you think we should mention them? Well, it is necessary to understand the root of a problem before making any effort to tackle it.
One of the possible factors getting your hands dry is the humidity. Cold and dry weather in the winter is the biggest threat to your hand skin. That's why we need to moisturize skin more regularly in this season. Besides, many people misunderstand that a frequent water wash can increase the skin moisture thereby helping to keep dry skin on hands at bay, but in fact, the effect is totally inverted. It actually contributes to dry your hands because frequent cleaning will take moisture away from the skin surface. In addition, if you often take a hot shower in the winter, dry skin can also occur because high-temperature water can dehydrate skin surface. To the final point, lack of moisture is considered as the biggest cause for dry skin on hands in the winter.
Meanwhile, dry skin on hands in the summer is caused by several different factors even though the nature of this problem is based on the skin moisture. Anyway, during summer, we often have some of following unbeneficial activities, which later affect your hand skin. For example, not drinking enough water can be among these ones. Summer weather makes us sweat a lot and if there is not a sufficient supply of water, skin moisture can run out. Besides, sitting for a long time under the air condition also causes dry skin on hands. Another reason can be mentioned is clogged pores. This possibly blocks sweat glands thereby causing dryness. Moreover, direct and recurrent exposure to summer sun rays also causes dryness on skin. Dermatologists point out that sunburn can be the factor behind excessive skin flakiness. Last but not least, if you try to scrub away dry and dead skin by excessively exfoliating, you might also cause dryness to the skin by yourself.
See more: 8 best ways to make homemade face cream for dry skin in summer
BeautyTalk Partner Solutions

Ask Any Questions and Get Answers within Minutes, 24/7!
The Medical Experts are available whenever you need them. You can even approve payment only when you're completely satisfied.
II. Easy Recipes For Dry Skin On Hands In Winter And Summer
Dry skin on hands either in winter or summer can be treated naturally with various home remedies. You can rely on the following recipes and choose ingredients based on seasons.
1. Olive Oil, Honey, And Sugar For Dry Skin On Hands

In the winter, you can make use of this recipe for dryness. Olive oil is always available and its effect is extremely strong for dry and flaky skin even in the very cold and dry season. It is thanks to a high concentration of antioxidants together with healthy fatty acids. These elements are well known for their good benefits for skin. In fact, they are able to soothe the dryness and take a good care of the hand skin. Brown sugar works as a scrub on your skin. In addition, honey contributes as a big supporter of the remedy because its effect is appreciated more than any other ingredients. As a result, a combination of honey and olive oil will boost the soothing and moisturizing effect to the highest point.
What You Need:
Olive oil: 2 tablespoons

Honey: 1 tablespoon

Fine brown sugar: 4 tablespoons
How To Do:
Mix all the ingredients in a small bowl

Rub the solution on your hands for a few minutes

Maintain light and circular motions

Wash off with water and apply your moisturizer.
Notes: The remedy is recommended for both seasons. Especially, in the winter, you can regularly dab olive oil or honey on your hands to avoid dryness. It will work as an effective homemade moisturizer.
2. Yogurt And Papaya For Dry Skin On Hands
It seems that papaya is available in the summer, thus, this recipe is spent for this hot season. Yogurt and papaya could be a perfect combination for dry skin. Lactic acid contained in yogurt helps clear away germs and bacteria that possibly cause dry and itch skin.[1] Besides, ripe papaya pulp provides a high amount of water, fat content, and carbohydrate, which can serve as a good moisturizer and hydrator for skin.
What You Need:
Yogurt: ½ cup

Mashed ripe papaya: 3 tablespoons

Honey or lemon juice: few drops
How To Do:
Mix all the ingredients in a bowl and stir them well

Then apply on skin for around ten minutes before rinsing off your hands with water

Repeat the process weekly to get the best result
Notes: You can make use of plain yogurt as a daily homemade moisturizer. Just dab it on your hands and leave there for 10 minutes before rinsing off with water. This should be a good choice for dry skin on hands in summer.
See more: Revealed: top 6 vitamins for dry skin, scalp, & brittle nails in adults
3. Coconut Oil For Dry Skin On Hands
It would be a cute mistake if we do not mention coconut oil on the first list of home remedies for dry hands. I'm pretty sure that all girls are acknowledging of the powerful benefit of this essential oil for beauty.[2] Actually, coconut oil is highly recommended for nourishing and moisturizing your skin. Your hands will turn back with the smooth and glow skin.
What You Need:
How To Do:
Warm the coconut oil

Apply it on your hands daily before going to bed

Leave it overnight and wash off in the next morning

Maintain the habit to say goodbye to dry skin on hands
4. Milk For Dry Skin On Hands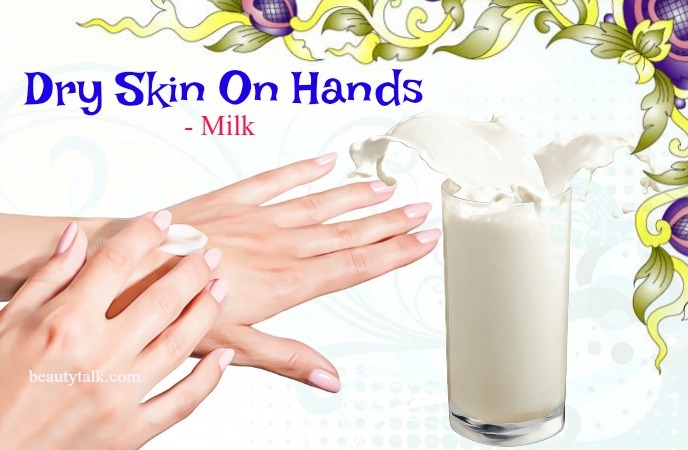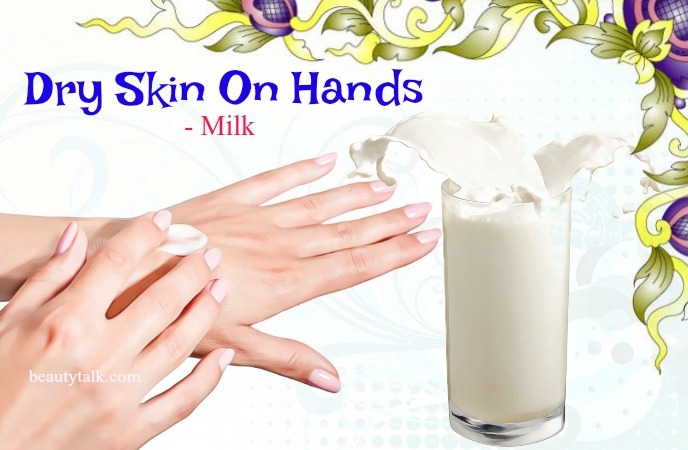 Milk is another solution for your dry hands thanks to its powerful anti-inflammatory and soothing functions.[3] Furthermore, it can work effectively to treat dry and itchy skin. Using milk is also a good method to exfoliate dead skin cells. At the same time, it helps enhance the capacity of retaining moisture. Why don't you give it a trial?
What You Need:
How To Do:
Have a washcloth soak in cold milk

Then place it on your hands

Leave it there for 5-7 minutes

Wash your hands with another washcloth soaked in warm water
Notes: you can drop some rose water to the milk and rub it on your hands to moisturize.
See more: 15 must-know ways to choose the best cleanser for dry skin with acne
5. Avocado For Dry Skin On Hands
As you may know, avocado is a good care for dry and rough skin. It is widely applied to moisturize and nourish your skin. Dry skin on hands can also be treated with this natural remedy. A high concentration of vitamin A contained in this fruit could help you to repair and maintain your skin texture, which gives back the silky and smooth skin. Don't skip this amazing solution for dry skin on hands. Especially, you can apply it both in summer and winter.
What You Need:
How To Do:
Just mash the avocado into a paste

Then combine with honey

Use the solution to apply to your hands

Leave it on your hands for about 15 minutes before washing off with water

Do this daily to completely
Notes: You can merely use avocado pulp to treat dry skin on hands.
6. Almond Oil And Milk For Dry Skin On Hands
In addition to avocado, almond oil is also an excellent choice for your hands thanks to a great concentration of vitamin E that is necessary to moisturize dry and rough skin.[4] It is easy to be absorbed by the skin so that it takes shorter time to repair and restore the texture. Warming up almond oil is necessary when using it. Simply, you can massage your two hands with warm almond oil to moisturize it. Or else, you can take it with milk as a favorite daily drink before going to bed. This way even improves your body hands as well.
See more: Top 7 essential oils for dry skin treatment: why & how to use them?
7. Aloe Vera Gel For Dry Skin On Hands
It is also recommended to use aloe vera gel to treat dryness on skin.[5] Actually, aloe vera is considered as one of the simplest but most effective methods. If you don't have much time spent on hand care, you can follow this easy recipe.
What You Need:
How To Do:
Peel an aloe vera leaf to get its flesh

Gently rub it on your hands

Let it stay for a while before washing off

Do this regularly to get the result
See more: 18 best ways to prevent dry skin in the cold winter naturally
III. Must-Know Tips For Dry Skin On Hands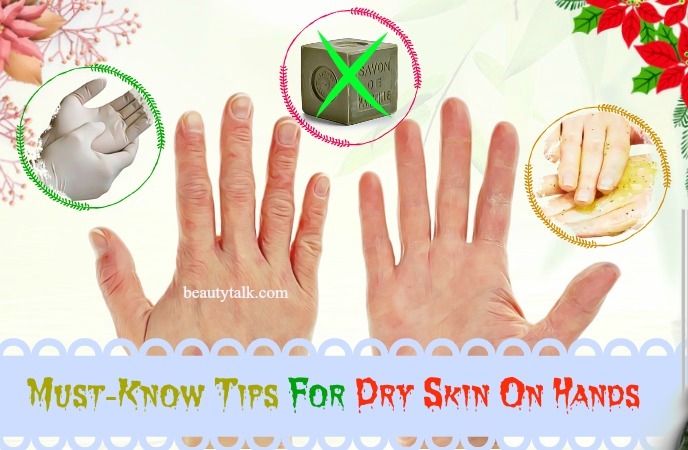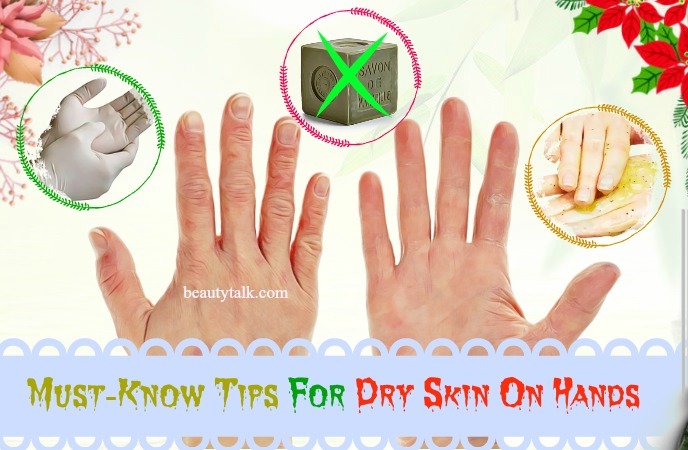 1. Avoid Soap If Possible
As stated, soap with fragrances, sulfates, and preservatives will make your hands drier. As a result, people with dry skin on hands should avoid using these soaps as much as you can. Instead, you should apply moisturizing cleansers. However, do remember that if you do not rinse it thoroughly after using, dry skin can be back to your hands as well. So, avoid soap, use a moisturizing cleanser, and rinse thoroughly to keep dry hands at bay.
2. Wearing Gloves
In the winter, hands are more prone to dryness because of the cold and dry weather, as explained. If you often let your hands expose directly to such the coldness and dryness. Prevention is the best treatment ever. Wearing gloves in the winter or whenever you do some tasks is a good way to keep your dry hands away from damage and hard conditions. Cotton and leather are highly recommended.
Besides, you can apply some types of moisturizer before going to bed and wear cotton gloves overnight to treat dry skin on hands.
3. Using A Humidifier
A humidifier should be a good idea to prevent dry skin, generally. You can rely on it to avoid dryness in the winter.
See more: Now you will know why these 26 home remedies for cracked feet work for everyone
4. Exfoliate Hand Skin
Do not abuse exfoliation does not mean that we don't need to do so. It is necessary to exfoliate your hand skin with natural skin care ingredients. Sugar along with coconut oil could be considered as a good exfoliator for dry hand skin. Do not forget to apply moisturizer after exfoliating. This will help you prevent dryness and protect your glow and smooth skin on hands. Especially, in the winter, you should do it more regular and maintain moisturizing perfectly.
IV. Myths & Facts About Dry Skin On Hands You Should Know
Like other skin care problems, people also have some myths about dry skin on hands. What they are and what they really are will be covered in this section by Beauty Talk.
1. Myths About Hot Bath
Many people having dry skin on hands believe that taking hot baths regularly in summer and winter can help induce the skin oil secretion thereby promoting moisturizing. In fact, it is the hot bath that makes dryness worse. That's why it was mentioned on the causes of dry skin on hands. Therefore, you should take a warm bath and avoid the sauna to keep the dry skin at bay.
2. Myths About Peeling Hand Skin
Do you often peel your hand skin to remove dead skin cells? It should be a good way to get your skin clean but a bad way to cause dryness if you carry out too frequently. In contrast, many dry-hand people think that peeling treatments would help reduce dry skin on hands. This myth should be clarified. Actually, chemical peels can sweep moisture away from skin surface as well. Therefore, you should bear in mind to apply moisturizing creams after having a peel treatment.
3. Myths About Regular Baths or Hand Wash
Not only does hot bath or hand wash make dryness worse but it also reduces moisture on skin if applied frequently. In fact, people think reversely and it is totally wrong. Dermatologist said that water cleaning may contribute to removing oil on skin and it takes about 6-8 hours for the oil glands to produce oil. As a result, if you bath and wash very often, time requirement cannot be met, thereby drying your skin on hands.
4. Not All Skincare Products For Dry Skin On Hands Are Good
You should note that not all skin care products sold in the market are good for your dry hands. If you do not want to make the condition worse, you'd better choose the right suitable product for your skin type. Otherwise, it even becomes dryer altogether.
See more: 16 simplest ways to make the best face wash for dry skin in winter
Above are some small tips you should bear in mind if having dry skin on hands in summer and winter. Not only treatment but also prevention is necessary. Therefore, you should pay more attention and time to your hands before the dryness causes you in troubles.
All content provided are for informational and educational purposes. We recommend you consult a healthcare professor to determine which method is appropriate for you. Further explanation can be shown by professors. For further information relating to other beauty issues, you can find it on our main page DIY Beauty.