Overview
The problem of foot odor affects many people [1]. The issue of stinking and smelly feet is known as bromhidrosis. The foot contains thousands of sweat glands producing sweat that is composed of minerals, sodium chloride, fats, water, and certain acids. Besides, the foot includes millions of bacteria, which thrives on the skin cells and sweat. The bacteria and sweat contribute to foot odor. To get rid of this condition, you can opt for some natural home remedies. In this article, Beauty Talk will reveal to you a list of time-tested home remedies for foot odor in men and women that work naturally. They are highly useful for alleviating this problem without causing any side effect. Check out the specific remedies in the line of Health on our site.
Top 14 Natural Home Remedies For Foot Odor In Women & Men
I. Causes Of Foot Odor
Foot odor occurs when the sweat doesn't evaporate because you're wearing socks or shoes. Bacteria present on the skin grow since they feed on the dead skin cells and sweat, which produce the foul smell. Besides, there are also other causes of foot odor. They include:
Hormonal changes in pregnant women and teenagers.

Poor personal hygiene.

Wearing the same shoes daily without letting the sweat dry out entirely.

Hyperhidrosis [2] – A condition makes you sweat abnormally.

Excessive stress and tension.
II. Best Home Remedies For Foot Odor
Here are some natural cures for you to help keep your stinky feet odorless and fresh.
1. Home Remedies For Foot Odor – Epsom Salt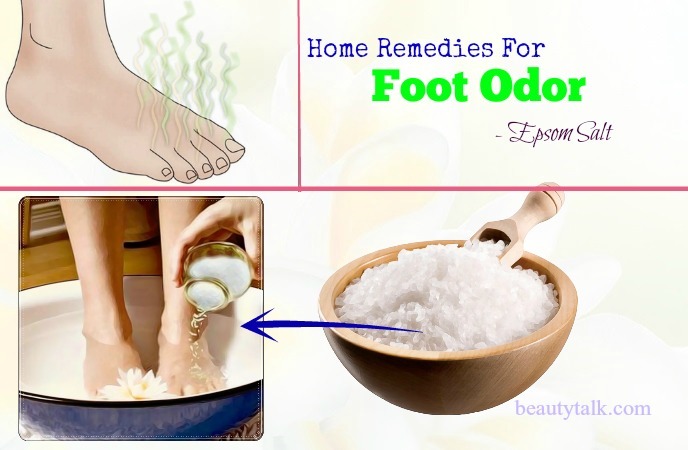 Epsom salt is widely used in beauty, spa salons, and foot soaks to achieve smooth and soft skin. Besides, it exhibits the astringent properties, which are helpful in decreasing the sweat in the feet. It further contains the high content of magnesium, which helps to kill the bacteria causing the bad smell by riding the skin of the excess moisture. Apart from that, it is also beneficial for soothing any inflammation, softening the skin, and soothing aching feet.
BeautyTalk Partner Solutions

Ask Any Questions and Get Answers within Minutes, 24/7!
The Medical Experts are available whenever you need them. You can even approve payment only when you're completely satisfied.
You need to prepare:
Warm water – half a bucket

Epsom salt – two teaspoons
How to do:
Firstly, add the Epsom salt in the bucket of warm water. Then, soak your feet in this solution for fifteen minutes nightly before sleeping. Follow this procedure two times daily for several days until you get rid of the foot odor completely.
2. Home Remedies For Foot Odor – Baking Soda
Baking soda comes with antibacterial properties, which soften the feet and neutralize the foul odor as well [3]. It additionally helps to prevent the growth of bacteria responsible for the odor.
Method 1:
You need to prepare:
Warm water

Baking soda – ¼ cup
How to do:
Pour enough warm water into one bath basin and add the baking soda to it. Stir well and later soak your feet in it for 20 minutes. Take the feet out and pat them dry. For quick results, do the process regularly.
Method 2:
You need to prepare:
Baking soda – three tablespoons

Dried sage leaves – three tablespoons
How to do:
Just mix the baking soda with dried sage leaves. Store the mixture in an airtight container and then sprinkle the mixture into shoes. Cover the area by shaking your shoes and leave overnight. After that, eliminate the excess mixture from your shoes. For fast results, follow the process frequently.
3. Home Remedies For Foot Odor – Ginger
Ginger comes with detoxifying properties that promote healthy sweating and protein production that moves to the skin's surface. It also helps protect against microorganisms such as bacteria and fungi causing infection and foot odor. According to German researchers, ginger comes with certain germ-fighting agents, which can combat infections.
Method 1:
You need to prepare:
A medium-sized ginger root

Hot water – one cup
How to do:
Make a ginger puree by blending the ginger root. Add the puree to the hot water and then stir well. Let it steep for about 10 – 15 minutes. After that, strain and apply it to your feet. Gently massage for a couple of minutes before hitting the bed. Continue doing this process nightly for two weeks.
Method 2:
You need to prepare:
A 2-inch piece of ginger

Hot water – ½ cup
How to do:
Crush the ginger piece finely to get its pulp and later keep this pulp in gauze and tie tightly. Then, soak in hot water for around 5 to 10 minutes. Massage your feet with this ginger pulp daily before sleeping. Follow every night to remove the foot odor problem completely.
4. Home Remedies For Foot Odor – Radish
If you're seeking for the effective home remedies for foot odor, then radish is a fantastic choice. Most of the times, sweat does not give out the foul smell. It's the bacteria, which thrive on the skin responsible for the odor. The radish can help cure this condition. It consists of the disinfectant property that plays a vital role in removing the foot odor. It combats the condition by killing the bacteria and other microorganisms. It also contains a powerhouse of certain B vitamins, vitamin C, phosphorus, and zinc, all of which are essential for treating various skin disorders such as acne, pimples, wrinkles, dark spots, etc.
Method 1:
You need to prepare:
How to do:
Cut and grind the radishes to extract its juice. Mix the warm water and the juice in one basin. Soak your feet in this mixture for twenty minutes and pat dry. For more effective results, try this remedy regularly.
Method 2:
You need to prepare:
Ginger paste

Radish paste

Lemon juice
How to do:
Mix all the ingredients in a bowl and apply the mixture to your feet. Massage for five minutes and later wash with water after ten minutes. Follow this remedy thrice in a week to eliminate the foot odor.
5. Home Remedies For Foot Odor – Sage Leaves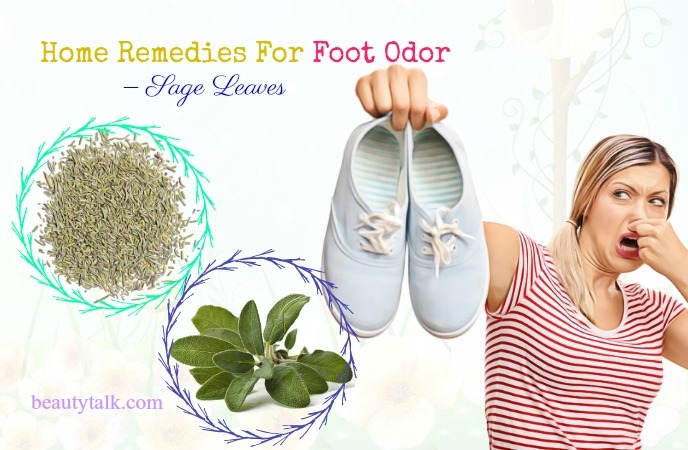 Sage both contains antibacterial and astringent effects, making it one of the perfect home remedies for foot odor. Plus, it is beneficial for shrinking the foot glands causing excess perspiration and stopping the formation of bacteria.
Method 1:
You need to prepare:
Fresh sage leaves – 10

Or dries sage leaves – one teaspoon

Hot water – eight cups
How to do:
Firstly, fill one basin with the hot water. Next, add either dried or fresh sage leaves to it. Let it steep for about 10 to 15 minutes. Then, place the feet in this mixture and allow it to soak for 25 minutes. After that, remove your feet and pat dry thoroughly. Try this home cure frequently.
Method 2:
Rosemary contains antibacterial, astringent and antifungal effects which can lessen the production of sweat in sweat glands [4].
You need to prepare:
Dried sage – two teaspoons

Dried rosemary – one teaspoon

Warm water
How to do:
Use enough warm water to fill one foot basin. Add the dried rosemary along with dried sage to it. Stir well and let the mixture steep. Then, soak your feet in it for half an hour. You should follow this simple treatment once or twice a day to lower the foot odor.
6. Home Remedies For Foot Odor – Lemon Juice
Lemon juice is full of the citric acid that is helpful for killing the bacteria and decreasing the foot odor. Besides, the astringent properties present in this citrus fruit are potent in shrinking your skin pores and dealing with excess sweating [5]. Here's how to combat the foot odor with lemon juice:
You need to prepare:
Lemon juice – one cup

Hot water – one small tub
How to do:
Take the prepared lemon juice and pour it into the small tub of water. Then, soak your feet in the mixture for fifteen minutes. After that, once done, wash with regular water. For fast relief from the foot odor, try the treatment twice in a day.
7. Home Remedies For Foot Odor – Alum
Alum [6] is commonly used in deodorants owing to its antiperspirant properties. You can find alum in powder or crystal form. Alum powder holds powerful astringent and antiseptic properties, which help inhibit the growth of bacteria in the feet contributing to the foot odor.
You need to prepare:
Alum powder – one teaspoon

Warm water – two cups
How to do:
Combine the alum powder with warm water and mix them well. Use this resultant combination to wash your feet thoroughly. Don't dry your feet instantly and leave the alum to work on the skin. Dry your feet after around 10 minutes. Alternatively, you can also sprinkle a little alum powder on the feet.
8. Home Remedies For Foot Odor – Coconut Oil Remedy
Thanks to its lauric acid, coconut oil can fight against the bacteria present on the feet. Apart from stopping the sweating, this oil also acts as a deodorant and is the naturally pleasant scent. Moreover, it's excellent for destroying the tinea pedis fungus and soothing the red rash caused due to the fungus. Besides, cedarwood essential oil includes antifungal properties that help to kill fungi causing foot odor [7].
You need to prepare:
Coconut oil – two tablespoons

Cedarwood essential oil – five drops
How to do:
The first step is washing your feet thoroughly and patting dry. Then, mix the above oils well and start applying to the feet. Allow the oil to air dry. It's best to follow this process daily.
9. Home Remedies For Foot Odor – Boric Acid
Boric acid is derived from the sodium salts, mineral boron, and oxygen. You can find it in many foods. Plus, it's used in the manufacturing of soaps, pesticides, antiseptics, and wood preservatives, etc. Apart from that, it comprises antiseptic properties that are perfect for curing the foot odor and athlete's foot disease. It is also mildly toxic and acidic, which works well on eliminating molds and bacteria.
You need to prepare:
Vinegar – ½ cup

Borax – ½ cup

Water – two cups
How to do:
Add the borax together with the vinegar to the water. Next, use this solution to soak or wash your shoes. Let the shoes dry out before wearing them.
10. Home Remedies For Foot Odor – Sugar Scrub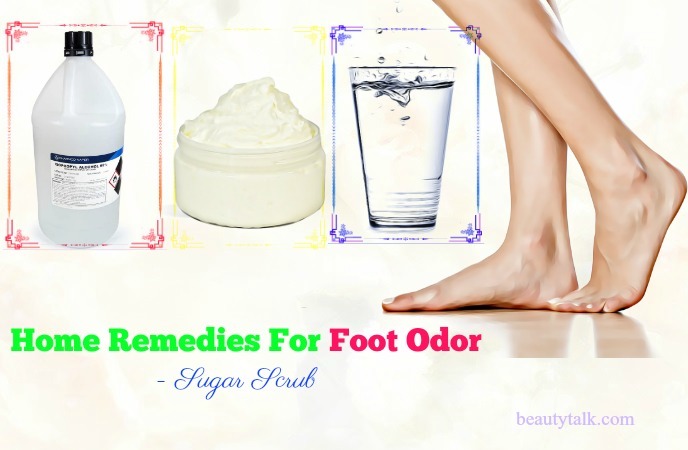 Sugar is highly effective in eliminating dead cells. Removing calluses and dead skin cells will also aid in fading away from the foot odor because they are responsible for smelly feet. Using sugar scrub regularly will help clean the feet and prevent calluses from forming.
Get these:
Sugar – three parts

Clean water – one part

Isopropyl alcohol (91 percent) – five parts
How to do:
Mix all the above elements to make a thick mixture. Use it to scrub your feet for five to ten minutes. It helps combat bacteria and dead skin cells naturally. Wash your feet thoroughly. Use this scrub at least thrice a week.
III. Simple Tips To Prevent The Problem Of Foot Odor:
Just small changes in your lifestyle will assist you in getting rid of foot odor.
Frequently brush and clip your toenails.

Always keep your feet clean and dry.

Practice yoga, meditation, and deep breathing to reduce stress since stress causes sweating.

After soaking and drying, apply a little hand sanitizer. This way is beneficial for killing the bacteria on your feet and restricting the bacterial growth.

Quit smoking and drink less alcohol since they result in sweating.

Soak the feet in water with several drops of thyme oil for about fifteen minutes daily.

Soak your feet in some vodka for ten minutes to help murder the bacteria.

Take some drops of Listerine mouthwash and add it to lukewarm water. Soak your feet for 10 minutes. This step helps to battle the bacteria and freshen your feet.

Apply a little vegetable oil on your feet nightly before sleeping and gently rub it. Wear socks and keep it overnight to fight against the bacteria, foot odor, and toenail fungus.

If your problem is not improved within a week, consult a doctor because it can be symptoms or signs of certain health conditions.
IV. Diet Tips For Healthy Feet
Believe it or not, certain foods are helpful for combating stinky, the sweat, smelly feet, perspiration and bacteria causing bromodosis odor.
1. Herbs
Many herbs and spices consist of a compound named chlorophyll that neutralizes odors naturally. Herbs rich in chlorophyll include parsley, mint, garden cress, rosemary, and sage. Besides, you should include dark, leafy greens in your diet because they are high in chlorophyll.
2. Citrus Fruits
Regular consumption of fresh citrus fruits such as oranges, limes, and lemons can decrease musky odors remarkably. So try including grapefruits, lemons, and other citrus fruits in your regular diet to help treat the foot odor and other bodily odors.
3. Zinc
A zinc deficiency can lead to stinky feet. Thus, you need to either eat zinc-rich foods or take zinc supplements to get enough zinc. Zinc-rich foods are the wheat germ, peanuts, dark chocolate and pumpkin seeds.
With these home remedies and tips, you quickly combat the foot odor. Have you ever tried any of these remedies for removing foot odor? Do you know other natural home remedies for foot odor in women and men? Do let us know by leaving a comment in the section below.