Frankly speaking, we all prefer using natural products to take care of our beauty and health because these products are enriched with minerals, vitamins and other nutrients making them very useful for the skin, hair, and body. Ginger is one of such natural products. Ginger is not only great for our health but also is very effective for our hair. Ginger has been used for treating a variety of health problems and promoting hair growth for centuries. Ginger is packed with vitamins, potassium, magnesium and phosphorous, all of which provide nourishment to the hair follicles, making them strong and inhibiting hair loss. Now let Beauty Talk show you some of the easy ways of how to use ginger for hair growth in detail.
Top 9 Tips On How To Use Ginger For Hair Growth
1. How To Use Ginger For Hair Growth – Ginger Paste
Ginger is packed with antibacterial agents that end the dandruff spread, thereby promoting hair growth. Its antioxidants can induce blood circulation in our scalp. It also gives you a strong and bouncy hair. The ginger paste has potent nourishing and antimicrobial properties, which will stimulate hair re-growth and reduce hair fall as well.  This is one of the most efficient ways on how to use ginger for hair growth. Follow this process below:
Ingredients:
Grated ginger – 2 tablespoons

Water
Steps:
Take the blended ginger and blend it with enough water until a slightly runny consistency is formed. Thereafter, apply to your scalp using this paste and let it remains for 45 minutes to 60 minutes. Finally, rinse this paste out with water. This ginger paste can be used twice per week for best results.
2. Ginger With Olive Oil For Promoting Hair Growth
This combination will help to nourish and strengthen the hair, making sure that it grows out healthy and thick. Olive oil is filled with essential fatty tissues and antioxidants, which penetrate the hair and scalp. It evidently promotes hair growth. Here's how to use ginger for hair growth:
Ingredients:
Ginger stick – 1

Olive oil
Steps:
First of all, peel 1 ginger stick and later take out its juice with the help of a hand juicer. Then, separate the juice in a bowl and to it, add a required quantity of olive oil. Mix both the ingredients well and apply this resulting mixture to your hair and scalp. After few minutes, remove with water. Continue doing the same procedure several times each week to get fast results.
3. How To Use Lemon Juice with Ginger For Hair Growth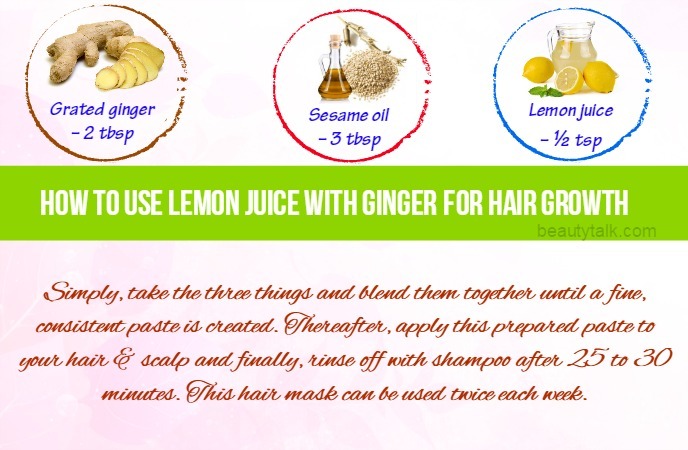 A combination of the antimicrobial properties of ginger and the collagen boosting agents of lemon works together to remain the scalp's pH while boosting hair growth. Besides, being high in vitamin C, folic acid & other nutrients, lemon juice is considered among one of the potential remedies for growing hair and promoting shiny, smooth and dandruff-free hair. Here is how to use ginger for hair growth:
Ingredients:
Grated ginger – 2 tbsp

Sesame oil – 3 tbsp

Lemon juice – ½ tsp
Steps:
Simply, take the three things and blend them together until a fine, consistent paste is created. Thereafter, apply this prepared paste to your hair & scalp and finally, rinse off with shampoo after 25 to 30 minutes. This hair mask can be used twice each week.
4. Using Onion with Ginger For Hair Growth
Generally speaking, onions are rich in sulfur that is one of the primary building blocks of hair. Also, onions provide sufficient nourishment to the hair follicles and improve blood circulation. Moreover, its antibacterial properties aid with scalp infections contributing to hair loss. Along with that, its antioxidant can prevent premature graying. So, how to use ginger for hair growth? Follow this process below:
Ingredients:
Grated ginger – 2 tbsp

Grated onion – 1
Steps:
Take a cheesecloth first and then squeeze the grated onion with ginger in it to collect their juice. After that, dab this juice onto the scalp using a cotton ball. Let the juice stay on the scalp for 20 minutes and wash your hair. This treatment can be repeated thrice per week.
5. How To Use Garlic with Ginger For Hair Growth
Garlic is also rich in sulfur and helps to advance hair growth. Besides, the coconut oil and milk nourish the hair, making it damage-free and healthy as well. Honey helps to condition the hair. In fact, this combination helps to repair the damaged hair and boost up hair growth altogether. Here's how to use ginger for hair growth:
Ingredients:
Grated ginger – 1 tsp

Coconut milk – 2 tbsp

Honey – 2 tsp

Garlic cloves – 3

Coconut oil – 2 tbsp
Steps:
Blend together all of the above ingredients until you achieve a smooth paste. Next, you divide your hair and then, start applying this mask to your hair & scalp. Once all of the hair is covered completely, let the mask remain for 30 minutes. Lastly, wash off with shampoo. Use this wonderful mask twice per week.
6. Moringa And Ginger For Hair Growth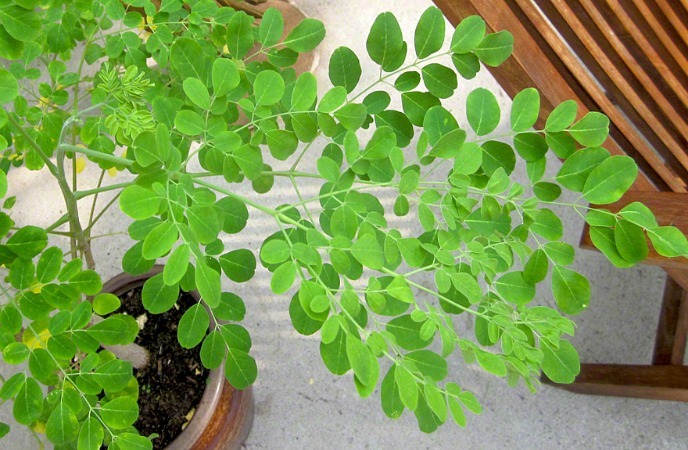 Moringa leaves are very beneficial for hair and skin care because it is a powerhouse of calcium, iron, zinc, copper, potassium, magnesium, manganese, and vitamins A, C, D, and E. It's also known for its high content of antioxidants, which help to keep hair free from damage and healthy too. Therefore, this combination is very effective for healthy hair growth. Below is another efficient way on how to use ginger for hair growth:
Ingredients:
Grated ginger – 1 tbsp

Moringa leaves – 1 handful

Water – 2 cups
Steps:
Boil the moringa leaves together with grated ginger in two cups of waters for 6 to 10 minutes. Strain the liquid once it has cooled and keep it aside in 1 jug. After that, shampoo and condition the hair and now pour this resultant liquid through the hair as a final rinse. This rinse can be used once a week.
7. Argan Oil with Ginger For Hair Growth
The hair benefits of argan oil are numerous. This oil is a great hair moisturizer, boosts hair growth and nourishes the scalp at the same time. Its antioxidants work on skin cells while its fatty acids and vitamin E improve hair texture and offer bouncy, long hair after few applications. Here's how to use ginger for hair growth:
Ingredients:
Grated juice – 3 spoons

Argan oil

Jojoba oil
Steps:
Heat the ginger juice in a pan and add enough jojoba oil and argan oil in the pan. Then, massage this mixture onto the hair & scalp and keep it all night. Wash it off the following morning by using a chemical free shampoo and lastly, follow conditioner.
8. Cucumber, Basil Oil, And Coconut Oil with Ginger For Hair Growth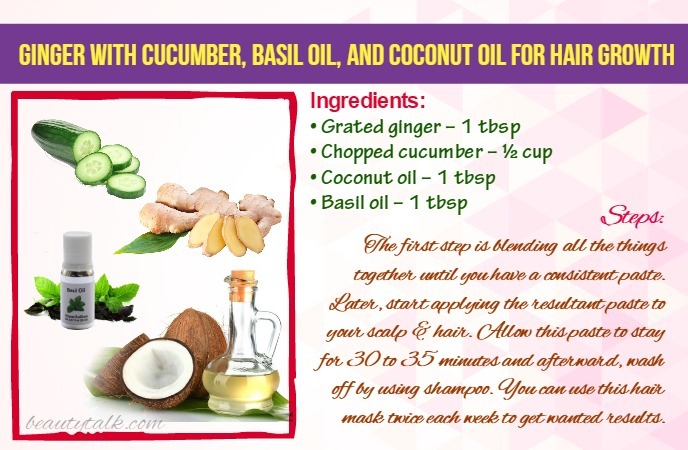 In addition to ginger, basil oil contains the antiseptic abilities that help to fight against issues such as dandruff. Cucumber, on the other hand, comprises of vitamin A, sulfur and silica, which promote hair growth naturally. Here's how to use ginger for hair growth:
Ingredients:
Grated ginger – 1 tbsp

Chopped cucumber – ½ cup

Coconut oil – 1 tbsp

Basil oil – 1 tbsp
Steps:
The first step is blending all the things together until you have a consistent paste. Later, start applying the resultant paste to your scalp & hair. Allow this paste to stay for 30 to 35 minutes and afterward, wash off by using shampoo. You can use this hair mask twice each week to get wanted results.
9. Lemon Juice, Coconut Oil And Ginger for Hair Growth
Coconut oil is crammed with natural antioxidants and nutrients including Vitamin E, K, and iron, which play a crucial role in keeping the hair supple and soft.  Its iron can even fade dandruff from the scalp. Moreover, coconut oil consists of both antibacterial & antifungal effects, which protect against lice and dandruff, which can affect the growth of hair. Lemon can control hair loss and increase blood circulation thanks to its vitamin C & good healing agents. It also helps to add shine to the lifeless and dull hair. It cleans the scalp well and induces hair growth as well. Here is how to use ginger for hair growth:
Ingredients:
Some coconut oil

Ginger juice – 4 full spoons

Lemon juice – 1 spoon
Steps:
The first step is heating some coconut oil in a pan and adding the lemon juice and ginger juice in it. Don't boil the oil & other things and keep this mixture on flame for thirty seconds. Thereafter, pour it in 1 small bowl. Use a brush to detangle your hairs and apply this solution on it. Slowly massage it for 10 – 12 minutes and allow it to stay for an hour or overnight. Lastly, wash it off using shampoo and conditioner.
Recommended articles:
Best Natural DIY Hair Masks For Hair Growth
How To Use Coconut Oil For Hair Growth And Thickness
How To Regrow Hair Fast & Naturally
All of these ways to promote hair growth with ginger are easy to follow and effective as well. In addition to the ginger ingredient, these treatments have other ingredients such as olive oil, coconut oil, cucumber or argan oil, etc, all of which help to advance hair growth quickly. By visiting our official Hair Care page will aid you in learning more other articles present on our site. You can also share your thoughts with us in the comment section provided below.