Having a shiny, smooth, straight hair is a dream of every woman in the world and a puffy, frizzy hair is a common problem that we want to get rid of. There are many different reasons for this hair problem, such as stepping out in the rain, sleeping on it wrong, using wrong shampoos and conditioners, etc. Luckily, there are a few simple ways on how to get rid of puffy hair naturally after shower that are listed in this post. Learn these tips on Beauty Talk site to instantly reduce puffy hair for a long time.
Top 21 Ways How To Get Rid Of Puffy Hair Naturally After Shower
1. Use Boar Bristle Brush To Brush Your Hair Before You Shower
Using bristle brushes regularly can cause some serious damage and breakage, but using boar bristle brushes is really useful in distributing the hair's oils for a silky, smooth hair. Brushing your hair with boar bristle brush before showering aids in lifting the oils away from the scalp; hence, you can get a deeper clean and allow the oils to nourish your hair in the process. So, don't skip this tip if you are looking for how to get rid of puffy hair naturally after shower.
2. Choose The Right Shampoo & Conditioner
Try to look for a type of shampoo and conditioner that is made for dry or curly hair. Find the labels that say: moisturizing, hydrating, smoothing, or dry & damaged. When you use conditioner, leave it on your hair for about 2 to 3 minutes, which will let your hair absorb the nutrients present in the conditioner.
In addition, you should also consider using a conditioner infused with protein. This type of deep conditioner will aid in repairing a dry, damaged hair. It can also protect the hair against humidity, which may cause a puffy hair.
3. How To Get Rid Of Puffy Hair – Use A Scarf Or Hat
Another useful way on how to get rid of puffy hair naturally after shower is to use a scarf or hat. This will not only help to disguise your puffy hair but also keep your hair from the damage caused by the sun, heat, wind, and cold. In fact, a damaged hair always looks puffy or frizzy.
BeautyTalk Partner Solutions

Ask Any Questions and Get Answers within Minutes, 24/7!
The Medical Experts are available whenever you need them. You can even approve payment only when you're completely satisfied.
4. Change Your Hair Washing Routine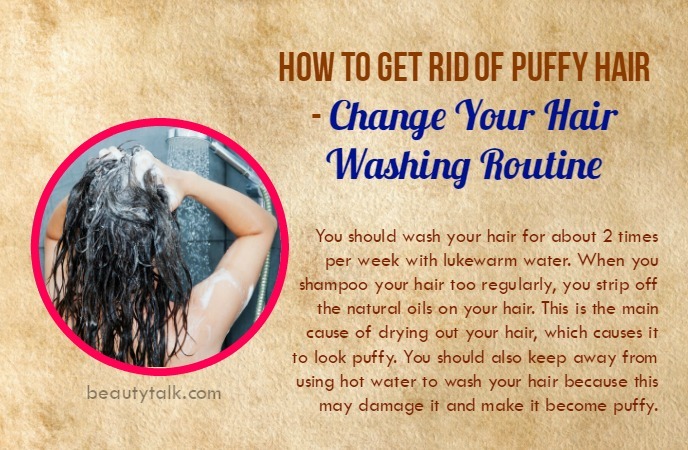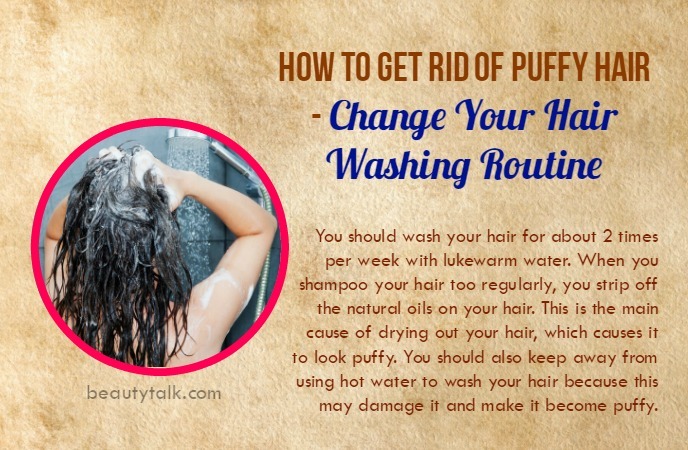 You should wash your hair for about 2 times per week with lukewarm water. When you shampoo your hair too regularly, you strip off the natural oils on your hair. This is the main cause of drying out your hair, which causes it to look puffy. You should also keep away from using hot water to wash your hair because this may damage it and make it become puffy.
In case, you notice your hair roots getting too greasy, try shaking a baby powder or dry shampoo on your scalp. Allow it to sit on for 5 minutes and then run your fingers through the hair to distribute the white powders.
5. Use A Soft, Microfiber Towel To Blot The Hair Dry
In the list of useful ways on how to get rid of puffy hair naturally after shower will be incomplete without including this tip. Simply, use the very soft towel or your old t-shirt to wrap your hair gently, and squeeze it out so that the fabric may soak up the excess water. Or you can also wrap your hair with this towel in a loose turban.
Remember to avoid using a towel to rub your hair. The fibers of towels will snag your hair strands and then damage it.
6. How To Get Rid Of Puffy Hair – Comb Your Hair With A Wide-Tooth Comb
Divide your hair into small sections and comb it, starting from the hair ends first and then combing towards the hair roots. Remember not to comb the hair straight down because this can cause the hair strands to stretch & snap. You should do this while your hair is damp and covered in a great conditioner. The conditioner will help to lubricate the comb and glide between the hair strands easier.
If you want to detangle your hair when it is still dry, avoid using a brush. You should use a wide-toothed comb or your fingers. Using a hairbrush to brush a dry hair can result in a frizzy and puffy hair.

In case, you must use the hairbrush, remember to use one with soft, natural bristles to avoid snagging your hair. In addition, the natural bristled brush also polishes your hair and makes the hair ends smoother.
7. Use A Styling Cream And Mousse
This is considered as an excellent way to add the texture to your hair but keep it natural. Simply, you just apply it right after washing your hair, starting at your hair tips and then going towards your hair roots. Styling creams or mousse aid in holding the natural shape of your hair.
8. Let Your Hair Air Dry
In fact, this is known as the most natural and simplest way on how to get rid of puffy hair naturally after shower. Moreover, it also will not disrupt the natural shape of your hair because your hair will become puffy when you disrupt its pattern. In case, you must use a blow dryer, make sure to apply a heat protecting spray to your hair and remember to use a medium or even low heat setting.
9. How To Get Rid Of Puffy Hair – Avoid Using The Heat Styling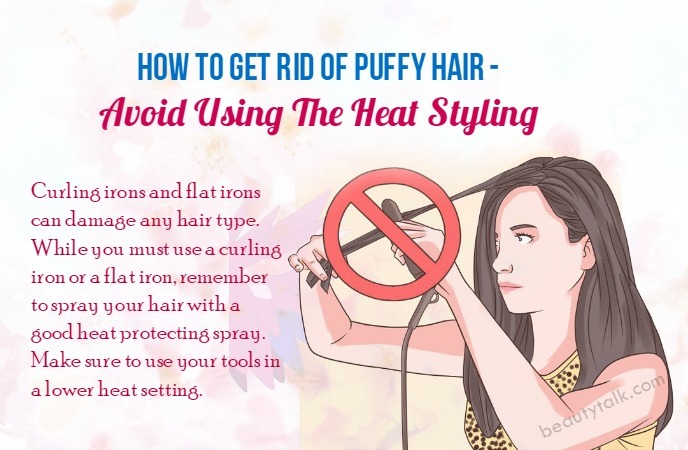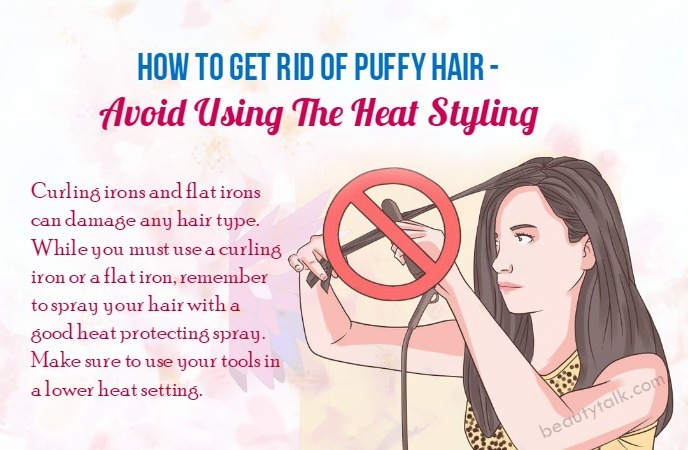 In fact, curling irons and flat irons can damage any hair type. So, try to use these styling tools only for special occasions. While you must use a curling iron or a flat iron, remember to spray your hair with a good heat protecting spray. Make sure to use your tools in a lower heat setting; although it can take longer to reach the style you want, it will become gentler on your hair.
10. Don't Touch Or Play With Your Hair When It's Dry
This is also listed in the best ways on how to get rid of puffy hair naturally after shower. Although touching or playing with the hair can be tempting, particularly when you have a curly hair, this is not good for your hair. In fact, the more you touch or play with your hair when it's dry, the more you mess up the hair strands and cuticles. This will cause your hair to puff and frizz.
11. Never Use Anything With Parabens, Silicones, And Sulfates
Parabens have been related to cancer, which you would want to put into the hair. Silicones that are not only great at making your hair look smooth and shiny are only eliminated by sulfates. And sulfates are harsh, cleaning ingredients found in household detergents; they may strip off the natural oils from your hair, leaving it dry and brittle.
You should not leave these silicones in your hair because this can result in the buildup, which makes your hair appear dull and limp.

You should also keep away from products that have alcohol. Alcohol causes your hair to become very dry. Dry hair has a tendency to get puffy.
12. How To Get Rid Of Puffy Hair With Hot Oil Massage
Using oil to massage is an excellent way to condition a puffy hair deeply. It may repair a damaged hair and make it look smoother. When it comes to hot oil treatments, olive oil is one of the most recommended, but you may also use almond oil or coconut oil with great benefits.
Directions:
Warm olive oil in a pan, oven or in a cup of hot water

Then, apply the oil to your scalp and hair and massage gently

Now, use a plastic cap to cover the head and then leave it on for half an hour

Finally, wash your hair with a shampoo
Your hair will become smoother and very easy to style. You can use hot oil treatments for once or twice per month to get rid of dry dull puffy hair.
Note: Avoid leaving hot oil unattended. Let hot oil cool down to a suitable temperature to stay away from scalding.
13. Make A Mask With Avocado And Olive Oil
The most useful of all methods on how to get rid of puffy hair naturally after shower is to use a mask made with avocado & olive oil because they have great hydrating benefits. Olive oil helps to soften puff and split ends, which will leave your hair shiny and smooth while avocado has biotin, a vitamin that will make your hair stronger.
Directions:
Firstly, mash an avocado and then add a little olive oil to it

Next, whip these ingredients to make a hair mask

After shampooing your hair, apply this mask to the hair and massage it

Keep it for about 45 minutes

Finally, rinse your hair well and use a great conditioner to remove the smell of avocado

Use this mask for twice per week to prevent the dryness for puff free hair
14. Coconut Oil And Moroccan Oil
Coconut oil and Moroccan oil make the best treatment for a puffy hair that you should try.  It is an excellent way to keep puffy hair manageable, smooth, and well-conditioned. Moroccan or Argan oil maintains your hair luster smoothness & controls puff. On the other hand, coconut oil reduces the loss of protein to repair a puffy hair & split ends.
Before shampooing:
Firstly, apply the oil generously to your scalp and rub it gently to spread

Then, massage your scalp for about 5 minutes

Now, move to the hair strands and then add more oil if required

Allow it to sit for 30 to 45 minutes and then wash off with a mild shampoo
During shampooing:
Mix oil with your shampoo and conditioner in equal parts in order to make a homemade shampoo and conditioner.
15. How To Get Rid Of Puffy Hair With Banana
"Everything goes with short hair. It's bananas – Ginnifer Goodwin."
 Bananas are very useful for your hair thanks to their moisturizing properties. This great fruit to create DIY hair care gives the hair a natural shine & luster. Using a hair mask with bananas can help you to tame a dull puffy straight hair.
Directions:
Firstly, mash a ripe banana using a fork finely

Add it to 2 tablespoons each of olive oil and honey and 1/4 cup of yogurt

Now, apply this mask to your hair and then massage into your scalp

Wrap it with a shower cap; then leave it on for only 30 minutes

Finally, rinse it off using a mild shampoo

Do this method for once per week
Banana masks are effective and will provide you with an instant feel of silky hair that looks lustrous & shiny. Bananas also keep your hair healthy and hydrated.
16. Mayonnaise
Mayonnaise hair treatment can be used as the best way on how to get rid of puffy hair naturally due to humidity. It contains moisturizing properties and will aid in restoring puffy hair. This treatment locks the moisture in the hair and softens a brittle puffy hair.
Directions:
Firstly, use warm water to make your hair damp

Then, take enough mayonnaise and rub it on your hair & scalp

Next, wrap your hair in a shower cap or paper wrap

Now, leave it on for only 30 minutes

Finally, wash it off using a mild shampoo
Or, you can also add 1 egg yolk, 1 tablespoon of olive oil, and 1 tablespoon of lime juice to this treatment for more benefits.
17. How To Get Rid Of Puffy Hair Using Eggs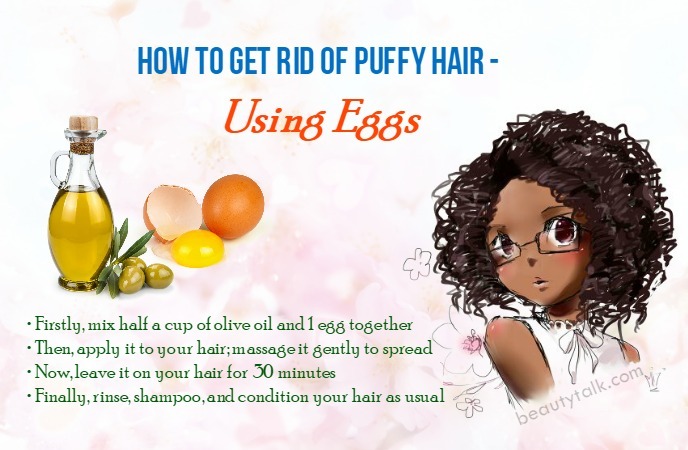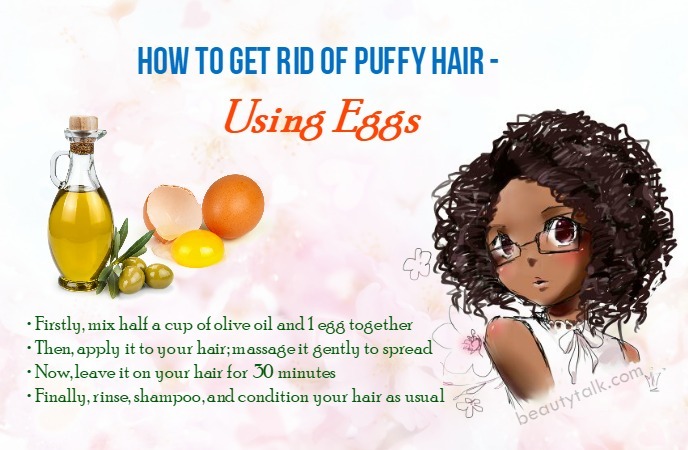 Eggs are rich in protein and one of the popular ways on how to get rid of puffy hair naturally. Eggs have healthy fats and can be used with olive oil that works as an emollient to lock in the moisture.
Directions:
Firstly, mix half a cup of olive oil and 1 egg together

Then, apply it to your hair; massage it gently to spread

Now, leave it on your hair for 30 minutes

Finally, rinse, shampoo, and condition your hair as usual
18. Using Carbonated Water
Carbonated water is very useful in getting rid of puff caused due to humidity. Carbonated water aids in reducing puff thanks to its low PH level that will make the cuticle layers lay flat. This will help to prevent the loss of moisture and give your hair a smooth look. After rinsing your hair, wash it with carbonated water as a final rinse.
19. How To Get Rid Of Puffy Hair With Honey
Honey is known as a great natural humectant; hence, it can attract and keep molecules of water, which will keep your hair moist and very easy to manage. You can also rinse your hair with honey whenever you shampoo your hair in order to nourish it and remove the dryness.
Directions:
Simply, combine 1 tablespoon of raw honey with clean water

Then, pour it on your hair when it is wet

Finally, condition and style it as usual.
20. Rinse Your Hair With Beer
Beer is another hair rinse that combats puff effectively. Beer helps to replenish the moisture and nourishes the hair with many essential minerals, nutrients, and antioxidants. You should use the dark beer for better results.
Directions:
Firstly, pour beer on your hair

Then, let it sit for some minutes

Finally, rinse it off using cold water

Repeat this method for every 2 weeks
Or, you can mix beer with shampoo & conditioner in equal parts to create a homemade shampoo & conditioner respectively.
21. How To Get Rid Of Puffy Hair With Yogurt
Yogurt contains lactic acid that helps to cleanse your hair, removing dandruff and curing an itchy scalp. In addition, it also contains cooling properties. Yogurt keeps a dry dull hair moist and gets rid of puff, which will allow you to manage and style your hair easier.
Directions:
Firstly, whisk 1 egg finely until frothy

Then, add it to 2 tbsp. of olive oil and 1/2 cup of plain yogurt

Now, apply this mixture to your damp hair and keep it on for 15 minutes

Finally, shampoo and condition your hair as usual
Recommended articles:
DIY Natural Hair Masks For Oily Hair At Home
DIY Natural Hair Conditioners For Dry Hair At Home
Easy And Natural Home Remedies For Hair Loss
How To Get Straight Hair Naturally Without Heat
How To Get Rid Of Dry Scalp Naturally And Fast
How To Get Rid Of Split Ends Naturally & Quickly
How To Remove Dandruff Naturally & Permanently
Best Natural DIY Hair Masks For Hair Growth
To sum up, to get rid of a puffy hair and get a smooth, shiny hair, follow our simple and useful tips. In addition, if you know other ways on how to get rid of puffy hair naturally after shower, please share with us. You can also have a look our main Hair Care to find more other useful articles.