A popular hair problem that almost girls face is split ends or trichoptilosis. This problem often occurs in people with long hair. Split ends occur when the hair is separated into parts at the final. It indicates the splitting or fraying which happens to the hair shaft. Some main causes of split ends such as lacking diet, brushing your hair incorrectly, stress, certain kind of infections, irregular use of conditioner or shampoo, and overexposure to heat, etc. Cutting the hair off is the best way to get rid of split ends. But when you're trying to grow the hair long, trimming your hair isn't always the preferred solution. Instead, you can use some simple methods and natural remedies t lower reduce and control the split ends. Nowadays, natural hair care treatments became very popular because they are very effective. Besides, we can find easily all the necessary ingredients for natural hair treatments right in the kitchen. Now, Beauty Talk will mention some of the ways on how to get rid of split ends naturally and quickly. Continue reading the rest of this article in the line of Hair Care on our site. Let's get started!
Top 22 Ways How To Get Rid Of Split Ends Naturally And Quickly That Will Surprise You
1. Consume Healthy Fat
Having a healthy diet is one of the simplest ways on how to get rid of split ends naturally. You must add some healthy fat to the diet chart. Your hair will get the proper moisturizing effect with the healthy fat in your diet. Some of the good and healthy fat, which can be added to your diet, are the cashews, hemp seeds, avocados, and almonds. Plus, you can have omega 3 & omega 6 fatty acids in the daily diet.
2. Be Gentle With The Hair
"When red-haired people are above a certain social grade their hair is auburn – Mark Twain."
Basically, hair is most likely to damage when it is wet, so you need to take special care as you have just stepped out of the bath or shower. Particularly, you should avoid over brushing the hair. Your hair stretches as you brush and the stretching leads to strain. This strain can result in tear and wear, which eventually causes split ends. In addition, don't try combing through the tangles if the hair is tangled. In fact, you need to take special care of the hair when combing or brushing, especially when wet.
3. Protect The Hair While Sleeping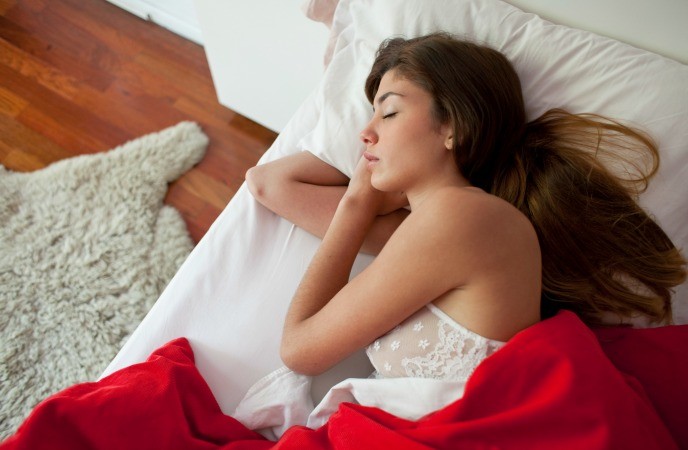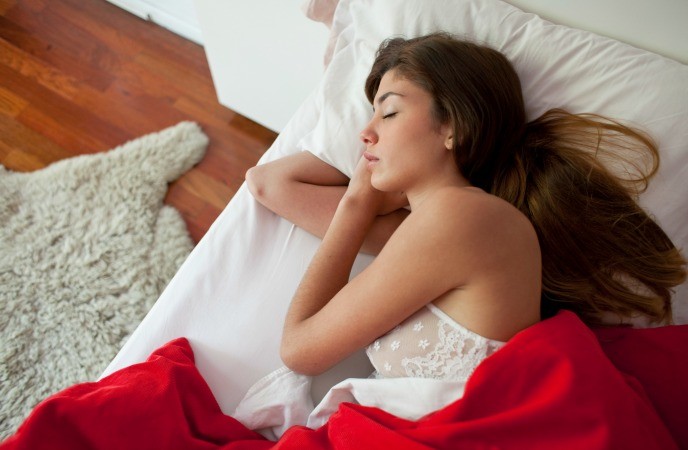 BeautyTalk Partner Solutions

Ask Any Questions and Get Answers within Minutes, 24/7!
The Medical Experts are available whenever you need them. You can even approve payment only when you're completely satisfied.
While you are asleep if you keep the hair open wide, this can give rise to split ends and hair damage. Do not worry this problem because you can use some hair protection techniques to stop this problem while you are asleep. Before going to sleep comb your hair & make a braid hairstyle because this is a great hairstyle that will maintain your hair look healthy and gorgeous without split ends and breakage.
4. Apply Shampoo Carefully
Generally speaking, too much shampoo can also damage your hair. You need to avoid shampoos having paraben and sulfate.  People with oily hair texture can opt for a gentle and mild shampoo and skip 1 or 2 days. You dust powder on the scalp in order to make the oil less noticeable instead of shampooing every day. You should use cold water to wash your hair since hot water removes protective oils from the scalp.
5. Take Biotin And Folic Acid
Basically, nutrients literally help to build the proteins making up your hair strands. Particularly, two B vitamins – biotin and folic acid, have been indicated to supplement hair length, health, and thickness as well. Biotin has the metabolism of fats, proteins and carbs, so it strengthens hair and nails as well. Some foods rich in biotin include brown rice, peas, lentils, sunflower seeds, soybeans and walnuts. Folic acid aids in producing red blood cells and promotes hair growth. Foods such as green leafy veggies, soybeans, oranges, and wheat are rich in folic acid.
6. Protect The Hair From Heat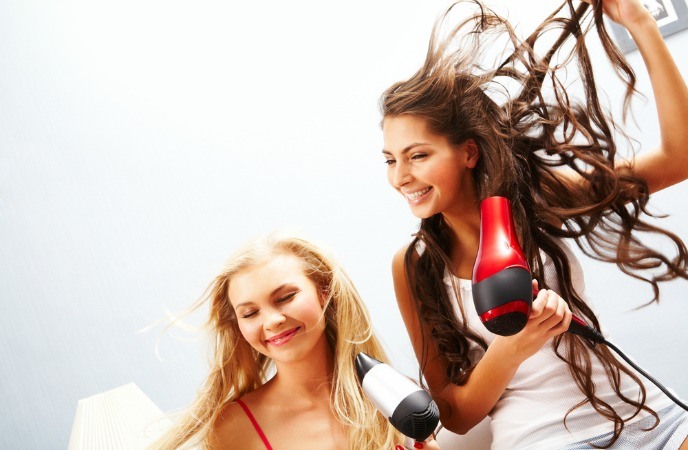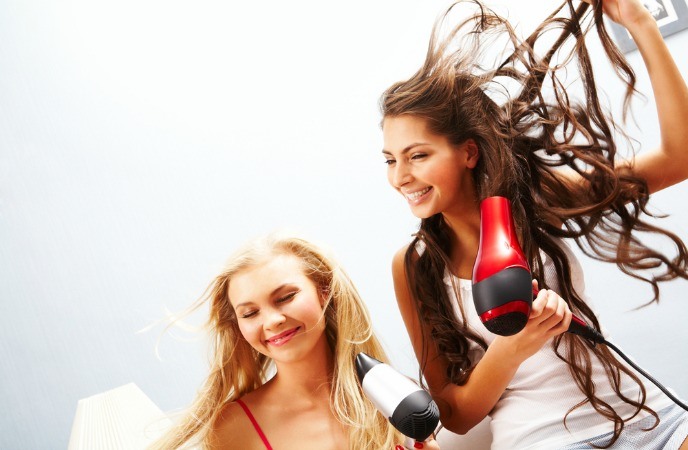 Basically, using a blow dryer and heat styling implements like curling irons or flat irons on your hair can make the hair more prone to get split ends. Plus, heat styling implements can break down the protective barrier of the hair, leading to brittle, dry hair. To solve the problem, you should let your hair air dry naturally. You should utilize a lower heat setting as you really need to dry hair.
7. Avoid Stress
As talked earlier, stress is also the main cause of hair loss and split ends. Thus, you must avoid stressful situations to prevent and control split ends.  You must do two things to avoid stress including eating healthy and staying healthy. To stay healthy, you must do regular exercise to avoid stress. You can do exercise such as running, walking, etc, for 30 minutes daily. This helps you to avoid stress and attain an ideal body figure. Plus, eating healthy and proper foods also helps you to avoid stress. You should eat some certain foods for healthy hair. You need to stay away from eating unhealthy consumption of food such as sugary food or fat food because these foods can result in the hair, skin, and scalp problems. You must eat healthy food containing a lot of zinc components or Vitamin B6.
There are multiple methods on how to get rid of split ends naturally, please continue reading this article!
8. How To Get Rid Of Split Ends With Egg Mask
Using egg masks is also an ideal method on how to get rid of split ends. Eggs help to treat split ends because they are rich in essential fatty acids and protein as well. Eggs help to strengthen the hair follicles because the hair is mainly made up of protein. In addition, they will make the hair smooth, lower tangles, and promote resistance to breakage. Here are two ways on how to get rid of split ends with the help of egg masks:
Method 1:
Whisk an egg yolk at first and mix in olive oil (2-3 tablespoons) and honey (1 tablespoon). Later, work the mixture into damp hair. You should leave it on for half an hour. After that, rinse it off and shampoo your hair.
Method 2:
You can also whisk an egg with 1 tsp of almond oil. Then, apply on the damp hair and keep it on for around 25 minutes. After that, rinse it out and shampoo your hair. Use an egg hair mask one time a week on a daily basis.
9. Mayonnaise For Split Ends
Homemade mayonnaise is an excellent treatment to control the split ends. Especially, a hair mask made from mayonnaise will make the hair shiny and soft. In addition, it nourishes your hair. So, this is another good way on how to get rid of split ends naturally.
Method:
You need to wet and towel dry the hair. Later work mayonnaise (1/2 cup) into your hair and wait for a gap of 15 and 20 minutes. After that, rinse it out and finally, shampoo your hair. It's advised to repeat the remedy once or twice per week. After using mayonnaise, your hair can smell bad for days. People with frizzy, dry hair should apply the mayonnaise hair mask a minimum of twice a week.
10. How To Get Rid Of Split Ends With Coconut Oil
If you're seeking for the effective ways on how to get rid of split ends, you should not skip coconut oil. Coconut oil is effective at nourishing your scalp and hair. Below are some of the easy methods to make use of coconut oil for split ends.
Method 1: Pure Coconut Oil
At first, dry your hair properly after a shower. Make sure your hair is not wet and is not silky. Then, take coconut oil and apply it to the scalp of the hair as well as on the rest of the hair. Apply the oil properly on the tips. Wait for 15 to 20 minutes and then rinse it properly. Follow this method once weekly to prevent and deal with split ends.
Method 2: Coconut Oil and Lemon Juice
Firstly, take warm coconut oil and lemon juice in the ratio of 5:1. Then, make a mixture of them and massage this mixture on the scalp daily until you remove dandruff as well as other impurities that can cause hair loss.
Method 3: Coconut Oil and Olive Oil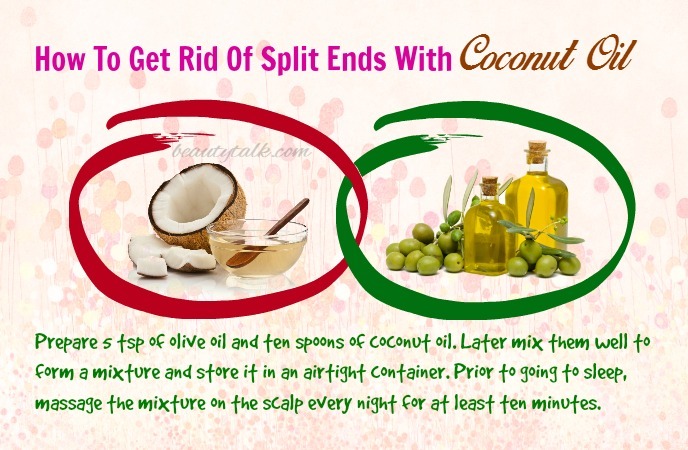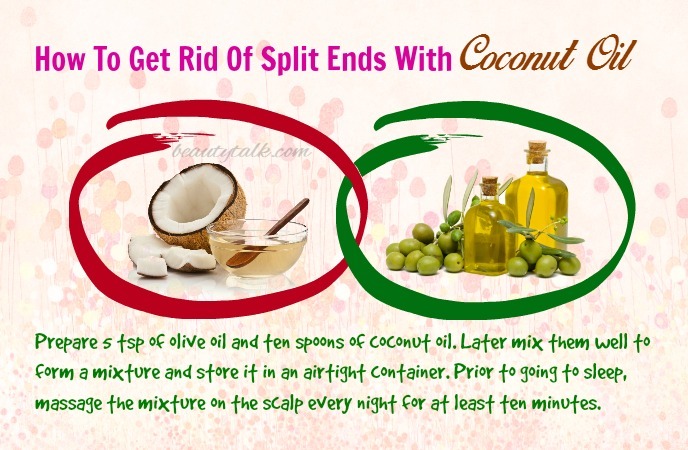 Prepare 5 tsp of olive oil and ten spoons of coconut oil. Later mix them well to form a mixture and store it in an airtight container. Prior to going to sleep, massage the mixture on the scalp every night for at least ten minutes. Follow the remedy for about two weeks and follow it for every alternate night after your split ends are in control.
Method 4: Coconut Oil with Yogurt and Honey
Firstly, make a mixture of honey, yogurt and coconut oil in the ratio of 2:1:1. Later combine it properly to form a paste and if needed add more yogurt and honey. Take this resulting mixture and massage it on your scalp for around ten minutes. After the massage, leave the mixture for twenty minutes to be on the scalp in a humid temperature like near a hot bath tub or shower, or in a steamer. You can also allow the mixture to be on the scalp for about half an hour. Finally, wash your hair properly.
11. How To Get Rid Of Split Ends With Baby Oil
You often use baby oil to keep a baby's skin soft and moisturized. However, few people know that this oil can be used to treat split ends. Here is a simple method on how to get rid of split ends:
Method:
Take baby oil at first and use the oil to massage your scalp properly but not roughly. Later, use a shower cap or a towel to cover your hair and leave the baby oil to be for the whole night. After that, use one branded anti-dandruff shampoo to wash your hair properly the next morning. Do this daily and you will notice the changes within a few weeks.
12. Using Avocado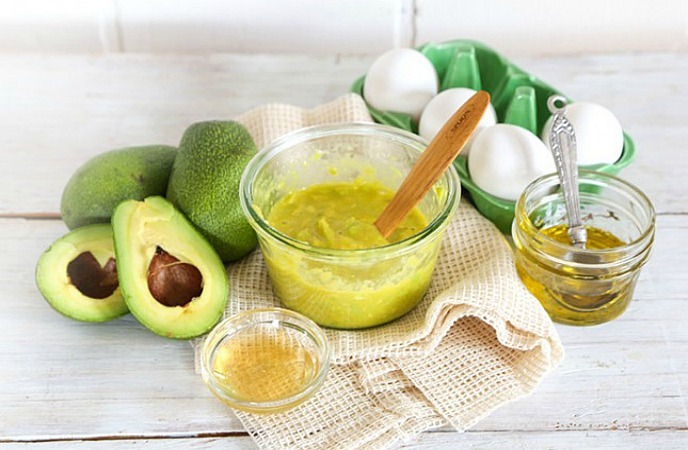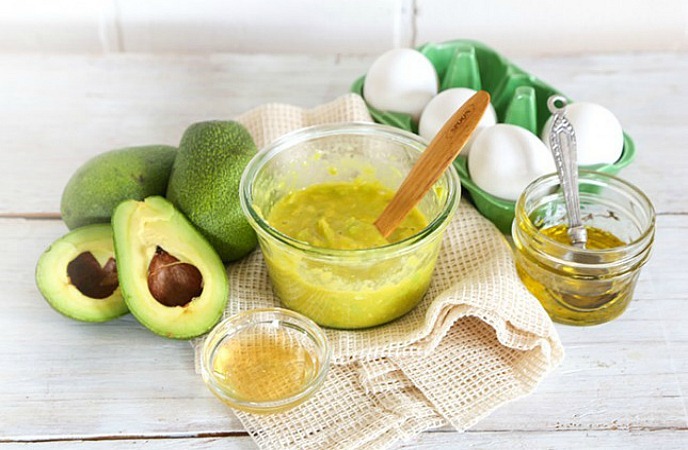 This is an awesome answer to the question about how to get rid of split ends naturally. Avocado acts as a great deep conditioner to make lustrous locks. It nourishes your hair and promotes hair growth since it is full of protein, folic acid, essential fatty acids, vitamins A, E and D, magnesium, as well as other nutrients. Furthermore, this fruit has hair-softening properties.
Method:
Take one ripe avocado and mash it properly. Then, mix in 2 tablespoons each of coconut oil and olive oil until you obtain a creamy consistency. Thereafter, apply the hair mask liberally on the hair, avoiding the roots. Rinse it off after a minimum of 30 minutes and shampoo your hair. You should repeat the treatment twice to thrice a month or on a weekly basis.
13. Beer For Treating Split Ends
Beer also has multiple benefits for hair care. Beer supplies sugar and protein to your damaged hair follicles, thereby controlling split ends. Further, it works as a great conditioner and adds volume and shine to your hair.
Method:
Firstly, you need to shampoo the hair. Take some flat beer and pour it in one small spray bottle. Then, spray it over your damp hair's mid- & end-sections. Leave it to settle for 2-3 minutes. You needn't rinse it out. For best result, do this once per week.
14. Hot Oil Deep Conditioner
This is also an ideal method on how to get rid of split ends. Hot oil deep conditioner helps to restore moisture, thereby helping to control split ends. You should regularly deep condition the hair with natural hair masks and moisturizing oils for healthier hair.
Method:
You heat some coconut oil, olive oil, castor oil or almond oil slightly in a microwave for about 20 seconds. Then, massage it into the hair & scalp. Keep it on for a minimum of 45 minutes and shampoo your hair afterward. Repeat the method at least one time per week or more often. Also, you can add several drops of sandalwood, rosemary, or any other essential oils of your choice to your base oil post heating it.
15. How To Get Rid Of Split Ends Using Honey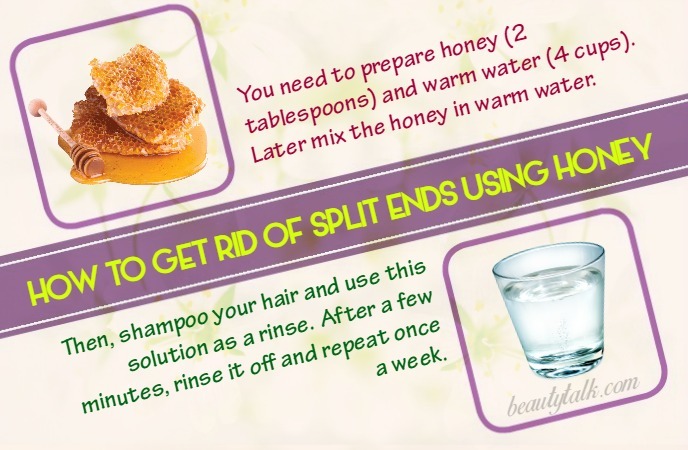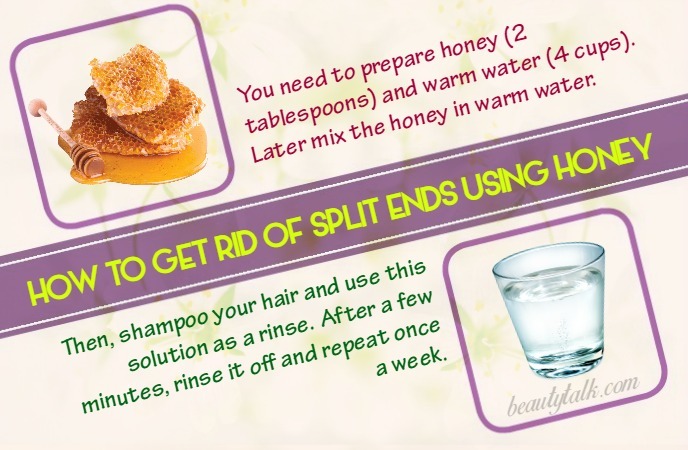 Honey is beneficial for damaged and dry hair prone to breakage and splitting because it possesses humectant property and nutrient content as well. Moreover, it acts as a natural hair moisturizer and conditioner, making your hair shinier and softer. Below is a simple way on how to get rid of split ends with honey:
Method:
At first, you need to prepare honey (2 tablespoons) and warm water (4 cups). Later mix the honey in warm water. Then, shampoo your hair and use this solution as a rinse. After a few minutes, rinse it off and repeat once a week.
16. Milk And Cream For Split Ends
Generally speaking, the combination of cream and milk provides moisture to the hair and makes it supple and smooth, thereby treating split ends. Last but not least, milk proteins promote tissue repair and growth as well.
Method:
Take cream (1 tablespoon) and whole milk (1/2 cup). Mix together the two ingredients well and rinse your hair with this mixture. Rinse it off after around 15 to 20 minutes and shampoo your hair. This method should be repeated once a week for several months.
17. Using Castor Oil
Castor oil comprises nutrients such as vitamin-E, amino acid and omega-6 fatty, so it's very effective in curing scalp infections. Plus, it can be used as a great moisturizing agent which helps to treat split ends.
Method:
When combined with olive oil, castor oil can indicate large effects on dealing with split hair. All you need to do is pouring some amount of olive and castor oil on one pan and putting to heat until it becomes lukewarm. Remove the pan from the stove and let it rest for a minute. Now massage the mixture on your scalp and cover it by using a plastic cap. Wash it with the help of a good shampoo after 20 minutes. It's suggested to do this daily and you will notice the effects in several weeks.
19. How To Get Rid Of Split Ends With Bananas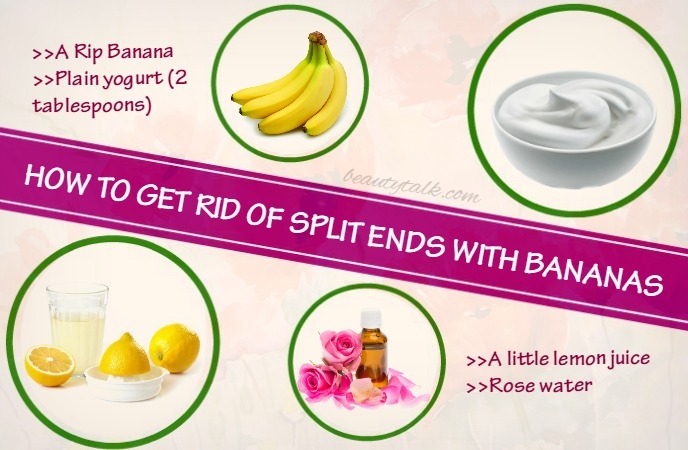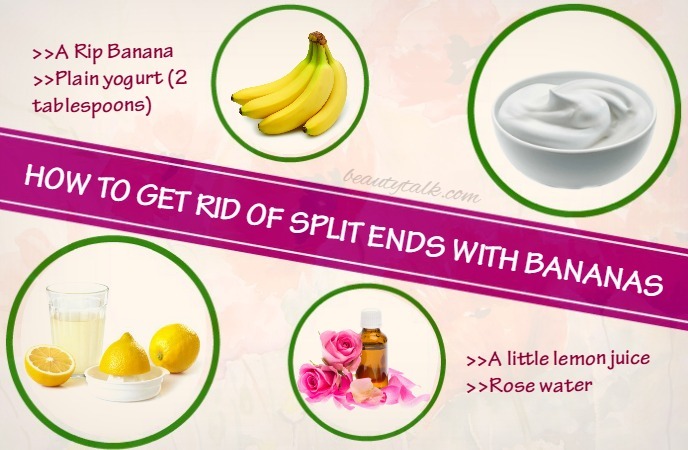 A nourishing hair mask made from ripe bananas is another amazing treatment to reduce the chance of split ends. Typically, bananas are loaded with carbohydrates, vitamins, natural oils and minerals as well. Bananas improve the overall elasticity of your hair. Applying a banana hair mask regularly will leave your hair hydrated, smooth, and shiny as well.
Method
Firstly, in a blender, process a ripe banana, plain yogurt (2 tablespoons) and a little lemon juice and rose water. The natural oils, iron, zinc, potassium, vitamins A, E and C present in these things will leave the hair feeling moisturized and soft. They also help to restore the natural elasticity of the hair and mend breakage. Then, apply this banana mask on the hair and after an hour, wash it off. It's suggested to repeat 1-2 times a week.
19. Aloe Vera For Split Ends Removal
Again, this is another wonderful answer the query on how to get rid of split ends naturally. Aloe vera acts as a good moisturizer for damaged and dry hair likely to split ends. It also prevents hair loss and promotes hair growth as well.
Method:
Take 1-2 aloe vera leaves and extract them to collect their gel. Massage the gel into the hair and allow it on for about half an hour. After that, shampoo the hair. For more effective results, combine the aloe vera gel it with a tablespoon of lemon juice and 2 teaspoons of castor oil, jojoba oil or olive oil. Follow this remedy two or three times per week for a couple of months. Alternatively, you can use a natural aloe vera shampoo 2-3 times a week.
20. Coconut Milk
Coconut milk has an array of essential nutrients which helps to keep hair beautifully soft and free from split ends. Coconut milk also boosts the strength of hair follicles and stimulates hair growth. For this purpose, you take thick coconut milk and work it into your hair and scalp. Keep the coconut milk on the hair for about 15 to 20 minutes. Finally, use your regular shampoo to wash your hair. Follow this daily until you're satisfied with the results.
21. Using Fenugreek Seed Powder
The fenugreek seeds are known for their innumerable medicinal qualities. Plus, they have the ability to control numerous common hair troubles including the split end problem.
Method:
Simply mix the freshly ground fenugreek powder (approximately two large tablespoons) with yogurt (about three tablespoons). Mix the two things to create a smooth paste and apply the paste on your scalp & hair. Wait for thirty minutes and wash your hair by using lukewarm water. Daily application of this paste will leave the hair shiny and healthy.
22. How To Get Rid Of Split Ends Using Papaya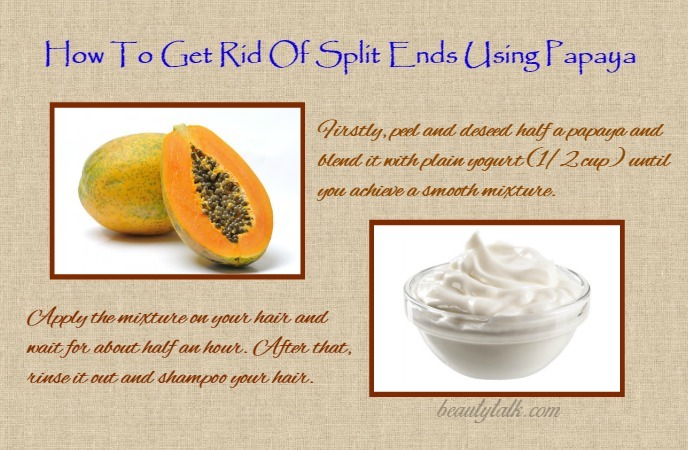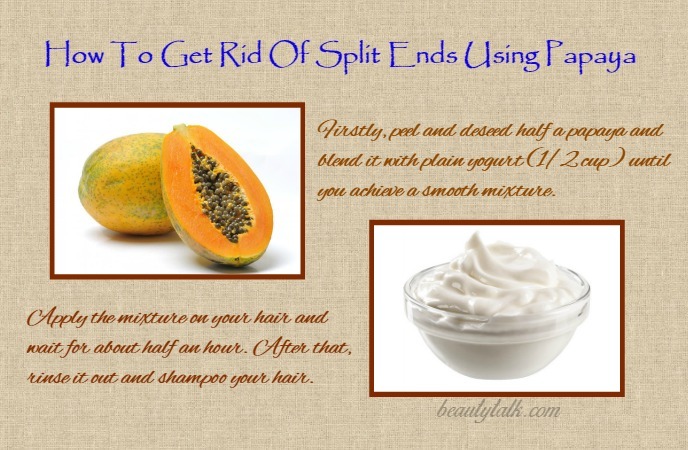 Another wonderful way on how to get rid of split ends is using papaya. The benefits of papaya are helping to nourish the hair and getting rid of split ends since it contains protein. In addition, it adds body to the healthy hair, eliminates buildup, and restores the natural shine and softness of your hair.
Method:
Firstly, peel and deseed half a papaya and blend it with plain yogurt (1/2 cup) until you achieve a smooth mixture. Apply the mixture on your hair and wait for about half an hour. After that, rinse it out and shampoo your hair. Follow the method once per week, or at least 2-3 times a month, for several months.
Recommended articles:
Home Remedies For Damaged Hair 
Easy And Natural Home Remedies For Hair Loss 
Natural Thinning Hair Remedies 
We hope that these methods are for useful for hair care in general and treating split and in particular. Don't forget to share your ways on how to get rid of split ends naturally in the comment section provided below.