Aloe vera is an amazing plant with thick leaves, containing gelatin-like substances inside its leaves. For centuries, it has been utilized as a healing property for a myriad of health problems. It also makes a name for itself as a miracle plant that is beneficial for our beauty. Aloe vera helps for the battle against skin diseases and many hair problems including hair loss.
I. Why Does It Do Wonders For Hair Loss Treatment?
Besides modern diseases such as diabetes, obesity, heart diseases, aloe vera is also essential for hair health. Not only does it strengthen your hair but aloe vera also nourishes your scalp thanks to its amazing properties.
This plant contains many helpful nutrients for hair health especially for hair loss treatment.
Vitamins: aloe vera is a rich source of vitamin A, E, C and B12 that are needed for our hair development

Antioxidant and antifungal properties present in aloe vera can kill off the dead cells on our scalp and the fungi that cause dandruff and itchiness.

Aloe vera contains tons of enzymes such as Peroxidase, Aliiase, Amylase, Carboxypeptidase, Alkaline Phosphatase, Bradykinase, and Catalase. Those enzymes collaborate with the fatty acids to faster the healing of hair follicles and boost up the hair-producing functions.

All of the minerals, vitamins and enzymes work together to cure and disinfect hair follicles, promoting the perfect function of hair and producing beautiful and thick hair strands.

Moreover, the gelatin substance can help improve many hair problems such as hair loss or hair thinning.
II. How To Apply Aloe Vera For Hair Loss Treatment?
The excessive production of oil in our scalp works with dirty from the environment can cause the hair strands block. Using aloe vera after shampooing can be effective to smooth and moisturize our scalp and hair strands and foster the growth of hair follicles. The most wonderful way to apply aloe vera for hair loss is to throw in with other helpful ingredients that are proven to be beneficial for your hair. Here are 7 home-made methods to apply aloe vera in your hair to deal with your thin hair. Continue reading this article on Beauty Talk to find out many helpful treatments for your hair loss.
1. Castor Oil & Aloe Vera For Hair Loss Treatment
Castor oil has been an amazing wonder for hair loss and hair regrowth as well. As investigated, our hair tends to grow by about 1,5 centimeters every month, interestingly, the regular use of castor oil can make this usual rate go up by 3-5 times. The ricinoleic acid in castor oil can make wonders for blood circulation in your scalp, accordingly strengthening follicles and scalp health to reduce hair fall. It nourishes the hair roots and provides protection against microbe by going deeply into the pores of skin. Moreover, the ricinoleic acid combining with omega-3 and omega-9 can get through the hair shafts to restore the optimum health of hair roots and promote the hair growth. Besides hair loss, castor oil is also essential for reducing dandruff and split ends. As a result, the combination between aloe vera and castor oil can be the best treatment to stimulate hair growth.
BeautyTalk Partner Solutions

Ask Any Questions and Get Answers within Minutes, 24/7!
The Medical Experts are available whenever you need them. You can even approve payment only when you're completely satisfied.
Ingredients:
A cup of fresh aloe vera gel

2 teaspoons of castor oil

2 teaspoons of fenugreek powder

Shower cap

Towel
Instructions:
Step 1: Mix all the ingredients until we get a consistent and smooth paste
Step 2: Apply this mixture onto hair and scalp, focusing most on hair roots and tips
Step 3: Cover your head with shower cap and wrap a towel around your shower cap to add heat
Step 4: Go to bed and leave it overnight
Step 5: Wash off the hair by cool water and shampoo
Apply this method 1-2 times a week for the best results
Learn more science-based ways to use castor oil for hair growth
2. Honey & Aloe Vera For Hair Loss Treatment

Honey containing antioxidant, germicidal and fungicidal properties is regarded as a great hair conditioner which can stop hair loss. In addition, hair loss is mainly attributive to two main factors which are the microbial activity at hair roots and the dryness of scalp. And the use of honey can be helpful to cure these problems. Therefore, the idea of massaging honey mixed with aloe vera is exactly what you need to get rid of hair loss and retain your hair's length.
Ingredients:
5 teaspoons of aloe vera gel

2 teaspoons of honey

Shower cap
Instructions:
Step 1: Mix all the ingredients to get a smooth paste
Step 2: Massage this mixture onto your scalp and hair tips which are the most vulnerable parts
Step 3: Cover your hair with shower cap and leave it for 25 minutes
Step 4: Rinse your hair with water and shampoo
Try to do this remedy once a week to push back your thick hair
Discover more: Natural home remedies for damaged hair
3. Onion Juice & Aloe Vera For Hair Loss Treatment
It has been proved that onion juice can work effectively to cure hair loss thanks to its components which are dietary sulfur, nutritional elements. Sulfur present in onion is a component of proteins that are needed for strong growth of hair. When sulfur is added to your hair, it will support your hair growth and reduce hair loss. Besides, this property also facilitates the collagen production which leads to the production of healthy skin cells and hair growth. Therefore, making a hair mask of aloe vera and onion juice will give you amazing length and thickness of your hair.[1]
Ingredients:
A cup of onion juice

2 teaspoons of aloe vera
Instructions:
Step 1: Blend about 3-4 onions in a puree of blender and extract the juice by cheesecloth
Step 2: Mix the juice and aloe vera gel
Step 3: Massage gently this mixture into your scalp and hair till your hair gets saturated with this liquid
Step 4: Wait for 1 hour before washing off with mild shampoo
Cautions:
Using onion juice is mostly safe. If you are allergic to onion, you should not apply this remedy

The side effects can be redness and itchiness in your scalp.
Discover more how to use onion for hair loss treatment
4. Hibiscus & Aloe Vera For Hair Loss Treatment
We all know that hibiscus is a beautiful flower but it is also a reliable plant that brings about a myriad of benefits for hair health, especially for hair growth.[2] Both flowers and leaves of hibiscus are rich in vitamins A, C, B and minerals, amino acids, alpha hydroxy acids, and other vital nutrients that make them a great treatment to stop frequent hair fall. Using hibiscus for hair regularly can make your hair softer, stronger, thicker and healthier. The mixture of aloe vera gel and hibiscus boosts the hair growth but still protects the hair texture.
Ingredients:
A cup of aloe gel

2 teaspoons of hibiscus paste
Instructions:
Step 1: Combine all the ingredients for a smooth mixture
Step 2: Apply this into your scalp and hair until hair gets saturated with this liquid
Step 3: Leave it for 45 minutes and wash off with water and mild shampoo
Read more: Best ways to get rid of static hair fast & naturally
5. Henna & Aloe Vera For Hair Loss Treatment
Henna is commonly utilized as a natural hair color and conditioner, however, it also possesses the repairing and strengthening properties for hair health. Moreover, it is also believed to be a hair conditioner that soothes your scalp, adds shine and volume to your hair and protects your hair from both internal and external damages. Additionally, the mixture of aloe vera which is an excellent ingredient for hair growth and henna can be a solution for hair loss of many people.
Ingredients:
A cup of fresh henna leaves

1 aloe vera leaf or 2 teaspoons of aloe vera gel

Shower cap
Instructions:
Step 1: If you are using aloe vera leaf, you must slice off the thorns and chop it into small pieces
Step 2: Grind aloe vera and henna together to get a perfect mixture
Step 3: Apply this mixture into your hair, from roots to tips
Step 4: Give your hair a bun and cover your head with shower cap, wait for about 2 hours
Step 5: Rinse off henna with shampoo and let your hair dry naturally
Cautions:
You must ensure that the henna that you use is totally organic without harsh chemicals such as Paraphenylenediamine.

Do not allow henna to come into your eyes when applying this remedy. Henna can cause the redness, irritation for your eyes. If this happens, please water your eyes carefully or visit a doctor in case of serious problems
Read more: Natural home remedies for damaged hair
6. Apple Cider Vinegar & Aloe Vera For Hair Loss Treatment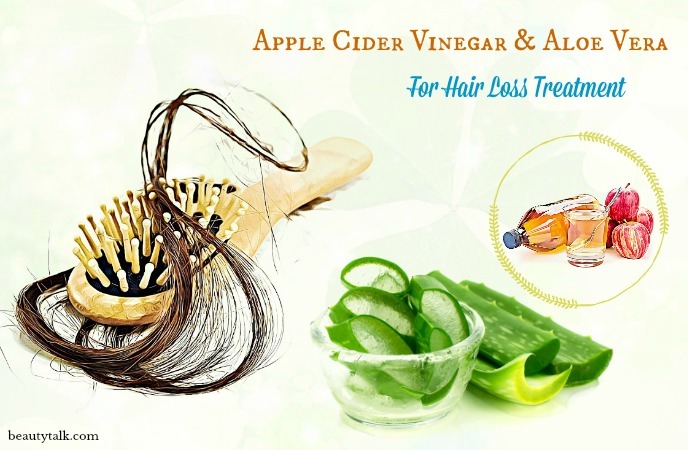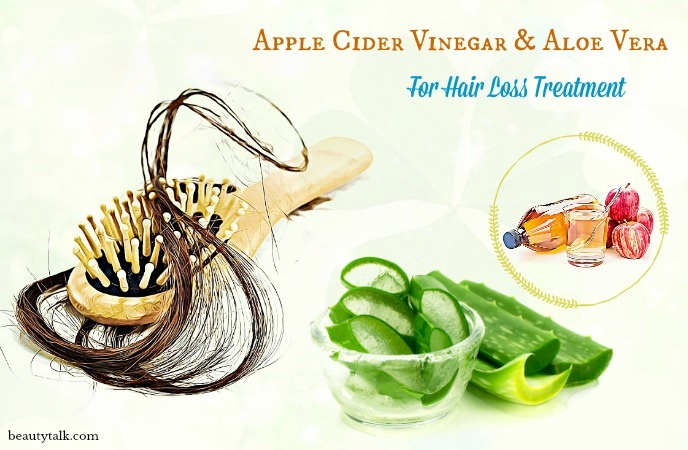 Apple cider vinegar is regarded as an ancient folk remedy for a vast variety of health problems. Notably, apple cider vinegar is claimed to be natural and useful to stamp out hair loss. The richness of probiotic content in apple cider vinegar makes its antibacterial function which kills fungal infections on the scalp. Its anti-inflammatory properties alleviate the itchiness and irritation on scalp. Besides, vitamins, mineral content and enzymes found in apple cider vinegar can naturally prevent your hair from hair fall.
Ingredients:
2 cups of fresh aloe vera gel

2 teaspoons of apple cider vinegar
Instructions:
Step 1: Mix well all the mentioned ingredients
Step 2: Massage this mixture in your hair for a couple of minutes and let it work in your hair for 15 minutes
Step 3: Wash your hair with mild shampoo
Make use of this method one in two weeks
Learn more methods to apply tea tree oil for hair growth
7. Green Tea & Aloe Vera For Hair Loss Treatment
With a host of useful properties, green tea can be the miracle treatment for hair fall.[3] Green tea is a fertile source of catechins that helps repress the cause of hair loss which is DHT or dihydrotestosterone. Most of the essential compounds such as carotenoids, tocopherols, zinc, ascorbic acid, selenium play an integral role in preventing hair loss and encouraging hair regrowth. Besides, polyphenols found in green tea also promotes hair growth, strengthen the roots and activates the hair follicles.
Ingredients:
½ cup of brewed green tea

½ cup of aloe vera gel
Instructions:
Step 1: Blend well two ingredients in a blender
Step 2: Apply this mixture to your hair and work it through the length of your hair
Step 3: when hair is saturated with the liquid, leave it for 10 minutes before washing off with cool water and shampoo
We have already passed through some effective methods to apply aloe vera to get rid of hair loss. Aloe vera is indeed the most useful treatment for hair fall; however it does not mean everyone can use effectively and safely. The advice for you is to find out whether your scalp is irritated with aloe vera or any other accompanied ingredients. If these non-prescription preparations are not successful within 2 weeks, you should consider seeing a doctor for advice. If you have a try at applying these treatments, don't forget to tell us your experience in the comment section below. To learn more the natural treatments for other hair conditions, please visit our Hair care page.