Overview
Healthy and long hair is an attractive asset for women and men. But one day, when you have drunk an extra glass of wine, or you are too sad, you cut your hair. Then, you instantly regret your decision. Don't assault your hairdresser or cry. It is time to think about how to grow hair faster after a bad haircut. You can boost the process of hair growth by following many easy ways. Continue reading this post on Beauty Talk to learn about simple-but-effective tips & tricks on how to grow hair faster for women and men after a bad haircut. These ways will help you if you want your hair to grow longer and faster.
20 Ways On How To Grow Hair Faster For Women & Men After A Bad Haircut
I. How To Grow Hair Faster For Women After A Bad Haircut

1. Don't Brush Regularly
Brushing your hair incessantly is a secret of many women to have long and healthy hair after a bad haircut. You should brush your hair daily for one or two minutes to help promote healthy blood circulation in the scalp and evenly spread the natural oils over the hair. Ensure to brush and massage your head gently, especially when the hair is wet. If you brush the hair forcefully, it can damage the locks and cause hair loss and breakage.
2. How To Grow Hair Faster – Don't Wash Too Often
A few women are convinced that washing the hair with the help of shampoo every single day can help it to grow fast and healthily. However, washing the hair daily with shampoo can cause it to lose its natural essential oils and dry it out. Thus, it is a good habit to keep a proper schedule and wash the hair 4 – 5 times weekly. Massaging your scalp properly and gently while shampooing will aid in improving circulation of blood in the scalp and stimulating hair growth.
3. Massage Your Scalp
Another way on how to grow hair faster after a bad haircut is massaging the scalp. You can massage the scalp gently with your fingertips. Heat one tablespoon of coconut oil and immerse your fingertips in this oil. Then, massage your head in a circular motion for one minute or two. It is helpful for stimulating blood circulation. Plus, it strengthens the roots and keeps the hair moist by mobilizing oils from the scalp. Not only that, it increases the chances of growing a long and strong hair.
4. How To Grow Hair Faster – Take Care Of Your Scalp
Beautiful and healthy hair begins with a healthy scalp. Thus, it is vital to care for your scalp. Don't apply a hair conditioner to your hair roots because it causes the loss in volume. Besides, some hair conditioners consist of silicon and waxes, and it prevents the skin on the head from breathing and clogs the pores if you apply these conditioners directly to the scalp on a daily basis. In fact, apply a conditioner only on the mid-length & ends of the hair.
BeautyTalk Partner Solutions

Ask Any Questions and Get Answers within Minutes, 24/7!
The Medical Experts are available whenever you need them. You can even approve payment only when you're completely satisfied.
5. Have A Healthy & Balanced Diet
Paying close attention to what you eat is a vital way on how to grow hair faster after a bad haircut. You should have a diet containing foods that aid in hair growth. Beans, seeds, chicken, lean fish, and leafy vegetables are all rich sources of nutrition. A healthy diet includes all the essential oils and nutrients required for stimulating hair growth. Apart from that, intake of protein is crucial for revitalizing and nourishing your hair because hair is mainly made up of protein. A diet that is rich in protein, minerals, and vitamins is also essential for healthy hair growth [1].
6. How To Grow Hair Faster – Reduce Your Stress Levels
One of the common causes of hair fall is high stress. Stress, caused by psychological or physiological factors, negatively affects the growth of hair and health. It also makes your hair lose its volume and density while making it look malnourished and dull [2]. To reduce and avoid stress, you can regularly practice meditation, yoga, and stress-relieving exercises. You also need to get plenty of sleep daily and do something that helps relax your mind such as listening to music or reading a book.
7. Condition Regularly
Many women often spend hours trying to make their hair smooth and shiny. A good condition will help you a lot. It is helpful for replacing proteins and lipids inside the hair shaft. It also assists your hair in growing longer and faster after a bad haircut by sealing the cuticle.  Deep conditioning together with reconstructing treatments can eliminate dullness and frizziness, thus helping hydrate hair strands and repair damaged hair. These treatments are beneficial for creating healthy hair and adding length, volume, manageability, and shine to it. For this purpose, you prepare a mild moisturizing conditioner. After every shampoo wash, apply a small quantity of this conditioner to your hair.
8. How To Grow Hair Faster – Avoid UV Rays
The UV rays can demolish the protective layer of the hair shafts and cause protein loss at the same time. Besides, the ultraviolet rays in sweltering summer lessen the disulfide bonds and lower cystine content, leading to dryness, brittleness, and hair thinning [3]. Thus, when leaving the house, you need to cover your hair. The best method to protect the hair from the UV rays is wearing a hat or a scarf.
9. How To Grow Hair Faster – Disinfect Your Hair
A microbial infection on the scalp may damage the hair strands, make the hair follicles become weak and thus create lifeless and unhealthy hair. It can cause scalp diseases such as seborrheic dermatitis, eczema, and psoriasis, etc., all of which prevent hair growth. You can use clinical treatments, antimicrobial products, and proper medication to remove such infections from the hair. It will help promote healthy hair growth.
10. Use Vitamin And Herbal Supplements
After a bad haircut, you can opt for supplements such as biotin, folic acid, kelp, fish oil, evening primrose oil, flaxseed oil, ginseng, saw palmetto, ginkgo biloba, and others to make your hair grow faster. Biotin and folic acid are B-complex supplements that can help promote hair growth [4]. Remember to check with a doctor before taking any supplements.
11. How To Grow Hair Faster With Natural Remedies
a. Use Egg Hair Mask
Eggs are useful for faster hair growth since they exhibit proteins and are also abundant in iron, sulfur, zinc, phosphorus, and selenium. Here are several simple ways to prepare and make an egg face mask at home:
You whisk an egg and mix in several drops of lavender oil and 4 tbsp of grapeseed oil. Apply this mask to the scalp and hair and wait for 25-30 minutes before rinsing it out and shampooing your hair.

Mix two egg yolks and 2 tbsp of extra-virgin olive oil and later apply it to the scalp and hair and rinse it out after thirty minutes.

Another way is whisking an egg and adding 2 tbsp of extra-virgin olive oil, one teaspoon of lemon juice and a cup of milk to it. Apply the mixture on your scalp. Wash it out and shampoo your hair after 20 to 30 minutes.
b. Use Castor Oil
Castor oil is a great ingredient to facilitate hair growth naturally, as it is full of vitamin E together with essential fatty acids such as omega-9 fatty acids. You just need to mix an equal amount of castor oil and almond, olive or coconut oil. Start massaging this oil mixture on your scalp and shampoo your hair after 30 to 45 minutes.
II. How To Grow Hair Faster For Men After A Bad Haircut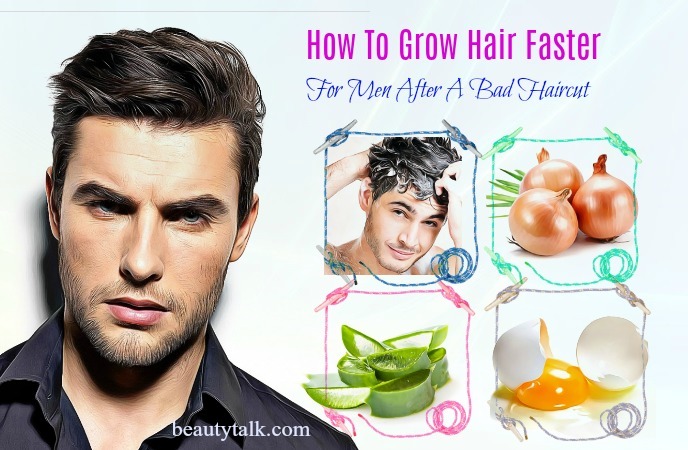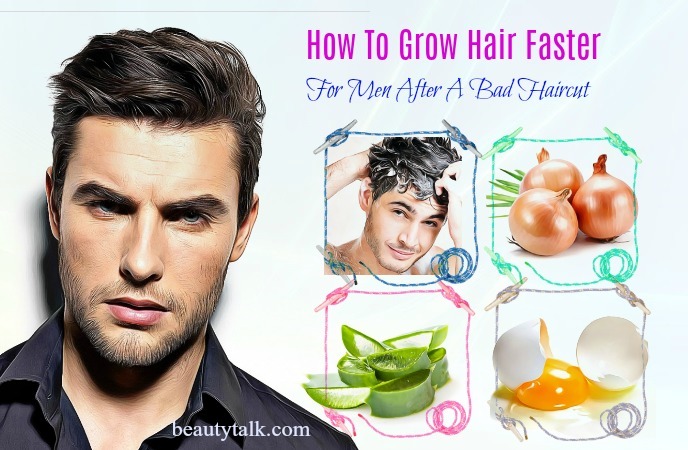 12. Use A Deep Conditioner
Using a deep conditioner will be useful for increasing hair growth. You should opt for a deep conditioner that is suitable for your hair type and then follow the directions above each box for the application.
13. Avoid Chemicals And Hot Tools
Using chemicals such as hair relaxers and dyes, and hot tools such as flat irons and blow dryers will damage the hair. They also make the hair appear dull and frizzy and cause it to take longer to grow. So, you should let your hair dry naturally and stay away from styling it with any hair-styling tool.
14. Keep Hydrated
Keeping the hair hydrated is another way on how to grow hair faster after a bad haircut for men. Water is vital for good health. Drinking plenty of water daily can give necessary moisture to the scalp and hair follicles, which, in turn, increase the growth of hair. It's best to drink 8 – 10 glasses of water throughout the day.
15.Use Cold Water To Wash Your Hair
The heat from the hot water helps to open the shaft of each strand of the hair, which lets out valuable moisture and make the hair prone to damage and more brittle. Instead, you should use cold water to wash your hair. The cool temperature assists in closing the hair shaft and locking in the moisture.
16. Use The Right Shampoo
On the market, you can easily find various hair shampoos that can make your hair grow quickly. However, an ingredient that you need to avoid in shampoos is silicone. Silicone will block out nutrients and moisture, hindering hair growth although it's advertised as beneficial. You should find hair products that are silicone-free and use natural ingredients.
17. Use A Hot Oil Massage
Taking good care of your scalp together with the hair roots can stimulate hair growth. A warm oil massage onto your scalp is highly effective for promoting hair growth. You need to heat up a little amount of olive or coconut oil until it is warm. Rub this mixture onto the scalp for around five to ten minutes and let it soak into the hair for an additional thirty minutes. Finally, rinse out the oil by using warm water.
18. How To Grow Hair Faster With Apple Cider Vinegar
Apple cider vinegar works wonders on skin, health, and hair ailments. ACV comes with antibacterial, antimicrobial, and antifungal characteristics that destroy the microbes causing dandruff, infections, and hair fall [5]. It further helps to strengthen the hair roots and facilitate a healthy hair growth by stimulating proper blood circulation to the scalp. You mix three parts of ACV with a part of water. Later put the solution in a spray bottle and then, spritz your hair by using this solution after shampoo. Rinse it out after one to two minutes.
19. How To Grow Hair Faster With An Onion
Using an onion rinse is another effective method on how to grow hair faster after a bad haircut for men. The onion provides nutrients, which aid in hair growth and add shine to the strands. It additionally embraces the sulfur content that is perfect for lessening hair thinning and breakage. Along with that, it consists of antibacterial properties, which can keep the scalp free of infection and healthy, accelerating unhindered hair growth [6]. Just boil one cut onion in water for around ten minutes to create an onion broth. Let it cool and coat your scalp and hair in it. Use cold water to clean the applied area and afterward, let your hair air dry.
20. How To Grow Hair Faster With Aloe Vera & Egg White
Aloe vera and egg white both have been used for centuries in hair care. They can help stimulate hair growth and add moisture to the hair. You take an egg white and mix it with fresh aloe vera. Then, cover your scalp and hair in this solution and leave this mask to remain for 15 to 20 minutes before washing with the help of cool water. Once done, let your hair dry on its own.
III. Best Foods That Make Hair Grow Denser, Faster, And Healthier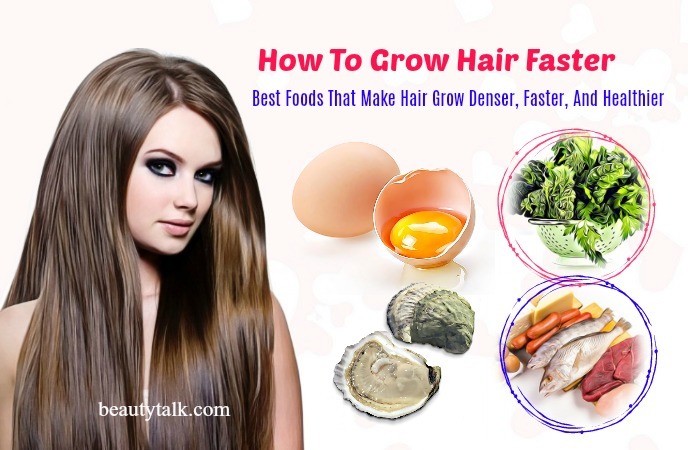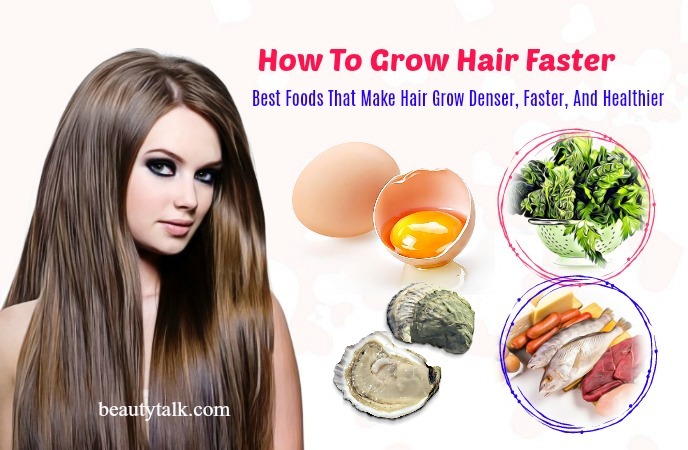 Below are the best foods for healthy hair. These foods are known to speed the growth of long, thick and healthy hair.
1. Protein
Protein will help your hair to grow thick and long. Turkey, emu, duck, and chicken supply all the building blocks that are essential for your hair. These foods are also rich in protein, zinc, and iron. So, make sure to add protein-rich foods to your balanced and healthy diet.
2. Hair-Healthy Nuts
Butternuts, cashews, and walnuts are high in omega-3 fatty acids and compose of biotin and vitamins, which will make your hair grow thicker, longer and faster. They also protect the hair from the damage of the sun. You can eat these nuts as a snack or use almond or walnuts oil as cooking oil or a salad dressing. Macadamia nuts, hazelnuts and pecans are also beneficial for hair growth but stay away from buying them covered in chocolate, sugar, or salt.
3. Get Your Greens
Another simple way on how to grow hair faster is including fresh green leafy vegetables such as spinach, collards, kale, broccoli and Brussels sprouts in your diet. These foods are a rich source of the minerals and vitamins, which all are needed for hair growth. Particularly, Brussels sprouts and spinach are full of vitamin C, iron and beta-carotene, which are ideal for feeding and nourishing your hair.
4. Vitamin C Rich Foods
Berries and fresh fruits such as limes, blueberries, strawberries, oranges, and kiwis are a powerhouse of vitamin C that plays a key role in the circulation of blood in the tiny vessels feeding your hair follicles. A lack of this vitamin can cause hair breakage. Thus, include these foods in your diet to make your hair grow faster and longer.
5. Oysters
A zinc deficiency can result in hair loss, and oysters contain a high content of zinc and protein. Besides, you can also attain zinc from whole grain bread and fortified breakfast cereals.
6. Eggs
The hair is made up of protein. Eggs are full of proteins so that they are useful for hair. So, including eggs in your diet is one of the best ways on how to grow hair faster. Duck eggs and chicken are high in minerals such as iron, zinc, and sulfur, which are needed for boosting hair growth.
In fact, many factors contribute to the growth of hair, thus go ahead and try these tricks and tips, and see how they help you. If you know other ways on how to grow hair faster for women and men after a bad haircut, then share with us. All of the contents provided in this article are for informational & educational purposes. We recommend you consult a healthcare professional to determine which method is appropriate for you.