Straight hair is pretty, stylish, and convenient, particularly in the winter season. This hair style is also suitable for any type of face. To get straight hair, many people often turn to some chemical treatments to eliminate unruly waves and curls as well. Plus, many beauty salons give hair-straightening services with instant results. But, the effects don't last long. In general, after a year, your hair will begin revealing the side effects of the heated tools and harsh chemicals used during the treatment. Dry hair, hair loss and allergy on the scalp can appear. Now avoid using chemical straighteners or heat that will damage the hair over time. Instead, you can try some ways on how to get straight hair naturally without heat that are collected by Beauty Talk site. Let's get started!
Top 17 Ways How To Get Straight Hair Naturally Without Heat That Work Efficiently
1. Roll Your Hair
This is one of the oldest ways on how to get straight hair naturally without heat. It is really effective. Simply, all you need to do is preparing larger hair rollers and rolling sections of wet hair and tightly securing them against your head. Allow it to dry completely. Remember that the hair doesn't get wet because wet strands can turn the hair into curly again. Keep them there for several times and finally, remove them to have bouncy and smooth straight hair.
2. Comb To Straighten Hair
Another great answer to the question about how to get straight hair is to comb wet hair. This tip is really simple, easy but effective. For the purpose, use a big comb. Then, divide the hair into different layers and begin to comb each section differently. Later, dry it out by using a dryer.
3. Wrap Wet Hair Tightly
This tip is also useful for getting straight hair naturally. For this purpose, you should comb and divide the hair down the center when it is wet. Comb carefully and later wrap around your head's back, securing with bobby pins. After that, flip your right section over your left side, wrap, & pin in the same manner. Leave it to dry naturally. You can also wrap in one silk scarf and later sleep on it to decrease frizz.
4. Use Fasteners
You also should not miss this tip when looking for the best tips on how to get straight hair naturally without heat. All you need to do is to wash your hair at first and then comb it. Divide the hair into different sections with the help of clips. Place the fasteners or clips at the top of the head. Add a second fastener or clip directly below the first one. Ensure that the two clips or fasteners should be touching. Continue to do this step for all the layers until they reach the same level.
BeautyTalk Partner Solutions

Ask Any Questions and Get Answers within Minutes, 24/7!
The Medical Experts are available whenever you need them. You can even approve payment only when you're completely satisfied.
5. How To Get Straight Hair With Milk
Another way on how to get straight hair naturally is to use milk. Milk can help to straighten the hair owing to its moisturizing properties. In addition, milk comprises of proteins that strengthen the hair shafts and remove the frizz, thereby making them straight naturally and fast. There are many ways to use milk for straightening hair. Below are three simple ways:
Option 1: Milk Sprayer
Take 1 spray bottle at first and later fill it with water (1/2 cup) and milk (1/2 cup). Shake well and then, store this mixture. After that, remove any tangles by combing your hair and spray some this mixture on your hair and wait for approximately thirty minutes. Finally, wash it by using a shampoo and after shampooing, apply a conditioner. In order to eliminate the smell of milk, take your preferred hair perfume and spray it. To get straight hair quickly and naturally, follow this method three days in 1week for few months.
Option 2: Milk & Strawberry Hair Mask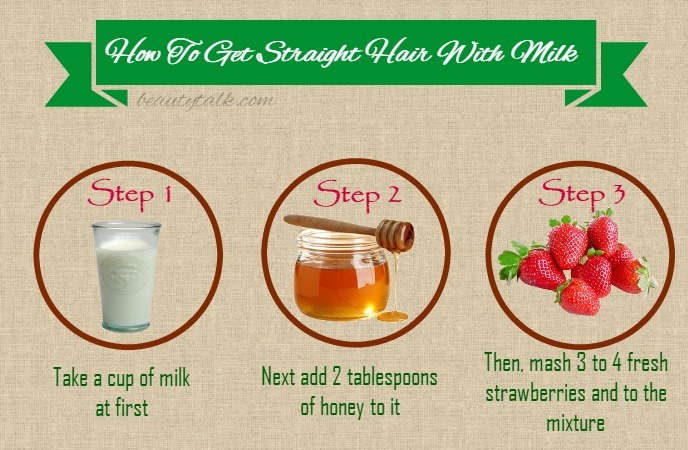 Take a cup of milk at first and next add 2 tablespoons of honey to it. Then, mash 3 to 4 fresh strawberries and to the mixture, add these mashed strawberries and stir well. Apply the mask in each strand of the hair with a hair brush, and with a shower cap, wrap your hair. Leave it for two hours and with a mild shampoo, wash it. Then, by using a broad-toothed comb, comb your wet hair and leave your hair to dry. This remedy also helps to make the curly hair straight.
Option 3: Milk & Egg Hair Mask
For making this mask, at first, take 1 egg & beat it in milk (2 cups). By using a brush, apply this concoction on the hair strands & keep it for 15 to 20 minutes. Afterwards, take a shower cap to cover your hair and finally, wash your hair after thirty minutes. While washing your hair, you should take a fragrant shampoo & conditioner and use it to avoid the egg's smell. Do this method weekly to get thicker and straight hair naturally.
Learn more: Beauty Benefits Of Strawberries
6. Coconut Milk
Coconut milk is also known to naturally straighten the hair since it has a moisturizing capability of keeping the hair beautiful, shine and luster. Plus, it keeps the scalp free from infections thanks to its antiviral, antibacterial, and antifungal in nature. So, using coconut milk is a good answer to the query on how to get straight hair naturally without heat.
How to get straight hair with coconut milk?
Firstly, add raw coconut milk (a cup) to the juice from a lemon in 1 glass jar. Then, put the mixture in your fridge for a couple of hours till the top of this mixture forms the creamy layer. Gently place this cream on your hair & scalp as well and massage gently. Allow it on for 20 minutes and cover your head by using a shower cap. Around this cap, place a warm towel and condition and shampoo the hair after 30 minutes. When it gets wet, comb your hair and leave it to dry.
7. Eggs For Getting Straight Hair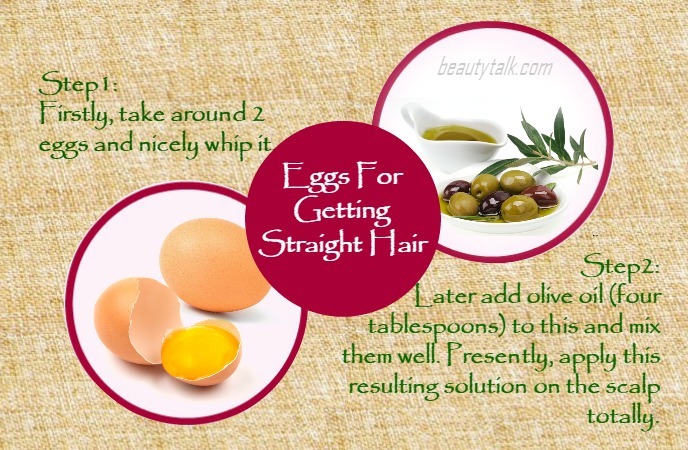 Using eggs not only does wonders for skin care but also helps to straighten hair.
The egg is beneficial for making your hair shiner & stronger as well. When combined with olive oil, the egg aids in lowering hair fall. The combination of egg and olive oil is very effective at straightening the hair naturally and fast without heat.
Option 1: Eggs & Olive Oil
Firstly, take around 2 eggs and nicely whip it. Later add olive oil (four tablespoons) to this and mix them well. Presently, apply this resulting solution on the scalp totally. Comb the hair afterward & wear one shower cap. After approximately 60 minutes and by using a shampoo, wash off. It's suggested to follow this remedy one time weekly for some months to naturally get straight hair.
Option 2: Eggs &Yogurt
Yogurt in the remedy helps to make the hair straight and lowers the smell of the egg at the same time. Firstly, depending on your hair length and volume, take 1 or 2 eggs and beat the eggs with two tbsp of yogurt. Then, apply the resulting mixture to the overall hair and wrap a shower cap. Keep it for 30 to 40 minutes and use a fragrant shampoo to rinse off your hair. Repeat this process every week to get straight and healthy hair.
8. How To Get Straight Hair Naturally With Celery Leaves
Celery leaves can afford multiple health benefits including accelerating hair growth faster and straightening hair naturally.
How to get straight hair with the help of celery leaves?
Firstly, chop some celery leaves and pour some water into these chopped leaves to collect the extracted juice. Thereafter, strain the juice by using a muslin cloth. Place the juice in 1 spray bottle and keep it on for 2 days. Spray this juice on your hair and distribute the juice evenly to your hair by using a wide – tooth comb. Prior to covering the head with a cap, massage gently for minutes. After about half an hour, use a mild shampoo to rinse off your hair and subsequently use conditioner.
9. Banana Hair Mask For Straight Hair
Banana aids in keeping the hair healthy, strong and hydrated too. Your hair will be moisturized by using a banana hair mask daily. It also helps to get waves and straight hair. Moreover, it is also effective at eliminating itchy and dry scalp.
Option 1: Banana & Papaya
Take banana and papaya in an equal part and mash them carefully. To it, put honey (one tablespoon) and mix it well. Then, apply this banana and papaya mask on the overall hair and wash off after around 30 minutes. You will see a major change with just one wash. You should use this easy method regularly one time in a week for 1-2 months.
Option 2: Banana, Olive Oil & Yogurt
These ingredients moisturize your hair well. They also make it straight, thick, and lustrous. The initial step is taking two fully grown bananas & by using a fork, mashing them. Later add honey (two tablespoons), plain yogurt (two tablespoons) and olive oil (two tablespoons). Create a smooth paste by combining all the things well. Afterwards, apply this wonderful mask on the hair & take a shower cap to wrap it. Keep the mask for a gap of 30 and 40 minutes and by using a milk shampoo, wash off. Follow this remedy one time in a week for a couple of months to naturally get straight hair.
10. How To Get Straight Hair Using Apple Cider Vinegar
If you are looking for helps on how to get straight hair naturally without heat, apple cider vinegar is also another incredible solution to cope with this problem. It has numerous benefits such as restoring the natural pH levels of your hair, and promoting an infection-free and healthy hair growth too.
How to get straight hair with apple cider vinegar?
For this aim, mix apple cider vinegar (1-2 tablespoons) in water (1 cup). After shampooing your hair, use this solution as a final rinse. Leave this rinse on the hair and let it air dry. Follow it frequently until you're satisfied with the results.
Learn more: Beauty Benefits Of Apple Cider Vinegar for Skin & Hair
11. Hot Oil Massage For Straight Hair
Hot oil massage remedy will also make your hair straight, smooth, and well hydrated as well. Warm oil produces saturation and heat, which helps your wavy, curly hair pattern to relax.
How to get straight hair with this remedy?
Take any oil such as sesame oil, almond oil, olive oil or coconut oil. In one microwave safe bowl, pour few drops of the oil and later heat it for around 20 seconds. Then, apply the warm oil on your overall scalp. Massage your scalp gently for about 20 minutes in a circular motion and comb your hair. After that, cover your head with a wet hot towel for 30 minutes. Use a shampoo to rinse your hair and while the hair is wet, comb it.
12. Using Beer
Beer also aids in maintaining healthy hair because it is rich in vitamins along with proteins. In addition, beer possesses the alcohol that acts as a shine and cleansing agent and comprises a softening effect on the hair.
How to get straight hair with beer?
In a pan, boil beer (1 cup) over medium heat till it lowers to half. Let it cool and combine it with your regular shampoo (about 1 cup). Use this homemade beer shampoo to wash your hair. After shampooing your hair, you can also use flat beer as a final rinse. You can also keep boiled beer in one spray bottle and then use it as a great leave-in conditioner.
13. How To Get Straight Hair With Castor Oil
Another popular way to make the hair straight naturally is using castor oil. It conditions the hair and at the same time, helps it stay hydrated. Furthermore, castor oil can protect your hair from frizzing significantly and beat scalp infection efficiently.
How to get straight hair using castor oil?
Simply, mix together castor oil (two tablespoons) and soybean oil (one tablespoon). Warm the combination for about 20 seconds in a microwave. Use it to massage both your scalp and hair for a few minutes. Let it sit for 30 minutes. Finally, wash it out as well as shampoo your hair. While the hair is still wet, comb it and leave it to air dry.
14. Using Aloe Vera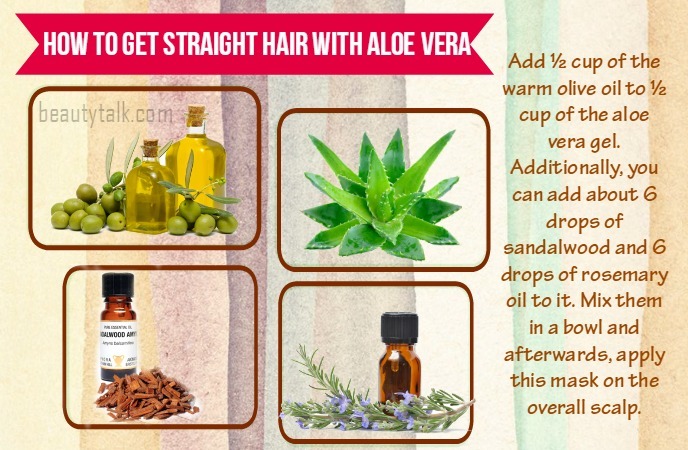 Because aloe vera contains several enzymes, it promotes healthy and strong hair as well. This excellent herb also helps to deal with oily hair. In addition, aloe vera gel also gives a moisturizing effect to your hair strands, so its use keeps your hair straight naturally.
Directions:
Take out the gel from the leaves of aloe vera. Then, add ½ cup of the warm olive oil to ½ cup of the aloe vera gel. Additionally, you can add about 6 drops of sandalwood and 6 drops of rosemary oil to it. Mix them in a bowl and afterwards, apply this mask on the overall scalp. Wrap your hair by using one shower cap and wait for 1 to 2 hours. Finally, use a mild shampoo to wash it using cool water. You will get straight hair easily by doing this frequently once in 1 week for few weeks.
15. Fuller's Earth Remedy
Fuller's earth also helps to get straight hair naturally since it contains some properties. Moreover, it decreases the curls without damaging the hair since it is a mild cleansing property.
How to get straight hair with fuller's earth?
Take fuller's earth (one cup) in a bowl and combine it with rice flour (2 tablespoons) and 1 egg white. Thereafter, pour few water drops to attain a fine mixture. Now, by using a broad toothed comb, comb your hair before and after applying the mixture. Keep it for 1 hour and rinse it by using plain water. Spray milk in the hair by using a spray bottle and again wait for 15 -20 minutes. Afterwards, use a good shampoo to wash your hair and use a conditioner too. Use this remedy one time in a week to attain the desired results.
16. Always Rinse Your Hair With Cold Water
Basically, hot water will open up the pores as well as eliminate the conditioners effect on the hair. After conditioning the hair, make sure to rinse it with cold water because this way aids in sealing the pores and allow the hair follicles to remain the effects of the conditioner for a longer period of time.
17. Avoid Massive Towel Wrap
A few people have the habit or the tendency of wrapping hair by using a big towel because they have an idea that the towel can soak and dry the wet hair. But, this is completely a wrong practice. Your hair may get caught in the woven fibers while doing so. This will give them to coiled hair and hair breakage. Thus, you can miss the chance of getting straight hair naturally.
Recommended articles:
DIY Natural Hair Masks For Oily Hair At Home 
How To Regrow Hair Fast & Naturally 
DIY Natural Hair Conditioners For Dry Hair At Home 
Best Natural DIY Hair Masks For Hair Growth 
All of these tips and remedies will definitely make your hair straight naturally and fast without heat. Besides, these treatments give your hair protection from all harmful chemicals destroying your hair. Try them to straighten your hair naturally at home and don't forget to share your great experiences with us. You can also find more other wonderful articles by visiting our main Hair Care page.