Updated: 11/27/2019
Scalp psoriasis is an irritating and chronic skin disorder accompanied by red, flaky patches. They are often itchy and painful on the scalp[1].
The lifestyle changes in modern days, including styling products and blow-dryers contribute a lot to worsening and drying of psoriasis. Some of the common symptoms of scalp psoriasis include intense itching, burning sensation, hair loss, soreness, and uneven, bumpy, and red patches on the scalp, etc. Although scalp psoriasis is treatable clinically, it is highly advised to use natural home remedies to treat this malaise because they are both safe and cost-effective. Furthermore, most of the ingredients used in these remedies are easily available. Now let Beauty Talk learn about the best home remedies for scalp psoriasis in detail.
16 Best Natural Home Remedies For Scalp Psoriasis
I. Is Scalp Psoriasis Dangerous
Scalp psoriasis causes a lot of unpleasant, annoying symptoms for the life and work of a patient. Psoriasis is not just a dermatological disease but a systemic disease that affects many different parts of the body. Scalp psoriasis increases the risk of developing obesity, metabolic disorders, kidney diseases, heart disease, and hair loss.
The most worrying factor for patients with scalp psoriasis is low self-esteem, inferiority complex, and difficulty living with symptoms. Especially, the stigma creates enormous pressure, causing serious psychological damage to patients. 65% of psoriasis patients generally have mild or severe depression or psychosocial trauma.
BeautyTalk Partner Solutions

Ask Any Questions and Get Answers within Minutes, 24/7!
The Medical Experts are available whenever you need them. You can even approve payment only when you're completely satisfied.
Besides, the quality of life of patients is affected. Many cases of patients suffer from insomnia, poor appetite due to scalp psoriasis symptoms, which will make the immune system weak, affecting health. Furthermore, the cost of treatment and quality of work are a burden for many patients.
II. Can Scalp Psoriasis Spread?
Scalp psoriasis often causes itching and flaking that haunt many people. People often don't want to contact patients with scalp psoriasis because they are afraid of infection.  However, psoriasis or scalp psoriasis is not an infectious disease and is not able to spread to others when coming into contact with an infected person. Therefore, relatives who take care of patients and those around them do not need to worry about infection.
However, scalp psoriasis is inherited from generation to generation, especially in children. If left untreated, the affected skin tends to spread to the surrounding skin. Therefore, patients should treat the disease as soon as possible to avoid the consequences for children and the dangerous complications of scalp psoriasis.
III. Risk Factors Of Scalp Psoriasis
Scalp psoriasis is a very common condition and affects all ages. You can control this disease by minimizing risk factors. There are a lot of factors that increase the risk of scalp psoriasis, such as:
Family History: 

The most important risk factor for scalp psoriasis is a family history. Having one parent with scalp psoriasis increases your chance of getting it and having two parents with this disease raises your risk even more.

Stress:

 High stress levels can increase your risk of scalp psoriasis because stress can affect your immune syste

m[2].
Viral And Bacterial Infections

: People with HIV are often more prone to develop scalp psoriasis than those with healthy immunity are. Young adults and children with recurrent infections, especially strep throat, are also at increased risk.

Smoking

: Cigarette smoking increases your risk of getting scalp psoriasis while increasing the severity of the disease. Plus, smoking plays a role in the early development of the disease.

Obesity

: Excess weight can also increase the risk of scalp psoriasis. Plaques or lesions related to all types of psoriasis usually develop in skin folds and creases.
Treating scalp psoriasis early and properly will help reduce the risk of dangerous complications. Using medication will help relieve symptoms quickly but often have many side effects and drive the cause deeper into the underlying cells. Therefore, to improve scalp psoriasis safely and effectively, you can use many home remedies with herbal ingredients. Let us find out about the following natural solutions for this disease.
IV. Home Remedies
1. Olive Oil Remedy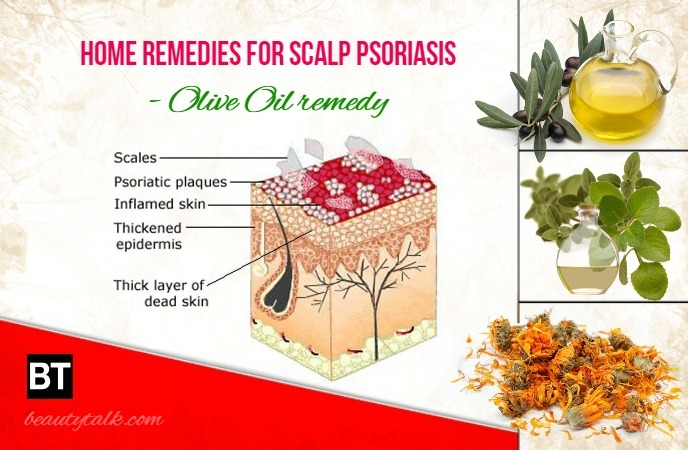 Olive oil functions as a natural moisturizer because it contains vitamin E, a moisturizing property. When applied to the scalp, olive oil moisturizes the scalp and decreases the appearance of dandruff by inhibiting the flaky and dry scalp[3].
Additionally, the oil possesses antifungal and antibacterial qualities that combat the common scalp problems, including scalp psoriasis and hair problems such as head lice, dandruff, etc. The scalp psoriasis will be decreased after the daily application of olive oil. Finally, this remedy gives shiny, silky, smooth, and healthy hair.
Way 1: Olive Oil Application
Ingredients:
Method:
Heat the olive oil in the microwave oven for a while. Apply this resultant warm olive oil to the scalp and massage lightly for around 2 to 3 minutes. Leave this olive oil on the skin overnight. Daily application of this oil will treat the issue of scalp psoriasis effectively.
Way 2: Olive, Calendula, & Oregano Oil
Ingredients:
1 cup of olive oil

1 drop of oregano oil

2 drops of calendula oil
Method:
Add the calendula oil along with oregano oil to olive oil. Mix them well and heat the mixture for 15- 20 seconds in the microwave oven. Apply to the scalp using the warm mixed oil and rub it gently for 2-3 minutes. Using this remedy daily before your bedtime will help you combat scalp psoriasis quickly.
2. Rosewater & Sandalwood
A combination of rosewater and sandalwood is regarded among the wonderful home remedies for scalp psoriasis. Sandalwood is enriched with astringent, antiseptic, and anti-inflammatory characteristics making it a potent cure for scalp psoriasis. Its antiseptic property is excellent for promoting blood circulation in your scalp to enhance optimal hair growth. Rosewater is used widely in a variety of remedies for both hair and skin care.  Particularly, the rosewwater works as a coolant to combat the burning sensation on your scalp.
Ingredients:
3 tbsp of rosewater

1 tsp of sandalwood powder

1 bowl of water
Method:
Take a bowl of water in a pan and add sandalwood (one teaspoon) powder to it. Boil the mixture in low flame. To the boiled mixture, add three tablespoons of rosewater and stir well. Let it cool and consume this solution around 4 to 5 times each day to quickly treat scalp psoriasis.
3. Use Dead Sea Salt
The Dead Sea salt is used commonly as a great solution for scalp psoriasis.  It is soothing and calming for the irritated and itchy scales of scalp psoriasis[4].
Dead Sea salt is packed with magnesium that is known to work as a strong anti-inflammatory. This will battle scalp psoriasis quickly and effectively.
Ingredients:
1 glass of water

½ tsp of Dead Sea salt
Method:
Take one glass of water first and then add Dead Sea salt (1/2 teaspoon) to it. Stir well and now apply this solution to your scalp to treat the issue of scalp psoriasis. Alternatively, you can use warm water having Dead Sea salt to wash the head.
4. Flaxseed Remedy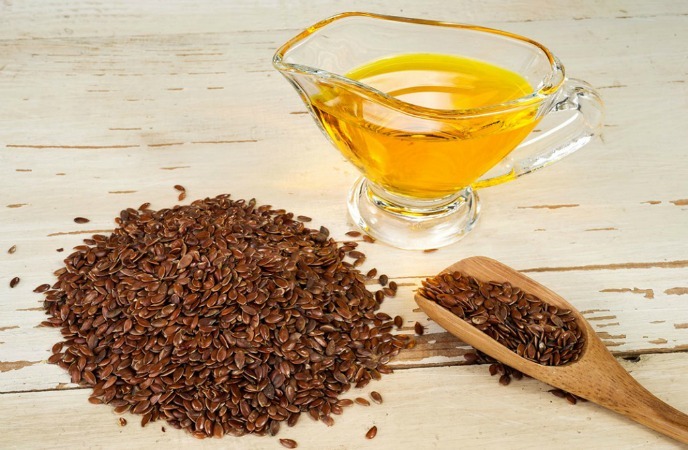 Flaxseeds can give you dietary fibers, omega 3 fatty acids, lignans, and other vital minerals and vitamins. A diet rich in vitamin D or omega 3 may help you effectively heal scalp psoriasis[5]. They are also filled with essential fatty acids, especially alpha-linolenic acid and linoleic acid, which promote skin health and cell membrane health as well. For this remedy, you take 3 teaspoons of roasted flaxseeds and consume them regularly. This can give effective results against the problem of scalp psoriasis.
5. Almond Powder
Almond is a time-tested treatment for many kinds of skin issues such as acne, eczema, and psoriasis[6]. Almond can also help to combat scalp problems and prevent hair loss altogether. The moisturizing property found in almond helps to treat eczema and psoriasis on the scalp.  Moreover, almond is also alkalizing and comprises fatty acids that soften and moisturize the scalp tissues and promotes blood circulation too. Its vitamin E is useful for treating scalp psoriasis. Vitamin E is an antioxidant that can protect and repair skin disorders[7]. Also, it battles free radicals, which can damage the skin.
Ingredients:
1 tsp of almond powder

1 cup of water
Method:
Prepare a paste of water and almond powder by mixing them well. Directly apply the paste to the scalp and keep this mixture on for 15 to 20 minutes. Use the home treatment twice in a day to attain the desired results.
6. Use Oatmeal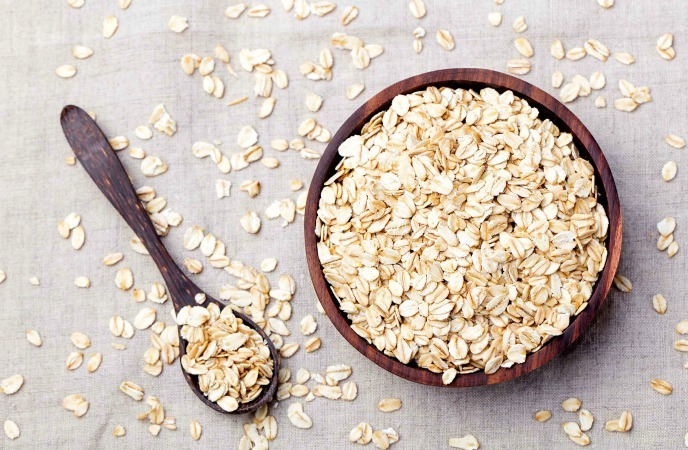 Oatmeal is a powerhouse of vitamins as well as minerals, such as manganese, selenium, and iron, all of which are beneficial for nourishing ạnd healing damaged skin. Additionally, oatmeal can become a great and natural remedy for scalp psoriasis because it keeps the skin hydrated and lowers skin irritation and inflammation[8]. Particularly, the oatmeal bath will provide you with smooth and soft skin[9].
Option 1: Oatmeal Bath
Ingredients:
A cup of finely powdered oatmeal

A bathtub of warm water

A good skin moisturizer
Method:
Fill a bathtub with warm water and later add oatmeal powder (1 cup) to the warm water. Use your hand to stir it well and now soak your scalp and body in the bathtub for around 20 to 25 minutes before washing with warm water. Follow the procedure 2 times each day to remove scalp psoriasis instantly.
Option 2: Oatmeal Paste
Ingredients:
Warm water

Oatmeal powder
Method:
Make a solution of some oatmeal powder with warm water. Apply the resulting solution to your affected scalp. Leave it on for several minutes and rinse it off. Follow this home treatment 2 to 3 times per day to hydrate the flaking and scaling scalp. You'll have a healthy scalp within several weeks.
7. Apple Cider Vinegar
Apple cider vinegar is a potent and effective remedy for hair, health, and beauty problems. For the scalp treatment, apple cider vinegar works amazingly in dealing with the hair and scalp troubles to make the scalp shiny and healthy. It's alkaline in nature and comprises many essential nutrients such as potassium, iron, and vitamins A, B1, B6, C, and alpha hydroxy acids, which exfoliate the skin's top layer and deal with the scalp psoriasis problem as well. Furthermore, it comes packed with antibacterial, antifungal, antiviral, anti-inflammatory, and antiseptic features that prevent all bacterial, viral, and fungal activities on the scalp[10].
Way 1: ACV Drink
Ingredients:
A glass of lukewarm water

1 tsp of organic ACV
Method:
This apple cider vinegar drink is very easy and simple to prepare at home. Add ACV to lukewarm water. Stir this solution well and consume it twice each day. Consuming the drink regularly will aid in detoxifying the body and reducing scalp psoriasis too.
Way 2: ACV Compress
Ingredients:
1 tsp of organic ACV

1 glass of lukewarm water

1 washcloth
Method:
Combine ACV and lukewarm water to make the diluted mixture. Soak 1 washcloth in the resulting solution for about two minutes. Now take out this washcloth and squeeze out excess solution. You compress the solution on the scalp for a gap of one and two minutes. Use this remedy a few times in a day to treat scalp psoriasis completely.
8.

Use A Homemade Hair Mask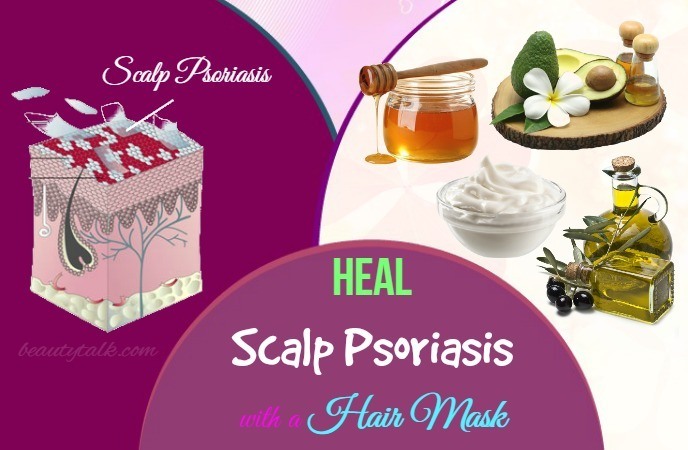 A hair mask with olive oil, honey, yogurt and avocado oil is also one of the ideal home remedies for scalp psoriasis. Avocado oil helps to treat skin-related diseases by increasing the epidermal elasticity while olive oil helps to soften the skin, thereby lowering the scaling and flaking that occurs by psoriasis on the scalp[11]. Honey is known to contain healing properties while yogurt is packed with proteins, which helps to smoothen the skin[12].
Ingredients:
3 to 4 tsp of avocado oil

3 to 4 tsp of olive oil

1 tbsp of yogurt

1 small bottle of honey
Method:
Fill a bowl with honey and mix the avocado oil, olive oil, and yogurt in that bowl. Mix them thoroughly to create a hair mask. Use the mixture to massage the scalp once every week. After an hour, remove this hair mask from the hair and rinse with water as normal.
9. Ice Pack
When put in the affected region, the ice pack numbs the nerve endings. It also comes with a cooling effect, which helps to ease the itching sensation and irritation caused due to scalp psoriasis.
Ingredients:
1 freezer pack of ice cubes

1 washcloth or towel
Method:
Take 1 clean washcloth first and then wrap the ice cubes in it. Compress the prepared ice pack for 10 to 12 minutes on your affected part. Use this natural remedy 3 times in a day to ease the skin irritation caused due to scalp psoriasis.
10. Garlic Remedy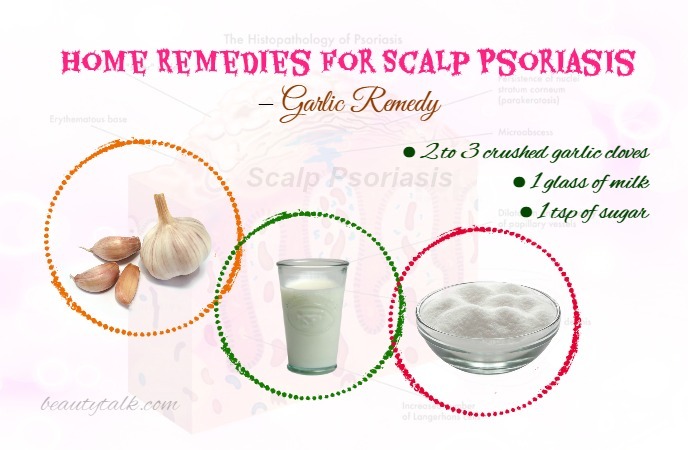 Garlic is highly suggested for treating scalp psoriasis because of its antioxidant and anti-inflammatory properties. It assists in reducing the activity of lipoxygenase that is responsible for inflammation of the skin related to psoriasis[13]. It further prevents skin infection since it functions as an antimicrobial agent.
Ingredients:
1 tsp of aloe vera gel

1 tsp of garlic oil
Method:
Take the prepared things, and mix them well in one small container to get a paste. Apply this paste to your infected region and leave the application for 10-13 minutes. Follow this natural cure each day until you get complete relief from scalp psoriasis.
11. Use Turmeric
Turmeric is popular in both Ayurvedic and Chinese medicine. Turmeric has been used for centuries as a healing spice. Turmeric comes with powerful anti-inflammatory abilities, which may help to relieve scalp psoriasis symptoms[14].
It also consists of curcumin, which exerts anti-inflammatory and antimicrobial properties. These properties can help combat scalp psoriasis. For this remedy, make the turmeric drink by washing the turmeric and peeling it. Thinly slice it and put these slices into some hot water. After that, cover the glass and leave the drink until it is lukewarm. Enjoy the drink 2 times a day to attain the best results. Alternatively, you can take turmeric pill to deal with scalp psoriasis.
Read more: Turmeric is also beneficial for getting rid of sebaceous cysts. (This article was medically reviewed/fact checked by Perpetua Neo (DClinPsy, UCL; MPhil, Cambridge)).
12. Epsom Salt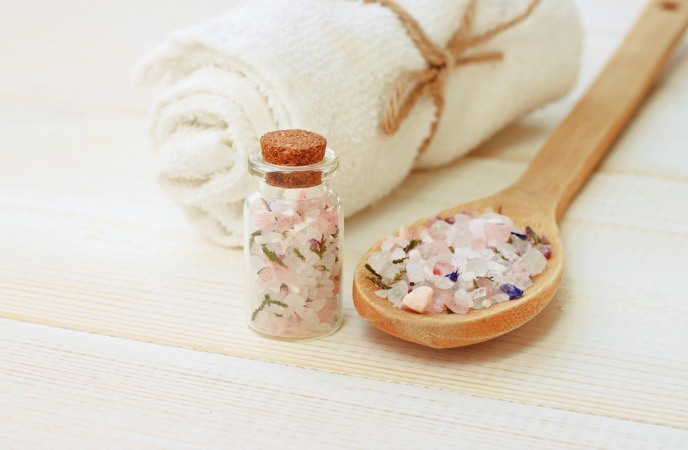 Epsom salt will help to ease the itching and burning sensations caused by psoriasis on the scalp. Apart from that, it softens the scaling caused due to scalp psoriasis. Magnesium salts may be effective for reducing inflammation and for dry skin[15].
Epsom salt is also good for relaxation and detoxification of the body.
Ingredients:
2 cups of Epsom salt

A bathtub of warm water

A good skin moisturizer
Method:
Take warm water to fill a bathtub and mix Epsom salt in warm water. Stir well with the aid of your hand and soak yourself in the solution for fifteen minutes or more. Pat the skin dry and liberally apply a good moisturizer. Do this activity 2 to 3 times a week.
Tips For Preventing And Treating Scalp Psoriasis
Aside from these home remedies for scalp psoriasis, you should also try following a few tips to control scalp psoriasis given below:
You need to stay hydrated by consuming plenty of water because this will also prevent scalp psoriasis. You can massage the scalp with olive, coconut or castor oil to keep your scalp hydrated.

Keep a proper diet by eating oil, omega-3 acids as well as full of fresh fruits and vegetables. Remaining a proper and healthy diet is very crucial to ensure that your hair and skin are in perfect condition.

Don't use hair dandruff controlling shampoos because these shampoos will dehydrate the scalp that results in more itchiness and scaling effect.

Avoid using perfumes and dyes because these things make the skin trouble worse.

Wear an umbrella or hat to protect the scalp from the sun because the sun can cause much damage to the scalp.
You can easily fight against the issue of scalp psoriasis by following these tips along with home remedies. Natural remedies help to prevent the scalp psoriasis symptoms and benefit every aspect of the health. Kindly share your experiences with us if you know other effective home remedies for scalp psoriasis. You can also learn more about our informative articles by visiting our main Hair Care page.
Note: It is important that this condition begins in the small intestines, so the elimination of toxins, food reactions, and the introductions of pre, as well as probiotics, are also helpful. Internal as well as external healing.  
All of the contents provided in this article are for informational & educational purposes. We recommend you consult a healthcare professional to determine which method is appropriate for you.