Overview
Many people think that psoriasis only affects the skin on the arms, legs or back. But they are wrong because the condition can affect any part of the body, even their scalp. Scalp psoriasis is a common psoriasis type on the planet. If you are suffering from scalp psoriasis, then this post on our site, Beauty Talk, is for you! There are plenty of ways and remedies that can relieve the symptoms of scalp psoriasis. Continue reading to know more about simple but effective ways on how to treat scalp psoriasis naturally in children, adults, and women while pregnant.
16 Best Ways How To Treat Scalp Psoriasis In Children, Adults, & While Pregnant
I. What Is Scalp Psoriasis?
Psoriasis is one of the common skin conditions, which features plaques or scaly red patches on the skin. Chronic plaque psoriasis is the most common form of psoriasis. Psoriasis can spread over your body, but it mainly affects the scalp, knees, back, and elbows. When psoriasis appears on your scalp, it is called scalp psoriasis. People suffering from scalp psoriasis develop scaly and reddish patches on the scalp.
II. Foods To Eat For Scalp Psoriasis Treatment
Certain foods can help soothe the symptoms of scalp psoriasis. So, you should add them to your diet to help fight against the problem. They include:
Vegetables such as carrots, kale, broccoli, spinach, squash, and sweet potatoes.

Foods high in omega-3 fatty acids. For example, walnuts, fish (mackerel, salmon, tuna), olive oil, avocados, pumpkin seeds, and flaxseeds. You can also take fish oil supplements for the treatment of scalp psoriasis.

Fruits such as strawberries, mangoes, blueberries, figs, and oranges.

White meat, legumes, low-fat dairy and soy-based products.

Eggs because they are full of vitamin D.
III. Foods To Avoid For Scalp Psoriasis Treatment
Besides, you also need to avoid the following foods because they're known to be pro-inflammatory:
Processed food

Dairy products

Fried and fatty food

Red meat

Food high in sugar

Gluten-containing items such as barley, wheat, and rye

Nightshade vegetables such as bell peppers, potatoes, and tomatoes
IV. Diet Advice For Scalp Psoriasis Treatment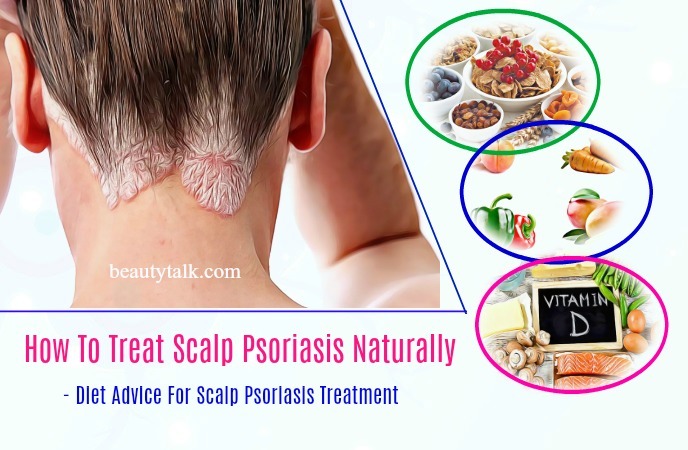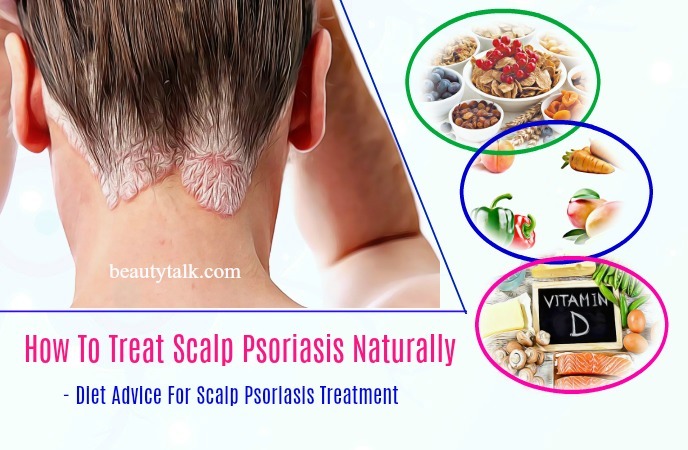 BeautyTalk Partner Solutions

Ask Any Questions and Get Answers within Minutes, 24/7!
The Medical Experts are available whenever you need them. You can even approve payment only when you're completely satisfied.
An improper diet is one of the factors contributing to scalp psoriasis. Thus, eating a healthy and well-balanced diet will be useful for hair care and help with the problem of scalp psoriasis.
Fiber: Consumption of high-fiber foods can help improve the digestive system and boost the immune system. Thus, it helps prevent the problem of scalp psoriasis. Fresh and cooked vegetables, fruits, spaghetti, nuts, brown rice, and berries are rich in fiber.
Zinc: Foods rich in zinc are vital for keeping the skin healthy. According to some studies, zinc can help ease the itching and pain caused due to scalp psoriasis outbreaks. Zinc-rich foods include beef, lamb, seafood, chickpeas, spinach, pumpkin seeds, etc.
Probiotics: Foods rich in probiotics are excellent for improving the digestion process, dealing with inflammation in the body and boosting the immunity to prevent infections. Kefir, yogurt, pickles, kimchi, sauerkraut, and miso soup are rich in organic probiotic. Consuming foods high in probiotics on a daily basis can improve your health while reducing breakouts.
Vitamin A: Vitamin A rich foods are useful for lowering the breakouts because they accelerate fast skin healing. Carrots, leafy greens, mango, cantaloupes and sweet potatoes are a rich source of vitamin A. The vitamin works wonders in supporting the immunity and preventing your skin from being over damaged and dried.
Vitamin D: Vitamin D deficiency can result in a few unfortunate consequences such as depression, stress fractures, pains, etc. Taking plenty of vitamin D can be helpful in soothing the symptoms of the scalp psoriasis. It also enhances the immunity to avoid frequent breakouts. Vitamin B rich foods include eggs, caviar, mushrooms and wild-caught fish.
Antioxidants: Because people with psoriasis are more vulnerable to heart disease and skin cancer, it's crucial for them to eat many antioxidant-rich foods. Such foods are beans, nuts, berries, and herbs. They aid in keeping the skin moisturized and minimizing premature aging signs and flaking. Apart from that, the anti-inflammatory effects of antioxidant-rich foods will help inhibit scalp psoriasis breakouts caused due to skin damage.
V. How To Treat Scalp Psoriasis In Children, Adults, & Women While Pregnant
Although the scalp psoriasis problem is clinically treatable, it's best to use natural remedies to deal with this condition because it's both cost-effective and time. Furthermore, most of the ingredients present in home remedies are natural and easily available. Let's check out.
A. How To Treat Scalp Psoriasis Naturally In Adults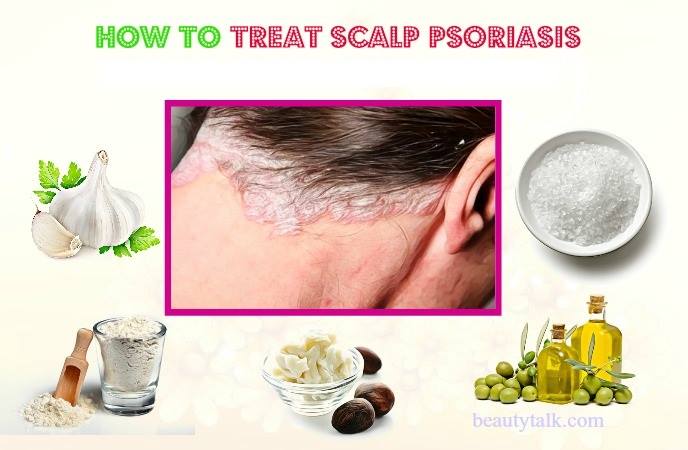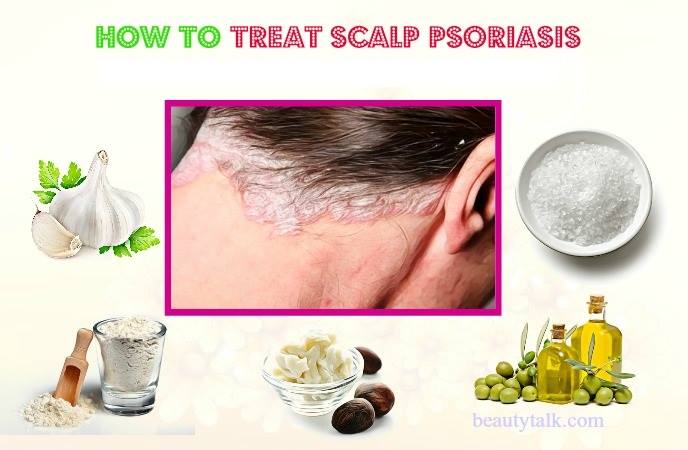 1. How To Treat Scalp Psoriasis With Garlic
Garlic is highly beneficial for dealing with various symptoms related to scalp psoriasis owing to its antioxidant and anti-inflammatory properties. It further helps to lower the activity of an enzyme named lipoxygenase, which causes the skin inflammation associated with psoriasis. Besides, it helps prevent the skin infection, as it serves as an antimicrobial agent [1]. Below are a few methods on how to treat scalp psoriasis with garlic at home:
Method 1:
Get these:
Garlic cloves – 2

Olive or coconut oil – ¼ cup
Process:
Roast the garlic lightly in one pan and crush it. Add the crushed garlic to the oil and set it aside for one or two days. Start applying some of this mixture on your scalp and rinse it out after sixty minutes. Follow this remedy once to twice per week.
Method 2
Get these:
Crushed garlic cloves – 3

Sugar – one teaspoon

Milk – a glass
Process:
Take the garlic cloves at first and with the aid of a masher, mash them properly. Then, mix the crushed garlic in the milk and afterward, add the sugar to the mixture. Stir it well and consume this resultant mixture twice a day for treating scalp psoriasis.
2. How To Treat Scalp Psoriasis With Henna
Henna comes with the cooling properties, which can soothe the irritation caused by scalp psoriasis. Along with that, it can be helpful in bringing the scalp's pH under control and healing the patches. Henna also exhibits antifungal and antibacterial compounds, which all help to combat lots of scalp issues like dandruff [2]. So, how to treat scalp psoriasis with henna? Try the steps below:
Get these:
Organic henna powder – two tablespoons

Coconut oil – one tablespoon
Process:
Combine the henna with the coconut oil to make a paste. If required, add some water to adjust the consistency. Begin applying this paste on your scalp patches and rinse it off after a couple of hours with shampoo. For quick results, try this treatment 1-2 times a month.
3. How To Treat Scalp Psoriasis With Shea Butter
Shea butter deeply conditions and moisturizes the scalp, as it is rich in triglycerides (fats), and vitamin A and E. It is also perfect for removing dead, flaky skin, leaving it supple and hydrated. More importantly, Shea butter can be used to treat scalp psoriasis and general psoriasis patches on the other parts of the body.
Get these:
Process:
Take some Shea butter and melt it with a double boiler. Then, apply it on your scalp and slightly massage for one minute or two. Keep the application on overnight and the next day, wash with shampoo. Use this cure once or twice in a week.
4. How To Treat Scalp Psoriasis With Epsom Salt
Epsom salt is an adequate remedy for the treatment of skin disorders such as psoriasis and eczema. It additionally helps to ease the burning and itching sensations of scalp psoriasis. It also aids in exfoliating the dry skin. Last but not least, it is ideal for relaxation and detoxification of the body.
Get these:
Epsom salt – two cups

Warm water – a bathtub
Process:
The first step is filling one bathtub with warm water. The next step is mixing the Epsom salt in the bathtub with warm water. After that, stir well by using your hand and now soak yourself in this mixture for around fifteen minutes. Pat dry and apply a good moisturizer. For best results, do this activity two to three times weekly.
5. How To Treat Scalp Psoriasis With Olive Oil
Olive oil is a powerhouse of vitamin E, which can decrease the inflammation and oxidative stress caused due to psoriasis. It also assists in keeping the skin hydrated and reducing the dryness. Regular application of olive oil is useful for decreasing the scaling.
Method 1:
Get these:
Process:
Take one cup of olive oil at first and later heat it in a microwave oven for a while. Then, apply the solution on the scalp and massage gently for two to three minutes. Keep the application on an entire night. Regular use of this oil will battle the scalp psoriasis efficiently.
Method 2:
Get these:
Olive oil – one cup

Oregano oil – a drop

Calendula oil – two drops
Process:
Take the olive oil and next add the oregano and calendula oil to oil. Mix these oils well and heat for twenty seconds in a microwave oven. Then, apply the mixture to your affected area and rub it for about two minutes. Try using this remedy daily before hitting the bed to remove the scalp psoriasis quickly and completely.
Method 3:
Get these:
Olive oil – one cup

Tea tree oil – 10 drops
Process:
Slightly warm the olive oil with a double boiler and remove from the heat. Later add the tea tree oil and stir well. After that, take an empty bottle and pour this mixture into it. Massage several minutes and wrap your head using a plastic wrap or shower cap. After around two hours, rinse off by using mild shampoo and water. Do the process 2-3 times per week.
6. How To Treat Scalp Psoriasis With Witch Hazel
Due to its astringent and anti-inflammatory agents, witch hazel works effectively on treating skin conditions like psoriasis. Along with that, its anti-inflammatory properties may aid in easing the symptoms such as pain, itching sensation, redness, scarring, and flaky skin. Here's a simple method on how to treat scalp psoriasis with the help of witch hazel:
Get these:
Witch hazel extract – two tablespoons

Water – four tablespoons
Process:
The initial step is washing your hair by using shampoo. The following step is diluting the witch hazel with the water. Apply this solution on your wet scalp and massage gently for a minute. Wait for a few minutes and rinse it off. Use this way once a week.
7. How To Treat Scalp Psoriasis With Oatmeal
Oatmeal has exfoliating properties that can get rid of hanging patches and accumulated dead cells. Plus, it also contains an anti-inflammatory ability, which can lower soreness, inflammation and provide a cooling effect on the skin. It further provides you with smooth and soft skin. Not only that, it is beneficial for calming the nerves and healing the cracked skin.
Method 1:
Get these:
Finely powdered oatmeal – one cup

Warm water – a bathtub
Process:
Use warm water to fill your bathtub. To the warm water, add the oatmeal powder and use your hand to stir well. You can either dip the oatmeal into the bathtub or wrap it in a muslin cloth. Then, soak the scalp and body in this bathtub for around 20 to 25 minutes. Afterward, wash with warm water. For fast results, repeat the process two times a day.
Method 2:
Get these:
Cooked oatmeal

Olive oil – one to two teaspoons
Process:
Add the olive oil to enough cooked oatmeal and mix them well. Start applying on your scalp with the mixture and leave it to dry for ten minutes before rinsing it off by using water. Finally, use a little coconut oil to moisturize your scalp.
B. How To Treat Scalp Psoriasis While Pregnant
Psoriasis on the scalp or other parts of the body can be a difficult condition when you're pregnant. During pregnancy, the biggest concern is the medicine used to deal with psoriasis. Although a few drugs are perfectly safe, the other ones can lead to congenital disabilities and miscarriage and need to be avoided.
Which drugs are safe to take while pregnant?
During pregnancy, the safest medicines are topical treatments, particularly emollients and moisturizers like petroleum jelly. Steroid creams are also a good choice. Just be careful when you are breastfeeding, and your baby is born. Don't rub steroid cream on the breasts or make sure to wash it off thoroughly before breastfeeding. In the case of severe psoriasis, ointments and creams are not controlling the symptoms of psoriasis; you can use narrow-band UVB (ultraviolet light B) phototherapy. Psoralen and UVA therapy is not recommended while you are pregnant since the drug will get into your breast milk and lead to a light sensitivity in a baby.
Which drug should you stay away from while pregnant?
You should try limiting or avoiding your use of the drugs listed below:
Biologic drugs such as etanercept (Enbrel), adalimumab (Humira), and infliximab (Remicade).

Topical treatments such as tazarotene (Tazorac) and coal tar.
Avoid these drugs, which harm your baby:
Oral retinoids such as Soriatane (acitretin) can lead to congenital disabilities.

Methotrexate (Trexall) can cause cleft palate, miscarriages, and other congenital disabilities. Both women and men should stop taking this medicine for a minimum of 3 months before trying to get pregnant, as it can cause chromosome problems.
C. How To Treat Scalp Psoriasis Naturally In Children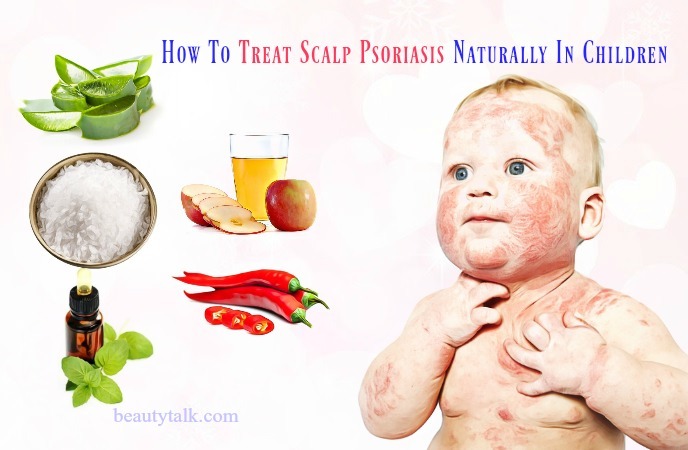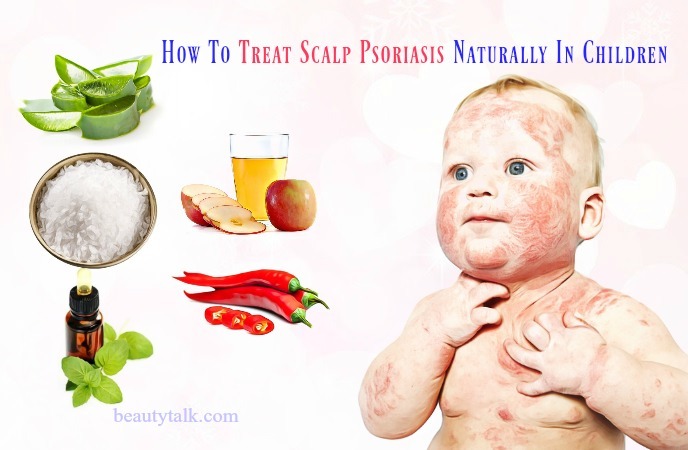 Generally speaking, natural ingredients can aid in the treatment of scalp psoriasis in children, but some children can react to a medication. Therefore, talk to a doctor before trying any of these treatments. Below are some natural remedies that are excellent for preventing the flare-up of psoriasis or outbreak.
8. How To Treat Scalp Psoriasis With Aloe Vera
Aloe vera possesses the soothing agents that give relief from the irritation and itchiness. It can be also potent in keeping the skin healthy and preventing reddening. Apart from that, it also holds antioxidants and anti-inflammatory properties, which all help eliminate the swelling and cure the skin conditions quickly [3].
Get these:
Aloe vera gel – ¼ cup

Lavender oil – 6 to 8 drops
Process:
Take the aloe vera gel and blend it with the lavender oil. Then, apply it on your child's scalp and after 20 to 25 minutes, rinse the applied area with a mild shampoo. Follow this treatment two times per week.
Note: Avoid taking aloe vera in the form of tablets or orally because it may not be safe or effective.
9. How To Treat Scalp Psoriasis With Apple Cider Vinegar (ACV)
Apple cider vinegar works wonders in maintaining the skin's pH and guarding your skin against infection thanks to its antiseptic properties [4]. When directly applied to the skin, ACV can help calm the redness and itching caused by psoriasis. Here is the way on how to treat scalp psoriasis in children with ACV:
Take a cotton ball and immerse in some ACV. Afterward, dab it on the problem areas.

When ACV is applied directly, some children may suffer from a burning sensation. So, mix one part each of ACV and water. Use the mixture on the skin.
Note: If the skin is bleeding or cracked, don't apply the ACV because it aggravates the skin and results in a burning sensation.
10. How To Treat Scalp Psoriasis With Dead Sea Salts
The Dead Sea salts or Epsom salts can give your kid relief from the discomfort caused by psoriasis. Fill a bathtub with warm water and add some of the salts to it. Then, leave your child to soak in it for about 15-20 minutes. It'll help to eliminate the scales and alleviate the itching. After taking a bath daily, make sure to apply an oil or moisturizer to the skin.
11. How To Treat Scalp Psoriasis With Cayenne Pepper
Cayenne pepper is used as a natural painkiller. In ointments, it's added to obstruct the nerve endings causing pain. Plus, research suggests that capsaicin in cayenne pepper helps decrease the redness and inflammation of the skin caused in people living with psoriasis. However, when one capsaicin ointment is applied, your little one may undergo a burning sensation.
Note: Don't directly apply cayenne pepper and its extracts y to the skin.
12. How To Treat Scalp Psoriasis With Natural Oils
Dry skin is common trouble in people with psoriasis. Keep your little one's skin healthy by regularly moisturizing it. Effective moisturizers for children with psoriasis include:
Olive oil can be used to ease the discomfort of the skin.

Cashew oil can be applied to the lesions to relieve the redness and inflammation caused due to psoriasis flare-ups. The oil assists in moisturizing and softening any dead skin caused due to the disease.

Coconut oil is effective at preventing aggravation of psoriasis breakouts and moisturizing the skin too [5].

Castor oil, mixed with baking soda, is used for healing the lesions on the skin. Just mix a spoon of baking soda with some castor oil and apply it to your child's scalp. Do this way for a couple of weeks.

Vegetable oil is rich in some nutrients. Take a little amount of the oil and apply it to the lesions and patches on the skin to keep them moisturized.
VI. Simple Tips For Preventing Scalp Psoriasis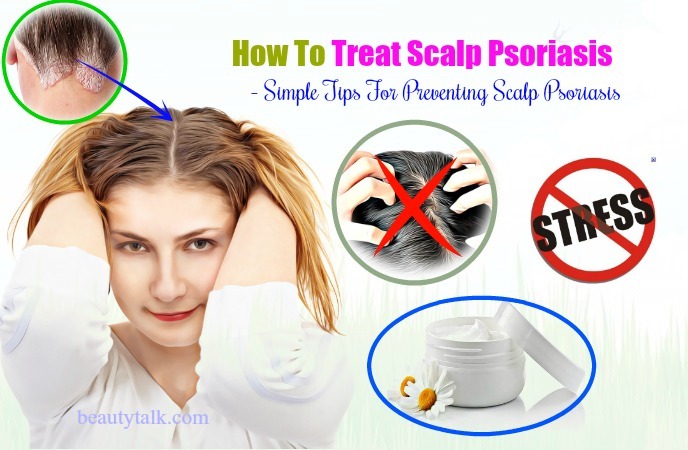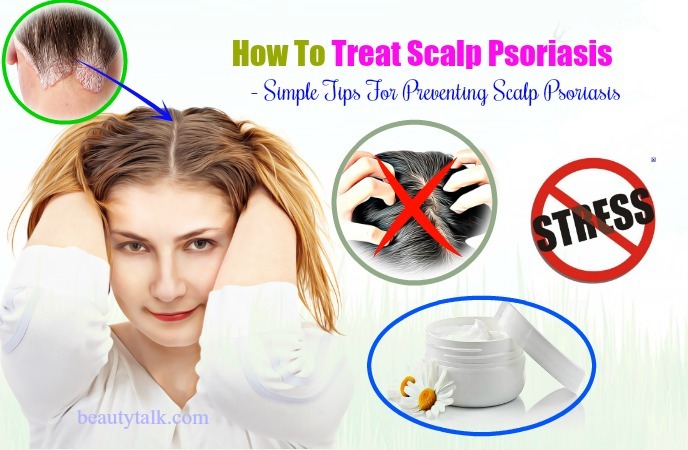 Let us a detailed look at some of the effective tips below to help control the malaise of scalp psoriasis:
Remove The Scale Thoroughly: Psoriasis can spread to other areas of the body by the harsh picking process. Leave the scale to be smooth and lose, don't try removing it forcefully, as it can cause hair loss. So, eliminate the scales gently and carefully without hurting the scalp.
Don't Scratch Your Scalp: Scratching the scalp can cause bleeding and serious damage to the skin of the scalp. Hair loss can be caused by the excessive scratching. So, you should avoid scratching the scalp to inhibit these serious consequences.
Apply A Scale Softener: Sometimes, the patches of psoriasis are very thick and stubborn. Use a scale softener containing salicylic acid to help soften the patches so that they can be removed easily.
Use A Mild Shampoo: The use of shampoo containing harsh chemicals can make the scalp psoriasis worse. Instead, you can use herbal shampoos that will soothe your scalp. Don't rub the shampoo on the scalp extensively. While washing your hair, provide a gentle massage.
Avoid Stress: If you're living under stress, the problem of psoriasis becomes worse. So, try reducing or avoiding stress and perform some exercises to feel relaxed.
Don't Use Brushes: Forget about the brushes when you suffer from scalp psoriasis, as they damage the skin on the head while worsening psoriasis outbreaks. Settle for comb when you need to care for your hair.
Moisturizer The Skin: It is best to moisturize the skin from inside and outside. Besides eating a healthy diet, you should also apply moisturizing creams on a regular basis. That is because the moisturized skin is less likely to psoriasis outbreaks caused due to skin damage. For better absorption, apply moisturizing creams after taking a shower or a bath.
VII. When To See A Doctor?
Make an appointment with a doctor if you're undergoing pain or discomfort from scalp psoriasis. This problem can become infected, and symptoms of infection are crusting and tenderness of the scalp, and swollen lymph nodes. You need to talk to your doctor instantly if you're suffering from these symptoms.
By following these tips and natural remedies, you can easily and quickly treat your scalp psoriasis condition. Make sure to try out them regularly and be patient. Do you know other ways on how to treat scalp psoriasis naturally in adults, children, and women while pregnant? Kindly share any remedy you have with us. All of the contents provided in this article are for informational & educational purposes. We recommend you consult a healthcare professional to determine which method is appropriate for you.