Taking care of the skin is more and more important for every woman. Learning a few secret skin tips from celebrity aestheticians will be useful in improving your skin. They are willing to give you their experience and knowledge that will help you to get a perfect and glowing complexion. So now, it is time to know what these celebrity aestheticians say are their best beauty tips and tricks to make your skin a flawless look. Today, Beauty Talk will give you top 23 secret skin tips from celebrity aestheticians and you should have a look at this article to discover more about these useful beauty tips because they are really useful for you.
Top 23 Secret Skin Tips From Celebrity Aestheticians
1. How To Choose A Product For Pimple Treatment 
This is the first tip in the list of secret skin tips from celebrity aestheticians that I want to show to you. You should avoid going for a heavy product to apply to spots on your skin. One of the common mistakes that most of us make is to pick a pimple, but we may still cause damage without popping and poking it, Vanessa Hernandez advises that if you have a pimple, apply a drying cream/lotion for one time per day, not a few times during the day because too much cream/lotion can cause the skin to get dry and flaky, which causes the problem to take longer to treat
2. Use Toner When You Are In The 30s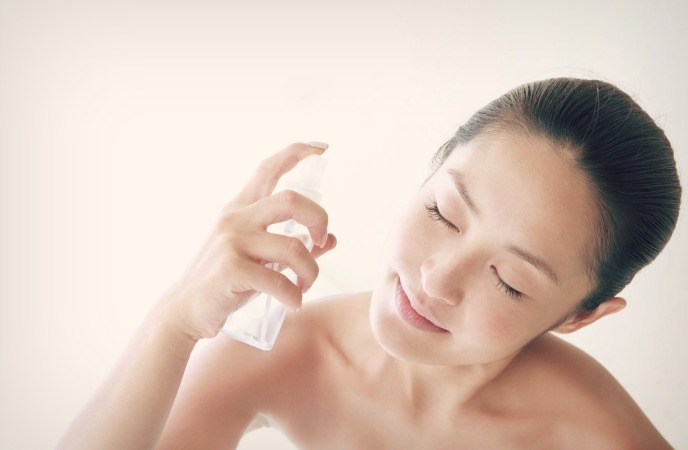 When Holly Byerly, a celebrity aesthetician for VMV Hypoallergenics and senior skin instructor, was 35 years old, she found that she needed to change her skin care routine. She needed to use a toner each morning in her daily skin care. She found that it removed residue left on her skin and helped her skin to retain the moisture. She also suggested applying a good toner to the face after washing it and before applying a lotion.
3. Never Pick The Face 
Picking the face is a bad habit that you should quit immediately.
BeautyTalk Partner Solutions

Ask Any Questions and Get Answers within Minutes, 24/7!
The Medical Experts are available whenever you need them. You can even approve payment only when you're completely satisfied.
According to Renee Rouleau, who does work with Demi Lovato and Lisa Rinna, you should stop picking your face because this can spread bacteria from your hands to your skin. "Messing with the skin may result in a dark mark caused by a breakout that can make the healing process last for months," she says. Whenever you tend to pick your skin, Renee Rouleau suggests keeping the hands busy with something.
4. Take Care Of The Skin Carefully On Airplanes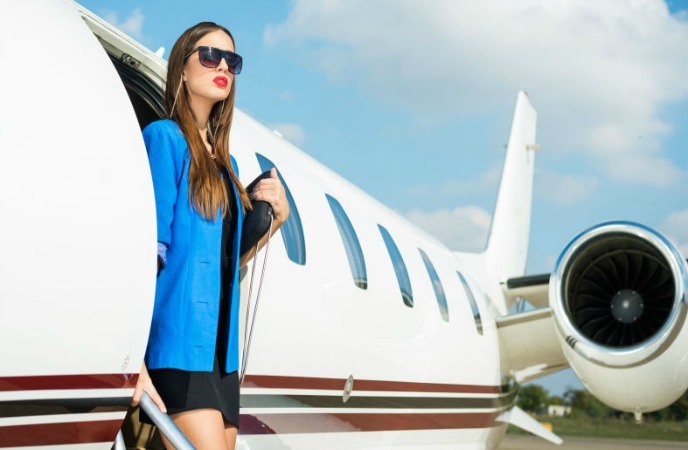 This is one of the most important secret skin tips from celebrity aestheticians. In fact, flying adds the harsh condition to your skin due to dry cabin air. However, this is not the single factor that contributes to a dull and dry complexion; bacteria and germs on the seat belts, tray tables, door handles, etc. and even the sunlight or sun radiation exposure may also cause damage, like brown spots and premature wrinkles. To fight these factors, Vanessa Hernandez suggests always keeping 3 products in your bag and using them during the flight: facial cleansing wipes, eye cream, and toner or hydrating spray. This is also a suggestion of Renée Rouleau.
5. Exfoliate The Skin 
According to Renée Rouleau, exfoliation is a very crucial tip to solve various skin problems such as reducing and preventing acne breakouts, cleaning clogged skin pores, fading away acne scars, and giving a glowing skin. When she is in a rush and wants a smooth skin, always use a gentle facial scrub to get an instant glow. She suggests using round, natural jojoba beads because they are very gentle and safe for all skin types.
However, when she has a little time, she often applies the triple-berry smoothing peel; leaves it on there for about 10 minutes. It helps to remove the dead skin cells, soften wrinkles and fine lines, and make the skin flawless.
6. Go For A Professional Facial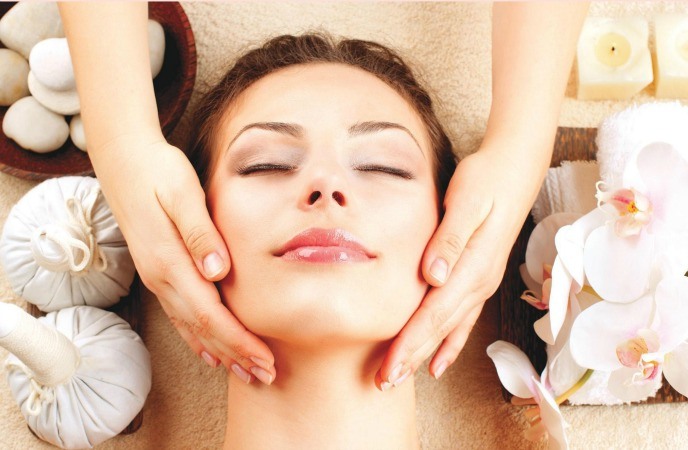 To prevent large skin pores, wrinkles, and dull skin, Vanessa Hernandez recommends going for a professional facial for at least one time per month. However, because it is quite expensive to go to the spa monthly for a professional facial, here is her tip to get the best results when using each treatment. You have to make sure it has some types of physical exfoliation, such as wet or dry microdermabrasion. If it is not your choice, try using a chemical exfoliation; for example, a gentle glycolic peel.
7. Quit Smoking
According to Renée Rouleau, the skin will thank you for quitting smoking because this helps to give you a healthy and youthful skin.
The skin of smokers can look slightly gray as capillaries are dying slowly and closing off, which will reduce the supply of oxygen of blood. They tend to have many blackheads on the top of their cheeks, sides of their nose, forehead, upper lip, and other areas where the smoke accumulates. In addition, smokers will also suffer from wrinkles, especially on their mouth and cheeks, and puffiness under their eyes due to collagen damage. Apart from physical effects, other serious health problems should be enough to quit smoking.
Learn more: 16 Natural Face Saving Remedies To Get Smooth Facial Skin
8. Skin Tips From Celebrity Aestheticians – PreCleanse The Skin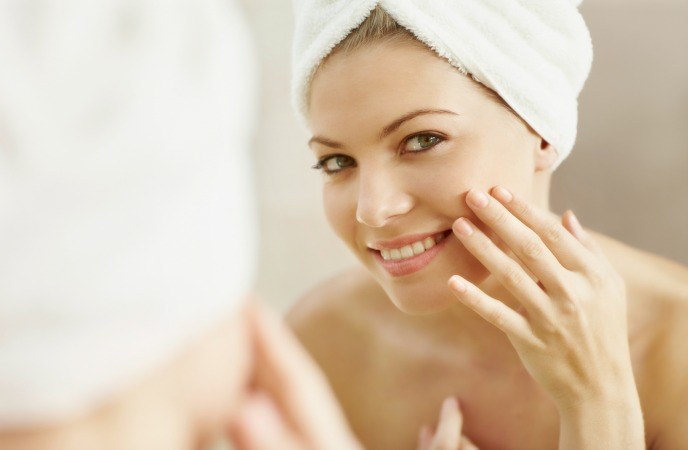 According to Holly Wydra, an aesthetician for FarmHouse Fresh, a precleanse is an excellent way to help get rid of dirt and all the traces of makeup after a day, which brings extra moisture to your skin and helps your cleanser work well. She also suggests that you should not use a white towel to pat your skin dry after washing your face because there is still dirt, oil, and makeup that lingers on your skin. Instead, you should massage your skin with an essential oil to remove dirt, oil, and makeup traces. Then, wash it off with warm water and then rinse your face with a good cleanser.
9. Take Care Of The Whole Body Parts
You should not only focus on taking care of your facial skin. The neck, back, hands, legs and chest should also be cared for. You should exfoliate, hydrate the skin of all the body parts, and use a good sunscreen on these areas. To avoid clogged skin pores and blackheads on your back, Vanessa Hernandez suggests scrubbing with a loofah while taking a shower.
10. Apply A Correct Layer Of Products To The Skin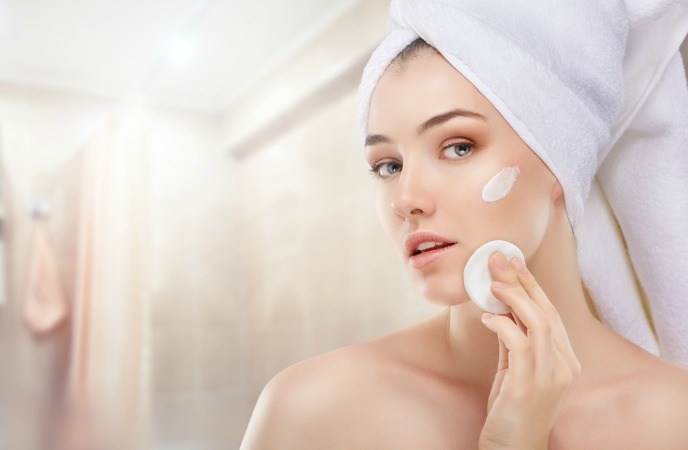 Applying a correct layer of products to the skin is one of the secret skin tips from celebrity aestheticians. According to Niecy McCoy, an aesthetician from Beauty Bridge, you should apply the second product to your skin about 5 minutes after applying the first layer. Your skin needs time to absorb the products. Moreover, you should not over-massage the cream/lotion into your skin because this means that you are rubbing it off of the face. You should also wait for a while before applying a foundation. This not only helps to avoid flaking up in your foundation but also keeps the foundation layer from setting correctly."
11. Limit The Intake Of Dairy Products
Even though there isn't any scientific evidence to prove it, Renée Rouleau has found that dairy products cause her to have cystic acne. And this is also the conclusion of some of her clients. She is a big fan of cheese, especially on her yearly flight to France to visit family; she has learned to limit the intake of dairy products because consuming too many these products will cause her to break out.
She is not saying that when you stop consuming dairy products, you will stop breaking out. However, it is very important to listen to the needs of your skin through the changes of hormones, climates, and stress levels.
12. Use A Mask Overnight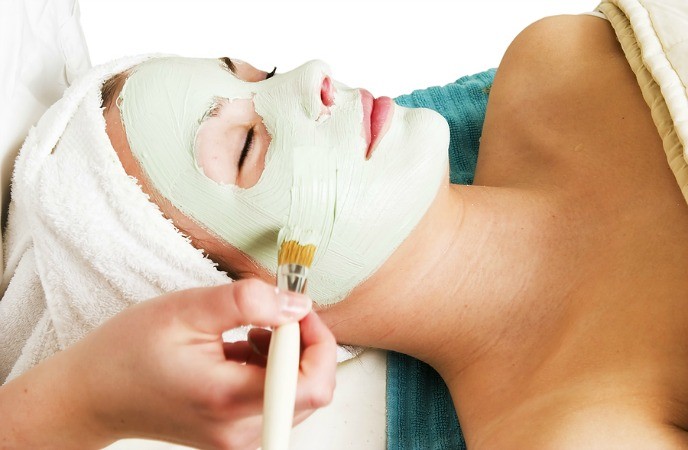 According to a celebrity aesthetician, Susan Ciminelli, going to sleep every night with a mask made with clay or a drying mask on the nose is very good for a beautiful skin. She said that you would wake up to very tight skin pores and almost no blackheads on the nose.
13. Have A Healthy Diet 
Having a healthy daily diet is the next tip of secret skin tips from celebrity aestheticians. Vanessa Hernandez said that greens, berries, avocados, flaxseed, salmon, almonds, all rich in antioxidants, vitamins, and omegas helped to keep your skin healthy from the deep inside. You should avoid fried foods, sugar, and dairy products, which can cause congestion in your skin and body.
14. Stick To Facial Masks 
"Facial masks are usually tossed to one side because of having no time, but can be very important; so I often use them while the shower," says Sandra Umstead, a celebrity aesthetician at the Spa Grand Traverse. "I apply it on before I take a shower and rinse before I come out."
15. Skin Tips From Celebrity Aestheticians – Increase Circulation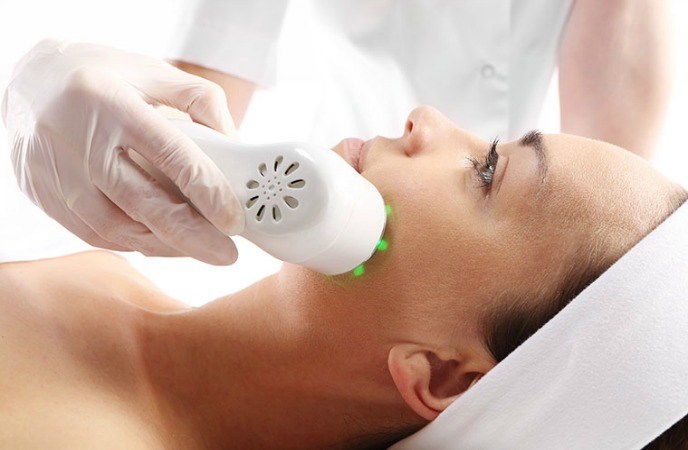 Having a good blood flow means you have a healthy skin. To get this, Renée Rouleau suggested hanging the head upside-down for 3 minutes a day. This may be done by up against a wall, by hanging the head over one side of the bed, or in a downward dog posture in yoga. After 3 minutes, the skin will look slightly glow and red. Over time, it can make your skin have a big difference, getting and maintaining the inner glow and looking red from the inside.
You can get these results because your blood carries oxygen and essential nutrients to feed the skin and body cells. Blood circulates through arterial, venous, pulmonary, and capillary systems. The uptake of blood and oxygen will increase when capillaries are dilated, which ultimately causes the glow.
16. Always Use An Anti-Age Product On Your Hands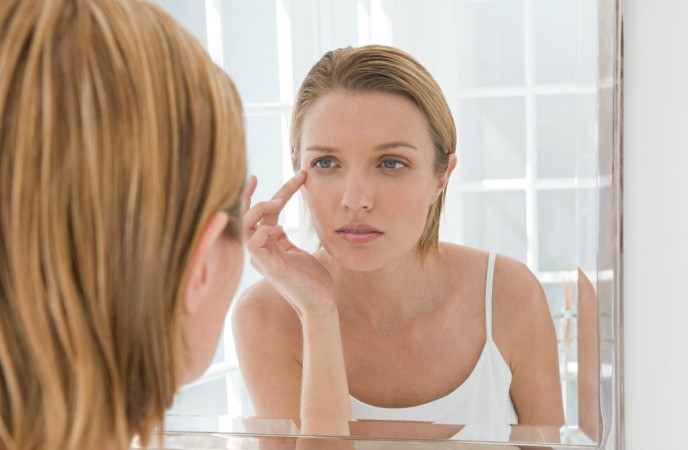 "Hands are usually neglected in the skin care routine, and they certainly show signs of skin aging," says Marta Camkiran, an aesthetician at Haven Spa. She always applies an anti-aging product to the backs of the hands after using it on her face.
To discover more secret skin tips from celebrity aestheticians, you should continue reading the next part of this article!
17. Protect The Skin Of Your Hands When Having Gel Manicures
When getting a gel manicure, the UV lamps that are used to cure the nail polish may be damaging to the skin of your hands. Therefore, a lot of experts suggest being cautious anyway. According to Gina Mari, Beverly Hills aesthetician, you should wear sunscreen on the hands when you have a gel manicure. You should apply it after the hands have been scrubbed, exfoliated, and cleansed. When your nail polish is set on your nails, the skin of your hands will be protected. Or, you may also use photo-protective gloves with all the fingertips snipped off so that your nails are still exposed to the light.
18. Use And Reapply Sunscreen 
Renée Rouleau suggests applying and reapplying sunscreen on the face, neck, and the back of the neck throughout the year whether it is rain or shine. She often uses a moisturizer with SPF 30 along with a mineral powder infused with SPF for extra protection as well as easy reapplication during the day. In addition, she also recommends applying topical forms of vitamin C and vitamin E for added protection.
19. Massage The Skin Every Night With A Serum Or A Night Cream 
According to Joanna Czech, you should massage your skin with a serum or a night cream every night before you go to sleep. Just make a small, circular motion on the skin for about 2 to 3 minutes. This helps to boost up circulation and allow your skin to absorb ingredients better.
See more: 30 Tips On How To Get Rid Of Dark Lips Fast & Naturally At Home
20. Eat Foods Rich In Potassium And Vitamin B And C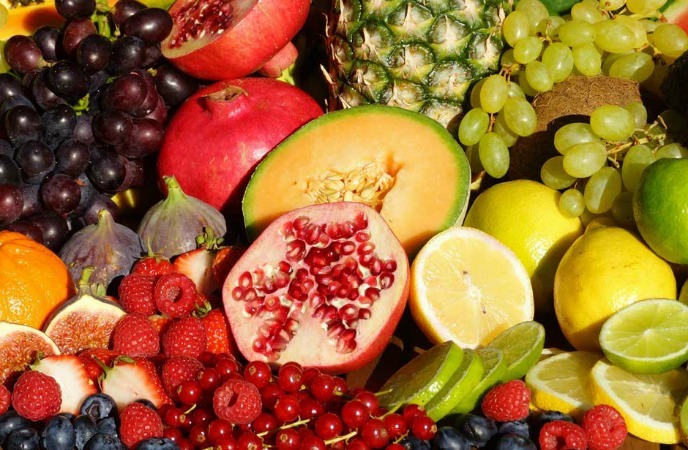 "Although foods belonging to the cabbage family, such as broccoli, kale, and cauliflower, are a great content of antioxidants, they seem to be hard for the body to digest and sometimes cause acne breakouts, so I avoid eating them," Joanna Czech says. She also suggests eating bananas, which are very rich in potassium and vitamin B and C. Then, you can put the inside of its peel on your skin to get its benefits for the skin.
21. Fight Cellulite
Gina Mari uses a simple homemade treatment containing old coffee grounds to fight cellulite. "Apply the coffee grounds directly to my affected area, then use a kitchen plastic wrap to wrap it," she says. "Allow the coffee grounds to sit in place for half an hour. Remove the wrap and rinse off the coffee grounds."
22. Fight Blemishes In The Cold Weather 
"When it is colder, your skin is drier, and your sebaceous glands have to produce more oil," Joanna Czech says. Her tip: pour a little 3% hydrogen peroxide onto a cotton ball and apply it to the blemishes and then apply a little Neosporin ointment to the skin. "Try it, it works well!" she says.
23. Skin Tips From Celebrity Aestheticians – Deal With Sensitive Skin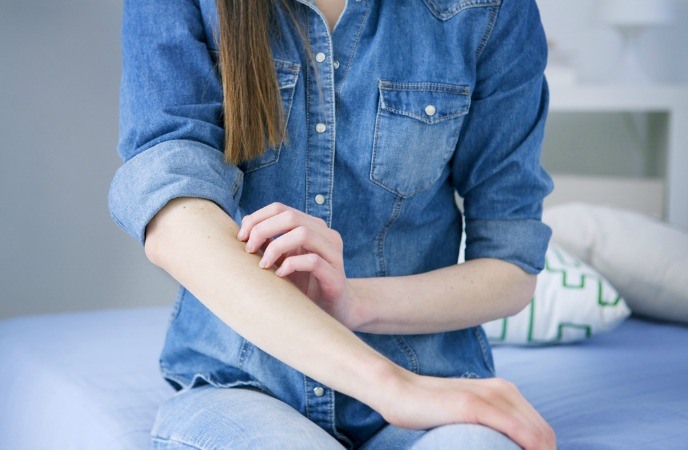 According to a celebrity facialist, Joanna Vargas who is the founder of Joanna Vargas Salon & Skin Care Collection, to deal with a sensitive, you can apply chamomile tea to your face as a facial rinse. The tea, which is famous for its soothing properties, is infused with antioxidants having natural healing properties.
If you want to learn more about natural home remedies & beauty tips for other hair and skin problems, go to our main Skin Care page. After reading the article of top 23 secret skin tips from celebrity aestheticians, hope that it can help you find out the best tips to take care of your skin every day. If you have any question, or you know other secret skin tips from celebrity aestheticians, please leave them below.
Reference:
https://www.anxietyuk.org.uk/get-help-now/anxiety-information/anxiety-disorders/compulsive-skin-picking/
https://www.aad.org/media/news-releases/growing-evidence-suggests-possible-link-between-diet-and-acne
http://www.ncbi.nlm.nih.gov/pmc/articles/PMC2836431/
http://www.ncbi.nlm.nih.gov/pubmed/12648216