Updated: 09/21/2019
The increasingly climate change makes the hot season last longer and more often. To deal with the heat of the summer, many people choose to travel or picnic by the sea. The result of these trips is sunburned skin because they do not protect their skin properly.
Sunburns will make the skin ugly and adversely affect the health and aesthetics. While you are looking for ways to prevent sunburn with creams, there are many foods or natural ingredients available in your kitchen that can help you combat this skin problem.
Curious to know? Keep reading this article to find out the best time-tested, natural home remedies for sunburn relief on face and body.
Top 15 Time-Tested Home Remedies For Sunburn Relief On Face & Body
I. What Are The Effects Of Sunburn?
Scientific studies conclude that when exposed to the sun, your skin will be affected by UVA and UVB rays with the following symptoms:
BeautyTalk Partner Solutions

Ask Any Questions and Get Answers within Minutes, 24/7!
The Medical Experts are available whenever you need them. You can even approve payment only when you're completely satisfied.
Skin Redness: Overexposure to the ultraviolet (UV) radiation can make blood capillaries broken dilated, causing skin redness. As a result, you may have a higher risk of developing rosacea.

Uneven Skin Color: UVA rays affect the skin, causing it to produce melanin pigments, which in turn result in dull skin, pigmentation, freckles, and brown spots.

Premature Skin Aging: Sunburns can promote the aging process of the skin, making you look older. These changes are known as photoaging when caused due to UV light, which can cause weakening of skin elasticity and strength, dry or rough skin, freckles, deep wrinkles, and discolored spots in different areas.

Dull/Dry Skin: Sunburn can cause severe dehydration, peeling, and bleeding.

Skin Cancer: UV radiation exposure can damage the DNA in your skin cells. Skin cancer commonly develops in areas such as the face, scalp, lips, neck, ears, chest, arms, legs, and hands. See a doctor if you see a new skin growth, a change in the texture or appearance of a mole, or a discomforting change in the skin.
II. Can Sunburned Skin White Again?
Sunburned skin not only affects the health of the skin but also causes the beauty of the skin to deteriorate quickly. If this condition happens often and you don't have corrective protection, your skin will age rapidly. The answer of beauty experts to the question "Can your sunburned skin white again?" is yes if you know how to care for your skin properly.
Before using medications, you should opt for natural remedies because they are safe and don't harm your skin. The following remedies will help you in soothing the symptoms of sunburn effectively and quickly. 
III. Natural Home Remedies
1. Aloe Vera
Aloe vera is one of the best natural home remedies to treat sunburn and other skin problems such as acne, pimples since it has many vitamins and minerals such as potassium, copper, sodium, magnesium, calcium, chrome, zinc, tannins, iron, amino acids, etc. It can combat the different symptoms of sunburn thanks to its excellent anti-inflammatory agents. It may also deal with the pain and irritation related to sunburn due to its soothing properties[1]. According to studies, this plant helps to accelerate skin healing[2]. Furthermore, it contains a moisturizing effect on the skin. 
See how to remove sunburn with this plant:
You will need:
Process:
Take aloe vera leaf and extract its gel. Then, put this aloe vera gel in your refrigerator for 30 minutes.

Take the chilled gel and apply its light coating to the affected area.

Let it dry naturally and wash it with cold water.

Follow this remedy 5-6 times daily for a few days.
Read more: Aloe vera is also effective at removing a sebaceous cyst. This article was medically reviewed/fact checked by Perpetua Neo (DClinPsy, UCL; MPhil, Cambridge).
2. Baking Soda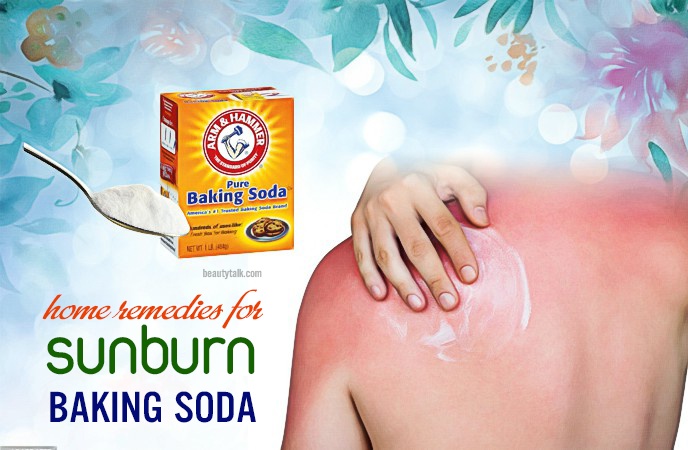 Baking soda is a great solution for sunburn, as it possesses anti-inflammatory properties[3]. Besides, the alkaline nature of this magical kitchen ingredient contains a cooling effect on your skin. It is also useful for soothing skin inflammation, itchiness, and irritation caused by sunburn. Last but not least, it also aids in relieving the itchy sensation linked to sunburn owing to its antiseptic properties.
Remedy 1:
You will need:
Process:
Take enough cold water to fill your bathtub. Add the baking soda to it and stir well.

Soak in this water for around fifteen minutes and let your body air dry.

Try this remedy once every day to get rid of sunburn forever.
Remedy 2:
You will need:
Baking soda – 4 tablespoons

Water
Process:
Mix enough water and baking soda to make a paste.

Apply this paste to the sunburned skin with a cotton ball.

Wash it off after 10 minutes with tepid water.

This remedy should be repeated once or twice per day for several days.
3. Apple Cider Vinegar (ACV)
ACV may help ease sunburn pain and boost the healing process, as it is a great astringent[4]. Plus, it helps to relieve inflammation and itching caused by sunburn because of its acetic acid. See how to use apple cider vinegar to get rid of sunburn naturally.
Remedy 1:
You will need:
Apple cider vinegar

Cool water
Process:
Mix ACV and cool water in equal amounts.

Take paper towels and soak in the resulting mixture. Then, place them over the sunburned skin.

Leave them to dry. Follow this process a few times per day for best results.
Remedy 2:
You will need:
Apple cider vinegar – 1 cup

Lukewarm water
Process:
Fill your bathtub with enough lukewarm water and add ACV to it.

Soak in this prepared water for about 30 minutes.

This simple remedy can be repeated once daily.
4. Cucumber
Cucumber can soothe the skin because it consists of natural antioxidant and analgesic effects. It also eases the pain related to sunburn[5]. It additionally helps to repair the inflamed and damaged skin caused due to UV rays so that it decreases the burning sensation. Moreover, it aids in keeping the skin moisturized since it has 96% of water. Therefore, this cooling vegetable is one of the great home remedies for sunburn relief.
You will need:
Cucumber – 1

Spray bottle
Process:
Mash the cucumber.

Apply it to the sunburned skin as a mask.

Leave the application on for 20 minutes before washing it off. Remember to use chilled cucumber.

You can use this remedy as much as possible.
5. Oatmeal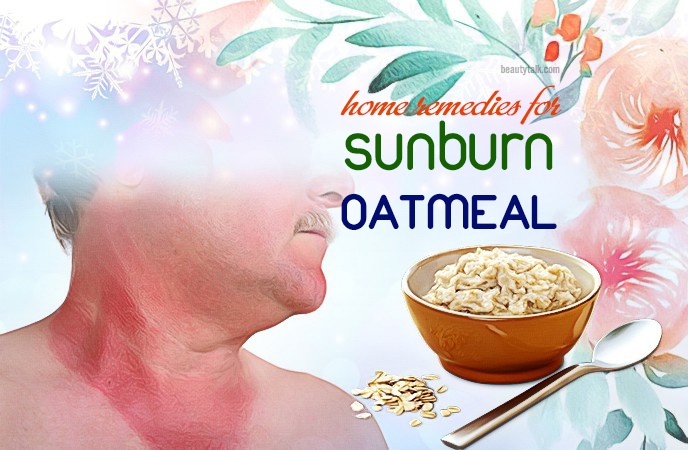 Oatmeal is a natural remedy, which can multiple common skin conditions such as eczema, psoriasis, dermatitis, etc. Oatmeal is particularly loaded with antioxidants and anti-inflammatory agents, making it one of the most excellent solutions for various skin conditions[6], including sunburn. The soothing properties present in oats can help the skin to reduce irritation and retain its natural moisture.
You will need:
Oatmeal – 1 cup

Cool water
Process:
Add the oatmeal to a bathtub filled with cool water. Mix thoroughly.

Soak in this bath water for around 30 minutes. Let the body air dry and avoid rubbing your skin with a towel.

Follow this method once every day until you combat the symptoms of sunburn completely.
6. Honey
A study shows that honey has antioxidant and anti-inflammatory agents, which are good for treating ulcers, wounds, sunburn, and many infections[7]. Besides, honey helps to boost the process of healing and repair damaged skin. Along with that, it helps reduce swelling and inflammation associated with sunburn. 
Remedy 1:
You will need:
Process:
Take some honey and apply its thin layer to the affected skin.

Let your application dry on its own.

For quick results, you should apply honey twice or thrice every day for per week.
Remedy 2:
You will need:
Honey – 1 tablespoon

Lukewarm water – 1 glass
Process:
Simply, mix the honey and lukewarm water.

Drink this mixture three times per day to boost immunity and accelerate healing.
7. Coconut Oil
Coconut oil acts as an excellent moisturizer to decrease the symptoms of sunburn because it is rich in skin-nourishing fatty acids[8]. Coconut oil is also packed with vitamin E, which works as an antioxidant to reduce inflammation caused by sunburn[9]. 
You will need:
Process:
Warm the coconut slightly in a microwave.

Rub it liberally on the sunburned area and massage it gently.

To promote healing, follow this method thrice daily for a few days.
8. Potatoes
If you are looking for the natural home remedies for sunburn relief, you should not skip potatoes. Potatoes contain the starchy properties, which can absorb the excess heat from the skin and alleviate the stinging pain caused due to sunburn.
You will need:
Process:
Peel the potatoes and cut them into small pieces.

Blend the pieces in a blender to make a paste.

Apply this paste to your sunburned skin and allow it to dry on its own.

Take a cool shower.

This process should be repeated once daily for several days.
9. Yogurt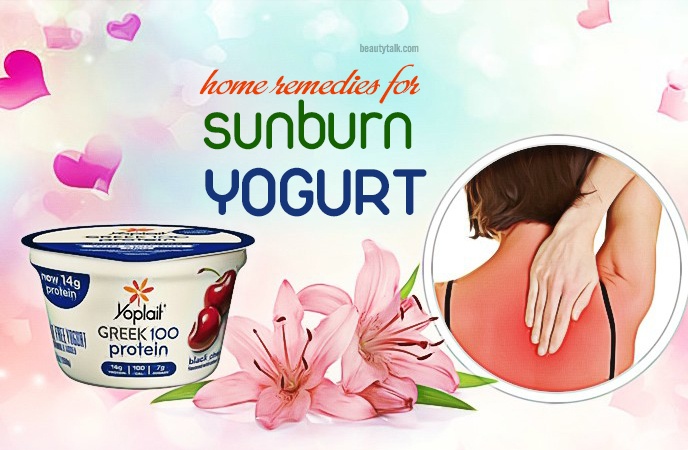 Yogurt ensures faster healing by restoring the skin's pH level. Plus, it helps to provide relief from the irritation and heat caused by sunburn thanks to its natural cooling properties. It is also packed with lactic acid – an alpha-hydroxy acid[10], which helps to decrease premature aging caused due to excessive sun exposure. It can also aid in minimizing discoloration caused by sun exposure due to its mild bleaching properties.
You will need:
Unsweetened and unflavored yogurt – 1 container
Process:
Apply the prepared yogurt to your sunburned skin.

Leave your application for 20 minutes before washing with cold water.

This remedy can be used once daily.
10. Lettuce
As we know, lettuce is usually used in burgers and salads. Besides, it is effective in getting rid of sunburn and decreasing sunburn pain. It additionally soothes inflammation and pain caused by sunburn blisters, as it possesses analgesic and anti-inflammatory properties[11].
You will need:
Lettuce leaves

Water – 1 glass
Process:
Take enough amount of lettuce leaves.

Wash them and boil in the water for around ten minutes. Strain the leaves and then take the remaining water.

Keep it in a refrigerator for a few hours once it's cooled.

Use this resulting cold water for your condition.

Alternatively, you can use take a cotton ball and soak it in the water. Then, apply it all over the affected skin.

Repeat this procedure 4 to 5 times per day for visible results.
11. Black Tea
According to a study, black tea is rich in tannic acid, which aids in absorbing the heat from the skin and restoring its pH balance[12]. Plus, the antioxidants in black tea can treat irritated and sunburned skin effectively. It also decreases swelling and enhances healing respectively.
You will need:
Process:
Brew the tea bags in 1 pot of hot water. Let it stay for several minutes.

Remove the tea bags and leave this liquid cool.

Take a cloth and soak it in the solution. Now dab it on your affected skin.

Let it dry completely and reapply 3 to 4 times. You needn't wash it off.

Try this process daily for a couple of days.
12. Milk
Milk contains the fat content that keeps the skin hydrated by locking the moisture in the cells. Besides, being rich in protein, milk helps to reduce discomfort and pain related to sunburn[13]. It is also good for healing rashes caused by sunburn. Moreover, it can soften the skin and get rid of the tan owing to its moisturizing properties.
You will need:
Skim milk – 1 cup

Water – 4 cups
Process:
Mix skim milk with water. Add a few ice cubes to this mixture.

Immerse a clean cloth in this mixture and start applying it to your affected skin.

Use a soft towel to pat dry your skin.

Repeat this method every four hours for several days.
13. Lavender Essential Oil
The best natural home remedies for sunburn should include lavender essential oil. This is because it possesses anti-inflammatory and analgesic characteristics, which are beneficial for soothing the sunburn effectively[14]. Apart from that, it consists of healing properties that help to ease the sunburn discomforts soon.
Remedy 1:
You will need:
Lavender essential oil – few drops
Process:
Add the oil to 1 bowl of water and mix well.

Dip a clean washcloth in this solution and wring out the excess.

Spread it on your affected areas and leave it dry.

The process can be repeated every day to decrease sunburn.
Remedy 2:
You will need:
Freshly extracted aloe vera gel

Lavender oil – few drops
Process:
Take some aloe vera gel and add the lavender oil to it.

Mix well and apply this mixture to your sunburned areas.

Rinse it off after a couple of minutes.

To complete relief from the sunburn symptoms, follow this procedure regularly.
14. Tomatoes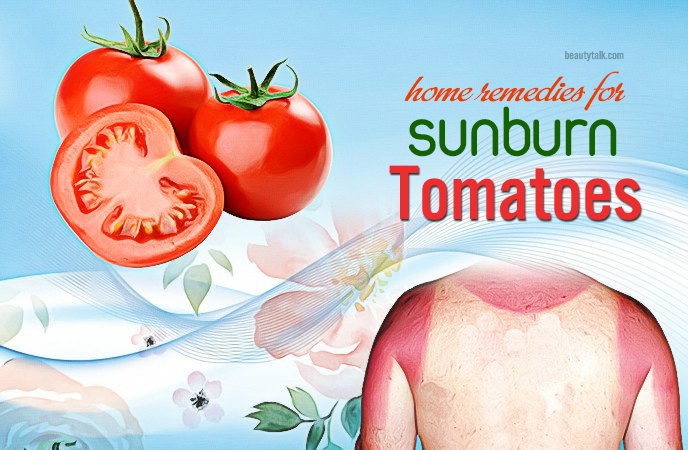 Tomatoes have a cooling effect on the sunburned skin because the lycopene present in them possess antioxidant properties[15] [16]. Besides, due to their vitamin A and C content, tomatoes are useful in replenishing the skin and protecting it from UV rays.
You will need:
Medium-sized tomatoes – 2 to 4

Yogurt – 1 tablespoon
Process:
Blend the tomatoes and extract the juice by straining its pulp.

Combine the tomato juice with the yogurt and mix well.

Start applying it to your problem areas and massage gently for one minute.

Rinse off with water after 15 to 25 minutes and pat dry

Try this process two to three times daily.
15. Marshmallow
Marshmallow is one of the great home remedies for sunburn relief[17]. It has the power to relieve pain and inflammation since it consists of many components, such as mucilage, sucrose, and pectin. 
You will need:
Dried or fresh marshmallow root

Water – 1 to 2 cups
Process:
Add water and marshmallow into a saucepan.

Boil for around ten to fifteen minutes on low flame.

Strain the tea and let it get cool for several minutes

Soak a gauze in this solution and apply to your sunburned skin. Leave it to dry naturally.

You should apply this mixture regularly for effective results.
IV. More Information About Sunburn
A. Causes And Symptoms Of Sunburn
Sunburn is normally caused due to the ultraviolet rays of the sun. Overexposure to ultraviolet light can damage the skin, making it painful and red. Particularly, sunburn can result in wrinkles, freckles, and skin cancer. 
Symptoms of sunburn usually don't occur instantly. After 5 to 6 hours, this problem starts to show. Some of the sunburn symptoms include painful reddish skin, itching and burning sensation, small blisters on the skin, peeling skin etc. If this problem becomes severe, you can experience a headache, fever, chills, flu, vomiting, nausea, etc.
B. Simple Tips To Prevent Sunburn
You can easily treat and prevent sunburn by following some simple tips below:
Apply some vitamin E oil to your affected skin because it helps to decrease the inflammation. Alternatively, you can regularly take vitamin E supplements to avoid sunburn.

Avoid

sunlight

that falls on your skin directly. Cover your hand and feet by wearing socks and gloves and cover your head by using a cap or scarf.

Apply

sunscreen

with a

sun protection factor (

SPF)

15 to 30 about 30 minutes before stepping out in the sun. Remember to apply it on the sensitive areas of the body such as ears, shoulders, back of the neck, back of the arms and legs. Ensure to re-apply it one time in 2 to 3 hours to help prevent sunburn.

Use waterproof sunscreen when swimming.

Use sunglasses bearing a CE or British Standard (BS) mark to protect your eyes.
All these home remedies for sunburn mentioned above are reliable and safe. You also follow these tips to prevent and treat sunburn symptoms. However, if you're experiencing severe symptoms, consult your doctor immediately. Also, share with us if you know other home remedies for sunburn relief.
All content provided are for informational and educational purposes. We recommend you consult a healthcare professional to determine which method is appropriate for you.