Overview
Are you planning to reduce weight? But you don't have enough time to go to the gym daily or you don't like dieting. Don't worry because certain foods can help you to maintain a healthy weight. These foods boost your metabolism to reduce fat and curb cravings for fatty foods, which in turn help you lose weight naturally. Besides, you need to do physical activities and drink 8-10 glasses of water every day to gain the optimal results. Let's check out the list of 18 cheap healthy foods for weight loss and energy revealed by our site, Beauty Talk.
List Of 18 Cheap Healthy Foods For Weight Loss And Energy
1. Healthy Foods For Weight Loss – Almonds
Almonds can help you slim down and lose weight because they are high in protein, fiber, and monounsaturated fat contents. Particularly, their fiber content makes you feel full for a longer time and avoid overeating. According to an article on Live Strong, the Linus Pauling Institute notes that people getting more fiber in their regular diet are more prone to own a healthy weight [1]. People who ate 1.5 oz of almonds every day for a period of four weeks didn't gain significant weight, according to a study published in 2013 in the European Journal of Clinical Nutrition. Along with that, almonds also help to stop sugar cravings due to their zinc and vitamin B. You can consume a handful of soaked or dry roasted almonds daily. Alternatively, consume unsweetened almond milk to reduce weight.
2. Healthy Foods For Weight Loss – Oatmeal
Generally, an oatmeal breakfast is ideal for people who are trying to maintain a healthy diet or lose weight. Oatmeal [2] consists of a type of soluble fiber called beta glucan [3], which can decrease abnormal fat levels in the blood. A 2013 study in the Journal of the American College of Nutrition showed that regular intake of oats might help to decrease body weight along with waist-to-hip ratio. Thus, you should eat oats for breakfast. Cook oatmeal with skim milk, and then, you can add healthy toppings such as almonds or berries to remain the calorie content low.
3. Healthy Foods For Weight Loss – Grapefruit
According to a study in 2006, taking half of a fresh grapefruit prior to meals may result in remarkable weight loss [4]. A grapefruit can fill you up and thus you eat less. This is because this fruit contains 90 % water. Besides, it's also low in calories and full of antioxidants and immune-boosting vitamins.  It's recommended to eat ½ a grapefruit before your breakfast & the other half before your lunch to promote the fat-burning performance of the body.
4. Healthy Foods For Weight Loss – Oranges
Due to their vitamin C and fiber content, oranges have the ability to promote weight loss. Besides, vitamin C in oranges also facilitates the carnitine production in the body, which lowers fat while their fiber content makes people less prone to gain weight. Along with that, the fiber also keeps you full for a longer time. Start your day with 1 orange and also consume 1 glass of fresh orange juice every day. However, stay away from packaged orange juice since it contains preservatives and sweeteners.
BeautyTalk Partner Solutions

Ask Any Questions and Get Answers within Minutes, 24/7!
The Medical Experts are available whenever you need them. You can even approve payment only when you're completely satisfied.
5. Healthy Foods For Weight Loss – Salmon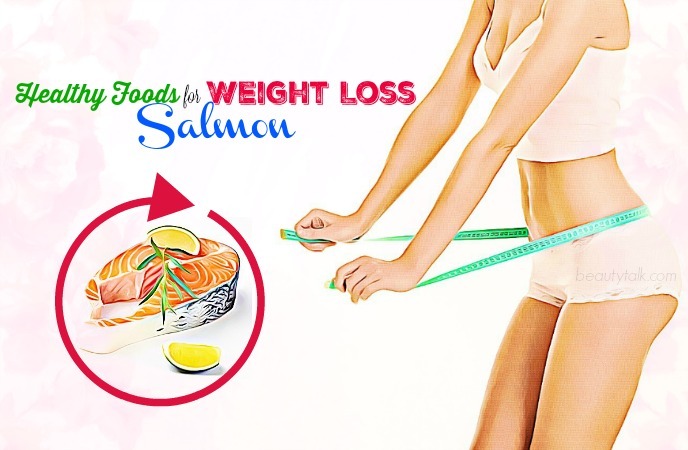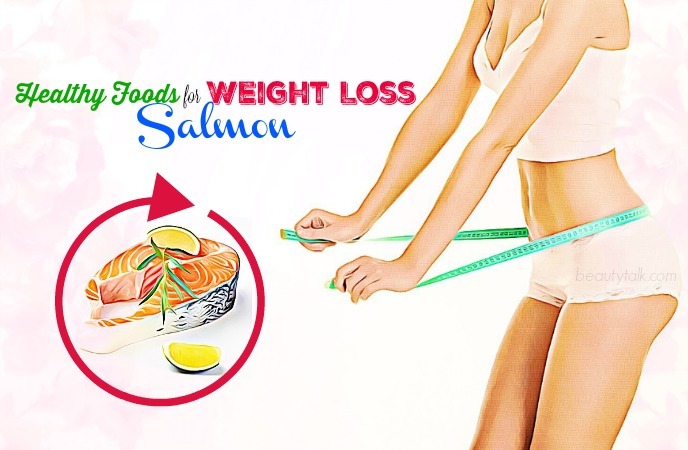 Salmon helps to boost the metabolism of the body and burn fat faster. In addition, it is also loaded with good fats that are useful for reducing weight.  The good quality protein of salmon also helps with weight loss. Salmon is also packed with omega-3 fatty acids [5] that have been shown to decrease inflammation, which plays a main role in obesity & metabolic disease. Try eating 2-3 servings of salmon weekly. You can try baked or grilled salmon dishes.
6. Healthy Foods For Weight Loss – Dark Chocolate
Dark chocolate can help you decrease weight. It's high in cocoa content that contains antioxidants to help you slim down. Additionally, it burns more fat by reviving your metabolism. According to a 2010 study, people who either smelled or ate the chocolate that contained 85 percent of cocoa showed a significant reduction in ghrelin [6] & satiated appetites. Along with that, dark chocolate is rich in magnesium content, which keeps the pain of the body at bay, making exercising far more appealing. Apart from that, dark chocolate has the ability to prevent arteriosclerosis, increase blood circulation, and reduce blood pressure, all of which are the side effects of obesity. Remember to enjoy dark chocolate in moderation because it's a calorie dense food.  Eat 1 oz of dark chocolate thrice weekly to reduce weight.
7. Healthy Foods For Weight Loss – Avocados
Because of their fat content, avocados are beneficial for weight loss. Besides, this fruit is also rich in monounsaturated fats, making you feel full and helping satisfy hunger. Furthermore, avocados contain an amino acid known as L-carnitine that is used in metabolizing fat. Plus, they contain plenty amounts of insoluble and soluble fiber, which are helpful for losing weight. You should consume half an avocado daily. The flavor and rich texture of avocado make it an excellent addition to any spread and dip.
Read also: Beauty benefits of avocado for hair & skin
8. Healthy Foods For Weight Loss – Apple Cider Vinegar
Apple cider vinegar is one of the healthy foods for weight loss. It's often used in condiments such as dressings or vinaigrettes. Additionally, apple cider vinegar is also useful for weight loss. According to a study in 2009, taking 15 to 30 ml of vinegar daily for three months caused weight loss of 1.2 to 1.7 kilograms [7].
Read also: Beauty benefits of apple cider vinegar for skin & hair
9. Healthy Foods For Weight Loss – Green Tea
According to a study, the antioxidants in green tea can boost the fat-burning as well as calorie-burning process [8]. Another study shows that green tea helps to maintain the body weight by burning body fat. Additionally, green tea contains an antioxidant called epigallocatechin-3-gallate (EGCG), which aids in burning calories throughout the day. Along with that, green tea help to restrict fat absorption and increase your body's capacity to burn fat, thus slowing down weight gain. To manage your weight, drink 2 cups of freshly concentrated green tea or brewed tea daily.
Read also: Benefits of green tea for skin, hair, and health
10. Healthy Foods For Weight Loss – Flaxseeds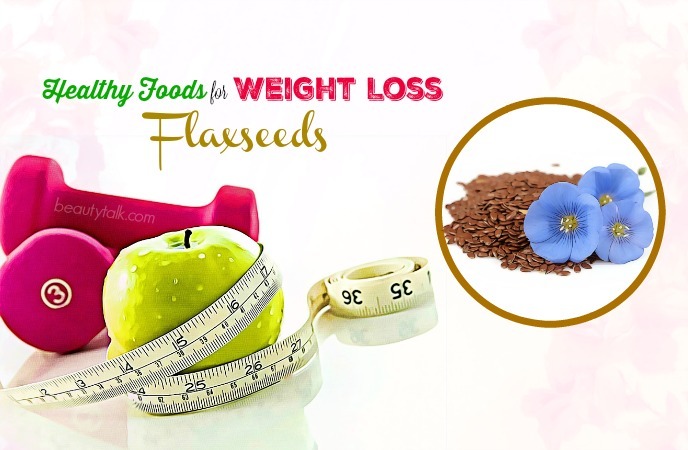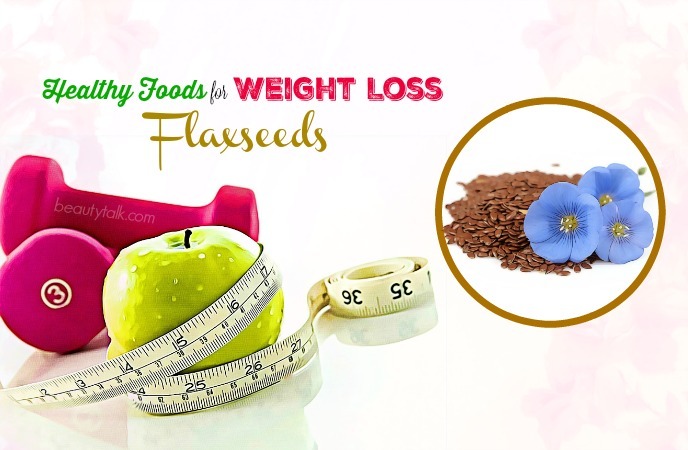 Being enriched with healthy fat & fiber content, flaxseeds are useful for losing weight fast. According to a study in 2012, a drink having 2.5 grams of flaxseed fiber can help to suppress appetite. Besides, they are also rich in omega-3s, which aid with weight loss. You should add 1-2 tbsp of ground flaxseed to your diet. Alternatively, you can also sprinkle it in your juice, smoothies, yogurt, salads, cereals or soups. Remember to consume enough water daily when including flaxseed in your diet.
11. Healthy Foods For Weight Loss – Blueberries
Blueberries contain powerful antioxidants that assist in neutralizing free radicals. Additionally, they are also enriched with soluble fiber and water making you feel full throughout the day. Furthermore, the manganese in them metabolizes carbohydrates, proteins, and fats. Plus, blueberries are also free from cholesterol, fat, or sodium. Blueberries help to eliminate belly fat, according to a 2009 study published in the University of Michigan Cardiovascular Center. Try eating about one cup of blueberries daily. You can include them in your smoothie, fruit salad or yogurt or eat them as a snack.
Read also: Fat-burning activities that don't seem like exercise
12. Healthy Foods For Weight Loss – Prune
Prune is considered among the healthy foods for weight loss. One cup of prune consists of 5.60 g of insoluble fiber and 6.50 g of soluble fiber. Owing to its rich fiber content, prune is a great weight loss agent. For best results, you can include prunes in your grilled duck for dinner, or have prune juice with oatmeal in breakfast. You can also include several dried prunes in your low-fat yogurt.
13. Healthy Foods For Weight Loss – Amaranth
Amaranth is a nutritious & gluten-free grain. A cup of amaranth composes of around 29.60 gm of fiber, which is helpful for weight loss. Also, it's filled with calcium, manganese, phosphorus, and iron. For lunch or dinner, you can add amaranth to your sauteed veggies. Alternatively, grind amaranth to form gluten-free flour, or make porridge for breakfast. Another option is to use amaranth to bake cookies, muffins, and other sweet treats.
14. Healthy Foods For Weight Loss – Peach
Peach is a powerful source of insoluble and soluble fiber. One cup of dried peach has 7 gm of insoluble fiber and 6 gm of soluble fiber. Besides, it's also loaded with vitamins A, C and K, potassium, phosphorus, magnesium, and calcium. These nutrients are needed for losing weight. You can include dried peaches in your breakfast oats. Alternatively, add it to your roasted turkey or chicken or smoothies.
15. Healthy Foods For Weight Loss – Gooseberries
Basically, one cup of gooseberry consists of about 6.5 gm of fiber. Also, they contain phytochemicals and vitamin C, which help to burn fat and maintain optimum health. Right after lunch, you can eat about 2 to 3 sun-dried gooseberries to help suppress hunger. Also, prepare sweet gooseberry marmalade and then have 1 spoonful of this marmalade or include it in your dessert to control your sweet cravings.
16. Healthy Foods For Weight Loss – Chestnuts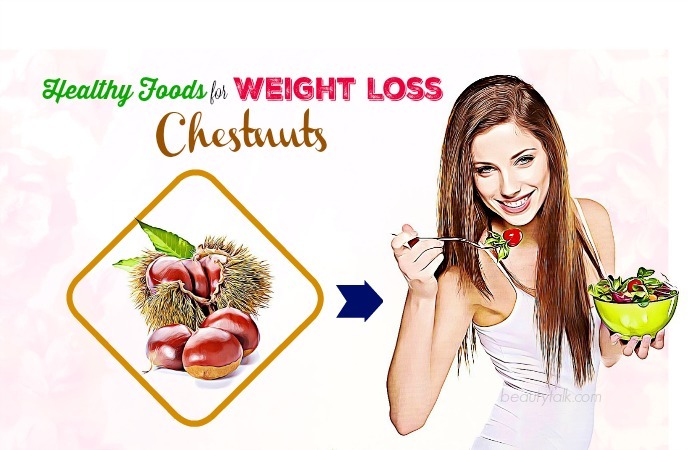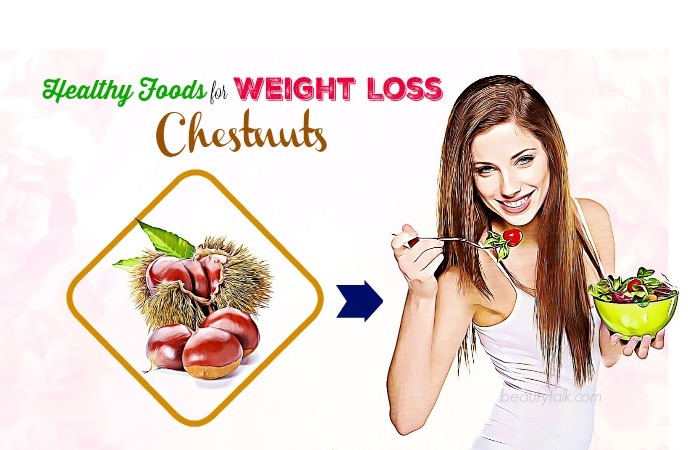 Basically, this delicious nut contains a large amount of fiber. Additionally, it is also a wonderful source of folate, vitamin C, zinc, calcium, phosphorus, as well as monounsaturated fatty acids. For managing your weight, you can add chestnuts to the meat for dinner or eat 1 handful of chestnuts as a healthy snack.
Read also: How to lose belly fat fast for a slimmer stomach
17. Healthy Foods For Weight Loss – Pumpkin Seeds
Generally, pumpkin seeds taste nutty and sweet. They are also high in soluble and insoluble fiber. One cup of pumpkin seeds consists of 6.40 gm of insoluble fiber and 2.40 gm of soluble fiber. Furthermore, these seeds are also full of healthy fats, calcium, vitamin A, potassium, and magnesium, all of which are helpful for weight loss. You can these seeds to the breakfast smoothies or porridge. Also, include toasted pumpkin seeds in salad or casseroles.
18. Healthy Foods For Weight Loss – Pomegranates
Pomegranates are regarded as one of the top healthy foods for weight loss. This is because this fruit, a great source of fiber, that is packed with folic acid and antioxidants, is low in calories. This fruit also helps you satisfy your sugar cravings. You can also eat pomegranates in juice, salad or raw form.
Each of these superfoods is generally a nutritional powerhouse, which helps you reduce weight and remain fit. For such informative articles, you can go to our main Foods For Beauty page to read more. You can also share with us if you know other healthy foods for weight loss.