It's easily recognized that smokers, regardless men or women always have darker lips than others; and of course, that makes them less attractive to opposite people. Therefore, there is always a question among smokers, how they can do to lighten their dark lips fast? Don't worry; today, we are here to help you by introducing the list of natural home remedies for dark lips due to smoke in a week. Continue reading the article on Beauty Talk to know more.
Top 5 Natural Home Remedies For Dark Lips Due To Smoke In A Week
I. Why Does Smoking Make Your Lips Dark?
People all know that cigarettes drive your lips darker than a period, but what happens?
Tar: The kind of substances abundant in cigarettes tends to dye not only lips but also your teeth and gums with the blackish-blue color.
Heat: When you burn a cigarette and inhale the smoke, it also means that an extreme heat comes from your lips, increase the amount of melanin released there. Melanin will decide the color of your skin; the more melanin is in your body, the darker you are.
Shrink of capillaries: When smoking, tiny capillaries will shrink, leading to the lack of oxygen and nutrients as well as the stagnation of scum in your body; and dark is the color of stagnated scum.
II. 5 Simple-But-Effective Home Remedies For Dark Lips
It's obvious that you must stop smoking instantly if you want your lips to become lighter. Otherwise, these following remedies would take so long time to be effective or even become useless. Yep, now you stay away from cigarettes and get ready for a makeover!
1. Home Remedies For Dark Lips With Sugar, Olive Oil, And Honey

Many women use sugar as a natural abrasive for skin and lips exfoliation at home. Honey is moisturizer that keeps your lips soft and hydrated all day and night long naturally and helps your lips recover the original color [1]. Oliver, besides the use as a moisturizer, is also a barrier that protects your lips against other factors making your lips dry. When mixing sugar with honey and olive oil, you will have a homemade mask, which covers the uses of four substances: exfoliating, lightening, moisturizing, and protecting.
Here are ingredients for the lip mask:
BeautyTalk Partner Solutions

Ask Any Questions and Get Answers within Minutes, 24/7!
The Medical Experts are available whenever you need them. You can even approve payment only when you're completely satisfied.
A small cup

One teaspoon of honey (It must be natural honey because the other kinds could be ineffective or harmful to your lips)

One teaspoon of olive oil

Two teaspoons of granulated brown or white sugar

Several drops of lemon juice (optional)

Cotton balls

Lip balm
How to do:
Pour a full teaspoon of natural oil in a small sanitary cup and gently warm the honey in your microwave in about five seconds.

Add a teaspoon of olive oil, and two teaspoons of granulated sugar in succession, and then stir to mix them. You also can add two drops of lemon juice if you want the soothing effect.

Apply the mixture to your lips in circular motions with a clean finger in about 2 minutes.

Gently rub the sugar on your lips with a clean cotton ball and then remover it with warm water.

Finally, apply your lip balm.
You can keep the rest of the mixture in a small closed bottle in a refrigerator for the next use. After applying this mixture twice time in a week, you can recognize the change of your lips' color positively. Try to use this remedy frequently in 2 months, and your rosy lips will come back.
2. Home Remedies For Dark Lips with Beetroot Juice
Beetroot is one of the favorite ingredients for DIY lipsticks because of its natural red color [2]. It is also the reason why we introduce beetroot juice in our list of home remedies for dark lips today. Although the natural color of beetroots is dark red, this remedy shows almost immediate results, just after a very short time applying. All ingredients you need for this remedy is beetroot and then execute as follow.
Crushing the beetroot to have beetroot juice.

Apply and leave it on your lips overnight.

Use warm wash water to clean your lips
You don't need to wait for a week; the amazing improvement will come to you in the very next morning, immediately after the juice leaves your lips. In case you cannot buy a beetroot, you can replace beetroot juice by carrot juice to get the similar effect.
3. Home Remedies For Dark Lips With Sugar And Beetroot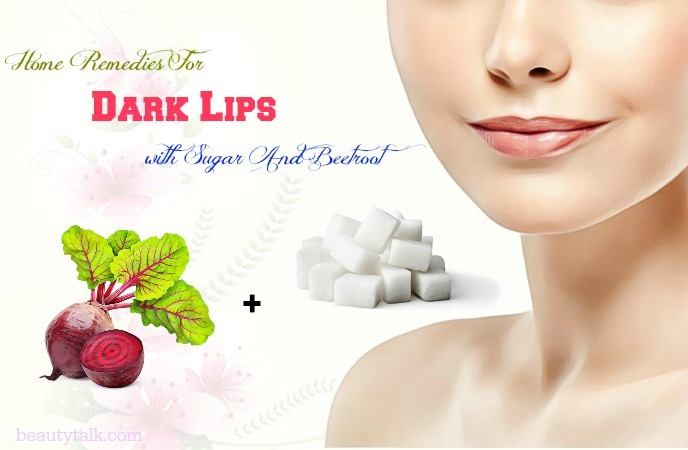 Exfoliating is always the best way for lightening your lips. Therefore, when you combine sugar, a natural exfoliator, with beetroot having mentioned use, is so amazing that we cannot put it outside this list of home remedies for dark lips. Here are directions:
Mix a teaspoon of sugar with a teaspoon of beetroot juice

Apply the mixture on your lips and massage in circular motions in about 2 minutes (massage also can help your lips relax, evoke the activity of capillaries under the lips)

Remove it by warm water
This remedy should be repeated 2 to 3 times a week and you would see your lips lighter. Patiently use this method for long-term benefits.
4. Home Remedies For Dark Lips with Lemon Juice
Lemon contains vitamin C and bleaching features that distribute to hyper-pigmentation, making skin lighter. It also has the use to remove melanin from your lips produced by the heat when you burn cigarettes. Why wait? Let follow these directions to help your lips today:
Cut a slice of lemon

Rub it on your lips and massage in 4 to 5 minutes

Wash your lips with clean water

Apply your best lip balm.
Because lemon juice contains acid, you should not adopt this remedy daily; twice a week is enough, and you can see the result soon. However, to attain the best, it should be used in a long time.
5. Home Remedies For Dark Lips with Yogurt, Honey, And Gram Flour
Yogurt and honey, perfect ingredients for your dark lips are usually available in your kitchen. Yogurt contains lactic acid, which is effective in exfoliating and lightening skin, and other substances supplying skin with nutrients and moisture [3]. Gram flour appears in beauty methods of Indians since the past because it helps lighten and soften skin naturally. In our list of home remedies for dark lips today, we introduce you a recipe that improves your lips' color with the combination of 3 ingredients mentioned above.
Pour a teaspoon of gram flour, a teaspoon of yogurt, and ½ teaspoon of honey in a small sterile cup.

Stir them to make a paste

Apply this paste on your lips and leave it in about 30 minutes

Wash your lips with warm water
Repeat this remedy per day, and you will see your lips noticeably lighter after several days.
III. Additional Tips For Dark Lip Removal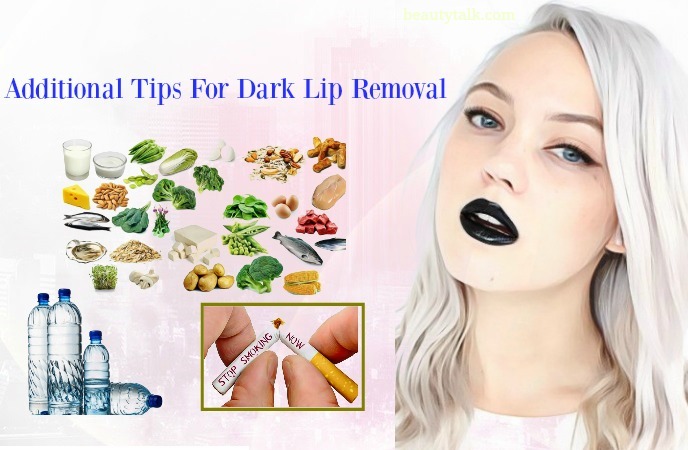 The five home remedies above can help your lips' color improve in a week, but home remedies for dark lips from inside would bring long-term effects for both your lips and your health. Of course, the combination among them would bring most benefits.
1. Drink Much Water: Dry lips always look darker than smooth lips, which is the reason why you have to drink enough water, for the sake of your health and your lips as well.
2. Stay Away From Caffeine: If you stop smoking, but you still drink coffee, tea and other food containing caffeine, these above remedies would not be much effective. Therefore, don't let the bad habits damage your attempt.
3. Don't Drink Hot Water: As mentioned above, one of the causes of dark lips is the heat by smoking, and hot water, also causes the same or worse result.
4. Eat Food Abundant Of Vitamin B: Vitamin B contributes to the rosy color of lips, so try to consume lean pork, salmon, grain cereal, milk, green beans, etc. in your daily meal.
You are having a date with a sexy girl or a handsome man. However, the partner seems does not want to kiss you because of your dark lips due to smoke. Immediately apply our list of 5 natural home remedies for dark lips in a week if you want to get rosy lips, or if you love the chance to catch the heart of your lover. In case you want more tips for other diseases, come and see in Health page. We hope that you don't need to worry about any disease with our little help.