Overview
Why are people all over the world nowadays spending a lot of time, effort and money for skin care? The answer is that the bright, healthy and clean skin, especially facial skin, plays a significant role in improving your confidence, and even affects on how others evaluate you. It can help you to attract other people's attention, become more confident and relaxed during communicating. To get such beautiful skin, washing your face properly is the most effective and fastest way you are looking for. Therefore, today, we are here to introduce to you 6 steps to keep your skin as a 17 year old girl just 30 minutes of washing face each day. Continue reading this article on Beauty Talk to explore this amazing way of washing face in more detail!
Keep Your Skin As A 17 Year Old Girl 30 Mins Of Washing Face
Your facial skin is always exposed to a lot of damaging sources from the outside such as UV rays, severe climates, polluted smoke, dirt, and other pollutants that lead to acne, irritation, blotched and unhealthy skin. Thus, it is very important for you to wash your face thoroughly every day.
To be honest, washing your face is also like an art. Many people may assume that it is a very simple task including lathering up, spattering with water, rubbing with a towel, and that's all. But, in fact, to achieve glowing and clean skin, you have to do more steps than that. You actually need to combine many factors like skin-care products you use, the temperature of water, proper motions and the frequency you are applying it.  Seem quite complicated, right? But, we will help to achieve the skin as a 17 year old girl just 30 minutes of washing face each day only with 6 simple steps.
Here are 6 simple-but-effective steps to wash face that help you keep your skin as a 17 year old girl.
Step 1: Remove Makeup Before Washing Face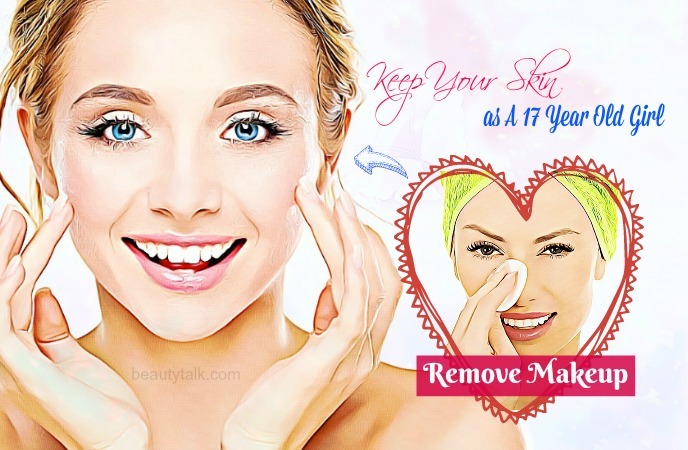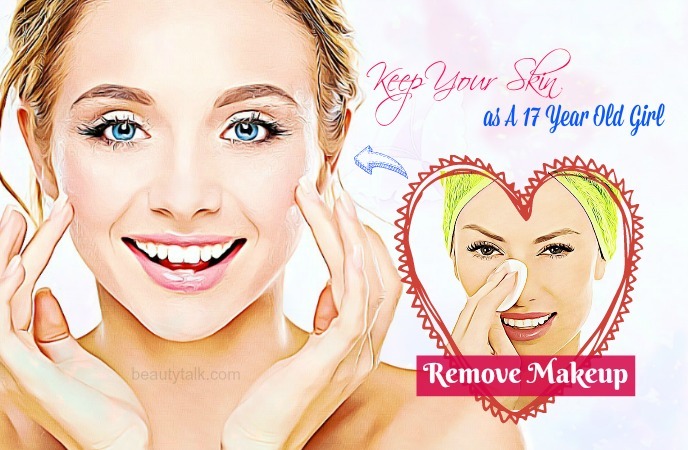 BeautyTalk Partner Solutions

Ask Any Questions and Get Answers within Minutes, 24/7!
The Medical Experts are available whenever you need them. You can even approve payment only when you're completely satisfied.
As can be seen, leaving makeup until the next morning can cause serious damages for your skin such as making the skin dry, clogging the pores, causing breakouts and so on. Besides, a lot of regular cleansers can't remove all concealer or foundation, especially the skin areas around eyes and nose. This is the reason why you should take some minutes every night to get rid of all makeup, which helps you to wake up with refresh skin. Make sure that you are wondering how to remove makeup the most effectively and quickly, right? Use a cleansing-oil as the best way to take makeup and sunscreen away from you face. Maybe many people think that it is counter-intuitive when using oil to cleanse your face. However, this is considered a really effective method to remove makeup without irritating or making the skin dry. In fact, cleansing oil mixes with "good oils" that preexist on your skin to remove "bad oils" as well as dirt when you rinse face, and then leave the skin soft, clean, moisturized and hydrated. In addition, cleansing oil also helps to balance the natural PH of the skin, prevent the skin from producing an overload of oil, and fight bacteria as well. The most important thing is cleansing oils almost suit all skin types, even oily skin or breakout-prone skin, thanks to active ingredients to treat specific skin problems such as acne, dullness or dryness, ect. Therefore, you can definitely feel secure when using these products.
First, put one or two pumps of cleansing oil into your face

Use your fingers to spread it over your face

Then, use circular massaging motions to massage your face gently (you should focus on the most oily and dirty areas like nose, chin or forehead), and get water on it for emulsifying

Finally, remove it with tepid water and flannel
See more: How To Tighten Loose Skin After Weight Loss 
Step 2:  Wash Your Face With Facial Cleanser According To Skin Type
It is an advice that you should pick the right facial cleanser for your skin type. Make sure that the kind of facial cleanser you choose doesn't consist of fragrance, parabens or hash soap because these can irritate, harm the skin and cause skin dryness. We have some helpful suggests for you right now! If you possess oil skin, choose an oil-control facial wash digging deep into the skin to purify the pores and leaving your face feeling extremely clean. Or you can choose a cleanser with a formula that helps to balance PH as an effective way to prevent breakouts as well as reduce the bacteria growth. If you have dry skin, try formulas that contain more moisturizers such as shea butter, essential oils or glycerin. With sensitive skin, you may prefer a cleanser consisting of soothing ingredients such as aloe vera or willow bark, and dense, creamy foams. In addition, if your skin is both oily and dry, you should choose a cleanser with a formula that promotes to balance hydration with a complete clean.
After choosing a kind of right facial cleanser for your skin type, start washing your face.
Damp your face with warm water

Put cleanser into your fingertips

Then glide them from the corners of your mouth, up over nose, then onto your forehead and the area around the eyes, lastly down the cheek till you reach the chin.

After 2 minutes of doing like this, wash your face with lukewarm water

Finally, pat your face with a towel (no rubbing)
Read more: 16 Natural Face Saving Remedies To Get Smooth Facial Skin
Step 3: Use Toner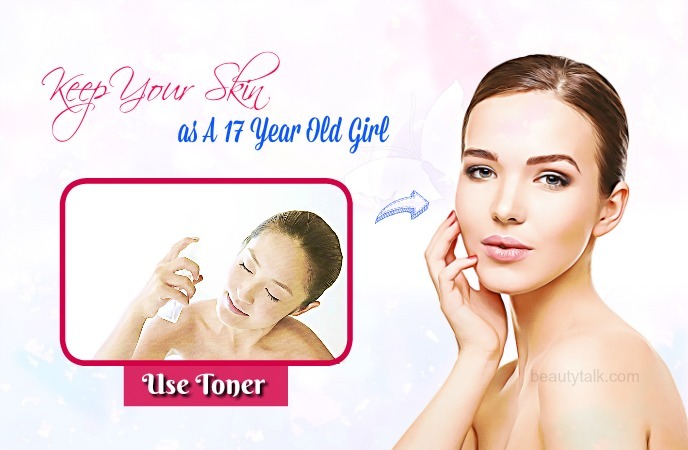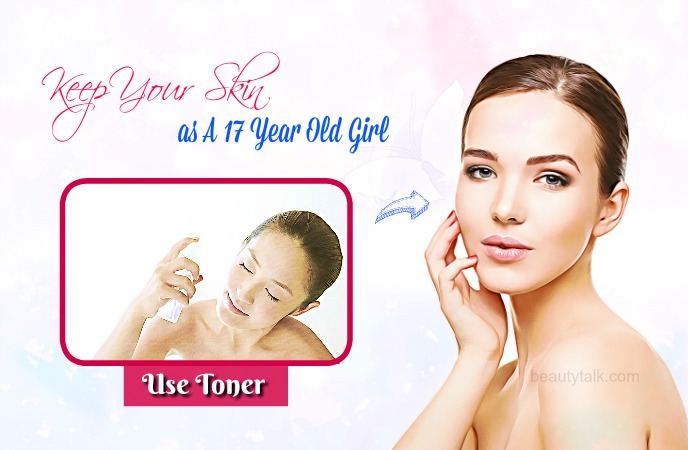 It is the fact that toner plays an important role in keeping your skin look young and bright. Not only does toner hydrate the skin, but it also balances the skin's PH and moisturizes it. Moreover, toners also helps to shrink the pores and refresh the skin (especially when it is dirty or oily) as well. There are two ways to use toner that you can try to get the best results.
The first way is that you can sprinkle a little toner into your hands, and then tap it onto the skin directly.
Another way is to dip a cotton ball into toner, then pat around your face, especially focus on specific skin problems.
Learn more: Top 20 Homemade Natural Toner For Oily Skin
Step 4: Use Serum
Like toner, serum brings a variety of benefits for your skin. It is the product that targets many specific issues of the skin such as large pores, dulling skin, uneven tone, fine lines, loss of collagen and firmness, dehydration or hyperpigmentation thanks to its active ingredients (containing up to 70% active ingredients). Use one or two pumps of serum, and tap it into your face gently!
Read more: 38 Natural Home Remedies For Skin Rejuvenation
Step 5: Use Moisturizer
After applying serum, you could use moisturizer that is really suitable to your skin type to increase hydration, keep the moisture and smoothie any fine lines. By this way it gives you a glowing complexion as you have expected. This is explained by the fact that moisturizer works as a barrier to seal in all beneficial ingredients that have been absorbed into the skin, preventing them from evaporating outside. You should pay attention when picking a moisturizer. It is good to choose a heavier moisturizer for night. However, for day, if you are not going to use sunscreen on your face, we suggest you to pick one with SPF. Put it over your facial skin, and pat it.
See more: 20 Ways  To Get Glowing Skin Naturally And Quickly
Step 6: Use Eye Cream
Last but not least, remember to apply your eye cream. As we all know, the under eye area is thin, quite susceptive, and more disposed to dryness. An eye cream is formulated with many active ingredients targeting the specific skin problems around your eyes such as wrinkles, lines, puffiness or dark circles. Therefore, it helps to fight aging, moisturize, and prevent some of the above-mentioned issues.
Pat a little eye cream around the whole orbital bone and use your ring finger to massage it (don't rub).
Read more: 13 Bad Beauty Habits That Are Giving You Wrinkles
Note: Washing the facial skin a lot will cause irritation and dryness, so you should remember some following rules:
To prevent breakouts, always rinse your face after a workout

For excessively oily skin, wash your face twice a day: morning and night

For sensitive and very dry, cleanse your face once in the evening every day
Above are 6 steps of washing face each day to keep your skin as a 17 year old girl that you should try. If you want to learn more about the other ways to give your skin the best care, please visit our Skin Care page. Do not forget to leave your comments in the form below to show us your thoughts.
Reference sources:
https://www.youtube.com/watch?v=apTs__z4tuQ
https://www.huffingtonpost.com/2015/09/01/what-is-cleansing-oil_n_6158450.html
http://www.marieclaire.com/beauty/how-to/a7053/how-to-wash-your-face/
http://www.instyle.com/news/5-steps-correctly-washing-your-face