Green tea is considered among the widely consumed and most valued drinks across the world. Apart from being a delicious and healthy beverage, green tea contains many powerful benefits thanks to its significant antioxidant, antiviral, anti-cavity and anti-inflammatory properties. Besides, it is enriched with antioxidants, amino acids, enzymes, phytochemicals like polyphenols, B vitamins, manganese, folate, potassium, caffeine, and magnesium. The compounds found in green tea provide relief from lots of common health issues and reduce the chance of many chronic diseases as well as serious health issues. In addition to its benefits for health, green tea contains many hair and skin care benefits. Now, let's Beauty Talk find more the benefits of green tea for skin, hair, and health.
Top 22 Benefits Of Green Tea For Skin, Hair, And Health You Should Know
I. Benefits Of Green Tea For Skin
Green tea contains a number of properties, which help you to get a glowing skin. These advantages can be derived from drinking and applying green tea externally.
1. Benefits Of Green Tea – Reduce Dark Circles & Puffy Eyes
Green tea comprises the antioxidants and an astringent, all of which treat dark circles and puffy eyes as well. They aid in shrinking blood vessels under the delicate skin around your eyes. As a result, this reduces both swelling and puffiness. Moreover, its vitamin K helps to lighten dark circles under your eyes. For this aim, you take two green tea bags and put them in the refrigerator for half an hour. Then, place them on your closed eyelids and relax for fifteen minutes. To achieve the desired results, use this remedy twice every day.
2. Prevent Skin Cancer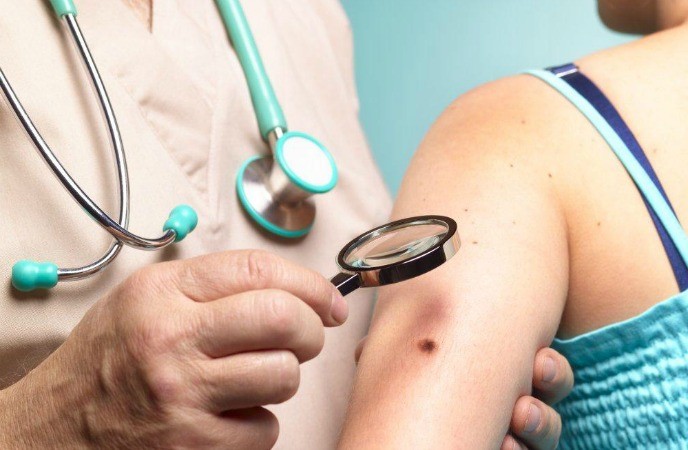 " Drinking a cup of green tea, I stopped the war – Paul Reps."
BeautyTalk Partner Solutions

Ask Any Questions and Get Answers within Minutes, 24/7!
The Medical Experts are available whenever you need them. You can even approve payment only when you're completely satisfied.
Skin cancer prevention is one of the best benefits of green tea. Its polyphenols prevent the growth of VEGF (Vascular Endothelial Growth Factor) and HGF (Hepatocyte Growth Factor), which are known to enhance tumor cell growth. In addition, it aids in healing a skin ailment named pre-cancerous scaly keratosis, which occurs due to chronic and unnecessary exposure to the sun. Moreover, it can treat minor skin problems and serious damages such as skin tumors.
3. Improve Skin Complexion
Green tea helped skin rejuvenation, according to a study published in 2003 by the Medical College of Georgia showed. Green tea can be used to cure skin wounds and diseases. Green tea also helps to boost the skin complexion and makes it healthy. It even improves the elasticity of the skin. Besides, it assists in fading toxins from the skin, reduces inflammation and heals blemishes and scars as well. For this purpose, take two used green tea bags. Next, cut open them to scoop out their contents. Then, add raw honey (1-2 tsp) and mix in some lemon juice. Thereafter, you apply this prepared mixture on the face and keep for 5-10 minutes before rinsing with lukewarm water. This face mask should be used 1-2 times per week.
4. Benefits Of Green Tea – Acts As A Skin Toner
Green tea also serves as a natural toner for the skin. Especially, it aids in draw out impurities, decreasing large pores and giving the skin a healthy glow. Moreover, it even helps to keep the skin hydrated. You take two cups of green tea, brew them and let it cool. Later add any essential oil (some drops) and put this concoction in 1 clean spray bottle. Afterward, spray this solution on the face or apply it by using a cotton ball 2 times daily. You can also use this solution to treat psoriasis and rosacea.
5. Combat Aging Signs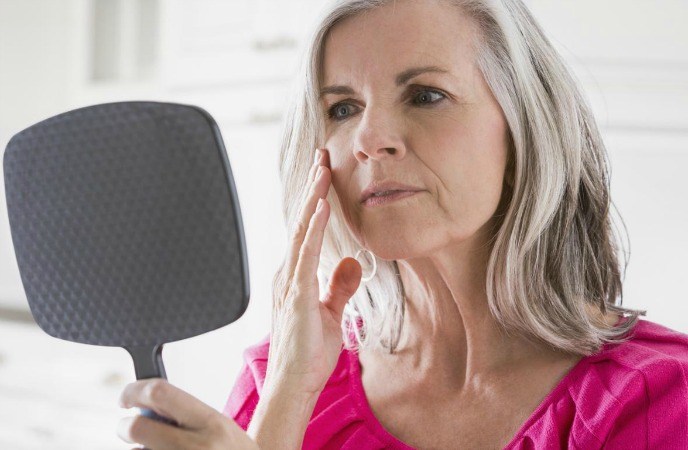 One of the benefits of green tea is fighting aging signs. Being rich in antioxidant & anti-aging advantages, green tea can help to postpone skin aging signs, including, wrinkles, fine lines, sun damage, age spots and sagging skin. Green tea also has the polyphenols that aid in neutralizing harmful free radicals, which can accelerate the aging process. To combat aging signs with green tea, you can mix plain yogurt (3 tbsp), green tea leaves (1 tbsp) and turmeric powder. Later apply this prepared combination on the face & neck and rinse the mixture off using lukewarm water after 20 minutes. This mask should be used 1-2 times per week. Alternatively, you make a paste by mixing Match agree tea (1 tsp) and some drops of water. For people with dry skin, mix Matcha green tea (1 tsp), extra-virgin coconut oil (1/2 tsp) with warm water (1/2 tsp). After this, apply on the face and allow it to dry totally. Finally, rinse off using warm water and follow it several times per week.
6. Remove Pimples And Acne
One of the outstanding and wonderful benefits of green tea is removing pimples and acne. Its catechins are antibacterial agents helping to fight bacteria responsible for acne. Catechins even assist in regulating hormonal imbalances in your body, one of the main reasons for acne. Plus, because of its anti-inflammatory property, green tea helps to reduce the inflammation and redness caused by acne. For this aim, you mix freshly brewed green tea (1/4 cup) and water (1/4 cup) and apply this prepared solution on your troubled region with a cotton ball. Then, you use cool water to rinse the solution off after 10-15 minutes. This method should be done twice daily to have acne-free skin.
7. Natural Sunscreen
Generally speaking, green tea has the ability to protect the skin from the UV rays. Green tea consists of the tannic acid, polyphenols, and theobromine, which neutralize the damage from the exposure to UV rays, thereby soothing and healing sunburned skin. For this purpose, brew green tea (2-3 cups) and put it in your refrigerator for some time. Take a soft cloth and soak it in this tea. Thereafter, apply to the sunburned areas. This process needs to be repeated 2 or 3 times per day to relieve redness and pain.
8. Benefits Of Green Tea – Exfoliate Skin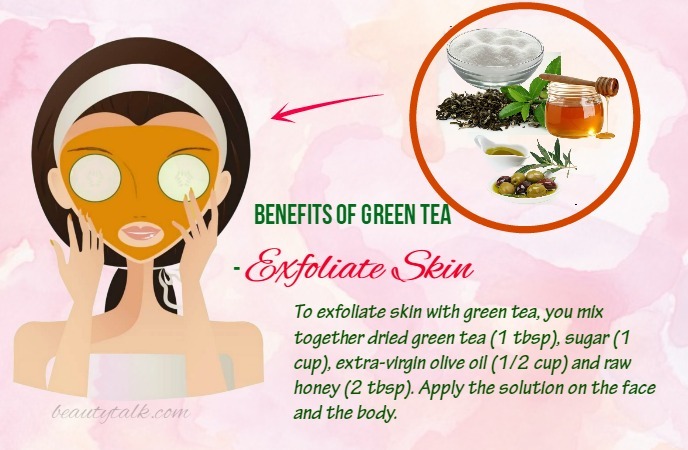 Dry green tea leaves have the rough texture that aids in exfoliating your skin to ease dirt, dead skin cells, and other impurities. To exfoliate skin with green tea, you mix together dried green tea (1 tbsp), sugar (1 cup), extra-virgin olive oil (1/2 cup) and raw honey (2 tbsp). Apply the solution on the face and the body. Rub gently it in circular motions and rinse it off by using warm water. This facial scrub should be used once or twice per week. You can also brew a green tea bag in water (1/3 cup) and let it cool. Then, put this green tea (1 tablespoon) into 1 bowl and add sugar (2 tbsp) to it. Use this combination as an exfoliating skin scrub 1-2 times a week.
9. Make Nails Stronger And Shinier
This is also one of the best benefits of green tea. Using green tea daily can make your nails healthy and strong. To get rid of the nail yellow, you just soak the nails in green tea one time a week. After some weeks, you will find the nails becoming shiny and strong. Alternatively, you can add a drop of green tea essential oil to each nail 1 to 2 times a week to remove brittle nails.
10. Shrink Open Pores
Green tea comes with antioxidant and astringent qualities, so it can help to shrink enlarged pores, which tend to get clogged & get infected with bacteria as well. Therefore, it will aid in smoothing and tightening your skin. Simply, to take toxins out of the body, you consume some cups of green tea every day. You can also steep strong green tea (1 cup) and let it cool. Then, mix this tea (a few tbsp) in Bentonite clay (2 tbsp) to form a paste. Then, spread this paste on the face and leave it to dry completely. Scrub it off gently and rinse your face using warm water.
II. Benefits Of Green Tea For Hair
1. Boost Hair Growth
One of the hair benefits of green tea is promoting hair growth. Green tea prevents the growth of Dihydrotestosterone, which slows down hair growth and leads to hair fall. Green tea consists of antiseptic properties, which help to prevent and cure common hair issues such as psoriasis and dandruff by reducing the inflammation. Vitamin C and E found in green tea are known to enhance lustrous hair.  According to a study published in 2005 in the Journal of the National Medical Association, the polyphenols housed in green tea helped to inhibit hair loss among rodents. For this aim, you rinse the hair with cool brewed green tea after washing it. After ten minutes, rinse it out with the help of cool water. Do this process 2 or 3 times per week for a few months. You can also drink two to three cups of green tea every day to enjoy beautiful and strong hair.
2. Benefits Of Green Tea – Prevent Hair Loss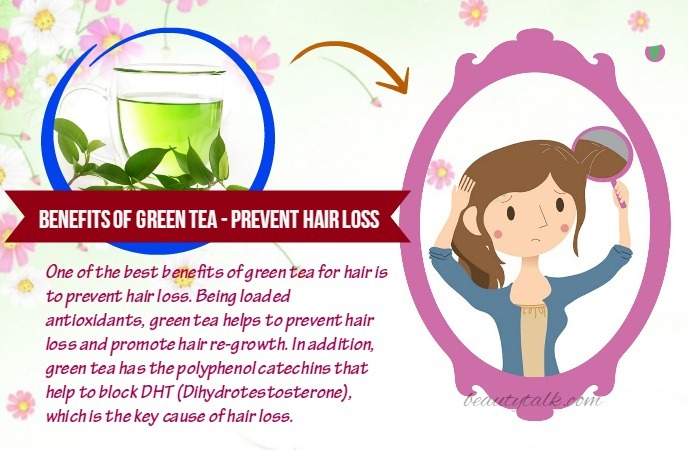 One of the best benefits of green tea for hair is to prevent hair loss. Being loaded antioxidants, green tea helps to prevent hair loss and promote hair re-growth. In addition, green tea has the polyphenol catechins that help to block DHT (Dihydrotestosterone), which is the key cause of hair loss. Furthermore, epigallocatechin gallate (EGCG) found in green tea promotes hair growth by enhancing hair cells. To prevent hair loss, you consume several cups of green tea every day. Alternatively, you rinse the wet hair with cool & freshly-brewed green tea at first and later rinse your hair using water after 10 minutes. This process should be done a few times per week for at least several months. This way will also help to reduce problems such as dandruff and dry scalp.
3. Make Hair Shiny
Green tea not only helps to make your hair healthy and strong but also makes it full of life and shiny. Plus, green tea is packed with vitamins E and C, as well as panthenol, which aid in keeping your hair conditioned. Last but not least, green tea gives your hair protection from damage due to harsh products and pollution. You just need to steep 2-3 bags of green tea in four cups of hot water for 60 minutes. Remove these tea bags afterward and let the solution cool. Then, dampen your hair and rinse it with this solution. Wash the hair with shampoo after ten minutes and rinse the hair using cool water to lock in the shine. This simple remedy should be used 2 or 3 times per week.
III. Benefits Of Green Tea For Health
1. Maintain Body Weight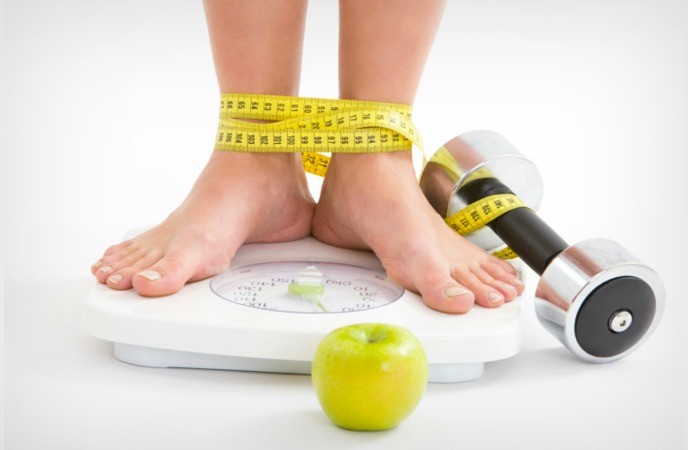 According to several studies, one cup of green tea every day can lower body fat, particularly in the abdominal area. Also, it can significantly reduce body fat percentage, waist circumference, and body weight. Green tea aids in generating heat within the body, thereby burning extra calories thanks to its catechins. Furthermore, the combination of caffeine & other compounds present in the tea helps to boost metabolism, break down fat and burn calories.
2. Benefits Of Green Tea – Lower Cholesterol Levels
This is regarded as among the greatest health benefits of green tea. Green tea reduces bad cholesterol and promotes good cholesterol effectively. Consuming green tea aids in reducing the level of the "bad" cholesterol and increasing the level of the "good" cholesterol.  In fact, to reduce cholesterol levels, you should drink green tea regularly.
3. Treat Bad Breath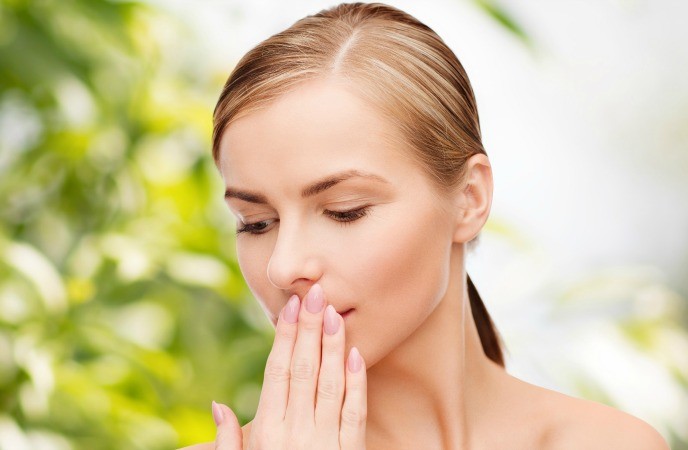 Dealing with bad breath is also one of the health benefits of green tea. It can prevent the growth of viruses and bacteria causing dental diseases. In addition, it helps to inhibit the growth of bacteria causing bad breath. For this aim, you dip a tea bag in a cup of water and wash your mouth with this solution. This will instantly freshen up your mouth.
4. Reduce Blood Sugar Levels
For people with instantly, green tea helps to maintain blood sugar levels in check.  Green tea comprises the compounds polysaccharides and polyphenols, which can be beneficial for Types I & II of diabetes. In addition, it can stimulate the production of insulin in the pancreas, manage levels of blood sugar and absorb glucose in people with Type 1 diabetes. Green tea helps to lower the blood sugar spikes causing complications in the eyes, kidneys, and heart in people with Type 2 diabetes.
5. Benefits Of Green Tea – Reduce Stress And Depression
Green tea can also actually help you combat depression. Green tea is also actually useful for your brain. It comes with the polyphenols, which help your brain remain a steady supply of glucose. Besides, its theanine is an amino acid, which can relieve anxiety and stress. Plus, theanine works well as an anti-depressant. Green tea contains the lower rate of caffeine that is an added benefit for people facing anxiety disorders as well as other stress-related problems.
6. Boost Immunity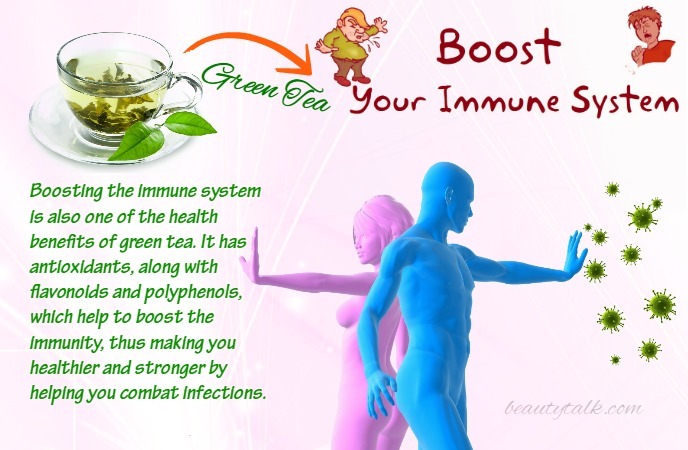 Boosting the immune system is also one of the health benefits of green tea. It has antioxidants, along with flavonoids and polyphenols, which help to boost the immunity, thus making you healthier and stronger by helping you combat infections. This further gives you prevention from getting the flu or cold. Apart from that, green tea is enriched with vitamin C, which helps you treat an infection effectively.
7. Help With Asthma
Green tea is also quite useful for people having severe asthma issues since it comprises theophylline, which can relax the muscles giving support to your bronchial tubes, thereby lowering the severity of asthma. Green tea also decreases the sensitivity to allergies, thereby dealing with any asthmatic reaction to any allergy.
8. Health Benefits Of Green Tea – Keep Bones Strong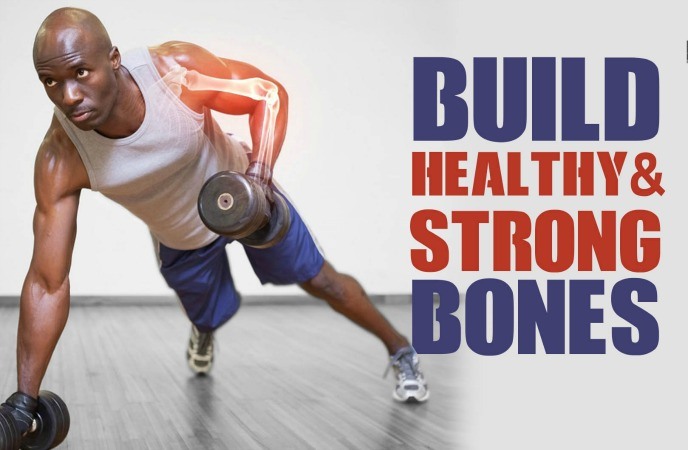 Green tea helps to keep bone strength thanks to its high fluoride content. Consuming green tea regularly is related to a lower chance of osteoporotic fractures. In addition, green tea has the anti-inflammatory & antioxidant properties, which prevent loss of bone density. It helps to restrain the breakdown of bone and at the same time, increase the activity and amount of bone-building cells. To preserve the bone density, you should consume green tea daily.
9. Decrease The Risk Of Cancer
Many studies indicate that the numerous antioxidants found in green tea may decrease the risk of different types of cancer such as breast, colorectal, prostate, pancreatic, bladder, esophageal, lung, and stomach cancer as well. Drinking as many as 4 cups of green tea per day may be needed to obtain its anti-cancer benefits.
Recommended articles:
Lemon Beauty Benefits For Your Skin And Hair 
Beauty Benefits Of Strawberries 
Beauty Benefits of Apple Cider Vinegar for Skin & Hair 
Benefits Of Honey With Lemon On Health, Hair, And Skin 
We have seen how healthy and beneficial green tea is. However, green tea is beneficial and healthy only when it's consumed in moderation. Basically, green tea also has disadvantages but most of them happen due to excessive consumption. Thus, you should stick to around 2 to 3 cups of green tea per day. For such useful articles, you visit directly our main Foods For Beauty page. Share your experience, feedbacks or question in the section below.