Flaky and dry skin is a common issue in winter and summer. It is uncomfortable and makes you feel all itchy and scaly. Dry, cold winter air will suck the life out of smooth, silky skin. Other factors contributing to dry skin include a genetic predisposition, nutritional deficiencies, and aging. There are various moisturizers and lotions available on the market to fight against dry skin, but most of them are often expensive. Luckily, you can easily control this problem by following natural remedies and simple tips. Are you curious to know? In this article, you will discover 28 worth-trying ways on how to treat dry skin on face, hands, legs in summer and winter.
28 Worth-Trying Ways On How To Treat Dry Skin On Face, Hands, Legs In Summer & Winter
I. Do's For Dry Skin Treatment
1. Things You Should Do To Smooth Your Dry Skin
Do shower for short periods

Do bath or shower in warm water.

Do apply moisturizer right away after a wash.

Do pat yourself dry with the help of a towel.

Do rinse of chlorine or salt water.

Do add bath oil after you get the bath.

Do use moisturizing soap for sensitive skin

Do limit your skin care products.
2. Foods You Should Eat For Healthy Smooth Skin
Avocados: Avocados are rich in glutamine (antioxidant), copper, and vitamin C, which stimulate the production of collagen in the dry skin. This in turn aids in maintaining the dry skin's elasticity and evening out the skin tone. It additionally has potent moisturizing agents that keep your skin supple and soft.
Salmon: Salmon is abundant in the omega-3 fatty acids that are helpful for reducing the redness and inflammation in your skin. Walnuts and flaxseed are also high in omega-3s.
Fruit-Papaya/Berries/Mangos: Fruits help to keep your skin youthful and hydrated. Antioxidant-rich fruits such as berries can combat free radicals, while papaya and mango are full of vitamins to keep the skin nourished. Plus, they are rich in water content which keeps your skin moisturized.
Nuts: Nuts are abundant in vitamin E, which helps to guard your skin against harsh UV rays contributing to dry skin.
II. Don'ts For Dry Skin Treatment
1. Things You Should Avoid For Dry Skin Treatment
Don't put oil in your bath while it is filling.

Don't take hot baths or showers.

Don't take long showers or baths.

Don't towel your skin vigorously.

Don't use alcohol-based products or astringents.

Don't wash with granular scrub or soap.

Don't use liquid Vaseline or paraffin.
2. Foods You Should Avoid For Dry Skin Treatment
Chips: Chips are full of sodium that is not good for your skin and waistline. Excess salt in your body removes more fluid from the cells to neutralize the salt and eliminate it from the body. Consequently, your skin gets drier due to the lack of fluid.
Candy: Foods that are rich in refined sugar such as chocolate and candy are extremely bad for your skin. They can cause acne to form and dry out the skin.
 White Bread: White bread is a high-glycemic food that causes a spike in levels of blood sugar and increases the quantity of insulin in the body. It damages the collagen in the skin, causing wrinkles and dry skin.
Alcohol: It is a diuretic and removes liquid from the body, which causes severe dehydration.
III. How To Treat Dry Skin On Face, Hands, Legs In Summer & Winter
A. How To Treat Dry Skin On Face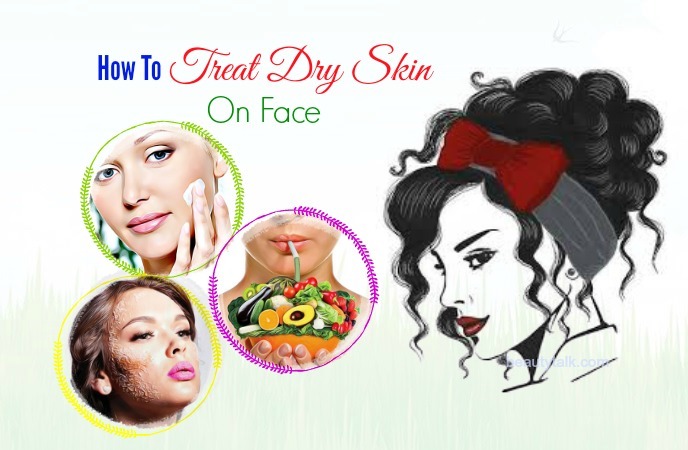 1. Wash With Water Only
Washing your face by using harsh cleansers is a common skin care mistake you can make. Harsh cleansers will remove the oils from the skin, making the problem worse. So, it is better to wash with just plain water, particularly when you are not wearing makeup. Don't use hot water because it can be drying. Take a washcloth and wet it with warm water. Gently run it over the face and pat your face dry by using a clean, soft towel.
2. Exfoliate Your Face Several Times A Week
Dry skin is a layer of dead skin cells, which build up and start to slough off. Eliminating this layer of dead, dry skin several times per weeks will reveal the healthy, fresh skin underneath. To exfoliate your skin, you can try one of the methods below:
Use a homemade scrub. You can make it by mixing one teaspoon of ground oatmeal and one tablespoon of honey. Start rubbing it over your dry patches in a circular motion and rinse it off.

You can try to use glycolic acid and another alpha-hydroxy acid, as these acids are derived from sugar or fruit, and they are useful for exfoliating dead skin cells and strengthening the skin underneath.

Do not use a harsh body scrub or scrub the skin by using a cloth or brush because it will damage and weaken your skin.
3. Moisturize In The Morning
According to some research, the facial cell renewal occurs at night, and your face will not renew itself with new, healthy cells if you cover it with cream. However, moisturizing in the morning is an ideal idea because it guards your face against dirt, hot air, dry hair, and pollutants. Apply a moisturizer after cleaning your face with a washcloth wet with warm water.
BeautyTalk Partner Solutions

Ask Any Questions and Get Answers within Minutes, 24/7!
The Medical Experts are available whenever you need them. You can even approve payment only when you're completely satisfied.
See more: 6 best ways to make a natural moisturizer for dry skin in summer & winter
4. Avoid Moisturizers Containing Alcohol
It is best to avoid moisturizer having alcohol because it is drying. Thus, there is no reason to apply it to your face, particularly when you have dry skin on the face. Instead, search for a natural moisturizer made that is made from a blend of lanolin and oils. These help to protect your skin and will not dry it out. You can also try pure coconut oil or Argan oil.
5. Examine Your Makeup Routine
Some of the ingredients in the makeup may cause the problem of dry skin. Switch to oil-based makeup, which does not consist of alcohol along with other harsh ingredients. Seek for makeup composed of ingredients such as Shea butter, coconut oil, beeswax, almond oil and other all-natural ingredients that will not make your skin dry out and in fact, they will nourish it.
6. Guard Your Face Against The Sun
The rays of the skin can dry out the skin. When the healthy glow fades, your skin starts flaking and falling off. Generally speaking, a certain amount of the sun is a good thing, but it is essential to look out what ingredients your sunscreen has. As mentioned above, alcohols and other chemicals may dry out the skin, so search for sunscreens with natural ingredients. Instead of sunscreens, you can wear a hat. It is the old-fashioned method to give your face protection from the sun, and it effectively works. Moisturize your skin immediately with aloe vera and other rich moisturizers after sun exposure.
7. Be Healthy From Within
The items you ingest may have a big effect on the health of the skin. If you desired to have hydrated, glowing, and healthy skin, you should adopt the following habits.
Consume a lot of water. If you are hydrated, it will show up in the skin.

Don't smoke, take drugs or drink too much alcohol. Alcohol, tobacco, and other drugs can have a big impact on the skin. They can dry your skin out while making it look old. Thus, it is advisable to limit these products for healthier and stronger skin.

Consume vitamin-rich foods, particularly healthy fats such as omega-3 fatty acids. These acids are found in fish oil, fish, avocados, and nuts.
See more: 23 proven ways for adults & babies to treat dry skin on face in summer & winter
B. How To Treat Dry Skin On Hands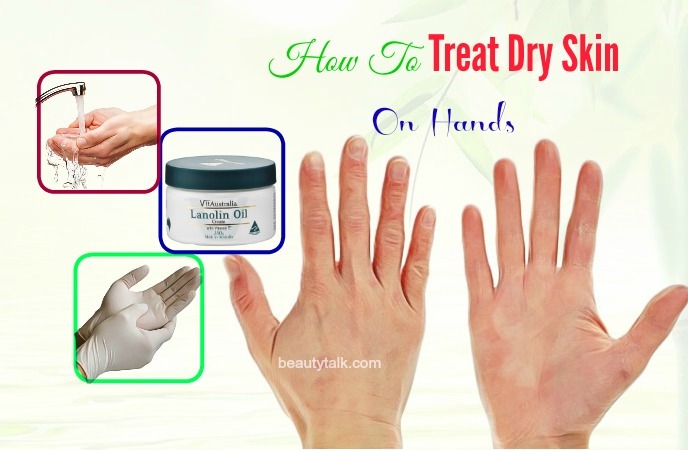 8. Use Coconut Oil To Rub Your Hands
Coconut oil helps to leave your hands feeling soft and moist. It can absorb into your skin quickly. More importantly, it does not have ingredients, which can dry out the skin and worsen the problem. Just carry a little pot of this oil around with you and then apply as needed during the day. If you like a different scent or texture, you can try almond or jojoba oil.
9. Try Lanolin
Lanolin is particularly beneficial for flaky, dry hands. It helps to retain moisture in and guard your skin against the elements. Seek for a cream or lotion that lists lanolin as one of the majority ingredients.
10. Wash Your Hands Gently
When you wash your hands, do you tend to scrub them, and use strong soap and hot water? This habit is hard on the hands. As you know, the skin on the hands can get cracked and dried out when you eliminate all its natural protective oils. Use warm water along with a gentle soap when you wash your hands. Instead of rubbing them forcefully, pat them dry by using a towel.
Search for a gentle soap which does not contain sulfates. A moisturizing, oil-based soap is great for dry hands.

Wash your hands once you really need to, such as after using the bathroom and before meals. If you wash them occasionally, the skin will never have the chance to produce the protective oils.
11. Wear Gloves Once You Handle Harsh Chemicals
Whether you are using a bleach-based detergent to clean the bathroom, washing the dishes, or handling paint, you need to wear protective rubber gloves. This is because exposing the hands to harsh chemicals can wreak havoc on the sensitive skin. Thus, wear protective gloves whenever necessary to avoid the whole problem.
12. Wear Sunscreen In The Summer
The sun can cause the skin to dry out. Many individuals always use sunscreen on their face, but don't remember to apply to their hands. Make sure to apply sunscreen with SPF of 30 or higher to your hands when you step out in the sun.
13. Protect The Hands In The Winter
Wind and winter temperature are tough on your hands, so when you go outside, wear gloves. Ensure to get insulated gloves which will inhibit your fingers and knuckles from getting chapped. For an extra benefit, apply oil or cream before putting on your gloves and going outside.
14. Avoid Cheaper Drugstore Lotions
Lots of commercially-produced lotions containing artificial fragrance, alcohol, and other chemicals can dry out your skin. They provide you with temporary moisture, but they don't remove dry skin in the long run. Look for lotions having all-natural ingredients such as cocoa butter, oils, essential oils, Shea butter, aloe, and beeswax.
See more: 11 must-know ways to treat dry skin on hands in summer & winter
C. How To Treat Dry Skin On Legs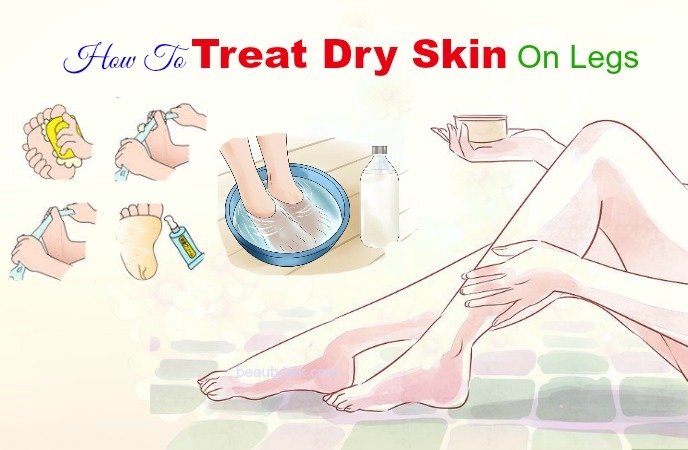 15. Wash Your Feet Daily
Hygiene plays a crucial role in remaining skin integrity. Though soap is important in hygiene, it can irritate the skin and can't help to banish any of the dead skin caused due to dryness. You should rinse your feet carefully with warm water when you bathe to enhance moisture. Warm water aids in promoting circulation and refreshing your feet.
16. Do A Foot Soak Every Week
Soaking your feet is helpful for hydrating and softening any dead skin. It is best to try a foot soak with a pumice stone because it assists in eliminating dry skin and leaving your skin feeling refreshed and soft. You take ½ cup of apple cider vinegar and add it to a warm bath. After that, soak your feet in this solution for ten minutes.
17. After A Bath Or Shower, Use A Pumice Stone
A pumice stone is perfect for getting rid of dead skin on the body including the feet. Just run a warm bath at first and later add a small quantity of Epsom salt to it. Leave your feet to soak for a few minutes and rub them with the help of a pumice stone afterward. This water Epsom salt bath is helpful for loosening up the dead skin cells, making them easier to eliminate. It is advisable to repeat this foot scrubbing routine nightly or a couple of times per week. Following a pumice stone on a regular basis also helps to allow any foot moisturizer you're using to penetrate the skin and soften cracked or hard skin on your feet.
18. Wear Comfortable Shoes That Do Not Rub Or Restrict Your Feet
Uncomfortable, tight shoes can distort your toe shape and cause painful foot growths. Plus, they can irritate your feet and cause cracked skin and blisters. Try wearing comfortable shoes which fit well on a regular basis, particularly if you're on your feet during the day. Search for heels that are stable, wide, and no higher than 2-inches if you like wearing high heels. Avoid wearing completely flat shoes and flip flops because they don't provide arch support. Also, don't walk around barefoot to stay away from developing flat feet.
19. Try A Sugar Scrub
Sugar is ideal for getting rid of dry skin and softening any cracked or hard skin. You can prepare a sugar scrub by mixing 1/3 cup of packed brown sugar, ½ cup of olive oil, and 2/3 cup of granulated white sugar in a mason jar. If desired, you can add one tablespoon of vanilla extract. Alternatively, you can mix ¼ cup of almond oil or olive oil, 10 drops of peppermint essential oil, and 1 cup of Epsom salt in a mason jar to create a soothing peppermint foot scrub.
20. Protect The Skin From The Cold
Protecting the skin from the cold by covering the skin in moisturizer or wearing protective clothing can deal with dry skin. Try to wear stockings during the winter to protect your legs. It will aid in protecting your skin because denim is poor at keeping the skin warm and protected.
IV. Natural Remedies For Dry Skin Treatment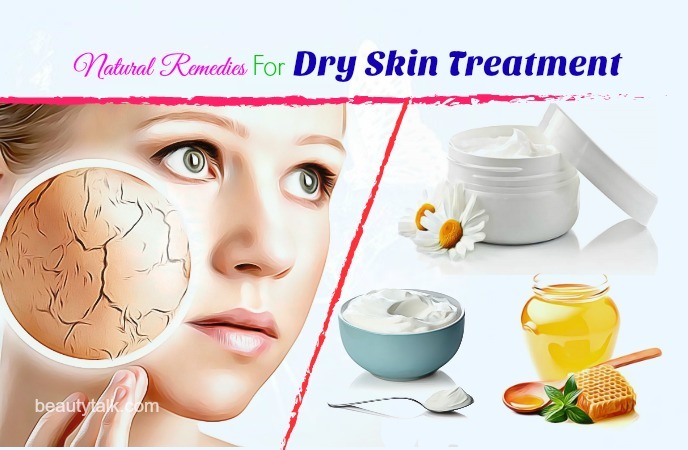 Are you looking for the natural treatment to get rid of dry skin? Here are some effective natural remedies which can be followed at home with cheap and simple kitchen ingredients.
1. Milk Cream
Why This Works
Milk cream is commonly used as an ideal ingredient in skin care recipes particularly formulated to moisturize and nourish dry skin. Milk cream is chock-full of the lactic acid that is beneficial for exfoliating dry skin. Its soothing nature helps to preserve the delicate pH levels of the skin. Besides, it contains healing properties that is effective for treating dryness and healing rough patch. Furthermore, thanks to its hydrating properties, milk cream works wonders in sealing moisture content to the skin and making it look smooth and soft.
Method 1
Get These
Milk cream – two teaspoons

Milk – one teaspoon

Lemon juice – a few drops
How To Do
Just mix the above items well and rub it to your affected areas. Keep the mixture on for a while before taking a shower. Do the process once daily.
Method 2
Get These
Milk cream

Gram flour – 3 to 4 tablespoons
How To Do
Add sufficient milk cream to the gram flour to get a thick paste. Start applying this resultant paste to your hands, face, and legs. Rinse the applied areas after fifteen minutes with lukewarm water. Try this treatment once daily.
Precautions
Conduct a patch test first before using milk cream to avoid an allergic reaction.
2. Honey
Why This Works
Honey is a great natural moisturizer loaded with antimicrobial, antioxidant, and humectants properties. Antioxidants housed in honey help to guard the skin against environmental damage and oxidative stress, both of which contribute to dry skin while anti-inflammatory properties in it help to repair skin damage and dryness caused due to an excessive sun exposure. Apart from that, honey contains many essential minerals and vitamins that are excellent for improving your skin's health.
Method 1
Get These
Unprocessed honey

Olive oil

Beeswax
How To Do
Measure out equal amounts of olive oil, beeswax, and unprocessed honey. In a small pan, melt the beeswax over low heat and eliminate it from heat. Then, mix in the prepared honey and olive oil. Apply this solution to your affected areas an after ten minutes, take a shower. For quick results, repeat every day for every other day.
Method 2
Get These
Coarsely ground cinnamon – 2 to 3 tablespoons

Honey – two tablespoons
How To Do
Take the cinnamon and add the honey to it. Mix them with a spoon and apply the mixture to your face, hands, and legs while massaging for five minutes. Wait for another fifteen minutes before taking a shower and follow this treatment twice a week.
Precautions
Excessive amount of honey may clog the skin pores and cause a breakout of pimples. Therefore, use it sparingly.
3. Yogurt
Why This Works
Yogurt exhibits antioxidant and anti-inflammatory abilities, which help to calm dry and itchy skin. Besides, it is high in lactic acid content, which is helpful for removing any bacteria or germ causing dryness or itchiness. Moreover, it is loaded with B-complex vitamins including vitamin B2, B5, and B12, all of which are excellent for hydrating, moisturizing, healing and guarding the skin against free radical damage.
Method 1
Get These
Fresh yogurt – 3 to 4 tablespoons

A fork
How To Do
Take the fresh yogurt in a small container or bowl and use the fork to whisk it thoroughly. Begin applying it all over your affected regions and taking a bath after 20 minutes. Afterward, pat dry with the aid of a towel. Redo it once in two days.
Method 2
Get These
Yogurt – ½ cup

Mashed or blended papaya – three tablespoons

Honey – a few drops

Lemon juice – a few drops
How To Do
Mix well the yogurt and papaya and stir in the lemon juice & honey. Apply this mixture to your skin and wash it off after ten minutes with cold water. Use this remedy once a week.
Precautions
Always opt for plain, unflavoured and unsweetened yogurt for home remedies.
4. Oatmeal
Why This Works
According to a 2015 study, extracts from oatmeal had antioxidant and anti-inflammatory agents, which may help to combat dry skin. It also contains the high protein content that inhibits water loss and maintains moisture.
Method 1
Get These
Oatmeal – 2 to 3 tablespoons

Water

Raw honey – two tablespoons
How To Do
Firstly, combine enough amounts of water and oatmeal to make a mixture. Later add the raw honey to the mixture and then mix thoroughly with a spoon. Afterward, apply this mixture to the affected regions and massage for about five minutes.  Allow it to dry for fifteen minutes before rinsing off with cool water. Follow this method one time in two days.
Method 2
Get These
Mashed ripe banana – 1

Ground oatmeal – 1 cup

Lukewarm milk
How To Do
Mix the ripe banana with the ground oatmeal at first and later add some lukewarm water to make a mask. Apply it to your dry skin and rinse it off after 10-15 minutes with cold water. For visible results, use this mask once per week.
Precautions
People having gluten intolerance or suffering from celiac diseases might undergo allergic reaction to oatmeal. So, it's recommended to do a small patch test before following these remedies.
See more: 26 proven home remedies for dry skin on face & body in children & adults
V. How To Prevent Dry Skin
Here are some simple tips that can help to prevent dry skin and keep the skin well hydrated.
Hydrate your skin daily. Gently pat your skin dry by using a towel after a shower or bath, avoid rubbing. After that, apply a fragrance-free, quality moisturizing product. Reapply as necessary throughout the day.

Clean your skin daily, but not too often. It's best to utilize pH balanced cleansing products which are free of fragrances and soap.

Drinking enough amount of water daily helps to keep the epidermis hydrated, healthy, and supple. Decrease your consumption of beverages which consist of a lot of caffeine and sugar.

Drink alcohol with moderation because overconsumption of alcohol has a dehydrating impact, which can affect the skin. Alcohol can also affect the quality of sleep.

Choose healthy foods such as vegetables, fruits, legumes, fish, nuts, etc. Avoid junk food.
See more: 18 best ways to prevent dry skin in the cold winter naturally
VI. Frequently Asked Questions For Dry Skin
1. Which Areas Of The Body Are Most Susceptible To Dry Skin?
Your hands and face are especially exposed to external factors, making them prone to dry skin. Besides, the elbows and shins are show signs of dryness.
2. Does Bathing Make The Skin Dry
Rinsing your face with hot water can make your skin dry, as hot water eliminates the oils from your skin, leaving it dull and dry. Use cool or tepid water instead. Using harsh soaps can also rid your skin of the natural oils. Instead, use a gentle cleanser for the skin.
3. What Environmental Factors Contribute To Dry Skin?
Your skin, particularly the skin on the face, gets exposed to damaging external factors every day. These factors include wind, sun, cold, low humidity, certain detergents, harsh soaps, and showers and baths that are too hot.
4. What Can You Put On Dry Skin Of A Newborn?
The skin moisturizers or lotions available in the market for babies are formulated with ingredients, which are safe for use on both toddlers and newborns. Speak to a doctor to know the best suitable moisturizer that you can apply to the skin of your baby. Home remedies are not recommended for a newborn as the skin of a newborn is very sensitive and may react to many ingredients.
Try these methods and let us know which methods worked for you. Also, share with us if you know other ways on how to treat dry skin on face, legs, and hands in summer and winter. If your symptoms worsen or these methods do not alleviate your symptoms then consult a dermatologist or doctor immediately for advice and treatment. All of the contents provided in this article are for informational & educational purposes. We recommend you consult a healthcare professional to determine which method is appropriate for you.