Eczema is a common skin disorder seen mostly in young adults and children too. This skin condition results from many skin problems including stasis dermatitis, fungal infections, and irritant dermatitis, etc. Several symptoms of eczema include itching, redness, dryness, flaking, crusting patches, skin swelling, skin rashes, bleeding or oozing. This condition often results in inflammation and discoloration of the skin, and even blisters or crusts on the skin. No doubt, there are a few medications that can combat eczema. But, they may come with some side effects. So, it's best for go with remedies using natural ingredients, which cure eczema without damaging the skin. Now, we, Beauty Talk site, will now focus on some of the ways on how to cure eczema naturally and quickly. Let's get started!
Top 26 Ways On How To Cure Eczema Naturally And Quickly That Will Surprise You
1. Diet
"Beauty is only skin deep, and the world is full of thin skinned people – Richard Armour."
Following a healthy & balanced diet and avoiding inflammatory foods can be a way to prevent and control eczema as well as other skin conditions. Your diet plays a very vital role when coming to eczema. It is suggested to stay away from inflammatory foods such as gluten and dairy for people suffering from eczema. In addition, it's recommended to avoid processed foods. Instead, it's advisable to have an organic & healthy diet chart including fruits, vegetables, as well as other foods.
2. Control Stress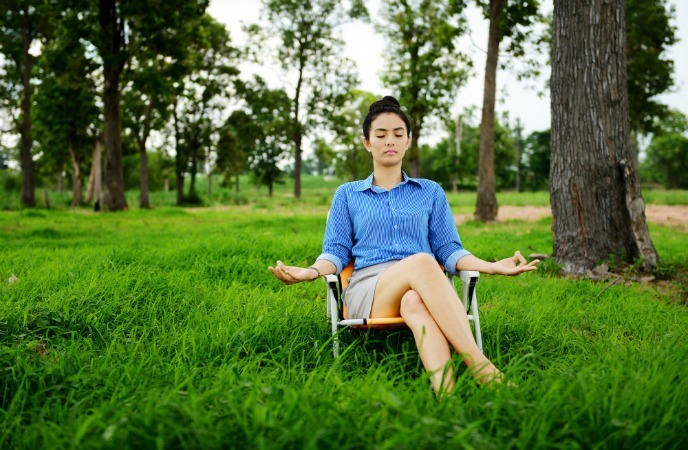 This is also one of the useful ways on how to cure eczema. Stress, both at physical and psychological level is one of the causes of eczema as well as other skin conditions. So, to relax & unwind the body and mind body, try incorporating some stress-relieving activities such as yoga, tai chi techniques and meditation every day.
BeautyTalk Partner Solutions

Ask Any Questions and Get Answers within Minutes, 24/7!
The Medical Experts are available whenever you need them. You can even approve payment only when you're completely satisfied.
3. Use Non-Irritating Shampoos And Soaps
Basically, OTC soaps, shampoos, detergents and body wash contain certain chemicals that can irritate the skin and lead to eczema. So, to prevent eczema, it's recommended to use soaps and shampoos containing herbal and natural ingredients.
4. Use A Humidifier
Generally speaking, exposing the skin to dry air often can aggravate skin issues like eczema since the dry air will make the skin cells flaky and dehydrated. To deal with this situation, you should use an air humidifier in the room because it aids in adding moisture to the air. Follow this tip to prevent and control eczema.
5. Avoid Allergens & Keep Your House Clean
Some agents cause allergies such as dust mites, seasonal pollens, pet dander, molds and dandruff. They are all eczema triggers. Therefore, you should use a good vacuum cleaner and vacuum often. Plus, try avoiding bacteria, viruses and fungi.
6. Wear Non-Irritation Cloths
To prevent and control eczema, you should wear loose fitting and comfortable clothes and avoid wearing materials and fabrics that make the skin irritated and itchy, like wool. Instead, it's advised to wear clothes made of cotton and silk.
7. How To Cure Eczema Using Coconut Oil
Coconut oil is an incredible cure for all types of skin and hair problems. Particularly, coconut oil is one of the finest ways on how to cure eczema naturally because it's an effective organic moisturizer, which is readily absorbed into your skin. Besides, this oil contains the healthy fats & lipids, which soothe the inflamed and irritated skin of eczema and give it prevention from itching and drying out. Moreover, coconut oil comprises the antibacterial properties making it beneficial for treating the eczema infection. For this purpose, remember to use organic cold pressed coconut oil because it is processed at 116 degrees temperatures, thus preserving the oils enzymes, nutrients and minerals.
Process:
Firstly, wash and dry the hands. Next, take some coconut oil and slather a thin layer of the oil on your affected skin and leave the oil to get absorbed into your skin. To relieve the pain and irritation of eczema, do it 2 to 3 times per day.
8. Chamomile For Curing Eczema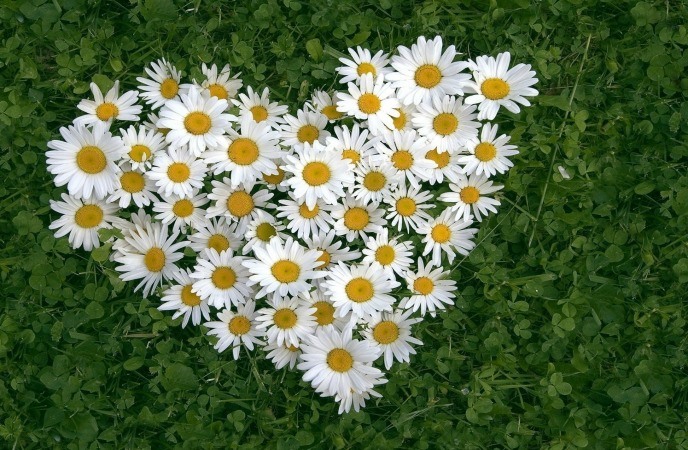 Chamomile has the ability to soothe itchiness, inflammation, and skin irritation, so it is one of the best remedies on how to cure eczema naturally. Chamomile comes with the natural alcohol bisabolol that soothes irritation and reduces inflammation as well. In addition, it comprises anti-microbial effects that combat the bacteria and germs worsening the infection.
Process:
Make a chamomile tea soak by brewing a few dried chamomile flowers in some boiling water. This process takes for 10 minutes. Then, use a clean cotton cloth to apply this lukewarm chamomile tea on your areas that are affected by eczema. It is advisable to follow this way 3 to 4 times per week. Alternatively, you can take pure chamomile oil (some drops) and apply it on the affected regions daily to soothe irritation.
9. How To Cure Eczema Using Epsom Salt
Epsom salt helps to flush out the toxins from out body and repair the skin because it is magnesium sulfate. It is also hygroscopic in nature, so it aids in retaining the moisture in the skin. Furthermore, it has other components that help to cleanse and cure eczema as well. How to cure eczema using Epsom salt? Follow the method below:
Process:
Mix 1-2 cups of Epsom salt and ½ cup of olive oil in one bathtub filled with warm water. Then, soak the body in this concoction for a gap of 20 and 30 minutes. After that, rinse and cleanse as normal. Finally, pat dry the body and moisturize. Use a large bowl to soak only the troubled area and adjust the quantity of oil and salt accordingly. You need to soak in the relaxing bath 2-3 times a week.
10. Oats Bath For Eczema Treatment
Basically, oatmeal is a powerhouse of healthy complex carbs & fiber, so it is a great choice for any weight loss diet. Besides, the benefits of oatmeal on the skin are numerous. One of such benefits is curing eczema. A plain oatmeal bath is an excellent option for people suffering from eczema because it moisturizes the irritated, dry skin, and its anti-inflammatory properties reduce itchiness and inflammation caused by eczema.
Process:
Take a cup colloidal oatmeal or uncooked oatmeal and sprinkle it in one bathtub filled with water. You soak in it for around fifteen minutes and take a shower afterward. Pat dry by using a clean towel and finally, apply medicated moisturizer on the skin. Alternatively, you can oatmeal paste straight on eczema and after 15 minutes, rinse the paste off with water.
11. How To Cure Eczema Using Jojoba Oil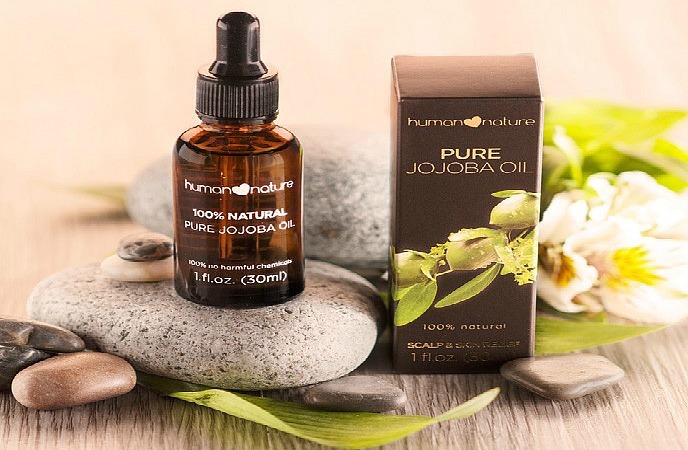 Basically, jojoba oil is very gentle and light. It gets easily absorbed by our skin. In addition, it aids in hydrating and nourishing the skin thanks to its long chain fatty acids & fatty alcohols. Besides, it is helpful for eliminating itchiness, dryness, and edema. Furthermore, it is beneficial for curing eczema because it's high in vitamin E.
Process:
At first, you need to wash the hands appropriately by using soap. Later, take some jojoba oil and apply it directly to the affected regions. Massage gently on your skin. You need to reapply the oil thrice daily till you achieve desired results.
12. How To Cure Eczema Using Honey
Honey consists of the wonderful humectant properties, which makes it an awesome natural remedy for dry skin and chapped lips. Besides, owing to anti-microbial & anti-inflammatory qualities, honey is a natural remedy on how to remove eczema quickly. It helps to encourage the healing procedure of broken skin and alleviate skin irritation and itching as well.
Process:
For best results, you should use Manuka honey or raw organic honey. The initial step is washing your hands & drying them. Next, take some honey and a thin layer of it evenly over the area that is affected by eczema. Cover it up with the help of a clean cloth or bandage and leave it to sit like that for half an hour. Use cool water to wash off & pat dry the area. To get expected results, reapply the honey thrice every day.
13. How To Cure Eczema Using Emu Oil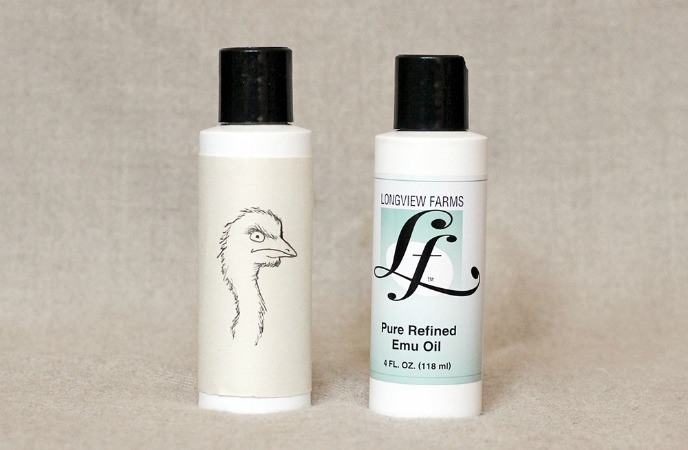 The most effective remedies on how to cure eczema naturally must include emu oil. Emu oil helps to tackle inflammation and remove any toxin. In addition, it deeply penetrates into the inner layer of the skin, thus curing this condition completely. Below are some of the methods on how to cure eczema with emu oil:
Process 1: External Application
Take emu oil (2 tablespoons) and apply it on your areas that are affected by eczema. Do this twice every day and you will notice the significant changes.
Process 2: Emu Oil Bath
Add emu oil (2 tablespoons) to water in your bathtub. Later soak in the bath water for fifteen minutes and after that, dry yourself by using a soft & clean cloth. To cure eczema soon, follow this remedy 1 time daily.
Process 3: Intake Emu Oil Directly
You can also consume minimum 2 teaspoons of emu oil directly on a regular basis. You can take few more tsp of emu oil in a day if your condition is too severe.
14. How To Cure Eczema With Organic Carrots
A lack of vitamin A may lead to eczema. Organic carrot is packed with vitamin A, so it helps to cure eczema naturally and quickly. Here is how to cure eczema using organic carrots:
Process:
You need to prepare two ingredients including 3 organic carrots and 2 glasses of cool water. Then, peel three carrots and boil these peeled carrots until they turn soft. Make a carrot paste by crushing them. Then, apply the resulting paste on your eczema infected area and wash the areas with cool water after about 15 minutes. Follow this method regularly until the condition is improved.
15. Calendula For Eczema Treatment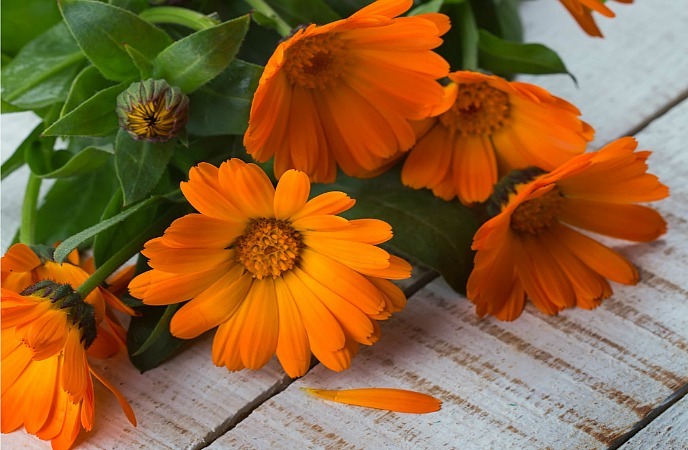 Calendula is full of anti-bacterial & anti-inflammatory properties which eliminate skin irritation and infections, so it is used widely in skin care products such as lotions, creams, oils and soaps Calendula ointment or tea is one of the best ways on how to remove eczema quickly.
Process:
You can boil several dried calendula blossoms in hot water (1 cup) to make a tea. Then, to this tea, add lavender essential oil (5 drops) and dab this solution on your troubled skin twice a day till the eczema is completely relieved. Another choice is applying some calendula products such as lotions, oils and ointments. You can purchase them at drug stores but ensure they don't consist of potentially irritating ingredients.
16. How To Cure Eczema Using Aloe Vera
Because it has the hydrating & natural moisturizing properties, aloe vera is a popular ingredient in dry skin face packs. Plus, it is effective at dealing with a skin rash, irritation or infection. Excessive dry skin is also one of the main causes of eczema and aloe vera helps to keep your skin moisturized with many moisturizers, so it aids in curing eczema effectively. You should use pure aloe vera gel since it soothes & moisturizes dry, flaky skin.
Process:
Extract the aloe vera gel from an aloe vera leaf and apply the gel straight on the irritated skin. Allow it to get soaked into your skin. It is suggested to reapply the gel one time daily to provide a soothing effect.
17. How To Cure Eczema Using Cucumber
As you know, cucumber is a popular ingredient for different soothing face packs owing to its cooling and hydrating properties. In addition, cucumber comprises the skin lightening properties, which cure dark circles around eyes effectively. Its soothing effect makes it a wonderful natural cure for eczema by decreasing the pain, burning, inflammation and itching.
Process:
Take some organic cucumber and extract its juice from it. Then, dab the juice on the affected areas with the help of one clean cotton cloth. Leave it to into the skin for 60 minutes and lastly, wash off with water. Simply, you place a thin cucumber slice on eczema and keep it on for one to two hours.
18. Vitamin E Oil For Eczema
Vitamin E oil is very beneficial for natural skin glowing and helps to improve the overall health of our skin. Using vitamin E oil topically is one of the best ways on how to cure eczema because they contain mixed natural tocopherols and natural D-alpha tocopherol as well. Besides, vitamin E relieves skin irritation & infection because of its powerful antioxidant and anti-inflammatory agents. Furthermore, it accelerates the healing procedure of the skin.
Process:
Take a vitamin E capsule and break open it to collect its oil. Later apply a generous quantity of this oil on your affected skin. Keep the oil on your skin for fifteen minutes and finally, wash off by using water. For best results, reapply this oil thrice daily.
19. Using Neem & Turmeric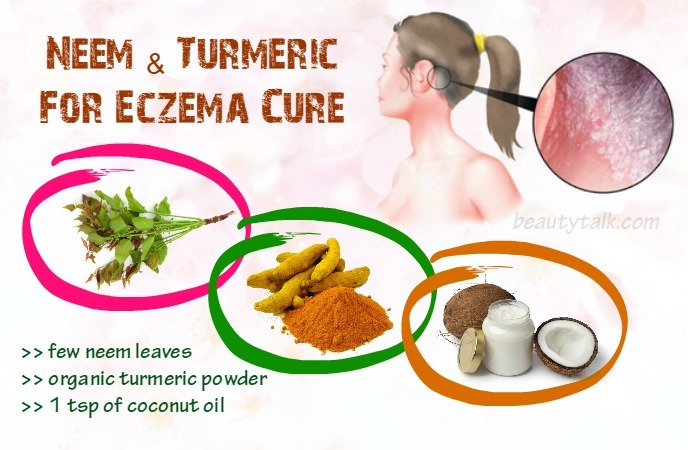 Turmeric and neem both have been used to treat different types of diseases & health condition for ages. Especially, the combination of turmeric and neem is effective for curing skin diseases and infections too. It is an awesome homemade treatment for pimples and acne which also aids in curing eczema naturally. Turmeric consists of the active ingredient known as curcumin, which possesses powerful bactericidal and anti-inflammatory qualities. Neem or Indian Lilac, on the other hand, owns many beneficial properties such as antibacterial, antiseptic, antiviral, antimicrobial, blood-purifying and antifungal, all of which help to soothe the skin and decrease skin infections.
Process:
Take few neem leaves and crush them to create a smooth paste. Late add the paste to organic turmeric powder. To thin the mixture, add 1 tsp of coconut oil. Evenly apply the solution on the affected regions of the skin and wait for 30 minutes. Thereafter, wash the area with the help of warm water. You need to reapply this concoction twice a day for ten days.
20. How To Cure Eczema Using Sweet Almond Oil
Skin benefits of almond are numerous. Particularly, almond oil is a good and popular ingredient in different hair care and skin care products. This oil is extracted from the nuts or kernel and it effectively works as a remedy for eczema as well as dry or chapped skin because it comprises the oleic and ursolic acids which have been indicated to decrease inflammation and boost the healing procedure of skin.
Process:
Take some sweet almond oil and trickle on your palm. Then, smear it all over your skin daily prior to taking a shower or bath to give the skin protection from the drying impacts of warm water.
21. Juniper For Eczema Cure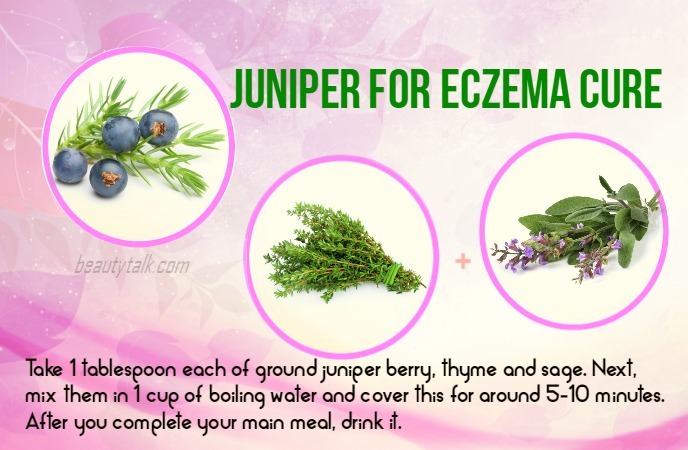 Juniper berry also helps to prevent and cure eczema because it works as an antiseptic, anti inflammatory and antibacterial. In addition, it acts as a soothing agent, which aids in calming and repairing the irritated skin. Thyme in this remedy is a helpful anti microbial which aids in reducing the proliferation of viruses and eczema while sage will aid in soothing the irritated part.
Process:
Take 1 tablespoon each of ground juniper berry, thyme and sage. Next, mix them in 1 cup of boiling water and cover this for around 5-10 minutes. After you complete your main meal, drink it.
22. Apple Cider Vinegar (ACV)
ACV is used widely in natural home remedies for hair care and skin care. It is also an amazing homemade hair cure for damaged hair. In addition, apple cider vinegar comprises the amazing antifungal and antibacterial properties, which make it an inexpensive and easily available treatment for eczema as well as skin irritation. Besides, it helps to soothe the skin and lower itching and infections. So, ACV is considered among the best remedies on how to cure eczema.
Process:
In a vessel, mix organic ACV and water in equal portions and apply this solution to the affected parts of your skin. Allow it to soak in for half an hour and thereafter, wash off with water. You should reapply the concoction around 2 to 3 times per day for 1 week to attain visible results.
23. How To Cure Eczema Using Rosehip Oil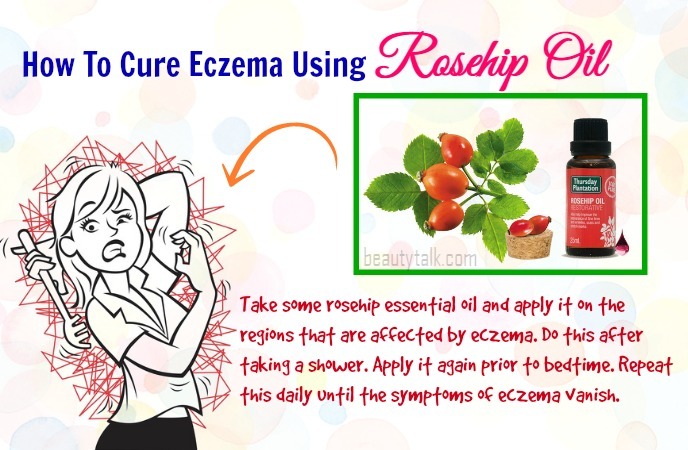 One of the best and most effective remedies on how to cure eczema is using rosehip oil. The oil works as a great natural moisturizer for irritated and sensitive skin. It comes with the antioxidants, which will help to fasten the healing procedure of the eczema
Process:
Take some rosehip essential oil and apply it on the regions that are affected by eczema. Do this after taking a shower. Apply it again prior to bedtime. Repeat this daily until the symptoms of eczema vanish.
24. Cod Liver Oil
Basically, cod liver oil is full of vitamin A, vitamin E and omega-3 fatty acids. These will help to nourish and heal our skin from the inside. As a result, this makes the skin supple, hydrated and healthy. This remedy cures eczema from the root.
Process:
You just need to ingest around 1-2 cod liver oil capsules in a day. For best results, continue following this for a couple of weeks.
25. Using Honey And Cinnamon
Honey has an antimicrobial agent, which reduces swelling, soothes the skin, and encourages the healing process. Cinnamon also has an antimicrobial agent and is packed with antioxidants and anti-inflammatory properties. These properties are effective at curing eczema.
Process:
Take 2 tbsp each of Manuka honey and cinnamon powder. Next, wash the affected area and gently pat dry it. Then, create a paste by mixing the two ingredients together. After that, apply this paste on your troubled region and massage slightly for several minutes in circular motions. Allow it to dry for around 5 minutes and rinse with water. Alternatively, you can ingest 1 tbsp of honey daily. Follow this twice per day and you'll notice the improvements.
26. How To Cure Eczema With Kefir
Sometimes, a simple imbalance in the digestive system is a cause of eczema and you don't realize it. Kefir will bring the balance in the gut back since it is packed with healthy bacteria, vitamins, minerals and antioxidants. Apart from that, it comprises antimicrobial properties that help to cure eczema. For this purpose, you need to consume 1 glass of kefir one time a day. Continue consuming it for several weeks till the condition clears up.
Recommended articles:
How To Get Smooth Skin on Face 
Homemade Anti Aging Tips For Women In Their 40s 
Natural Home Remedies For Skin Rejuvenation 
How To Remove Cellulite On Thighs And Legs Naturally 
How To Get Rid Of Stretch Marks Naturally & Fast 
In fact, now that you know some of the useful methods for eczema as well as the crucial tips to prevent and curb an eczema flare-up. You need to be patient while following these methods. For reading more our articles related to skin conditions, visit our main Skin Care page. Don't forget to share your thoughts with us.