Overview
A flaky scalp is a familiar problem with many people of different ages from children to adults. It is often misunderstood with dandruff because of their mutual characteristics with tiny flakes of scalp deriving from the hair and falling to the face and shoulder. However, despite some similarities, these two problems have their causes and approach in treatment. Flaky scalp here means the small clusters of white pieces of the dead scalp that are specifically perceptible in the hair, especially when it falls on the face, shoulder, and clothes. Today, Beauty Talk will show you effective ways on how to get rid of flaky scalp in winter naturally at home.
Top 5 Ways On How To Get Rid Of Flaky Scalp In Winter At Home
I. Some Possible Causes Of Flaky Scalp
1. Hair Products And Routine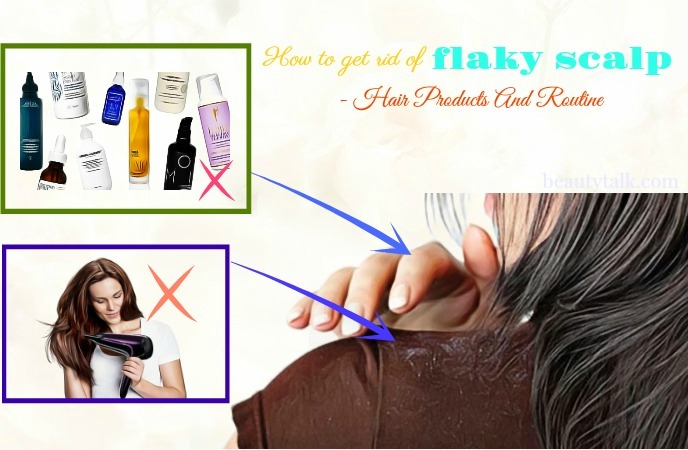 Some of the certain hair products which are not enough quality to use can cause dry, flaky scalp. They are low quality because the manufacturers added the excessive amount of harsh chemicals to their products like shampoos, conditioners, and styling commodities.
Besides, the habits of using such these products every day can take the natural oils of the hair away, which results in the lack of moisture for the protecting the hair from the flaky scalp. In some cases, it is not good to use the highest setting of a hair dryer or curl the hair with high heat.
2. The Vagary Of Weather Conditions
The reasons for flaky scalp also come from external factors such as environment or weather conditions. According to some studies about health and beauty, experts claimed that many people are more likely to get dry skin when the winter comes. For their scalp, it is virtually impossible to immune from such these harsh conditions. Because of that, the flaky scalp has one more chance to make the sufferers uncomfortable.
BeautyTalk Partner Solutions

Ask Any Questions and Get Answers within Minutes, 24/7!
The Medical Experts are available whenever you need them. You can even approve payment only when you're completely satisfied.
3. Not Drinking Enough Water
Our bodies always need the larger amount of water than they usually get in a day. Therefore, it is significant to provide as much water as possible. However, a lot of people drink water only when they feel thirsty, so they do not consume enough moisture capacity for their bodies. That bad drinking water habit results in the serious dehydration, which leads to the fact that their hair skins are vulnerable and easy to get the flaky scalp.
4. Excessive Anxiety
Almost all the time, anxiety or stress is always related to several health and beauty problems, not except for affecting the scalp. Many people find it difficult to understand why anxiety can be the cause of flaky scalp. To make it clearer, in spite of some unknown pieces of evidence, scientists still believe that being anxious connects to the nerve cells that associate to the status of the flaky scalp. Nevertheless, this linking needs more examinations.
5. Seborrheic Dermatitis
Seborrheic dermatitis is a common reason for getting the flaky scalp. It can even trigger the inflamed, red and itchy scalp that makes the sufferers feel extremely unpleasant. Sometimes, it may also be one of the reasons for dandruff, so it is noticeable that an abundance of fallen small white flakes together with an itch is enough to stimulate your desire to scratch your scalp immediately.
II. How To Get Rid Of Flaky Scalp In Winter Naturally At Home
1. How To Get Rid Of Flaky Scalp With Tea Tree Oil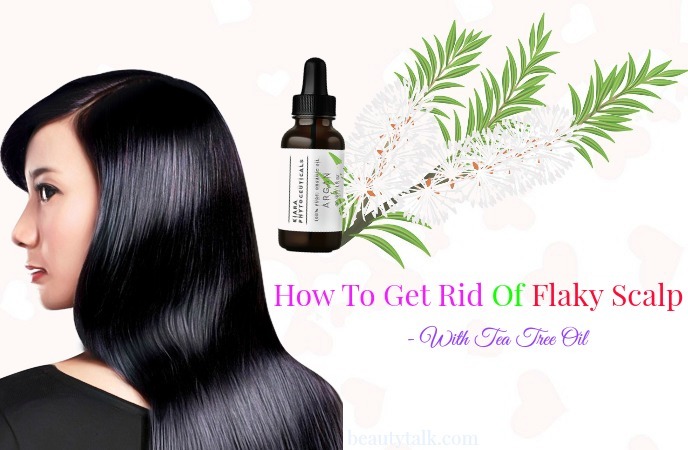 Tea tree oil has long been known as one of the most valuable remedies to treat several cutaneous diseases, particularly for the weaker sex. On account of that, so many people have acknowledged the use of tea tree oil and have taken it to fight against flaky scalp related to a fungal infection because tea tree oil contains a potent antifungal effect [1]. In fact, this kind of oil derives from the leaves of the tea tree plants which contain natural antifungal, anti-inflammatory, and antibacterial agents. These properties take effect on removing scalp microbes that will be useful for disposing of the flaky scalp as fast as possible.
It is also very simple to utilize tea tree oil in dealing with this situation. You can optionally either add some drops of tea tree oil to your regular shampoo or mix it with any other types of oil that you like and massage directly into the scalp later on. These mixtures work as a hydrating mask to mollify your own scalp and amazingly, you may realize the improvements only after a few weeks.
2. How To Get Rid Of Flaky Scalp With Coconut Oil
To dispose of the flaky scalp, it is dispensable to add coconut oil to the effective remedy list. This oil type can help to treat the massive number of cutaneous problems such as eczema, dry skin on face and body, or stretch marks, and flaky scalp is no exception. Coconut oil is great for not only soothing the flaky or itchy scalp but also healing moisture locking. The saturated fatty and antioxidant acids in this oil make it easier for the scalp to get rid of inadequate sebum by producing more and more inherent natural oil [2]. Moreover, coconut oil users can be satisfied with its inflammatory characteristic as well as some anti-bacterial and antibiotic agents which are helpful in keeping the itch-free and scalp healthy.
Remedy
Liquefy about 1 to 2 pieces of the coconut oil by warming it up on a melting point

Pour this liquid into the palms

Rub your hands evenly until the oil covers all your hands

Apply your wet hands throughout your scalp and massage gently with your fingers for about 5 or 10 minutes

Let the treatment sit on your scalp at least an hour or overnight to get better results

Wash it out later on with a mild shampoo
3. How To Get Rid Of Flaky Scalp With Aloe Vera
Many people sometimes misunderstand the use of aloe vera that it only works for beatifying face skin and treating small lesions such as household burns, sunburns, and small cuts. However, in fact, aloe vera has a surprising function to remove flaky scalp quickly. Because it contains a large number of proven excellent properties, it has the great impacts on curing a lot of problems related to scalp skin. Particularly, antibacterial, anti-inflammatory, and antifungal agents in aloe vera will be good for cooling and soothe your scalp plus keep your scalp healthy [3]. Furthermore, aloe vera can also work as a soft cleanser to eliminate flaky scalp. Especially, the emollient and moisturizing properties of aloe vera can bring about the hydrated scalp. Besides making the handmade pure aloe vera remedy at home, you can also try some kinds of shampoo or juice with minimal additives that aloe vera is the main ingredient.
Remedy
Cut an aloe vera leaf

Wash out the yellow liquid around the cut leaf

Take the aloe vera gel out by scraping with a knife

Make a mixture of aloe vera gel and some drops of almond or avocado oil

Apply this mixture to the scalp

Massage the scalp skin with your finger and leave it free for an hour

Wash out your scalp
4. How To Get Rid Of Flaky Scalp With Lemon Juice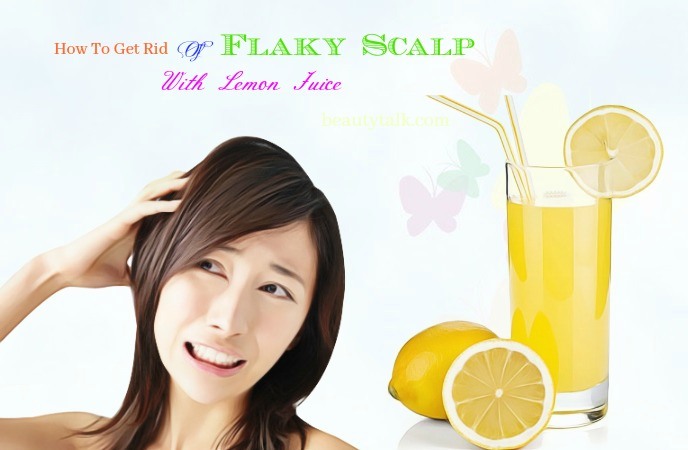 It is a good suggestion to employ lemon juice in treating flaky scalp. Lemon juice consists of so many natural cleaning properties that are useful for removing flakes, which will become the reasons for the flaky and itchy scalp. Besides, the special acidity in lemon juice can help to balance the level of the pH in the scalp and relieve the itchy, dry, and flaky scalp. In fact, flaky scalp often comes from the bacterial build up so that the antibacterial agents in lemon juice make it possible to eliminate this problem.
Remedy
Take out just one tablespoon of the lemon juice

Pour three big glasses of water with lemon juice to a basin

After shampooing, use the mixture to rinse your scalp off

Leave for 4 or 5 minutes

Wash your scalp one more time to make sure that it is clean
5. How To Get Rid Of Flaky Scalp With Apple Cider Vinegar
Throughout all time, apple cider vinegar is one of the most popular orthodox remedies that work as an effective treatment for many kinds of different ailments, including the flaky scalp. Because there are antibacterial agents in this vinegar, and it contains many other helpful properties that can help to neutralize the pH balance, it will give favorable conditions to treat flaky scalp easily [4]. Also, apple cider vinegar can be used to fight against other potential sores and infections as well as prevent the flaky scalp from recurring. However, fresh users may be uncomfortable with its smell, so it is suggested to hand over it step by step to get used to this kind of vinegar.
Remedy
Mix apple cider vinegar and warmish water in the ratio of two to one

Add some drops of rosemary oil if there is no allergy

Apply this mixture to the scalp

Massage the scalp with your finger as long as possible

Rinse your scalp off
III. When To See The Dermatologist
Although flaky scalp is an ailment that can be solved simply at home, in some exceptional cases, you have to go to see the doctor or the dermatologist in particular. If all homemade tips above cannot help you to get a better situation, you had better get some suggestions from the doctor so he or she will recommend other suitable treatments for you. Or else, when your scalp skin becomes red and swollen, it is essential to make an urgent appointment with the dermatologist.
Above are top 5 most effective ways on how to get rid of flaky scalp in winter naturally at home that you should try. If you want to learn more about the natural treatments for other hair care problems, please visit our Hair Care page. Do not forget to take time for writing down your comments in the form below to show us your thoughts.