One of the most important parts of your body that should receive the most attention is your hair. It does not sound strange because you can easily gain or lose your confidence just with your hair. Imagine you have to join an important interview that requires your smart look, modest appearance, and natural beauty, but your hair suddenly got oily, frizzy or tangled, it would immediately make you feel the world is turning back to you. To deal with such embarrassing situation, you should keep in your pocket a secret, which is utilizing natural DIY dry shampoos immediately to "save your life".
Though there are several kinds of dry shampoos sold widely, not all of them are investigated in terms of components, utility or the safety recognition. At that time, it is highly recommended that you should take use of some kinds of natural DIY dry shampoos that you can totally make at home by grabbing some familiar and available ingredients around your house. They are safe in nature, easy in the recipe and effective in usage, why don't you get started to possess glossy hair making you shine at the right time and right place. Here comes the list of 13 best natural DIY dry shampoos that Beauty Talk sincerely introduces to you.
Now, let's dig deep into the following homemade DIY dry shampoos to get desired hair.
13 Best Recipes To Make Natural DIY Dry Shampoos For Healthy Hair
1. Make Cornstarch Dry Shampoo
Dry shampoo possesses so many utilities. It can be used to deal with your oily hair, lighten or darken your hair. But no matter what your purpose is, it must be made from dry ingredients and of course, for DIY dry shampoos, such materials must be available around your house and easy to get. Basing on this, you can consider using cornstarch, which is one of the most outstanding ingredients that are widely made for some kinds of dry shampoo.
In this recipe, you can apply the simple cornstarch shampoo with the special ability to bring about dry, clean and fresh hair.
BeautyTalk Partner Solutions

Ask Any Questions and Get Answers within Minutes, 24/7!
The Medical Experts are available whenever you need them. You can even approve payment only when you're completely satisfied.
All that you need for this kind of shampoo is nothing but some cornstarch – you can easily buy it in the nearest food store

Prepare a clean container to keep this amount of cornstarch

Then when you get trouble with your dirty and oily hair, brush some of this cornstarch on your hair evenly

You will see the dirt and oil eliminated thoroughly after a second.

It is suggested that you should keep this container inside your pocket all the time.
One of the most important parts of your body that should receive the most attention is your hair.
2. Combine Cornstarch, Baking Soda, & Cocoa Powder For Potent Dry Shampoo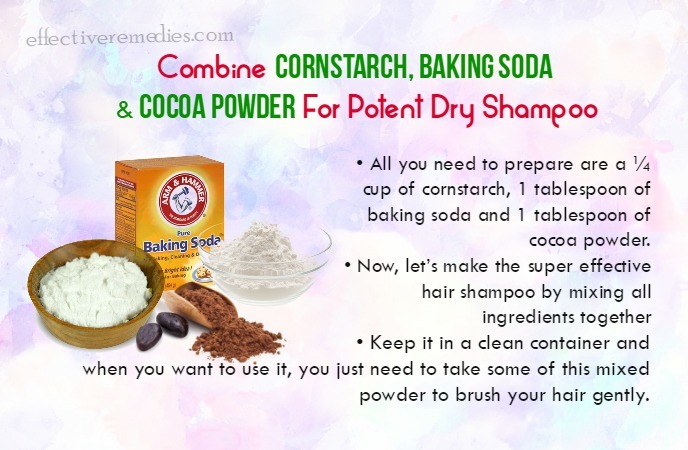 As you know, cornstarch is an excellent part in most of the natural DIY dry shampoos. Its drying nature has brought so many benefits to the owner of oily or discolored hair. But to fortify the power of the dry shampoo containing cornstarch, you can consider supplementing two more brilliant ingredients which are baking soda and cocoa powder into the cornstarch. This is an extremely effective recipe for you to make for the cleanliness of your hair. More importantly, both baking soda and cocoa powder, besides being indispensable parts in every kitchen, are highly recommended for hair treatment because they are both packed with a high number of anti-inflammatory, antibacterial and antiseptic properties, which are able to placate the excess oil on your hair, thereby making it look less dirty and glossier.
In short, you should really follow this remedy for clean hair.
All you need to prepare are a ¼ cup of cornstarch, 1 tablespoon of baking soda and 1 tablespoon of cocoa powder.

Now, let's make the super effective hair shampoo by mixing all ingredients together

Keep it in a clean container and when you want to use it, you just need to take some of this mixed powder to brush your hair gently. Your hair will immediately be livened.
Note: Alternatively, you can simply mix ¼ cup of cornstarch with 1 tablespoon of baking soda. It is enough to call back your natural hair beauty.
3. Make DIY Dry Shampoo From Baking Soda And Oatmeal
Baking soda, most well-known for being a crucial part of your kitchen, can be an attractive kind of powder widely used to deal with common hair problems like excess oil on hair or the pollutant's being left on your hair. There must be some secrets behind that. Actually, they have been revealed above. The baking soda at its own is an excellent factor in combatting with the urgent case of your hair problems. But the special thing in many DIY dry shampoos made with baking soda is that it will be combined with one more ingredient to make the overall treatment more effective, and the additional ingredient mentioned here is nothing but oatmeal – a nutritional source to boost your energy.
It is special because it is a common kind of cereal and while people just think of as a normal health booster, its hiding powder is also very impressive which is having the great impact on your hair. With oatmeal, along with the aid of baking soda, this mixture is going to kill all the enemies of your hair making it look naturally beautiful again just after a while.
With this treatment, you will need to prepare one cup of baking soda and one cup of oatmeal powder.

You mix both kinds of powder together, then scrub it on your hair gently to revitalize your hair in a moment.

You will see the oil and dirt on your hair disappear fast like a magic.
Note: This remedy is highly recommended for blond hair, so you should keep this in your mind.
4. Make DIY Dry Shampoo From Cocoa Powder & Arrowroot Powder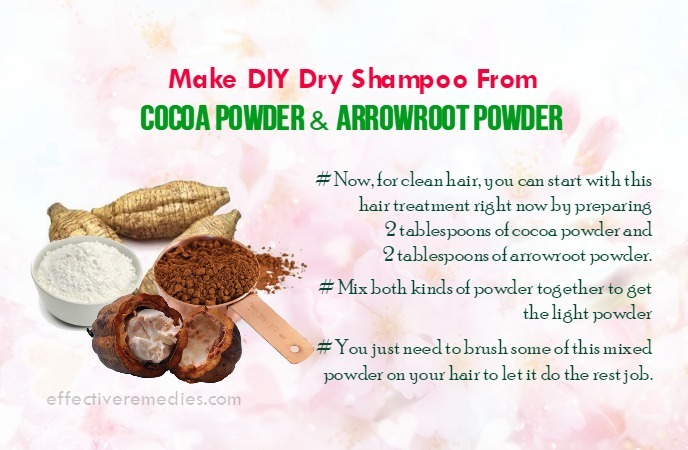 Cocoa powder is not just made into an appealing and nutritional beverage but also widely used to fix the common hair issues like the excess oil or discolored hair strand. Thanks to its anti-inflammatory agent, it can be used to protect your hair from being dirty and prevent the spread of oil on your hair. In so many other natural DIY dry shampoos, cocoa powder is also used as the main component determining the situation of your hair after being used.
In combination with cocoa powder is a name quite strange to everyone, which is arrowroot powder. With its fresh nature, it can be mixed with cocoa powder to enhance the power of this special hair remedy.
Now, for clean hair, you can start with this hair treatment right now by preparing 2 tablespoons of cocoa powder and 2 tablespoons of arrowroot powder.

Mix both kinds of powder together to get the light powder

You just need to brush some of this mixed powder on your hair to let it do the rest job.

For the rest part of the mixed powder, you can keep it in a clean bottle for later use.
Note: This method is highly recommended for those with blond hair.
5. Make Dry Shampoo From Cornmeal And Salt
In fact, there are many kinds of natural DIY dry shampoos that are made from cornmeal. Actually, besides being a nutritional kind of cereal, it is packed with antibacterial properties, which can create the cover for your hair to be protected from the attack of harmful effects like dirt or pollutants – the main reasons leading to your ugliness on your hair. Taking use of this amazing ingredient, your hair can be refreshed just after a few seconds to let you call back the confidence to make you shine brightly.
But do you know that salt can also help to mitigate the severe oily hair situation to make it more natural and cleaner? It is certainly yes. And when you combine cornmeal with salt, the effectiveness of this treatment may be multiplied remarkably.
Now, you should go to prepare ½ cup of cornmeal and one tablespoon of salt

You mix both of the ingredients above then scrub on your hair gently when you feel your hair is being in bad condition.

For the rest part of this mixture, you can keep it in the clean bottle for later use.
6. Make Super Potent Dry Shampoo From Lemon & Cornmeal
Cornmeal, as mentioned above, is a magical component in a wide range of DIY dry shampoos thanks to its great effect on your oily hair and the impressive ability to balance the oil on your hair and scalp. When you can use it several times, your hair will always be kept in good condition.
Besides cornmeal, there also exists a naturally rich source of vitamin C that also has the huge impact on refreshing your hair which is the lemon. Lemon oil is widely used because of its excellent ability to control the situation of your hair successfully. Its high level of anti-inflammatory properties is seemingly the secret that makes it different and becomes an important part of hair treatment. In addition, when using lemon juice, it will certainly provide your hair with the refreshing smell and feel that you will love it.
Actually, in replacement of the cornmeal, you can definitely take use of some other kinds of grain like semolina or couscous, which have the same effect as cornmeal. You should also not forget the presence of the castor oil, which takes action as a moisturizer, then your hair can become clean but still keep the glossy look.
All you need for this amazing treatment are about 150 grams of cornmeal (or semolina or couscous), 20 drops of castor oil and 30 drops of lemon oil.

You mix all together in a blender for some seconds

You will need to prepare some old newspaper, bend your head and pour the mixture over your scalp and hair

You massage the mixture on your hair gently

Comb and brush the hair until it gets shiny
It is extremely good for your hair, so you should consider taking this remedy for silky and natural hair.
7. Try Using Dry Shampoo From Cornmeal, Almonds, & Orris Root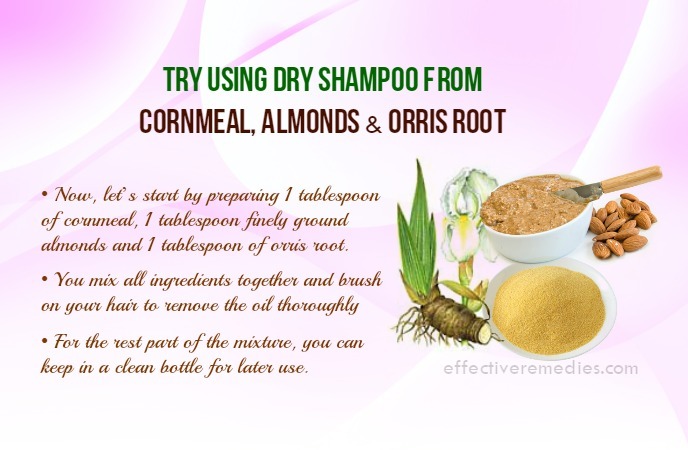 Cornmeal once again is mentioned here but in combination with other ingredients that may sound strange to you but actually integral parts in determining the success of your hair's beauty. They are almond powder and orris root.
Both almond powder and orris roots are potent ingredients in making an effective dry shampoo to help you deal with the oily hair situation. The combination of these three ingredients is in fact proved to be one of the most brilliant DIY dry shampoos that everyone with oily hair should take use of. Why is that? The answer lies in the nature of all these kinds of powder. They are super dry in nature; therefore, when being applied to your hair, they will help eliminate the excess oil on your hair thoroughly.
Now, let's start by preparing 1 tablespoon of cornmeal, 1 tablespoon finely ground almonds and 1 tablespoon of orris root.

You mix all ingredients together and brush on your hair to remove the oil thoroughly

For the rest part of the mixture, you can keep in a clean bottle for later use.
8. Take Use Of Rice Flour To Make Magical Dry Shampoo
It can be said that there are various kinds of DIY dry shampoos that may suit your hair in some cases. But it is sure that you will not find any kinds of dry shampoos made from such smooth powder as rice flour. The rice flour is made by grinding the rice. Basically, it is dry and light in nature, moreover, its smooth characteristic makes it an attractive source of shampoo to be applied on your hair to prevent such hair problems like oily or dirty hair.
Though the rice flour is good on its own, however, there still exist a number of additional ingredients like cornstarch or arrowroot, which are super excellent factors making the dry shampoo improved in the effectiveness. Moreover, you can also supplement to the combination of rice flour with some drops of essential oil like cinnamon, peppermint, lemon oil as they will both make your hair moisturized and leave the comfortable scent there.
To make this hair treatment, you need to prepare 2 tablespoons of cornstarch, 2 tablespoons of arrowroot powder, 2 tablespoons of rice flour and 6-10 drops of essential oil (lemon, lavender, grapefruit,…)

Mix all ingredients together and then brush your hair with this mixture, your hair will immediately retain its natural beauty.
9. Make Dry Shampoo From Vanilla Bean And Lavender

 
Have you ever heard of the combination of vanilla bean and lavender as one of the natural DIY dry shampoos? If no, then this is the best chance for you to capture some unique features of these ingredients in helping you control the oil on your hair.
There is the truth that cannot be denied which is this mixture can make your hair smell extremely great. But the not just good smell, both of these ingredients are really impactful when being applied to your hair making it become more flexible and natural. Besides, they can also bring about the  glossy and soft sense to your hair. Therefore, it is highly recommended to you that you should take use of this remedy for the best hair condition.
But certainly, to make this recipe successful, you cannot forget the baking soda, cornstarch and cocoa powder – the dominant powder that struggles with even the oiliest hair situation.
Now, to start with this remedy, you should prepare a ½ cup of cornstarch, ½ cup of baking soda, 1 pinch of cocoa powder and vanilla bean along with dried lavender.

Mix all ingredients together and keep the mixed powder in a bottle

You take some of this powder to rub on your hair, then comb it thoroughly to get your desired hair.
10. Put On Dry Clay Shampoo
When mentioning clay, you may think about a skin care treatment made from clay. It is true but not enough. Clean and dry clay can even do more than that. Not just made into clay skin mask but also a supernatural hair mask that can protect your hair from being affected by harmful effect, clay can actually prove to be an excellent factor in beauty treatments recipe in general and in hair care in particular.
There are many types of dry clay you can take to apply to your hair. There may be white or green clay for you to take advantage of and each of them has silica inside which will help to strip the oil or sebum from your hair thoroughly. So now, you can take some powdered clay to apply on your hair to keep it away from oil completely. You can also consider adding some milk to the clay to make your hair softer and smoother.
11. Take Baby Powder For Dry Shampoo
Baby powder is made for keeping the skin of baby always clean and soft. But do you know that baby powder can also be made into one of the most popular DIY dry shampoos for your hair? In fact, with its dry characteristics, plus the drying nature inside it, the baby powder can immediately call back the clean situation to your oily hair. You can take some of this powder to apply directly on your hair to make it more flexible and natural.
Or you can also mix a baby powder with some baking soda to intensify its effect on your hair. This is highly recommended for you because besides its ability to deal with oily hair, it can also bring to your hair the comfortable smell of the baby powder.
12. Apply Cheesecloth Dry Shampoo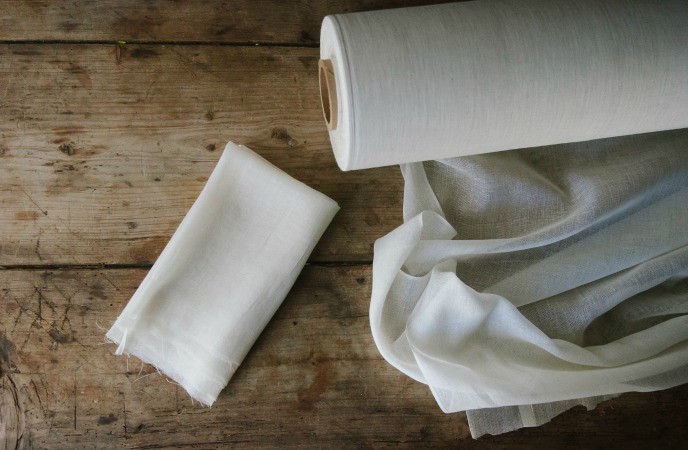 It can be said that this is one of the simplest DIY dry shampoos that you can make. Actually, you don't need to make anything because this method just requires you a piece of cheesecloth. So what's then? You will wrap this cheesecloth around a brush and then you brush your hair with it. It is proved that the cheesecloth will help to remove the oil and dirt on your hair thoroughly bringing back to your hair the shine and cleanliness.
13. DIY Dry Shampoos Spray For All Colored Hair From Arrowroot & Vodka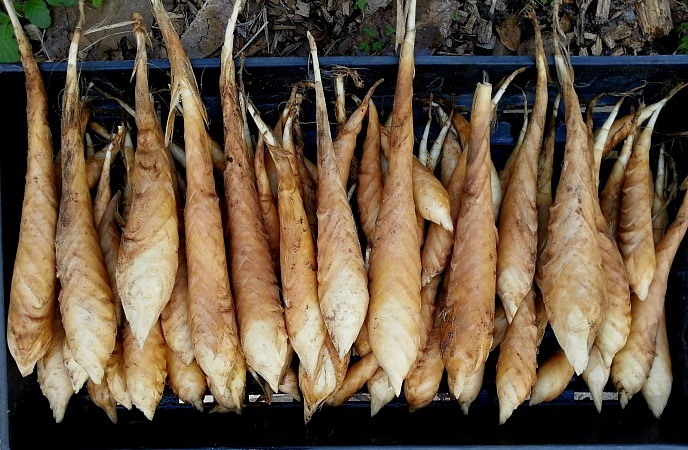 You own colored hair and always wish to get a recipe that can be applied to your hair to improve its strength without losing its color. Then it is smart that you come here to look into this remedy. The remedy is made from arrowroot and vodka.
It may sound strange when vodka is used here for the making of this special remedy, but in fact, it is proved to be effective to deal with your hair discoloration problem. The vodka will help to keep your hair strands to be in the best condition with the nicest color, at the same time, the cornstarch or arrowroot will be responsible for keeping hair clean and clear.
For this special remedy, you will need to prepare the ½ cup of water, 2 tablespoons of vodka, 2 tablespoons of arrowroot or cornstarch and some drops of essential oil.
Then you put the mixture into a bottle and then spray it on your hair to make your hair become clean, strong and attractive.
Recommended articles:
Top 15 Curly Hair Tips To Help You Love Your Texture
Top 15 DIY Natural Hair Conditioners For Dry Hair At Home
Top 15 DIY Natural Hair Masks For Oily Hair At Home
Above are 13 best natural DIY dry shampoos you should know. Bringing a bottle of dry shampoo with you, in fact, brings about so many advantages for yourself in some urgent occasion, which is to recover your hair's beauty to help you become outstanding in front of a crowd. It is even more encouraging if you can make some super effective DIY dry shampoos as they are really beneficial for your hair and friendly to your hair. You just need to follow the above simple remedies, then the beautiful, fresh and glossy hair will be nothing untouchable for you to gain.
If you have any further questions or comments on this article, please feel free to leave them in the comment box.
If you wish to read other articles relating to this topic, you can come and visit our main DIY Beauty page.